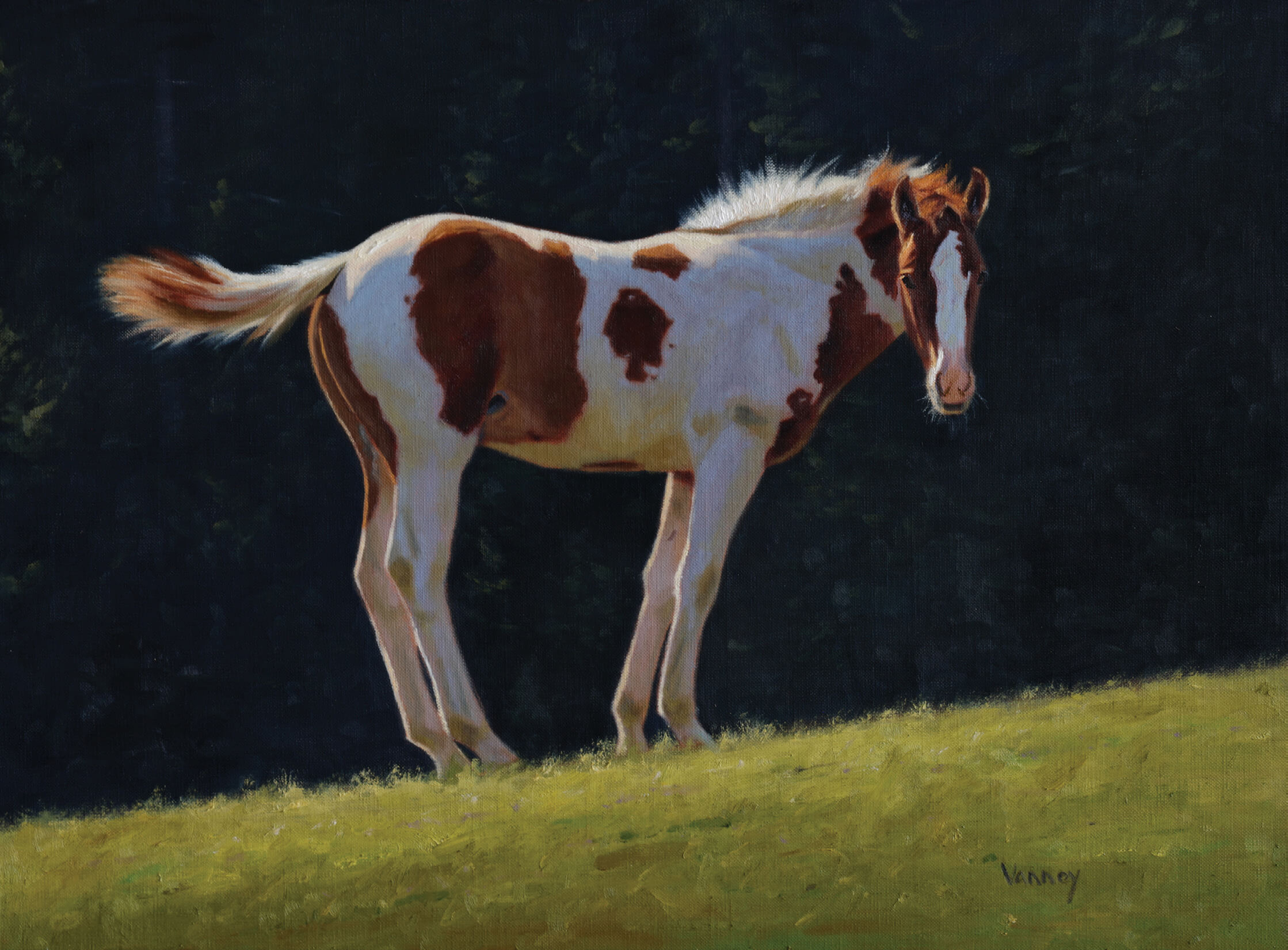 AT FIRST GLANCE | oil on linen | 15 x 20 inches
02 Aug

Sally Vannoy

in

Residing in the mountains of northwest Montana with her husband and two daughters, Sally Vannoy is living — and painting — her best life. "I live in a place I love, with people I love, doing what I love. What could be better than that?" she asks. "I have it all here. I am so blessed." 

Over the past eight years, Vannoy has emerged as a popular contemporary Western wildlife artist with her acceptance into the Society of Animal Artists as a Signature member on her first attempt and subsequent shows around Montana. Vannoy credits this success to a lot of hard work, the generous support of her mentors, and a splash of serendipity.

While primarily self-taught, Vannoy says she sought out mentors for formal training. The group of premiere artists includes Jim Norton, Grant Redden, Jason Rich, and Tom Saubert. "I never thought about finding the best mentors I could; it just happened," says Vannoy. "It was fate, really."

Born and raised on a horse ranch in Montana, Vannoy always had an affinity for animals, and drawing was second nature. "As a child, I was always drawing — at home, in school, at church," she says. After graduating from Flathead High School, Vannoy turned down a scholarship from the Art Institute of Seattle. Instead, she went to school for dental hygiene. "I wasn't interested in becoming a commercial artist," she says. "I always wanted to pursue fine art."

Life took a turn when her husband accepted a four-year apprenticeship in Wyoming. Before moving, Vannoy attended Western Art Week in Great Falls, Montana, where she came across the work of legendary Jim Norton. "Norton's work blew my mind," she says. "[It] was so beyond superior. I just thought I would love to learn from someone like him." 

Vannoy took home one of his business cards and emailed him. She wrote that his work was some of the best she'd ever seen and wondered if he taught. Vannoy was thrilled to read his response: Not only did Norton teach, but he was offering a weeklong workshop at his Wyoming cabin — only an hour away from where she and her husband were moving. She signed up on the spot. "We painted horses all week, and it was there that I met all of these amazing people — including Grant Redden. They have taught me so much," Vannoy says. "I don't know where I would have been had I not met them first thing in my career."
 Vannoy went on to develop a strong friendship with Redden, an esteemed member of the Cowboy Artists of America. For four years, Vannoy frequently visited his Wyoming ranch to paint and spend time with his family. "When I first started working with Grant, he told me, 'I can't teach you how to paint, but I can teach you how to see.' And that's what he did: He taught me to see," she says. "Grant paints his life; he paints what he knows, which, in his case, is a lot of horses, cattle, and sheep." 

Likewise for Vannoy, wildlife is an honest representation of her daily existence. She now lives back in Montana's Flathead Valley, and spends her time outdoors, hiking, exploring with her family, and appreciating the mountains. "Wildlife is my life right now," she says. "It's a natural subject matter for me — it's what I see. I was also raised with horses, and I do go on cattle drives from time to time, so domestic animals and livestock also come into play. Part of my goal as an artist is to be true to the animals in their natural environment. I don't want my work to be some grandiose vision or romanticized ideal of Montana wildlife. That's something that Grant taught me: Remain true to your roots and paint what you see. I will paint it if I experience it."

Craig Barrett, former Intel CEO and a Western art collector, came across Vannoy's work during her first exhibition at the C.M. Russell Museum in Great Falls. He took home five pieces. "Whether it's bison, deer, or horses, Sally captures Western wildlife in a spectacular fashion," Barrett says. "I was originally drawn to [her] graphite sketches. She has progressed beautifully into oil." Over the years, Barrett and his wife, Barbara, have purchased and commissioned multiple pieces by Vannoy, and she is a regularly featured artist-in-residence at Triple Creek Ranch, the couple's luxury ranch and resort in Darby, Montana.

While Vannoy accepts commissions, more often than not, she paints what she experiences day to day. On the back of every painting, Vannoy includes a story about the subject and her creative process, including how her photography plays a pivotal role. Rarely will she paint using other people's photographs for reference, as it is important to her that she experiences the moment firsthand. "I like to think of my paintings as a journal of my life," says Vannoy. "I paint my actual experiences and adventures. It's important for me to see and understand my subjects." 

"Sally truly lives and breathes her art, and you can feel it," says Alissa Banks Hammond, owner of A. Banks Gallery in Missoula, which represents Vannoy's work. "There's a beautiful softness to her paintings — and incredible use of light. Not to mention she puts in the time and really pushes herself to progress and grow. She never gets stale or stuck — she just keeps getting better and better."

And that development requires the artist's time and energy. "Sure, there is some talent involved. I started with a solid drawing foundation," Vannoy says. "But I've also worked my tail off to get where I am — and I intend to keep working. There's so much to learn at the start, and this feeling like you might not ever get there. I plan to keep pushing myself to always take my work to the next level."

Taking it to the next level means Vannoy continues to challenge herself to take on bigger, more complicated subjects. When talking about Hail Her Majesty, a recent piece that features five swans, she points to the textures as particularly challenging, noting the variety of feathers and how the lights hit the swans in the water.

A future piece depicting a massive elk herd she encountered while driving home from Great Falls will include at least 15 elk. "Quite often in wildlife paintings, you won't see multiple subjects," she says. "Why? The more subjects that are in one piece, the more complicated it becomes — especially compositionally. I'm excited to take this on."

"Sally is one of the hardest workers I know and a consummate learner," says mentor, friend, and artist Tom Saubert. "When you explain to her a concept, she gets it immediately. She continually challenges herself, and you can see that growth in her work. Once you have command of the basic principles of painting — composition, light, color values — then you can add in the feeling and emotion. That's the poetry of painting."

An esteemed Western artist known for painting both historic and contemporary imagery, Saubert shares Vannoy's affinity for accuracy and storytelling. Saubert met Vannoy through Redden, who introduced them when Vannoy moved back to the Flathead Valley. "It's really important to have someone in your career that you can trust, that can critique your work and help you see things that you can't," says Vannoy. "Tom is one of those people for me." 

"Sally takes the time to study and understand her subjects," says Saubert. "It's an important part of the process. It's how you build integrity and authenticity into your work." And that authenticity shines, with each work reflecting a level of informed finesse solely achievable through dedication, commitment, and planning — plus, a little splash of serendipity.