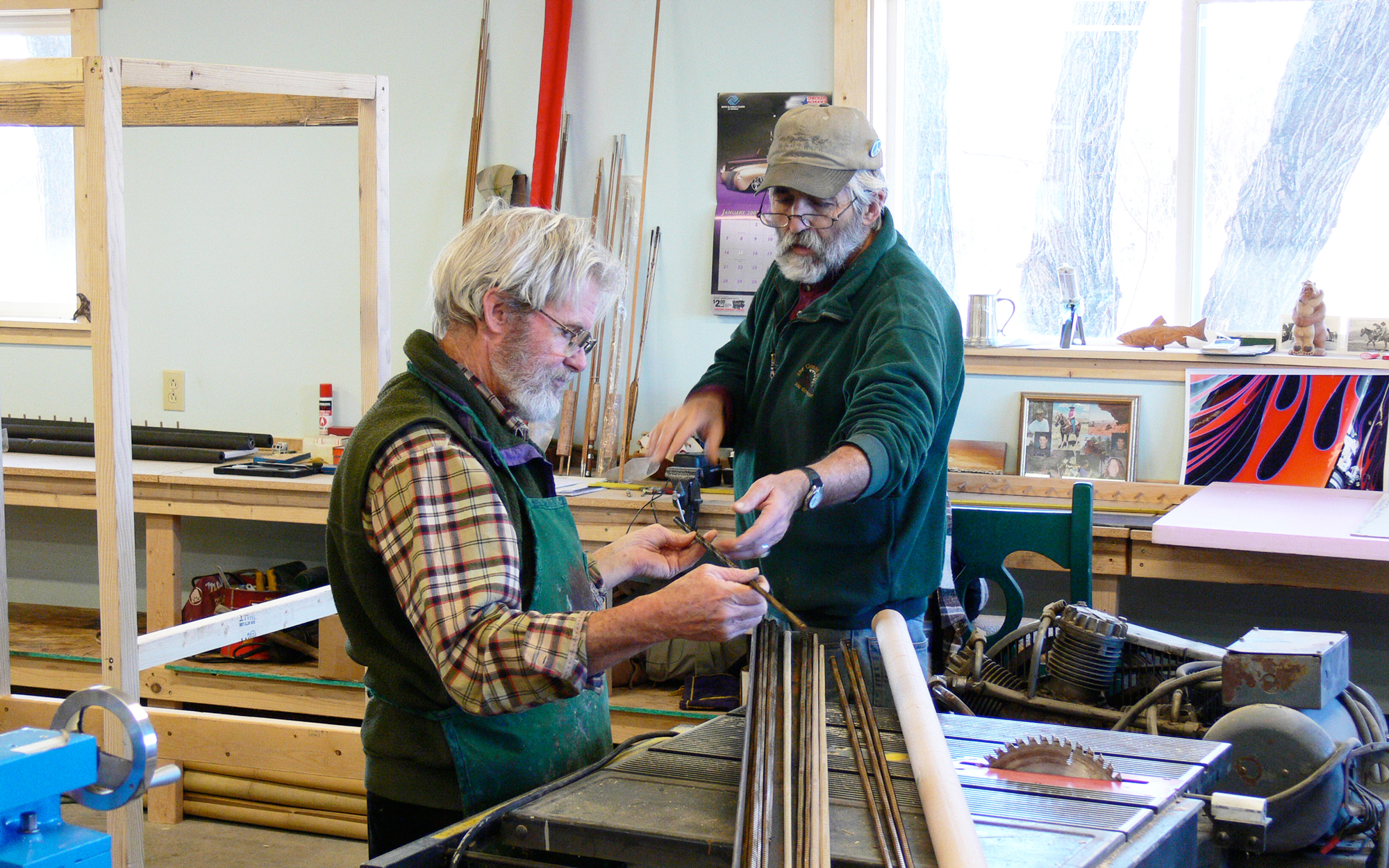 24 Jul

Fly Fishing 2013 Round Up

in
Sweetgrass Rods Live On
In Twin Bridges, Mont., Sweetgrass Rods sorts out their place among rod manufacturers by doing things the ol' fashioned way. As one of the last, if not final, production-oriented, bamboo rod shops in the country, Sweetgrass works to preserve a unique American craft.
For the last six years, expert craftsmen called the "Boo Boys" put to use their collective 80 years of experience to keep the time-worn tradition alive by hand-building each rod. Bamboo, once king in the fly fishing world, has been overtaken by fiberglass and then graphite rods which are cheaper to make and require less hands-on construction, said Dave Delisi, Sweetgrass' business manager. "We are a throwback to a different era, and we are proud of it," he said.
The shop specializes in custom bamboo rods, from two-weights all the way to super-sized spey rods. Each bamboo rod has either four, five or six sides, providing smooth action and with each configuration giving more or less reserve power.
And because fly fishing is a way of life in the Twin Bridges area, you can be sure the craftsmanship comes from a place of passion and experience.
---
Casting for Recovery
Casting for Recovery is a non-profit organization offering free fly fishing retreats for women diagnosed with breast cancer. The organization was founded on the principles that the natural world is a healing force and that cancer survivors deserve a weekend to experience something new and challenging in a beautiful setting.
Hosting retreats throughout the country, for two-and-a-half-days, participants receive counseling and educational services, meals, lodging and one-on-one introductory lessons in fly fishing. Any woman with medical clearance from her physician is eligible to attend, and up to 14 women are selected at random from a pool of applicants in their service area.
There will be two retreats in Montana, one in West Glacier from Sept. 6-8 and another at Dome Mountain Ranch near Emigrant from Aug. 30-Sept. 1. In Idaho, retreats will be offered at the Living Water Ranch near Challis from May 31-June 2 and at the Shoshone Creek Ranch near Wallace from June 28-30. There will also be a retreat in Wyoming, on the Absaroka Ranch in Dubois, from July 26-28. Applications are due approximately two months before each retreat. For more information or to donate, volunteer or apply, visit www.castingforrecovery.org.
---
The BSDFF and "Not Yet Begun to Fight" Film
The Big Sky Documentary Film Festival (BSDFF) returns for its 10th year, bringing more than 120 documentary films to downtown Missoula. As the primary venue for non-fiction film in the West, the 2012 festival drew an audience of 20,000 and received 1,000 film entries from around the world.
This February, the festival celebrates its 10th anniversary and will screen 10 favorite documentaries from over the course of their history. The festival will host more than 75 artists and there will also be panel discussions, workshops, pitch sessions and receptions.
Documentaries span the spectrum, from the uprising in Egypt, to water rights, to snowmobiling across the North Pole, to an art film showcasing the Northern Lights. Of interest to fly fishers, is the film Not Yet Begun to Fight which follows a retired Marine Colonel, Eric Hastings, who runs Warriors and Quiet Waters, a Bozeman-based nonprofit that brings wounded veterans on therapeutic one-week fly fishing trips. Co-directed by Shasta Grenier and Sabrina Lee, the film documents the journey of five men returning from Afghanistan and Iraq as they fish throughout Park and Gallatin counties with Hastings' organization. The festival screening is at 6:45 p.m. on Feb. 22 at the Wilma Theatre.
In addition to screening at the BSDFF, there are planned showings of Not Yet Begun to Fight at the Cinemark Theater in Helena on March 15. Visit www.notyetbeguntofightfilm.com and look under screenings for official dates and ticket information.
The BSDFF will take place at the historic Wilma Theater and Crystal Theater in downtown Missoula on Feb. 15-24. Passes range in price from $50 to $250.
---
The Wyoming Range Legacy Act pays dividends for hunters and anglers
In Lander, Wyo., the announcement by The Trust for Public Land and Plains Exploration & Production Co. to enter into an agreement to retire 58,000 acres of oil and gas leases in Hoback River Basin under the Wyoming Range Legacy Act means sportsmen will be ensured a long tradition of access to the Wyoming Range's abundant elk, antelope, bighorn sheep, sage grouse, a trophy herd of mule deer, and the state's largest herd of moose, as well as three separate subspecies of cutthroat trout.
Just three years ago, Trout Unlimited and a coalition of sportsmen's organizations and businesses dubbed the Sportsmen for the Wyoming Range, worked with U.S. Sen. John Barrasso to pass the Wyoming Range Legacy Act. This historic bill permanently protected 1.2 million acres of the Wyoming Range from future oil and gas development. The act also allowed individuals and organizations to buy and retire some 75,000 acres in the Bridger-Teton National Forest already leased for oil and gas development if the lease holders are willing sellers.
---
Dan Bailey's 75th Anniversary
Dan Bailey's Fly Shop, which started as one brave man's vision and grew into one of the most notable fly fishing establishments in the region, is celebrating its 75th anniversary this year.
In 1938 — during the throes of the Great Depression — Dan Bailey left the pursuit of a doctorate degree in physics from New York University and a job as a professor at the Brooklyn Polytechnic Institute to establish his fly shop in the small community of Livingston, Montana.
"Everyone thought he was crazy," said John Bailey, Dan's son, who also noted that his mother, apprehensive about the endeavor, remained in New York for a year to continue working as a nurse. "He finished his oral exams on his PhD in physics and never finished his thesis, and he came to Montana and started this business," he said.
The initial plan was to settle in either Livingston or Bozeman, John explained, but his mother's involvement in a minor accident on Bozeman pass lead them to settle and open the fly shop in Livingston at a store-front rented for $25 a month. The business was established as an outfitter for visiting anglers and as a mail-order fly shop. The first catalog was shipped in the early 1940s with two wet flies or one dry fly selling for 25 cents. By 1981, the year before Dan's death, the fly shop was one of the largest manufactures of artificial flies in the U.S., producing 400,000 to 500,000 flies annually.
Today, Dan Bailey's stands as a landmark in the small community of 7,500, offering equipment, expert information and guided trips on the Yellowstone River, spring creeks in Paradise Valley and many other local waters. Their wholesale business continues to anchor the brand and allow for trout flies to be sold across the country.
Through his fly shop and relationships with famous fly fisherman and sports journalists, Dan Bailey became known as one of the most innovative fly tiers and fishermen in the West, adapting established fly tying patterns to suit Montana streams and rivers. His shop has been the starting place for many memorable moments and big catches for anglers from around the world. Plans to celebrate the 75-year milestone are in progress, and more information can be found by visiting the shop online at www.dan-bailey.com.
---
March in Montana Means Art
The 26th annual "March In Montana" auction and sale brings art lovers from around the country to Great Falls each spring. Featuring over 500 lots of fine Western, sporting and wildlife art and sculpture, as well as Cowboy and Indian collectibles, this is a destination for seasoned and new collectors of Western art.
Highlighted this year at the two-day auction is a rare collection of furnishings from The Sweetwater Ranch Furniture Co.. This notable offering has a story rooted in the beginnings of Western design, launched by Thomas Molesworth. In the tradition of Molesworth, his good friend Lloyd Taggart and a partner, Tom Roach, established Sweetwater Ranch Furniture Co. in 1991. Lloyd took great pride in producing exact replicas of his friend's artistry, made easier by the fact that he'd acquired many of the original patterns used by Molesworth himself. The collection includes two buffets with custom carvings by Bill Davis designs, a dresser, several side tables, keyhole chairs and lamps (one by designer Steve Blood), two club chairs, a moose horn club chair and several miscellaneous pieces.
Art highlights include works by past and contemporary masters, from C.M. Russell to Martin Grelle. Additionally, a three-day dealer show will feature top dealers and artists from around the country.
All events will be held at the Townhouse Inn and are free and open to the public, beginning at 9:00 a.m. Wednesday, March 13. Full color catalogues are available ($30) at: www.marchinmontana.com or by calling 307.635.0019.
---
GEAR REVIEWS
---
Sage CIRCA Rod
The Sage CIRCA Rod is a new slow-action rod that uses Konnectic technology for a relaxed casting tempo combined with fast recovery and accuracy. Konnectic technology packs more carbon fiber into a smaller diameter for a narrow taper through the length of the rod, creating a consistently slow, yet responsive action from butt to tip. The enhanced sensitivity gives anglers the precision and control needed for delicate presentations. Perfect for dry flies, the rod won the Best Fly Rod award at the EFTTEX show in Paris for 2012. With six different models in the collection and ranging in weight from two to five, the rod retails for $745 to $775.
Simms G4Z Waders
New to 2013, Simms G4Z Waders are the most advanced wader ever made at Simms' Bozeman production facility, said Matt Crawford, with Simms public relations. Essentially an upgrade to Simms G4 wader, these new top-end stockingfoot waders include improvements such as a five-layer GORE-TEX fabric that's 25 percent more breathable and enhances durability. There's also additional pocket space and a longer, waterproof zipper for adding or removing layers easier. The waders, retailing for $799.95, include a mesh enhanced suspender yoke for the comfort and flexibility needed for chasing browns in Wyoming or brookies in Montana.
Redington Sonic-Pro Ultra Packable Waders
New to the Redington Sonic-Pro collection this spring, are the Ultra Packable Waders. Weighing in at about 30 ounces and made to fit in a backpack, they are perfect for the destination angler. The four-layer waders are the lightest on the market and about 20 percent lighter than competing waders. The entire waders stuffs into its own front pocket, and a removable tool pouch adds storage and allows for access to fishing tools. With neoprene booties, gravel guards and sound-welded seams, these packable waders provide transportability without neglecting the necessary features for $289.95.
Redington Topo Outfit
Redington's Topo Outfit is a good set-up for the new angler looking to learn the art of fly fishing. There's a rod, reel, line, tapered leader, dry flies, fly box, extra spool of tippet and even a nipper to trim knots. The 9-foot rod is a five weight that breaks down into four pieces for easy transportation and storage. Made from graphite and with a carbon reel seat, the rod is lightweight and comes with a one-year warranty, to account for that possible and terrible moment when one walks through a doorway repeating the mantra, "keep my tip up." The reel is a Crosswater Reel with a large arbor design that comes pre-spooled with a RIO Mainstream fly line. The $199.95 package includes six foam flies in a fly box: a caddis, hopper, ant, beetle and two mayflies. Now all you need is a fishing license.
Sage 4600 Reel
Sage's new 4600 series reels are lightweight, yet they feature a notably larger spool and arbor for fast line retrieval and increased strength. The 4600 reels have a drag ratio of three-to-one. The inner arbor is concave to hold greater line and backing capacity, and the broad palming rim and grooved frame help to secure the line. The reel is available in four sizes for line weights ranging from four to nine, and retails for $375 to $450.