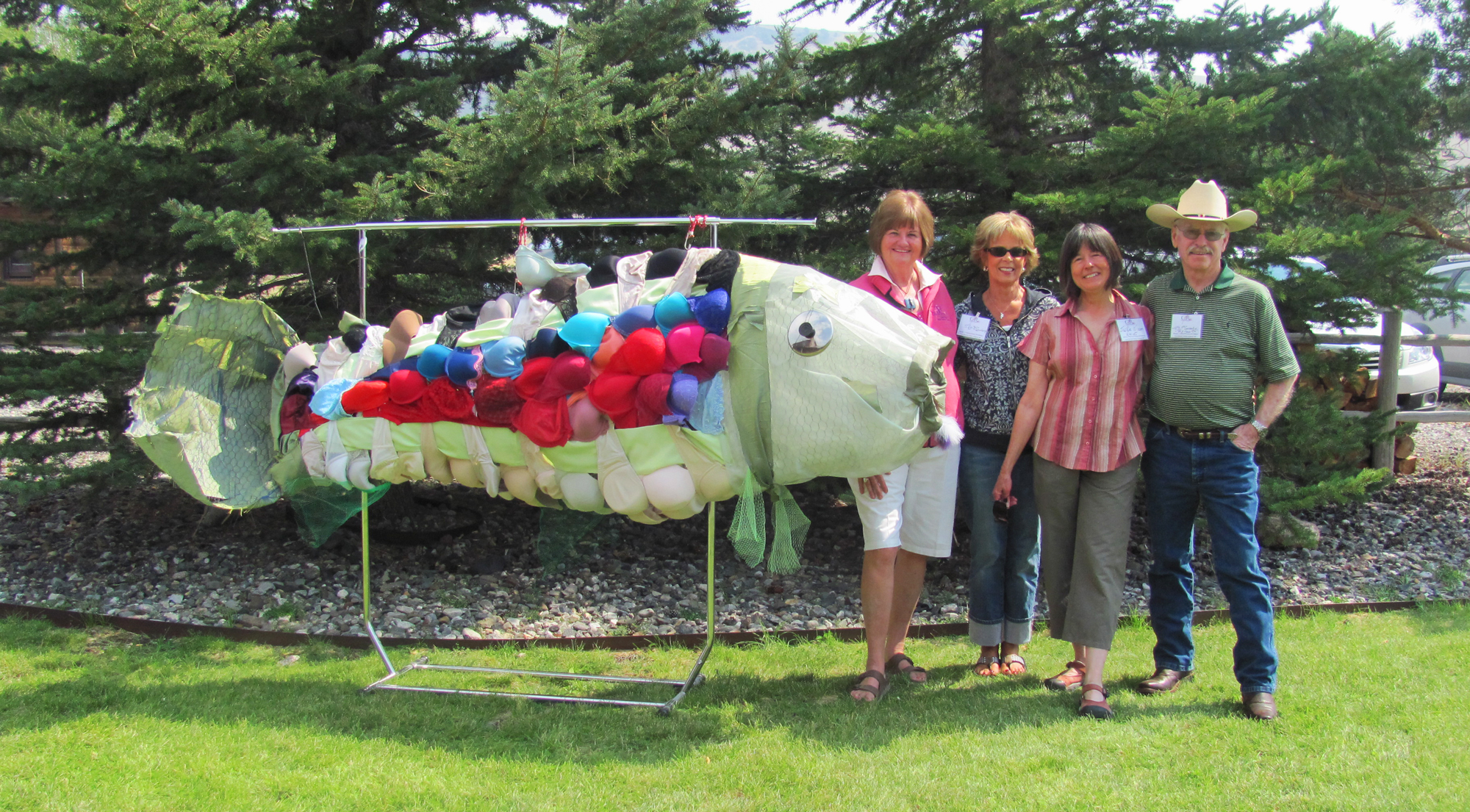 23 Jul

Summer 2011 Round Up

in
---
Scout's Honor
Where can a Boy Scout experience the awesome wonder that is the Bob Marshall Wilderness this summer? Where can a Boy Scout hike backcountry trails, participate in shooting sports, go fly fishing, lend a hand with conservation projects, and get serious training by professionals in these pursuits? Why, it's the Montana High Adventure Base (MOHAB), a locus of operations for a series of eight-day excursions. And it's located on the Theodore Roosevelt Memorial Ranch (TRMR), a 6,000-acre slice of heaven in the foothills of the east slope of the Rockies west of Dupuyer, Mont. It abuts 1.5 million acres of national forest and offers scouts the opportunity to see elk, mule and whitetail deer, mountain lion, grizzly and black bears, as well as bighorn sheep and Rocky Mountain goats. Now that's an experience of a lifetime. Visit http://www.montanahighadventurebase.com for more information.
---
Wildly Adaptable
A grand experiment in Montana seems to be paying off in the biggest way of all — it's saving lives. On one 56-mile segment of US Highway 93 that runs through western Montana's Flathead Indian Reservation, surveillance cameras located in 41 under-road tunnels prove that all manner of wild animal are adaptable — and perhaps not a little relieved that they don't have to play tag with a Subaru or a semi in order to cross the road. As 6,000 documented crossings through a single passage prove, bears, deer, all manner of cat, plus beavers, otters, badgers and skunks … are most adaptable critters.
---
Big Carp Rodeo!
Ride 'em, flyboy! Okay, so they don't really lasso carp during the Missouri River Carp Rodeo, but that doesn't mean it's no contest. On August 13, 2011, on the Missouri River between Pelican Point and Ulm Bridge, all manner of angler can join in the fun, fishing for carp from boats, jet boats, float tubes, by wading, or some other as-yet-unknown means. And should you be on the fence, let it be known that a tasty barbeque follows the tourney. The real reason it's called a rodeo, aside from the fact that it's set in the West, is that the winning team earns a fabulous fishtastic Championship Belt Buckle, designed by the staff at Big R Fly Shop and handmade by Montana Silversmiths. Visit www.missouririverflyfishers.com/carp-rodeo for more information.
---
DVD Alert: In Pursuit of a Dream
Twenty-four teenagers from all over the U.S. … for two weeks … without cell phones, video games, Facebook, Twitter … and no soft beds or daily showers? That's challenge enough. Now, outfit them in 19th-century pioneer garb (dresses, bonnets, suspendered trousers, wide-brim hats) and point them westward. That's the set-up for "In Pursuit of a Dream," a multiple-award-winning documentary that puts a 21st-century spin on the story of the wagon-train emigrants as they traveled the Oregon and California trails. It's a living history reenactment on the move through Wyoming and Oregon, complete with horses, mules, Indians, thieves, prospectors, disagreements, wagon wrecks and more.
Don't let the old-timey sound of it fool you: This 84-minute documentary packs more excitement than a reality TV show (without the foolishness of adults arguing over coconuts and forming back-stabbing cliques). The teens, led by three teachers, walk all day long or ride in wagons, cook over campfires, and when their wagons are deemed too heavy to continue, they make decisions about what to jettison, and live with the consequences of poor choices — just as 400,000 West-bound migrants did between 1841 and 1870. The primary difference between then and now? In 1850, the country through which the emigrants traveled was largely uninhabited by humans. Nowadays, it takes more effort to find uninhabited vistas. But the crew succeeds on this score — the film is shot on the last remaining stretch of the Oregon and California trails, thanks largely to preservation-minded private landowners and the Oregon and California Trails Association which, in conjunction with Boston Productions, produced the documentary. (Sadly, the rest of the 2,000-mile trail has been obliterated by the outward seep of modern civilization.)
Throughout the long journey, life lessons are learned, tears are shed, laughter is shared, and without being aware of it, the participants live history and learn, right along with the viewer, the importance of preserving what's left of the Oregon and California trails. Feel like hopping aboard a wagon train? "In Pursuit of a Dream" is the next best thing — buffalo chips not included. For more information, trek on over to: www.inpursuitofadream.org and be sure to support the OCTA at: www.octa-trails.org.
---
Glacier Park's Night of the Grizzlies
From its opening in 1910, Glacier National Park never had a reported fatal bear attack … until a summer night in 1967, when two young women were killed in two separate areas of the park. It's a well-known story that still makes newbie visitors to Glacier quiver and veteran rangers groan. Last year, Montana PBS broadcasted a new documentary about the tragedy and its aftermath: "Glacier Park's Night of the Grizzlies." The film recreates that night's sad events in an effective, at times minute-by-minute recounting, yet manages to never sensationalize the events while remaining a gripping tale.
That tragic night's occurrences resulted in hard lessons for humans, who had been attracting grizzlies by feeding them garbage, and treating them as little more than harmless tourist attractions. After a few harrowing years for grizzlies, which were nearly hunted to extinction, the Endangered Species Act and other forms of protection eventually came into play. The film is well worth a viewing by future campers and homebodies alike, if only to remind us that there are necessary — and sometimes painful — consequences to every action. For more information about the documentary, and to order your own copy, visit www.montanapbs.org.
---
Rocky Mountain Almanac
Of Montana's 56 counties, 46 have such low population densities — fewer than six persons per square mile — that they bear the designation of "frontier counties."
In Wyoming, husky folks (anyone 100 pounds or more overweight) are prohibited from enjoying playground equipment.
Idaho law prohibits juveniles from stomping ants with their feet.