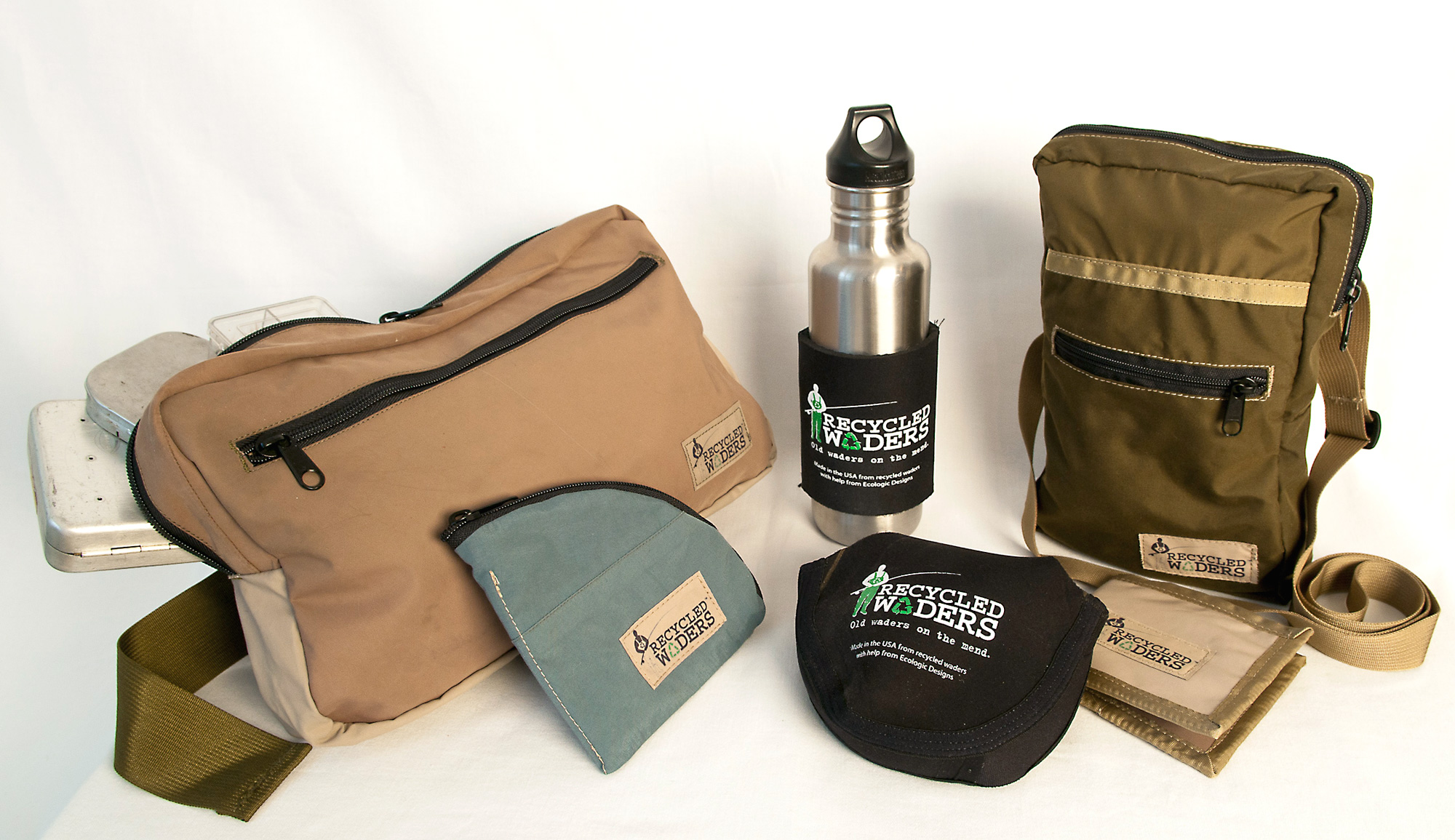 24 Jul

Fly Fishing 2011 Round Up

in
---
Now You See It, Now You Don't
I was going to tell you all about Montana Fly Company's new line of gear called "River Camo" … but I can't see the stuff! Kidding, but the camouflage elements are really that good.  A more realistic treatment you won't find, in fact, as MFC employs a special digital-image coating technology to ensure that your iPhone resembles a rainbow trout and your hip flask looks just like river rocks. While technically not vital to your daily life, it is a cool way to show the world just what jazzes you, on or off the stream.
We're talking the ever-popular River Rock look, plus Rainbow, Brown, and Brook Trout, Tarpon, Bonefish, Largemouth Bass, and more. And it's not just applied to fly boxes, forceps, and tying accessories, it also adorns — and quite convincingly, I might add — the aforementioned iPhone covers and stainless-steel hip flasks (and they are hip, indeed), and Madison large-arbor reels in 4/5 and 5/6 weights, too.
Visit www.montanafly.com to see more tricked-out goodies — and while you're there, be sure to peruse MFC's vast selection of hand-tied flies.
---
What Goes Around, Comes Around
When I found out about Recycled Waders' products, I said, "Wow, wish I thought of that … " It's a great idea, plain and simple. And the name pretty much says it all: Recycled Waders uses reclaimed breathable wader material to create repurposed products such as tip wallets, tackle pouches, messenger bags, and fanny packs. It also partners with Ecologic Designs to create handsome, usable products such as fly cases and koozies, from recycled neoprene waders.
It all began a dozen years ago when owner Patrick Jenkins was on a king salmon trip in Alaska. Not only did he find himself weighted down with unnecessary gear, he also tore a big ol' hole in his first pair of breathables. When he returned home, he had his mom dismember the forlorn waders and sew up a prototype pack that would hold just what he needed while on the stream — no more, no less. And a business was born. (He still uses that prototype pack, by the way. This gear is rugged.)
Not only does Recycled Waders offer an impressive lineup of well-priced, water-resistant, lightweight, durable, utilitarian products, but the company will also gladly make special-order products from your own worn-out waders. Through its Angler-to-Angler program, Recycled Waders encourages folks to donate their leaky waders so that they can recycle and repurpose them. The company's motto says it all: "Turning leakers into keepers: 528 pounds of waders recycled in 2010."
Visit www.recycledwaders.com for more information and a peek at the product line.
---
Streamwalker
It's rare that a product perfectly combines form and function, but that's just what you'll find with Streamwalker Nets. The Eugene, Oregon-based maker of boutique landing nets insists, however, that these nets aren't just for looks. Not only are they handsome, each is a custom job carved, finished and sewed by hand. The secret ingredient in each net is its "extracted center core" — from high-end tennis rackets. The frames are relaminated, mounted with exotic hardwoods, and the handles — short and long — are shaped into ergonomic, sensual designs. The nets range in price from $200 on up. And from what we've seen, these exotic beauties are worth every penny. Visit www.streamwalker.net for a look at the stunning workmanship.
---
Fish Porn!
We're guessing that since you're reading BSJ's annual Fly Fishing Issue, you get sweaty palms and an increased heart rate when you see a curvaceous salmonid or a teasing tarpon. Prepare to get all hot and bothered, because the Fly Fishing Film Tour is coming soon, to a venue near you … probably — it's due to hit more than 80 U.S. cities in 2011. The FFFT (or as the cool kids say … F3T) is a roadshow that gathers the best flicks about fishing and the great outdoors by today's top independent filmmakers and tours with them. To buy tickets and scan the full schedule of films and locations, visit www.flyfishingfilmtour.com. Be there or be angry with yourself because you missed it.
---
Calling All Hermits
What's 1.4 acres, is located in Lincoln, Montana, and still carries the whiff of tear gas and eau du recluse about it? If you guessed the former property of the Unabomber, Ted Kaczynsky, you're correct. And for just $69,000, it can be yours. Located near the Bob Marshall and Scapegoat Wilderness areas, as well as the Blackfoot and Missouri Rivers, this little hunk of hermit heaven is a sportsman's potential paradise. And if you really are the reclusive type, so much the better, as a chain-link enclosure topped with barbed wire is already in place (though the famed one-room cabin was removed by the FBI in 1996). Don't delay, call today! www.northwest-national.com/lincoln_montana.htm.
---
CD Review: The Tumbling Tumbleweeds, "Blaze Across the West"
From the moment the chug-chug-chug of the train in the opening tune, "The Mighty Santa Fe," rolled out of my speakers, I fell in love with The Tumbling Tumbleweeds' music. I'd not heard them before I read about their new CD online, but I'm making up for lost listening time, as the disc has been in near-constant play mode at my rancho.
Think Roy Rogers, Gene Autry, Sons of the Pioneers, Riders in the Sky, and you'll be close. But there's something decidedly non-revivalist about The Tumbling Tumbleweeds, too. Of the 11 tracks on Blaze Across the West, five are fresh originals that manage to sound both new thematically yet could also have been written 70 years ago. On this, the band's second full-length release, listeners will find musical hallmarks that help define the genre: strong harmonies, tasteful fiddle, snappy harmonica, just enough yodeling, and jumping guitar with a hint of jazzy, rhythmic strumming. Toss in well-written lyrics and tight arrangements and you have an album that The Tumbling Tumbleweeds are no doubt proud to call their own. Hopefully, it's the latest of many such quality offerings from them. Before the mighty Santa Fe pulls out of the station, yank on your boots and visit www.thetumblingtumbleweeds.com for your very own copy of Blaze Across the West!
---
Fly Fishing Wisdom
"Angling may be said to be so like the mathematics that it can never be fully learnt."
— Izaak Walton, author of The Compleat Angler
"Calling fly fishing a hobby is like calling brain surgery a job."
— Paul Schullery, author of Royal Coachmen: The Lore and the Legend of Fly-Fishing
"I fish better with a lit cigar, some people fish better with talent."
— Nick Lyons, author of Bright Rivers
"The best fishermen I know try not to make the same mistakes over and over again; instead they strive to make new and interesting mistakes and to remember what they learned from them."
— John Gierach, author of Fly Fishing the High Country