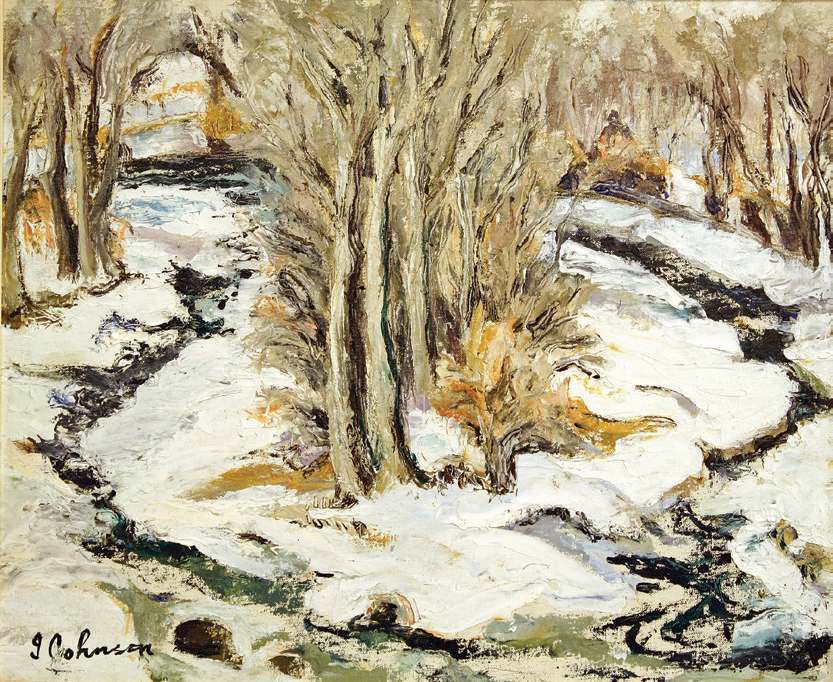 Isabelle Johnson, Little Island, Winter, 1965, Oil on Canvas, 20 x 24 inches. Museum Purchase. (1985.17)
05 Aug

Round Up: Women's work at the Yellowstone Art Museum

in

This summer, as part of a museum-wide theme of "Women's Work," commemorating the centennial of women's suffrage, the Yellowstone Art Museum (YAM) is featuring exhibits that highlight female artists, both those who have made a significant contribution to the world of Western art and up-and-coming and well-established artists who are making a splash today.

"Matriarchs of Modernism," which runs through July 16, 2021, features works by four influential Montana artists from the YAM's collection, and it runs alongside the companion exhibition "Modern Connections," which highlights a few of the artists who were taught, influenced, or sustained by these early Modernists.

According to YAM, "Modernism was a global movement that aligned with the social upheavals brought on by the industrial revolution. Building on late 19th-century precedents, artists began reflecting on the realities, hopes, and fears they experienced in the modern world. From the early decades of the 20th century through the 1960s, Modernist art encompassed a broad range of expressions while sharing a few underlying principles: the rejection of traditional illusionistic styles and conservative values, formal experimentation and a tendency toward abstraction, and innovative materials and processes. Modernism was generally optimistic, driven by utopian ideals and a belief in linear progress."

In this exhibit, the work of Jessie Wilber, Frances Senska, Gennie DeWeese, and Isabelle Johnson illustrates how these influential artists embraced Modernist art and values. Beginning in the 1940s, these four "Matriarchs of Modernism" arrived in, or came home to, Montana after picking up avant-garde philosophies and practices in urban areas. They, in turn, introduced new ways of thinking about art and teaching to succeeding generations. They mentored students and connected with other creatives working in the arts, sciences, and humanities to construct an alternative to the nostalgic cowboy culture of mid-century Montana. Over their long careers, they each found ways to combine the formal lessons of abstract composition with personal vocabularies based on close observations of the people, places, and things in their daily lives. Their deep connections to place were consistently reflected in their subjects and in their support for Montana's creative communities.

For the second annual "North x Northwest," which runs at the YAM through October 4, Jill Ahlberg Yohe, the associate curator of Native American Art at the Minneapolis Institute of Art, served as the exhibition's juror, selecting 60 works out of a total of 441 entries. "I judged in terms of quality, artistry, creativity, and theme," Yohe says. "Women's work is everywhere and in everything we do, yet it often remains invisible, unrecognized, marginalized, and undervalued."

The exhibit encompasses a variety of mediums, including paintings, video installations, textiles, sculptures, photographs, and mixed media, bringing together high-quality works by contemporary artists. Entries were open to artists of all genders and backgrounds, working in any fine art or craft medium, as long as it encompassed the theme of women's work. "It celebrates the creative, innovative, and always-changing landscape of women's experiences, inviting viewers to consider women's contributions to our histories, communities, art, humanity, and planet," Yohe says.

"North x Northwest" is intended to introduce new artists to the region, showcase regional favorites, and exhibit emerging artists alongside their more established peers. Artists in the exhibition include 13 from Montana, and others from 27 states, ranging from Florida and Hawaii to Texas and Alaska. In addition to the Juror's and People's Choice awards, the exhibition will fund $5,000 in purchase awards for the YAM's permanent collection.

For a full list of "North x Northwest" artists and more information about these and other upcoming YAM exhibits, check out artmuseum.org.