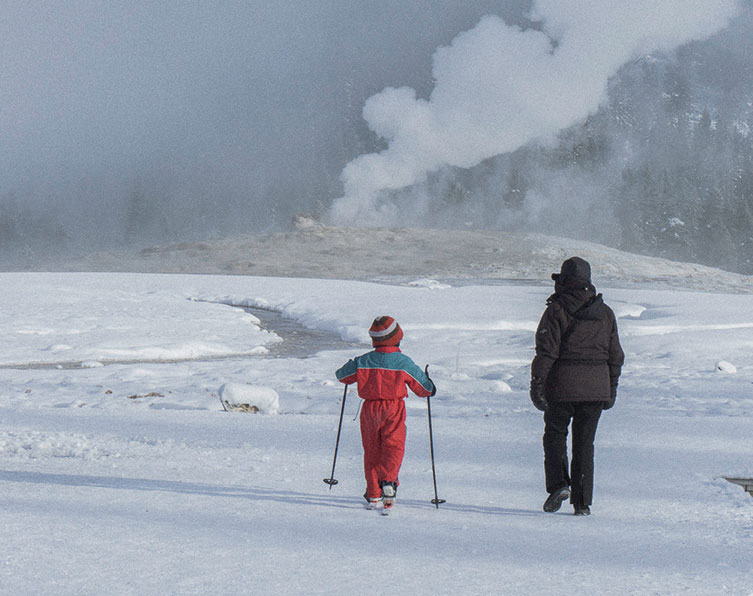 12 Dec

Round Up: Winter Park Play

in

Having planned our winter excursion to Yellowstone's Old Faithful Snow Lodge in early summer — as it's renowned for being booked solid in advance — there was no way to anticipate the plunge in temperature that would envelop our trip. At 24 degrees below zero, it couldn't have been much colder when we arrived at the Mammoth Hotel in the early morning hours the day after Christmas.

From there, with my kids and parents in tow, we loaded into the snowcoach, which was surprisingly toasty and comfortable, for a four-hour journey to our destination. Traveling through the barren, snow-covered landscape was mesmerizing. Puffs of steam dotted the horizon, bison huddled together, swans casually floated in the icy waters, and there were no cars or other people aside from the occasional brave snowmobiler (it was that cold). I couldn't help but feel like I was visiting another planet, albeit an arctic one.

The cold spell never let up during our three-day stay, but that didn't stop us from exploring. We cross-country skied around Old Faithful and to other nearby geysers; we took an evening "Steam, Stars, and Winter Soundscapes" tour, flashlights in hand, listening to the geysers in the dark; on a wildlife tour on another day, we spotted bison, elk, coyotes, and waterfowl; we took our time in the Old Faithful Visitor Center; and we enjoyed dining together and played games in the lobby of the hotel.

As cold as it was, winter in the park was an experience like no other. And while Yellowstone is experiencing record visitor numbers in the summer months, winter is a way to see it with no crowds. Covered in white, it truly is a hauntingly beautiful experience.

Although many of the roads are closed to vehicles in our area's national parks, there are other ways to explore in winter: Think skis, snowshoes, snowcoaches, and snowmobiles, and look online for trail maps and details.
Yellowstone National Park
Access: The North Entrance is the only winter access for private vehicles. The one park road that remains open to cars connects Gardiner to Cooke City via Tower Junction.
Skiing/Snowshoeing: One hundred-plus miles of trails can be accessed through guided tours or on a do-it-yourself mission. Warming huts are set up in designated areas, and skier shuttles can bring you 
farther into the park to hit certain areas.
Snowmobiling: A number of companies based in park-entrance towns, including Gardiner and West Yellowstone, offer guided tours to different areas (licensed guides are required in the park). 
Snowcoach Tours: Hop on a snowcoach (reservations required) for daylong tours to the Grand Canyon of the Yellowstone or Old Faithful, or a half-day wildlife tour in the Madison area, among others. Try Yellowstone Vacation Tours for snowmobile and snowcoach tours (yellowstonevacations.com), or Yellowstone Alpen Guides for specialized snowcoach tours, with some that include ski/snowshoe excursions (yellow stoneguides.com). 
Lodging: Mammoth Hotel and the Old Faithful Snow Lodge are open until early March (although Mammoth is closed this winter for renovations). Accommodations are open just outside the park, in Gardiner, West Yellowstone, and Cooke City.
More information: 
nps.gov/yell/planyourvisit/winter
Grand Teton National Park
Access: U.S. highways 89/191 and 26/287 are plowed and open for winter travel from Jackson Hole, Wyoming, to Flagg Ranch just south of Yellowstone National Park, allowing for spectacular views, but with winter driving conditions. Much of the the inner park road is closed to vehicles during winter.
Skiing/Snowshoeing: A number of trails can be accessed from the park's open roads mentioned above. A popular ski spot is the unplowed 15-mile section of road from the Taggart Lake Trailhead to Signal Mountain Lodge, which is closed to vehicles but open for recreational use. Guided snowshoe walks from the Taggart Lake Trailhead are available with a reservation. Try Jackson Hole Wildlife Safaris for a winter wildlife tour in the park and surrounding area (jacksonholewildlifesafaris.com).
Lodging: There is no winter lodging available in the park, but there are many options in and around nearby Jackson Hole.
More information: 
nps.gov/grte/planyourvisit/winter
Glacier National Park
Access: During the winter season, Apgar Village is open; 11 miles of the west side of the Going-to-the-Sun Road, and 1.5 miles on the east side, are the only road sections maintained.
Skiing/Snowshoeing: A wide variety of trails can be accessed from the maintained sections of road, popular ones being Upper Lake McDonald and Marias Pass. Ranger-led snowshoe walks are offered on Saturdays and Sundays at 10:30 a.m. and 2 p.m., departing from the Apgar Visitor Center.
Other Adventures: For adventures just outside of the park, try Swan Mountain Snowmobiling for a variety of snowmobile tours in Glacier County (glaciersnowmobile.com).
Lodging: There is no winter lodging in the park, but lodging is available in the towns of East and West Glacier. 
More information:  nps.gov/glac/planyourvisit/winter