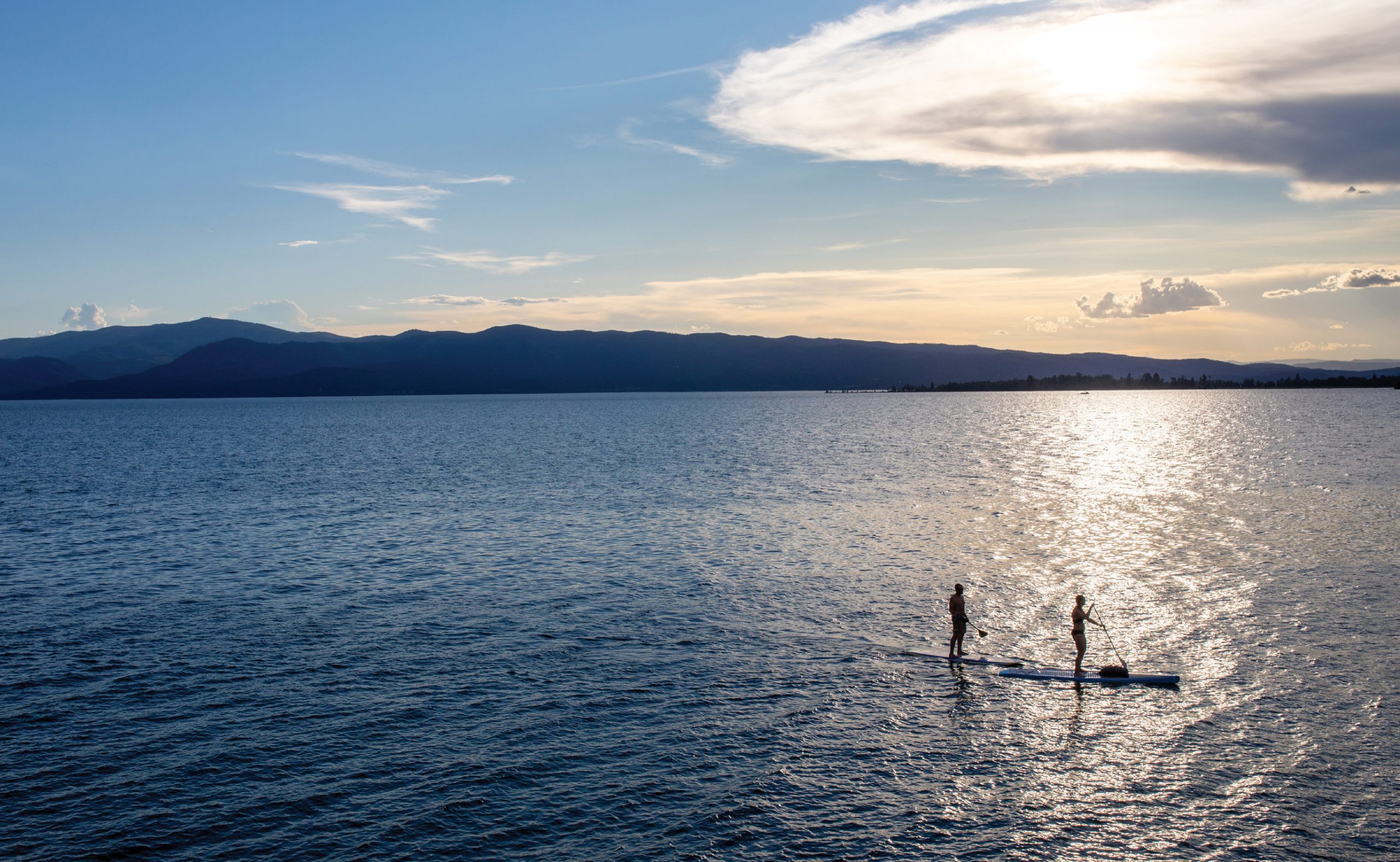 02 Jun

Round Up: Wet and Wild

in

On a warm summer day a few years ago, my husband and I woke early to explore the 2,160-acre Wild Horse Island, part of Flathead Lake State Park in Northwestern Montana. Our goal was to hike to its highest point, Eyeglass Peak, 900 feet above lake level.

Located on the southwestern arm of the 122,560-acre Flathead Lake, the island is accessed via private boat (kayaks and canoes included) or commercial operations. It features several sandy beaches, stately conifers, fields of wildflowers in the summer, and a small trail system that takes you to the Johnson homestead, a cabin built in the early 1900s. Visitors are free to explore off-trail, except for the private lots that dot the shoreline.

In addition to its beautiful flora, Wild Horse is well known for its diverse wildlife, including bighorn sheep, mule deer, songbirds, bald eagles, wild turkeys, loons, ospreys, and merlins. A few mountain lions live there too, as do black bears and a small herd of wild horses.

As the largest natural lake west of the Mississippi River, Flathead is 27 miles long from north to south, and approximately 15 miles wide. It covers 191 square miles and reaches down to 371 feet at its deepest point. The lake was once part of Glacial Lake Missoula, which covered much of Western Montana until roughly 15,000 years ago. The southern part occupies part of the Flathead Indian Reservation, established by the Hellgate Treaty in 1855 and home to three tribes — the Bitterroot Salish (Flathead), Upper Pend d'Oreille, and the Kootenai — which govern themselves collectively as the Confederated Salish and Kootenai Tribes.

And Wild Horse Island is just one stopping point on a tour of Flathead Lake State Park's six units. Driving clockwise around the lake from Polson is Big Arm, West Shore, Wayfarers, Yellow Bay, and Finley Point, each offering spectacular scenery, lake access, and camping. The lake is known for its popular fisheries, and boaters can find ramp access at all but Finley Point in any season except midwinter when a few of the bays freeze.

Flathead Lake is also stunningly beautiful; standing on the shore, one can see through the crystal clear water to the lake bottom. The water is also cold, ranging from 36 degrees in mid-January to just 68 degrees in mid-August. And just as beautiful as the surrounding scenery, with the Mission and Swan mountains to the east and the Salish Mountains to the far west.

Those with strong arms and plenty of time can tour Flathead State Park's six units by kayak, following the Flathead Lake Marine Trail that features a network of access points and stopover areas. Kayakers can spend a day on the "trail," which is more of a concept than a signed route, or plan a trip that includes overnights at one or several of the units' campgrounds (reservations are imperative). While all units provide lake access, each one has different features.

Big Arm: This 217-acre area has 41 campsites that sit among mature ponderosa pine and juniper trees. There's a 1.75-mile hiking trail that's perfect for bird watching at dawn and dusk, and the sandy beach offers access to swimming, boating, or just lying in the sun. From mid-April to October, this unit also has three large yurts that are available to rent for overnight stays.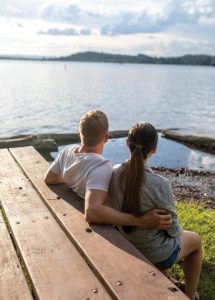 West Shore: With 31 campsites among groves of Douglas fir, ponderosa pine, and American larch on its 129 acres, this area features glacially carved rock outcrops that rise from the lake, providing excellent views of the water and surrounding mountains. Swimming, boating, and fishing are popular activities along the rocky beach.
Wayfares: Just south of the town of Bigfork, this 67-acre unit features 30 campsites (including hiker/biker campsites that are convenient for those traveling the nearby Continental Divide route), along with swimming, boating, and fishing access. In addition, a nature trail from the shore to a scenic overlook leads hikers through a carpet of wildflowers in midsummer.
Yellow Bay & Finley Point: These two smaller areas sit along the lake's eastern shore. The 15-acre Yellow Bay unit offers five first-come, first-served tent sites, plus a small beach. Even with Montana Highway 35 just a few hundred yards away, the sites are nestled among tall trees and feel far from civilization. The 28-acre Finley Point features 27 campsites in a mature pine forest, with access to hiking, fishing, swimming, and boating.
Wild Horse Island: Camping is not allowed on the island, which is accessible only by boat, but visitors can hike around to discover its many features before heading back to the main shore. For those without a boat, commercial launches provide shuttles to and from the island.
To reserve campsites or learn more about Flathead Lake State Park, visit stateparks.mt.gov. From Montana Outdoors, the magazine of Montana Fish, Wildlife & Parks. Used with permission.
Flavors under the big sky
In her newly published book, Flavors Under the Big Sky: Recipes and Stories from Yellowstone Public Radio and Beyond, Big Sky Journal contributor Stella Fong marries cherished local ingredients with worldly flavors, offering a fresh take on Big Sky Country's finest fare. Using food sourced from waterways, mountains, plains, and local farmers' markets, Fong explains how to make Montana's edible resources shine in a diverse array of savory and sweet applications.
In Flavors Under the Big Sky, Fong shares more than 80 recipes accompanied by photography for dishes like Pheasant Stir-Fry with Black Bean Sauce and Elk Kielbasa with Pomegranate, which bring an international flair to game meat that's closely tied to the Northern Rockies. Rhubarb Raspberry Polenta Cake and Pavlova Roulade with Sour Cherry Sauce and Toasted Almonds give new life to market and garden staples. And stories of culinary trailblazers pay tribute to the Treasure State's abundance of locally grown food.
Along with writing about it, Fong has long been immersed in the world of food as a culinary instructor and a certified wine professional. She's the author of Historic Restaurants of Billings and Billings Food, and the host of the Yellowstone Public Radio show "Flavors Under the Big Sky."