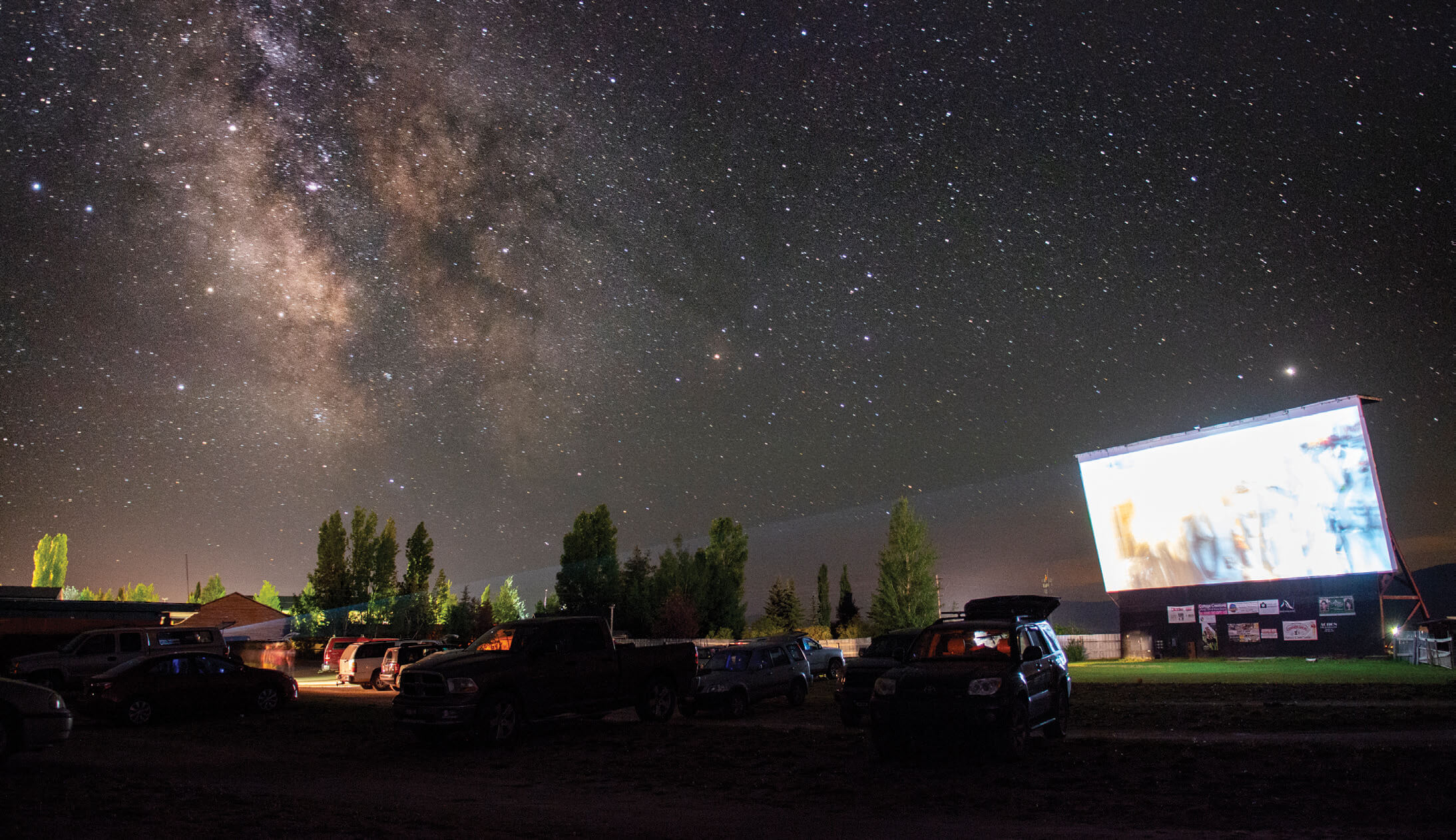 Built in 1953, The Spud DriveIn — located between Driggs and Victor, Idaho — an outdoor venue with spectacular views.
07 Jun

Round Up: The Drive-In Revival

in

Among the sudden life changes that were brought on by COVID-19 in early 2020, a significant one was the loss of cultural events: Live music, art festivals, and films on the big screen, among many other things, came to a screeching halt. Faced with empty social calendars and craving entertainment, some communities turned to an old pastime: the drive-in movie. A nostalgic throwback, many of these outdoor venues have been revived with modern sound equipment and screens. This summer, whether it's for a fun family outing or a romantic date under the stars, try one of these "theaters" in the Northern Rockies, and watch for additional pop-up outdoor film events near you.
Montana
Silver Bow Drive-In, Butte Family-owned and operated since 1977, the Silver Bow was the first Montana drive-in to feature two screens. Today, it can accommodate close to 500 vehicles. silverbowdrivein.com Amusement Park Drive-In, Billings With two screens, viewers have a choice of movies on select nights throughout the summer and fall. amusementparkdrivein.com Pharaohplex Drive-In, Corvallis Opening May 14 with "King Kong" and "Godzilla," the Pharaohplex accommodates 130 cars and has been bringing entertainment to Montana's Bitterroot Valley for 40 years. pharaohplex.com The Pasture Drive-in Theater, Manhattan Claiming to be "super bored" during quarantine, high school senior Porter Blanchard launched an outdoor theater on his family's pastureland northwest of Bozeman in May 2020, and plans to open it again this summer. facebook.com/ThePastureDriveIn
Idaho
Terrace Drive-In, Caldwell Terrace offers double features on three different screens throughout the summer and fall, along with concessions. terracedrivein.com Parma Motor-Vu Drive-In, Parma Launched in 1953, this family-owned venue screens newly released films with room for 250 cars. facebook.com/Parma Motor-Vu Drive-In Motor Vu Drive-In, Idaho Falls Built in 1946, the Motor Vu offers nightly double features from spring through fall, along with concessions. facebook.com/MotorVuIF The Spud Drive-In, Driggs En route to Jackson Hole, between Driggs and Victor, The Spud was established in 1953 and continues to show new releases and old-time favorites. spuddrivein.com Idan-Ha Drive-In, Soda Springs Throughout the summer, the Idan-Ha screens a selection of new and classic films, along with recorded live concerts. facebook.com/IdanHaDriveinTheatre Teton Vu Drive-In, Rexburg Teton Vu shows nightly double features through the fall and has a snack bar with burgers, shakes, popcorn, and more. tetonvu.com
Wyoming
American Dream Drive-In, Powell Enjoy one of several showings each week, and pay a flat rate per vehicle. americandreamdrivein.com The Chinook at Terry Bison Ranch, Cheyenne Located on the Terry Bison Ranch Resort, near the Wyoming-Colorado border, the Chinook offers double feature drive-in movies, with RV sites for those who want to make a night of it. gochinook.com