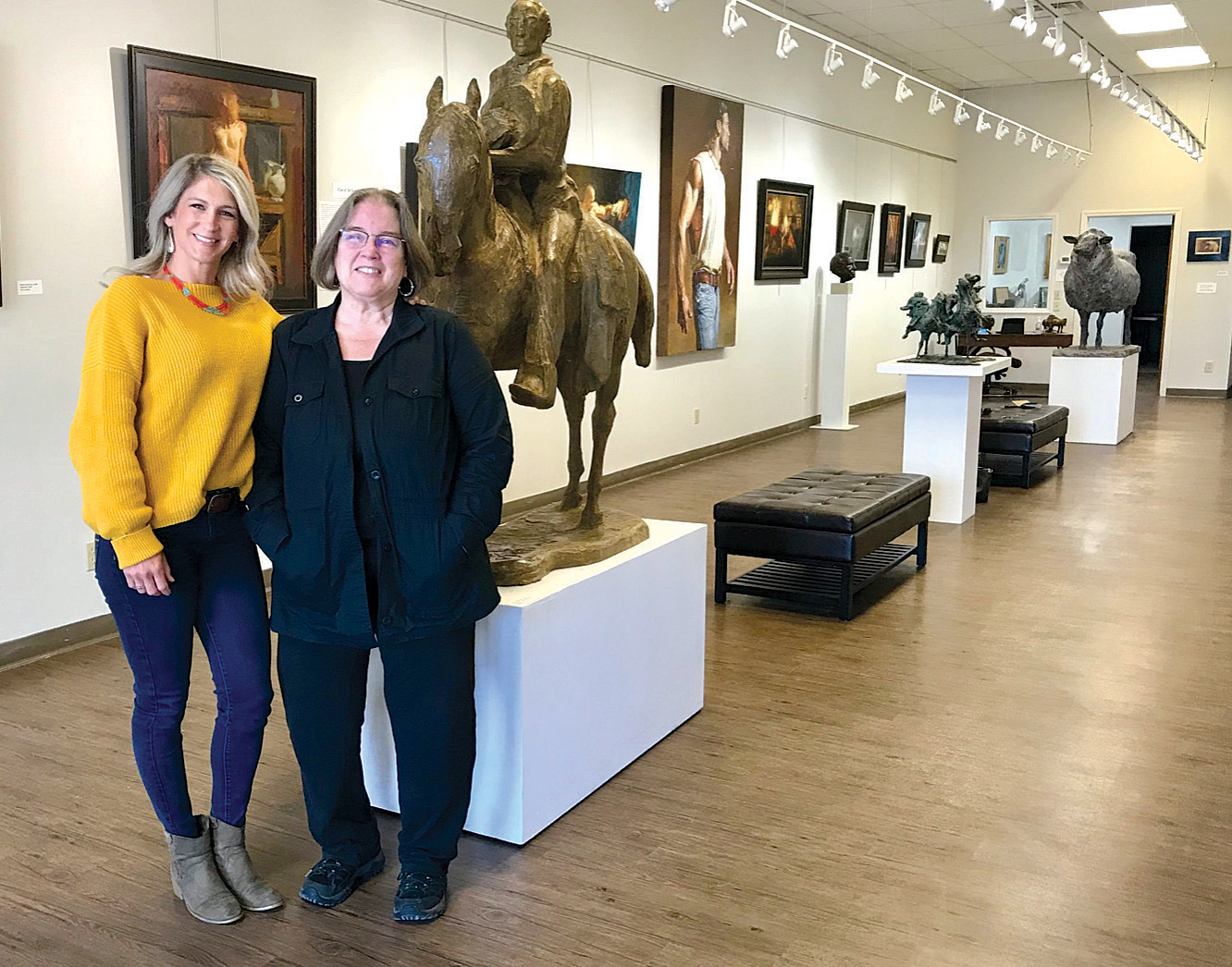 Bozeman Art Museum founder Linda Williams and board chairman Erin Jones Graf stand in the museum, which opened its doors in January 2020.
05 Aug

Round Up: The Bozeman Art Museum

in

Linda William's affection for the arts started when she was a child. While growing up in Tennessee, her parents were art collectors, and their family vacations typically revolved around visiting museums and galleries. Williams went on to earn a Bachelor of Fine Arts in studio art from Montana State University, and more recently earned a Master of Arts in modern art history, theory, and criticism from Azusa Pacific University. In the meantime, she has written for Fine Art Connoisseur and Southwest Art magazines; served as chair for the Buffalo Bill Show & Sale in Cody, Wyoming; was a speaker at the 2014 Traditional Representational Art Conference in Ventura, California; was a board member for the Billings, Montana-based nonprofit Arts Without Boundaries (which provides individual and small group art instruction in schools that might not have an art education program); and served as the president of the Southwest Montana Arts Council in Bozeman for seven years.

And to top it all off, Williams opened the Bozeman Art Museum (BAM) in January 2020 and leads art education programs in schools around the state. Here, we talk to her about the inspiration behind starting BAM and promoting the arts in Montana communities.

BSJ: What inspired you to open the Bozeman Art Museum?

Linda Williams: In 2012, with my four children grown, I realized that there was a genuine need in Bozeman for an art museum. Billings, Helena, Great Falls, and Miles City all have one — and Missoula has two! I felt it was time for Bozeman to step up. So BAM was incorporated, and we began putting together a great team to accomplish founding an art museum.

BSJ: How did you go about opening the museum and finding funding and support?

Williams: Our plans went into neutral for two years while I received my master's degree. Then we found a space for BAM and opened our doors in January 2020, but we had to close in mid-March due to COVID. We reopened on June 3. We're supported through donations, grants, and earnings from some workshops that we sponsor.

BSJ: Tell us about your other art-related work in the community.

Williams: Art was not taught in the schools I attended until high school. This might be why I take the importance of art classes at an early age so seriously. In 2017, we began our programming. We became aware that there were no specifically designated art teachers in kindergarten through eighth grades in the public schools. The greatest need turned out to be in the rural schools, so in 2017, we began teaching skills-based, 12-week classes in four rural schools to 80 students. In 2018, we taught in seven schools and added more homeschooled kids for a total of 494 students, followed by 10 schools and homeschooled kids in 2019, for a total of 1,095 students. We had eight public lectures in 2019 and had nine scheduled for 2020, which take place at the Museum of the Rockies.

BSJ: What are your hopes for the museum?

Williams: In the years to come, we look forward to having a permanent large art museum as a community asset. We hope to continue to inspire and foster creativity in the community and provide transformational art experiences.

BSJ: What are some upcoming exhibits at BAM?

Williams: Opening on July 15 is an exhibit of 19th- and 20th-Century American Art, followed by a tribute to Russell Chatham in November 2020. In 2021, we will have a Native American art exhibit along with two others [that are still in the planning phase].

BAM is located at 2612 West Main Street, Suite B in Bozeman. See bozemanartmuseum.org for more information about upcoming exhibits and how to support BAM and art education in Montana.