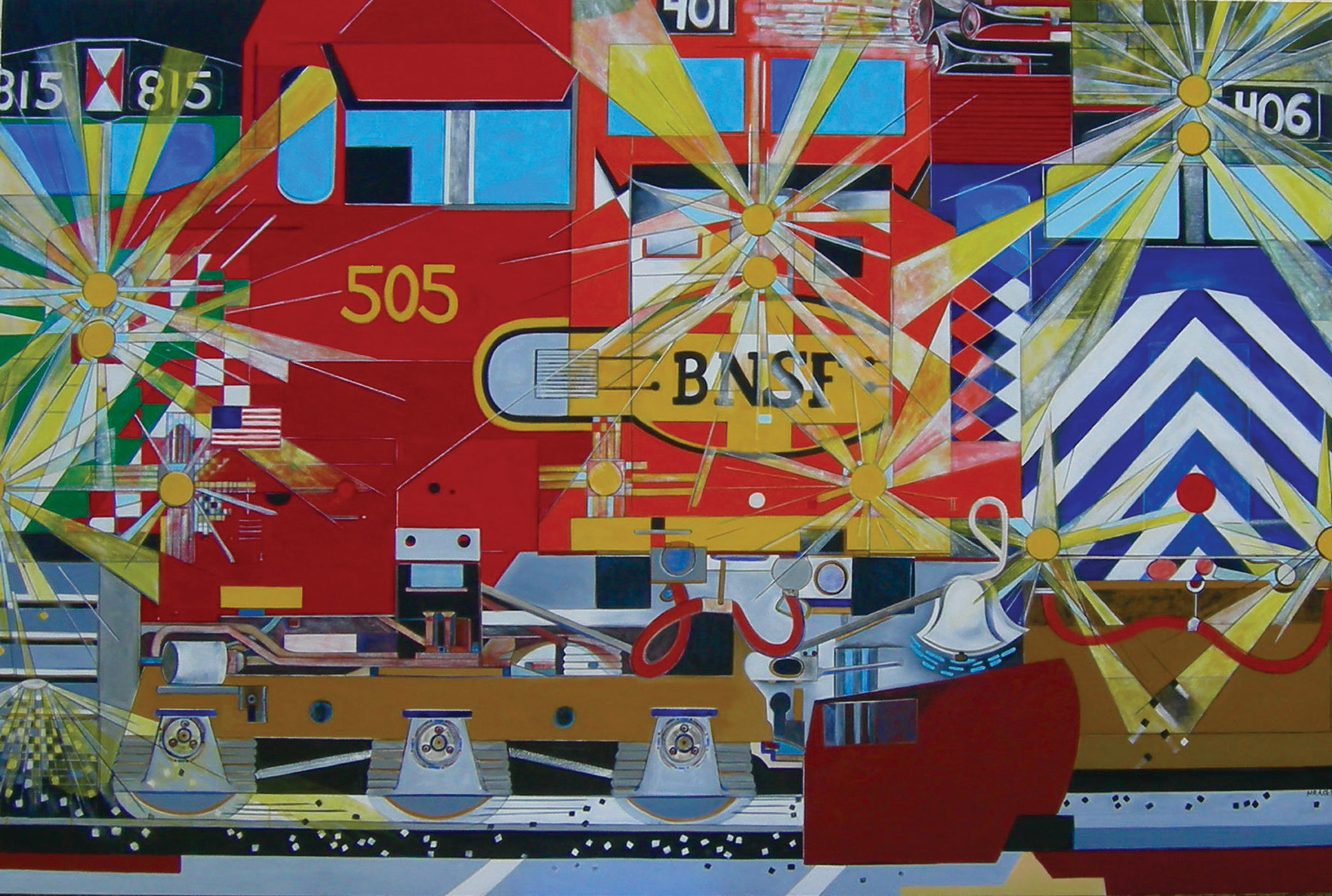 08 Jun

Round Up: Summer 2015

in
---
Train in Art at the Livingston Depot
The Livingston Depot Museum opens its 2015 season with a special exhibit, Train in Art: Train + Depot = Light, Energy, Motion. The exhibit offers a contemporary view of the Western rails by Livingston artists Sheila Hrasky and Tandy Miles Riddle, who have painted the depot en plein air for years.
As the depot's first train art show by female artists, the historically male subject is given a female perspective. Riddle initially painted the ornate historic architecture, calling it one of her favorite buildings, while Hrasky's work focuses on the trains and landscape. Both were inspired by the interplay of movement, light, color and shadow of all the activity at the depot.
There will be an artists' reception for the exhibit at 7 p.m. on June 18. The event will feature live music and hors d'oeuvres, along with a wine tasting hosted by the soon-to-open Gourmet Cellar Uncorked.
In conjunction with Train in Art, the museum's popular ongoing main exhibit Rails Across the Rockies: A Century of People and Places will be on display, introducing visitors to the history of railroading in Montana, with special attention paid to the Northern Pacific and its central role in opening of Yellowstone National Park through Livingston in the 1880s. Also on display this season will be exhibits on The Livingston Depot in History and Architecture, Film in Montana: Moviemaking under the Big Sky, and selections from On Track: The Railroad Photography of Warren McGee.
Train in Art continues through September 13.
Information: (406) 222-2300, LivingstonDepot.org
---
Meet Craig Johnson, Author of "Longmire"
Author Craig Johnson hits south-central Montana twice on June 15 with a noon hour book signing at Elk River Books in Livingston, followed by a reading and signing at The Country Bookshelf in Bozeman at 7 p.m. Johnson is best known for his Western mystery series featuring the taciturn Wyoming-based sheriff, Walt Longmire.
Johnson will read from his most recent book, Dry Bones. When a complete Tyrannosaurus rex skeleton is discovered in Wyoming, it appears to be a windfall for the local museum. That is, until the rancher on whose property the skeleton is discovered is found dead. With millions of dollars at stake, Wyoming's acting deputy attorney and a cadre of FBI officers descend on the town, turning what should be a local matter into a political charade, with Sheriff Walt Longmire determined to discover the murderer amid the mayhem.
Originally from West Virginia, Johnson has lived in Montana and Wyoming since he was a young man. Today, he lives on a ranch he built himself in Ucross, Wyoming, population 25.
Information: (406) 587-0166, CountryBookshelf.com; and (406) 333-2330, ElkRiverBooks.com
---
Montana Folk Festival
The Montana Folk Festival celebrates the music, culture and cuisine of the United States against the backdrop of historically diverse Butte, Montana, from July 10 to 12. The festival features performances and demonstrations by more than 200 musicians, dancers and craftspeople across six stages and a dance pavilion. As many as 50 traditional artists and craft vendors will sell wares in the festival's two marketplaces: the Montana Traditions Arts Market and the nearby First Peoples' Market, which features Native American artists and craftspeople.
The theme for the 2015 festival is the influence of agriculture on Montana life: "The Bounty of the Land: The Influence of More Than 150 Harvests on Heritage and Culture in Montana and the Mountain West."
For eight years, the festival has showcased the country's finest traditional artists as the signature event of the National Council for the Traditional Arts.
Information: MontanaFolkFestival.com
---
Plein Air for the Park
The Grand Teton Association is once again partnering with the Rocky Mountain Plein Air Painters to present a "wet painting" art show and sale to increase awareness of Grand Teton National Park. Starting July 6, more than 40 participating artists will arrive with blank canvases and proceed to paint outdoors in Jackson Hole and Grand Teton National Park. By July 15, their works will be on display and for sale in the Craig Thomas Discovery and Visitor Center. About 40 percent of the proceeds from the show will benefit the Grand Teton Association and support their ongoing educational, interpretive and scientific programs in Grand Teton National Park.
Information: (307) 739-3606, GrandTetonPark.org
---
Celebrate like the Basques: Jaialdi 2015
Jaialdi means "Big Festival"in Basque, and that's exactly what you can expect in Boise, Idaho, July 28 to August 2. Every five years, attendees from around the world come to celebrate the best of Basque culture, a community that traces its roots back 2,000 years to a region on the coast of the Bay of Biscay.
During Jaialdi 2015, one of the largest Basque festivals in the world, patrons can share in Basque customs, including lively music, quick-footed dancing, feats of strength, flavorful food and handcrafted souvenirs, along with presentations on the Basque community. If you can't make it this year, stop by Boise's Basque Block downtown any time to eat, drink and learn more about the Basque culture.
Information: Jaialdi.com
---
Hockaday Exhibit Honors Women Artists of Glacier
The Hockaday Museum of Art celebrates the pioneering women painters of Glacier National Park with an exhibit on display May 28 to July 18. A Timeless Legacy — Women Artists of Glacier National Park recognizes the early, bold-spirited women who overcame society, weather and geography to paint in Glacier National Park. The works of contemporary women artists continuing this legacy will be displayed alongside paintings of their predecessors, demonstrating the timeless tradition of painting in the park.
The show features the work of Nellie Knopf, Leah Dewey Lebo, Kathryn Leighton, Elizabeth Lochrie, Lucille Van Slyck, Elsa Jemne and Merle Olson, as well as four women artists working here today: Carole Cooke, Kathryn Stats, Linda Tippetts and Rachel Warner.
Docents will lead tours of A Timeless Legacy Thursdays at 10:30 a.m. and Saturdays at 1 p.m.
The Hockaday Museum of Art is located in the cultural district of downtown Kalispell, Montana.
Information: (406) 755-5268, HockadayMuseum.org
---
Summer Music Roundup
The warm weather marks the start of outdoor festival season, and musicians across the country are tuning their instruments in preparation. Along with hiking, fishing and camping this summer, a music festival is an excellent excuse to travel someplace new for a weekend spent outdoors with friends. From fierce fiddling and exciting electronica, to country music superstars and serene symphonies, music fans have plenty of listening to do under the big sky. Check out these lineups on stages across Idaho, Montana and Wyoming:
Weiser, Idaho: Popular for more than 60 years, the National Old Time Fiddlers' Contest and Festival showcases fiddlers from across the country in what's been dubbed the "Super Bowl" of fiddling. The festival takes place from June 22 to 27, but you can tune your ear by coming early for the third annual banjo contest, June 20 and 21. Anticipate a parade, endless jam sessions and nightly entertainment.
Information: FiddleContest.com
Elmore County, Idaho: Situated in the foothills of the Sawtooth Mountains 20 miles from Mountain Home, the inaugural Mountain Home Country Music Festival (from July 31 to August 2) features all the big names in country music: Blake Shelton, Brad Paisley, Florida Georgia Line, Justin Moore, Sara Evans, Thompson Square, Frankie Ballard, Lonestar, Parmalee and Jana Kramer. Camping is available and event organizers anticipate 20,000 attendees.
Information: MountainHomeFestival.com 
Bozeman, Montana: As part of its 47th season, the Bozeman Symphony Orchestra will host a Symphony of Wine at the Story Mansion to celebrate summertime with wine, hors d'oeuvres and sessions by Maestro Matthew Savery on June 25 from 5 to 8 p.m. Proceeds will benefit the symphony and choir. In addition, the Festival of the Fourth is a free outdoor concert and fireworks show at Bozeman's Gallatin County Fairground from 6:30 to 8:30 p.m., and includes a barbecue to benefit the symphony.
Information: BozemanSymphony.org
Ennis, Montana: Returning for its second year, Moods of the Madison features live music, vendors, nonprofits and the great outdoors from July 17 to 18. Musical guests include Collective Soul, Leftover Salmon, Los Lonely Boys, Beats Antique and many more. Camping available.
Information: MoodsoftheMadison.com
White Sulfur Springs, Montana: The legendary, Grammy award-winning Nitty Gritty Dirt Band will join rising star Ryan Bingham, three-time Grammy winner Keb' Mo,' and more than 10 other acts during the fifth annual Red Ants Pants Music Festival in the middle of a clover pasture July 23 to 26. Their motto: "Connect with good folks and celebrate rural Montana." Camping is available. Along with other festivities, the Montana Bard and Mustache State Finals are back by popular demand.
Information: RedAntsPantsMusicFestival.com
Billings, Montana: The Last Best Country Fest brings Hank Williams Jr., Big & Rich (featuring Cowboy Troy), Thompson Square, and other country stars to the South Park stage from July 10 to 11. Their sister festival, Magic City Blues, will host John Fogerty, Buddy Guy, O.A.R., Lucinda Williams, Los Lobos and others in various venues. From July 31 to August 2.
Information: LastBestCountryFest.com, MagicCityBlues.com
Missoula, Montana: Sam Bush and Nathan & the Zydeco Cha Chas are the musical acts performing during the River City Roots Festival's celebration of the Garden City August 28 to 29. There's also an art show, fun run and plenty of vendors, drawing some 15,000 individuals to downtown Missoula.
Information: RiverCityRoots Festival.com
Jackson Hole: The inaugural, non-genre specific Contour Music Festival showcases more than 35 acts from June 11 to 14, including Thievery Corporation, Emancipator, The Polish Ambassador, Charles Bradley & His Extraordinaires, Deltron 3030, Quixotic, Autograf, The Congress and dozens of others. Artistic and cultural offerings will be on site.
Information: ContourMusicFestival.com
Jackson Hole, Wyoming: Jackson's Fourth of July festivities include performances by the Old Crow Medicine Show, Young Dubliners, Grand Teton Music Festival Symphony Orchestra, Parker Millsap and One Ton Pig on center stage at the Snow King ball fields in the shadow of the Tetons.
Information: JacksonHoleMusicLive.com
Alta, Wyoming: Two summer festivals, the 11th annual Targhee Fest from July 17 to 19, and the 28th annual Grand Targhee Bluegrass Festival from August 7 to 9, make for a summer of music at the resort. The Targhee Fest lineup includes Gov't Mule, Bruce Hornsby & the Noisemakers, Brandi Carlile, Taj Mahal Trio, Patty Griffin and others, while the Bluegrass Festival keeps things twangy with Donna The Buffalo, Keller Williams' Grateful Grass, Lake Street Dive, Elephant Revival, Infamous Stringdusters and more. Camping is available for both festivals.
Information: GrandTarghee.com
Madison Valley Art's Festival: Artists from across Montana and nearby states will arrive in Ennis for the 20th annual Madison Valley Arts Festival in August. Anticipate some 45 artist booths, live entertainment, delicious food, raffles, book signings and activities for children. Sponsored by the Ennis Arts Association, artists participating in the juried show will display paintings, pottery, furniture, stained glass, jewelry and photography, among other works. Along with visual arts, the event also includes performances by the Ennis Community Band, the Tune Tanglers, and Ennis' own traveling accordion player, Jan Beekman. Events take place from 10 a.m. to 4 p.m. on August 8 on Main Street in shady Peter T.'s Park. Proceeds from the festival will aid the Ennis Arts Association in promoting local arts.
Information: (406) 599-9678, EnnisArtsAssociation.org
The Livingston Hoot Returns: Closing down historic Main Street in the name of music and community, the Livingston Hoot is back!  The evening of Thursday, August 13 promises music, food and family friendly activities. Headliners this year at the free community event are Roy Rogers and the Delta Rhythm Kings, with the Tin Men opening the show. There will be food and drink available from local restaurants and street vendors, and non-profit organizations from Park County will be involved selling drinks and sponsoring activities for all ages. A new addition is a second stage, featuring the return of a popular Livingston band on Main Street between Lewis and Clark.
Information: LivingstonHoot.com