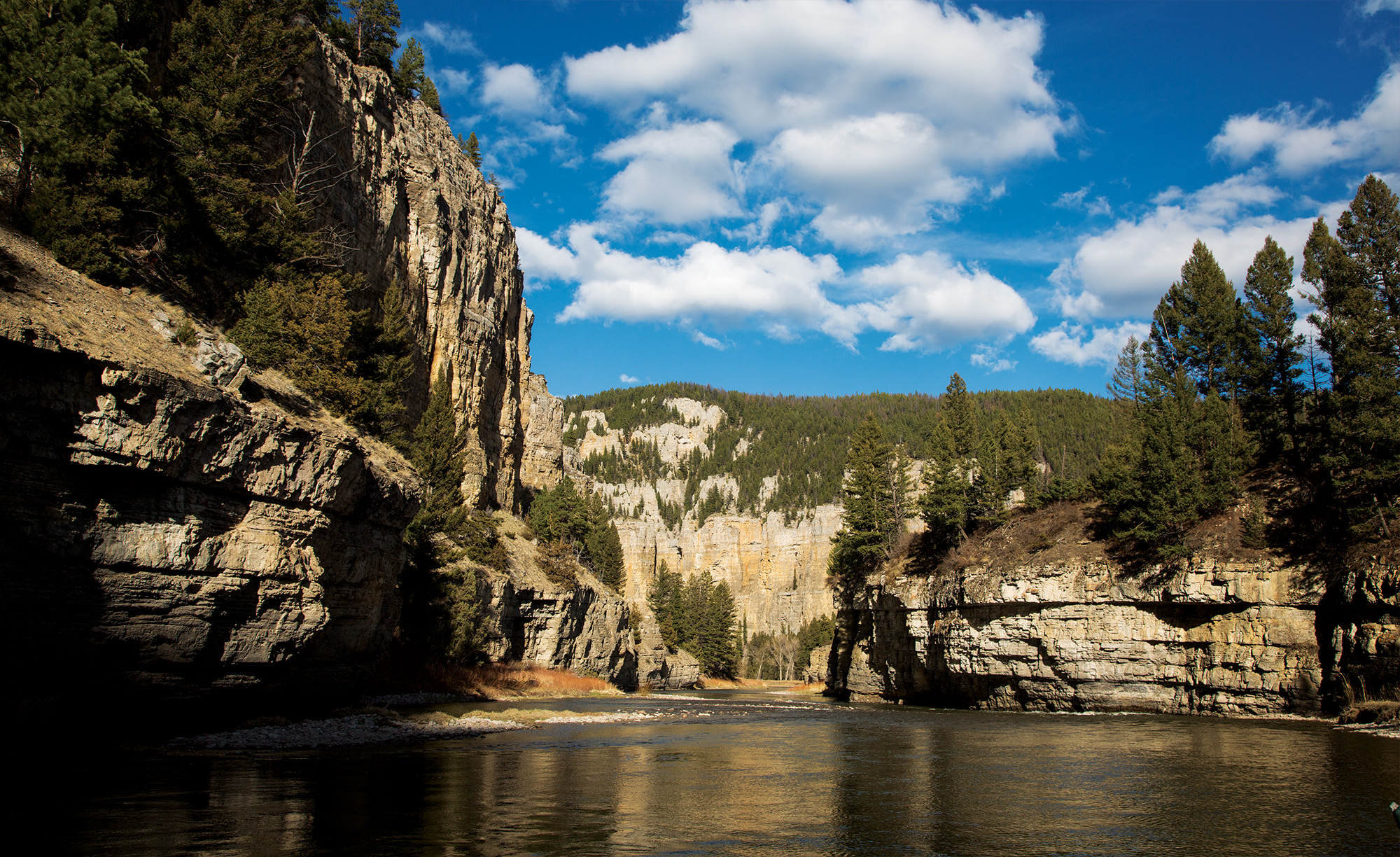 16 Feb

Round Up: River Protectors

in
---
As any angler can attest, the beauty and serenity of the rivers are as much a part of the allure as the fish. But when something happens to the waters, whether it's a fish kill like the one that occurred on the Yellowstone last summer or a proposed mine near the headwaters of a river like the Smith, who is there to stand up for the rivers, to protect the waters that we hold near and dear? Thankfully, throughout the Northern Rockies, there are a number of organizations dedicated to protecting the rivers we love. Here are some of the issues our rivers are faced with today, and the efforts that are being made on their behalf:
BHA's Quiet Waters Initiative
Backcountry Hunters and Anglers (BHA), an organization touted as the "sportsmen's voice for our wild public lands, waters, and wildlife," is pursuing the Quiet Waters Initiative, a proposal for the Montana Fish, Wildlife & Parks that addresses the use of motorized technology on Montana's waterways. After taking a look at current motorized watercraft regulations and use, BHA worked with local officials, businesses, and individuals to identify areas of growing conflict, and streams where traditional uses are threatened, creating unsafe situations and damaging fish and wildlife habitat.
"Montana's population is growing rapidly, but the miles of rivers and streams are staying the same," says BHA Montana chapter chairman John Sullivan. "… Montanans should have the right to safely wade, float, tube, and hunt without the threat of motorized craft."
Members of the Montana Fish and Wildlife Commission voted unanimously in May 2016 to advance the Quiet Waters initiative, and public comments were accepted through Jan. 13, 2017.
American Rivers
The Northern Rockies branch of this national organization, based in Bozeman, Montana, focuses on creating Wild and Scenic designations for sections of rivers throughout the region. "Wild and Scenic is the gold standard for river protection in this country, and on the planet really," says Scott Bosse, Northern Rockies director. For the past seven years, Bosse and his team have been working with a broad coalition, Montanans for Healthy Rivers, to designate 52 stream segments and 769 steam miles across Western Montana. "We've been doing outreach across Montana, asking which sections people want protected," Bosse says. After more than 300 meetings with citizens groups, landowners, and businesses, they are now working toward turning this designation into federal legislation. "The likelihood of legislation passing is good, the question is when it will happen," he says. "We'd love to see a bill introduced this year; it requires persistence and good luck."
The Smith River is one of those 52 stream reaches under consideration, and American Rivers has been working to prevent a copper mine from being built on its Sheep Creek tributary. With overwhelming public support, the organization is building awareness and working with a team of experts to review the mining application. "I would guess that the permit application will be deemed complete sometime this spring, and a yearlong environmental review process would follow," Bosse says.
AmericanRivers.org; Healthyriversmt.org
Gallatin River Task Force
Based in Big Sky, Montana, the Gallatin River Task Force works to protect the rivers and streams around this destination area for the purpose of sustainable recreational use and healthy drinking water for years to come. With many projects in the works, one of the most pertinent is the Big Sky Sustainable Water Solutions Forum, a collaborative effort among developers, businesses, community members, county government, and other stakeholders to develop solutions for water supply, wastewater treatment and disposal, and overall watershed integrity due to the rapidly developing area around Big Sky. The goal is to have this mapped out by the end of 2017. "We really want to be a model community when it comes to water resources management," says director Kristin Gardner.
Another program geared toward addressing the resort town's growth is the River Access Improvements Project, in which they are working with Custer National Forest to improve the condition of fishing access points along the Gallatin
River and its tributaries.
Idaho Rivers United
Idaho Rivers United (IRU), based in Boise, works to protect and restore the rivers of Idaho through citizen involvement. They are dedicated to protecting clean drinking water, defending at-risk fish populations (namely wild steelhead and salmon), and keeping the rivers intact by promoting healthy stream flows and riparian areas. Their work also includes defending existing and promoting new Wild and Scenic Rivers in Idaho.
One of the organization's primary areas of focus is its work to restore the lower Snake River, where four dams kill a significant percentage of the Snake River basin's endangered salmon and steelhead. "We've been working for 20 years to try to get four dams on the lower Snake removed," says IRU communications and research director Greg Stahl. "We've been trying to drum up attention, and regionwide we have more than 100,000 people writing federal agencies to seek lower Snake River restoration."
In May, a judge ordered the federal government to write a new salmon plan. The subsequent comment period and meeting schedule is aimed at gathering public input to develop a new, science-based plan to prevent extinction of wild salmon and steelhead in the Columbia and Snake rivers.