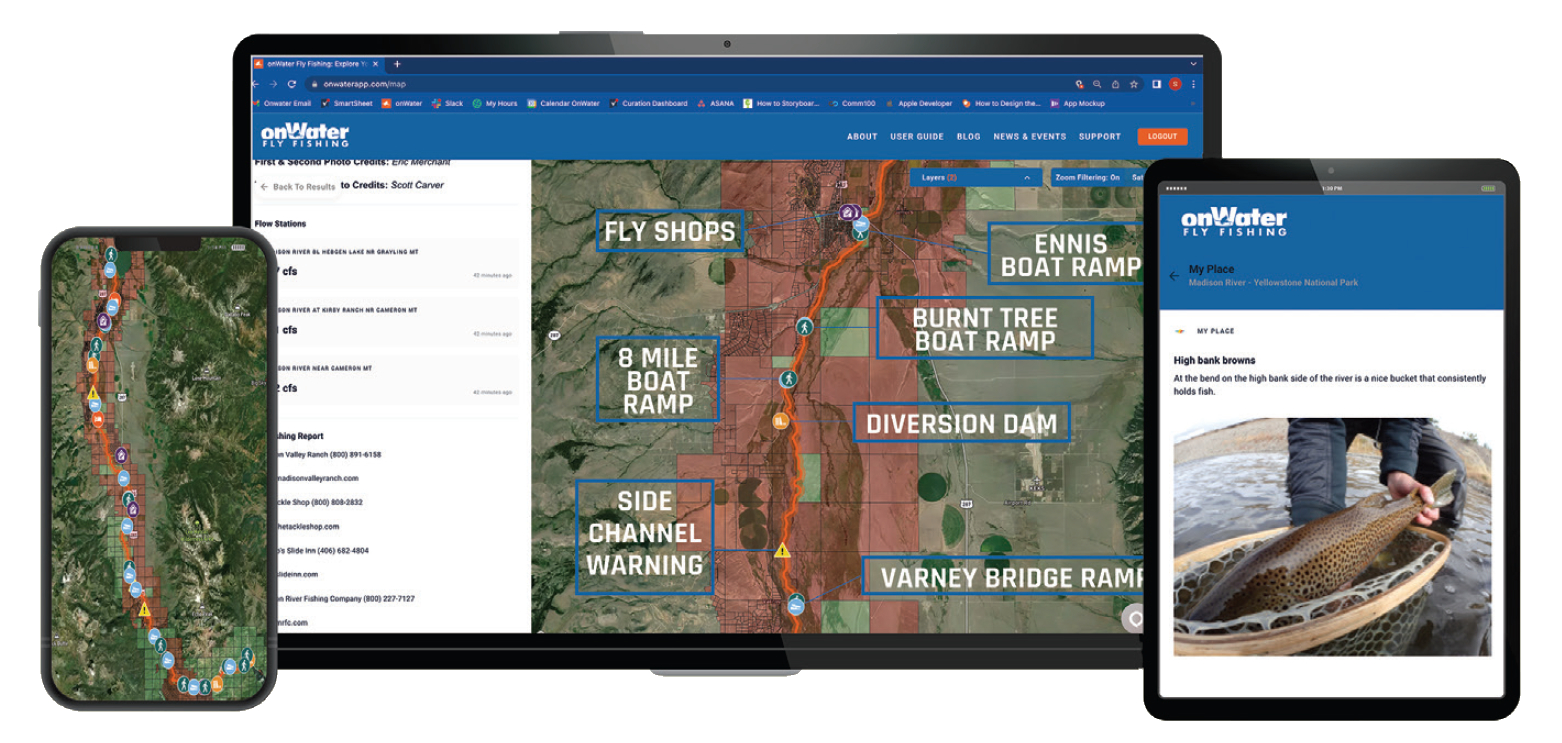 02 Jun

Round Up: onWater

in

"Today's anglers are looking for intelligent apps along with their favorite fly shop," remarks fly-fishing industry veteran Scott Carver. With that in mind, he and a team of others based in Montana and Colorado created the informative, newly released onWater app that provides detailed digital maps and related features to facilitate plans and explorations for fly anglers.

The onWater app and website allow anglers to search hundreds of satellite imagery-informed maps to obtain GPS-specific points of interest. Users can also track locations with respect to public and private property boundaries, and calculate distances to access points, boat ramps, and river hazards, among other things. Each hand-curated map contains data about a wealth of local resources, including river descriptions and flows, fishing reports, local regulations and stream access laws, and fishing license information. In addition, the onWater Bankside Blog offers industry-specific news, such as local river clean-ups, conservation concerns, and more. "onWater's highly-detailed, angling-specific digital maps help anglers explore their water with confidence," Carver says. "No more worrying about whether you're trespassing or how far the next boat ramp is; this app tracks it for you."

The onWater team continues to add new rivers to the app every day, and along with providing anglers with valuable information, they also focus on the protection of rivers and habitats. "Our broader vision is to create a platform that connects and delivers value for all stakeholders in the fly-fishing ecosystem while promoting conservation and protection of our resources," says Carver. "Whether you're an individual angler, outfitter, instructor, retailer, lodge owner, or product manufacturer, we want the entire fly-fishing community to experience the benefits."

The onWater app is iOS and Android mobile device and tablet compatible, and it offers desktop access via onwaterapp.com.