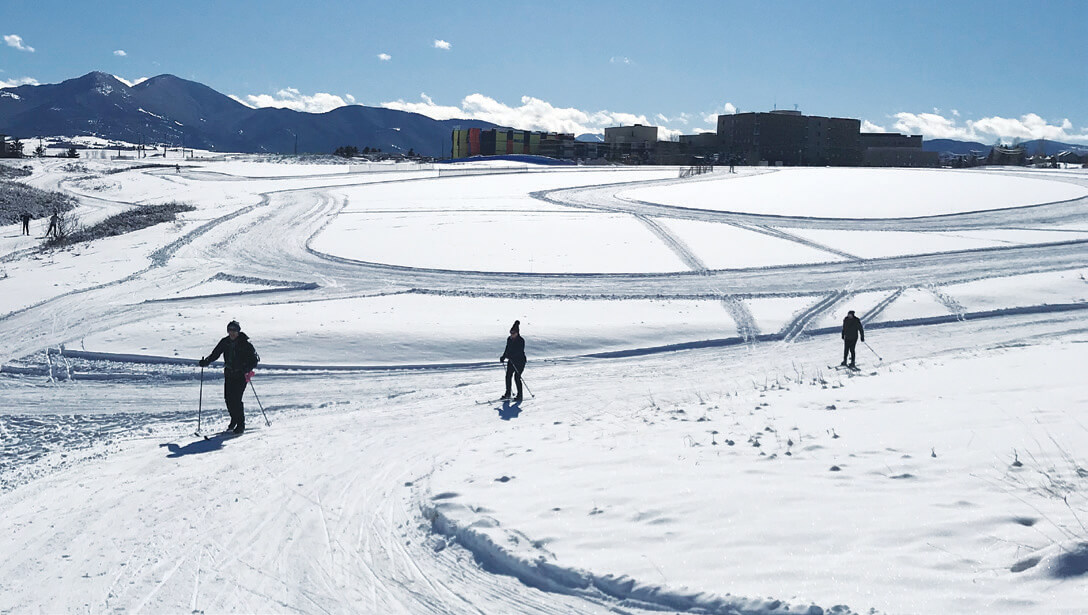 Skiers enjoy a bluebird day at Sunset Hills in Bozeman, Montana, one of seven areas groomed by the Bridger Ski Foundation. | Photo courtesy of Bridger Ski Foundation
25 Nov

Round Up: Nordic Skiing

in

It's no secret that the mountains and meadows surrounding Bozeman, Montana offer some of the best cross-country skiing in the country. In fact, the Bridger Ski Foundation, a local nonprofit community ski club, tends to more than 70 kilometers of groomed ski trails in the area, including a loop with snowmaking in downtown Bozeman.

The seven groomed areas are on a combination of private, Forest Service, and city land, and the foundation provides grooming through a unique system that gives the public free access to this network. Skiers are simply asked to support the donor-funded grooming by purchasing voluntary trail passes, making donations, and contributing volunteer work.

For more information about Bridger Ski Foundation's groomed ski trails, visit bridgerskifoundation.org/trails. To learn more about other Nordic skiing opportunities in the region, visit jhnordic.com for Jackson Hole, Wyoming; visitbigsky.com/things-to-do/activity-finder/cross-country-skiing for Big Sky, Montana; and visitidaho.org/things-to-do/nordic-skiing-snowshoeing for Idaho.

Highland Glen (10 km)

This trail features rolling terrain through fields, sagebrush, and low hills close to downtown. Park at the Softball Complex lot, on the corner of Ellis Street and Highland Boulevard.

Sunset Hills (5 km)

This snowmaking loop winds up and down through a large field nestled between Lindley Park and the hospital. Park at the Softball Complex lot, on the corner of Ellis Street and Highland Boulevard.

Bozeman Creek/Sourdough Canyon (23 km)

Bozeman Creek (aka Sourdough Canyon) is a wide track with classic and skate lanes that gradually climbs up the canyon alongside Bozeman Creek. This is a popular multi-use trail, so expect to see lots of dogs, walkers, and skiers in the first few miles. Ski to Mystic Lake and back for a 32-kilometer (about 20-mile) run. Park at the trailhead at the end of Sourdough Canyon Road, or access the upper reaches of this trail via Moser Trailhead in Hyalite Canyon.

Bridger Creek Golf Course (7 km)

The Bridger Creek Golf Course provides some of the best beginner- and intermediate-friendly in-town cross-country skiing, with beautiful views of the Bridger Mountains. Park at the golf course's clubhouse, at 2710 McIlhattan Rd., to access loops on either side of the road. (Do not park in residential areas.)

Hyalite Canyon (30+ km)

The Forest Service's winter trail system provides endless miles of cross-country skiing — both groomed and ungroomed — throughout Hyalite Canyon. Most of the 30 kilometers of groomed trails here are better suited to classic skiing. The Custer-Gallatin National Forest provides the primary grooming, with assistance from the Bridger Ski Foundation. The grooming here is less frequent.

Sacajawea and Chief Joseph Middle Schools (1 km each)

These 1-kilometer loops on the middle schools' respective athletic fields feature flat, beginner-friendly terrain. The public is welcome to use the trails outside of school hours.