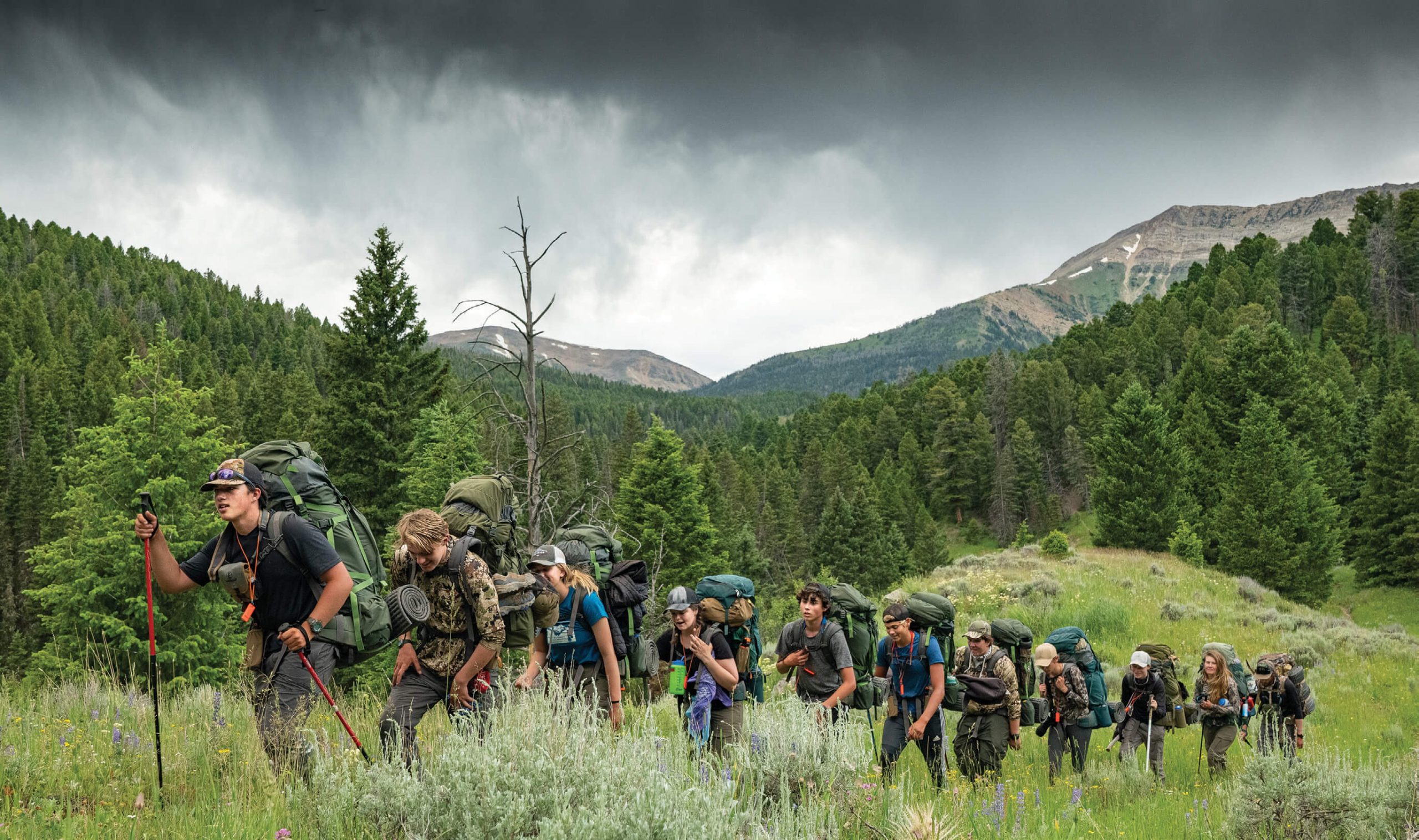 28 Sep

Round Up: Nonprofit Spotlight: Montana Wilderness School

in

Since its inception in 2015, the Montana Wilderness School (MWS) — under the direction of co-founders Gar Duke and Josh Olsen — has helped form and foster meaningful, impactful experiences in the outdoors and an intimate connection to the natural world for youth throughout Montana and beyond. Through extended immersion — from five days to several weeks — navigating and communing with wild spaces, MWS participants experience real, lasting impacts to their mental and physical health, self-confidence, and conservation awareness.

Initially a grassroots nonprofit in Bozeman, Montana that served only 16 students during its first program, MWS just completed its eighth season and has grown to serve over 200 students across a range of annual expeditions, with no end in sight. Here, Executive Director Gar Duke talks all things wild and wonderful in the greatest classroom on earth.

Big Sky Journal: How do you realize your mission across diverse populations?

Gar Duke: Our team works hard to connect with interested students and their families, building relationships with schools, other organizations, and advocate partners around Montana. We also work hard to raise money to continue building our scholarship fund every year so we can serve under-resourced Montana families that need financial assistance to attend our program. This year, over 75 percent of our Montana students are receiving support ($172,000 awarded). No participant has ever been turned away because of financial constraints. Our students come from all over the state and include a diverse mix of urban, rural, and Indigenous youth, with the majority receiving some level of financial support.

BSJ: Why is outdoor education important for children?

Duke: Outdoor education is paramount in this day and age. There is an abundance of research highlighting the positive impacts for both physical and mental health. Considering Montana's high rates of anxiety, depression, and suicide amongst teens, MWS programs are that much more important, bringing positive impacts like increased self-confidence, excitement about life and the future, and personal growth.

MWS expeditions are also physically challenging, and they're designed to be. Using our physical bodies to move ourselves through the natural world paddling a canoe, riding a horse, or carrying a heavy backpack is healthy and empowering. One in three adults in this country is obese, lacking even a small amount of exercise in their daily life; students in our courses build a foundation for success with physical activity and healthy eating.

Our program is also a community builder, bringing together diverse participants who often don't know each other, but must learn how to travel, cook, and navigate their outdoor world as a team to be successful. They also learn healthy communication strategies, how to work through conflicts, and how to exist together in a respectful way, even though they are all very different.

Lastly, preserving our world is going to take significant effort from current and future youth — young people who have explored nature firsthand, been challenged by it, and developed an ethic around conserving it. MWS has an unwavering commitment to teaching young people the critical importance of conserving Montana's wildlife and wildlands.

BSJ: What programs do you currently offer? What's the most popular and why?

Duke: MWS offers two programs: open-enrollment expeditions for which anyone can register, and contract programs where we collaborate with other schools and organizations to achieve mutual goals. Open-enrollment expeditions are for 14- to 16-year-olds, and 16- to 18-year-olds. In the years ahead, we will likely open the door for some new 18- to 22-year-old participant expeditions, as well.

Our younger courses are five to 12 days in length and include alpine backpacking, Missouri River canoeing, and Montana river packrafting options. The foundation of these is to introduce students to the natural world, and teach some basic campcraft, cooking, navigation, conservation, and leadership skill development.

Our 16- to 18-year-old student courses are from 12 to 25 days in length, involving larger adventures and richer, more in-depth curricula. One example is our Yellowstone expedition, which includes a week backpacking in the Yellowstone backcountry, a three-day wilderness first aid course, four to five days packrafting the Yellowstone River, and a week-long canoe trip down the Yellowstone River. Courses like this one offer college credits through the University of Montana Western and dive into major Greater Yellowstone Ecosystem conservation topics.

This year, both our 10-day horse packing expedition in the Centennial Mountains and our 12-day rock climbing and mountaineering expedition in the Pioneer Mountains were popular. We also have a 10-day backcountry hunter skills expedition in the Snowcrest Mountains supported by Bozeman's Sitka Gear. This course was one of the first to fill this season, and we will likely expand to two sessions next year.

BSJ: What changes have you seen in kids after they have taken a course?

Duke: Many of our participants and their families share that our program has been life-changing, from improved self-confidence, communications skills, and physical fitness to increased connection with nature and the community. We have pages of testimonials from parents sharing these words with our team here at MWS and, honestly, it keeps us committed to building the school and providing more opportunities for even more participants every year.

BSJ: Are expeditions limited to Montana residents?

Duke: We prioritize and primarily market to Montana students. That said, we do welcome out-of-state students and the number of students coming from other states has grown each year. This year our open-

enrollment courses had 25 percent of students coming from other states, and some of those have been alumni in our program.

Our contract program also partners with Montana groups. This year we ran courses for Sussex School in Missoula, Big Sky Youth Empowerment in Bozeman, and The Traveling School in Bozeman; we added Headwaters Academy in Bozeman this September.

We also have a wonderful relationship with SEO Scholars in New York City — we've been running a 12-day Missouri River canoeing expedition with them for the last five years. Serving a group of inner-city students that have never been to Montana before (some of them have never left New York City) is beyond powerful, and something we continue to relish and foster.

BSJ: What is MWS's target population? Who is a good fit for programming and do participants need to prepare in any way for courses?

Duke: Honestly, I think all young people should have these opportunities if they are physically and mentally able to attend. I don't think there is a downside to having experienced one of our expeditions, but there is certainly a huge list of benefits. Yes, it's important to prepare to optimize the experience, but also not always necessary. If a participant has put some intention into basic physical fitness and is open to the challenge of doing hard things, being part of a community of diverse peers, and absorbing the knowledge being shared by field instructors, the experience will be impactful.

For more information on Montana Wilderness School programming, upcoming expeditions, making donations, or how you can help, visit montanawildernessschool.org.