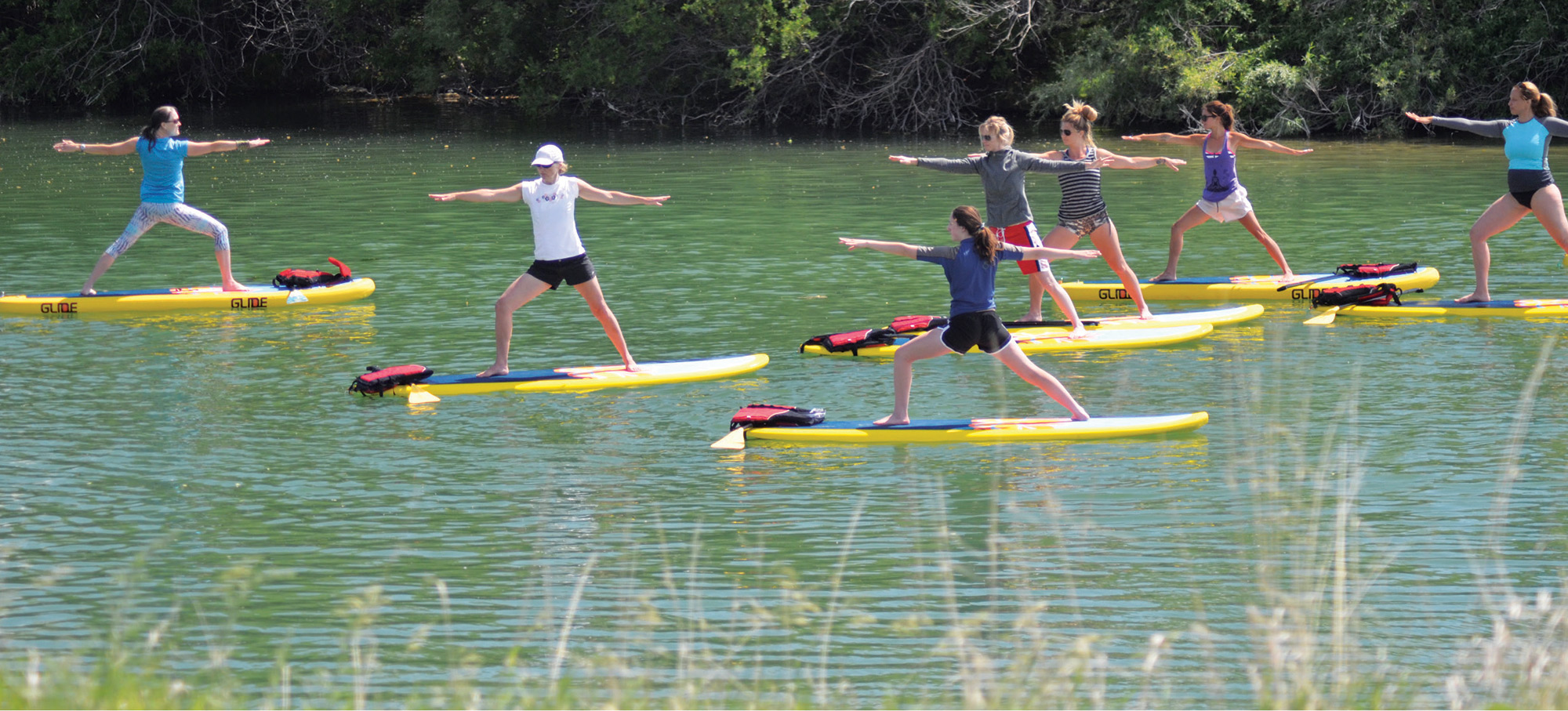 09 Jun

Round Up: News and events from around the Northern Rockies | Summer SUPing & Sipping

in
---
Stand-up paddleboarding (SUP) is here to stay. According to Jen Brick DuCharme, a SUP-certified personal trainer and owner of the Bozeman, Montana-based outdoor recreation company FLOW Outside, it has to do with the sport's accessibility.
"Nationwide it's one of the fastest growing sports; it started on both coasts and has been gradually working its way inland," DuCharme says. She is beginning her third season of offering SUP summer programs in Bozeman. Originally working as a pop-up rental shop, the FLOW kiosk has found a permanent summer home at the newly opened MAP Brewing Company. "I'm thrilled to partner with MAP to reach more people and get more people on the water," she adds.
FLOW offers SUP yoga and fitness classes, along with teaching basic SUP skills. They sponsor social evenings that include rentals, and this year they are adding women's retreats on the Yellowstone River and daily rentals from the MAP location. In June, FLOW will host the third annual SUP Family Festival as a way for families to see what SUP boarding is all about, and try equipment for free. In addition, FLOW and MAP will sponsor a Sunday morning race series at MAP; the brewery will open early, grill up some lunch, and host an award ceremony. "It's not just about the great beer, but also more options for community, recreation, and socializing north of town in Bozeman," she says.
For class schedules, reservations, and more information, see FLOWoutside.com.
---
Other SUP rentals and class offerings in the Northern Rockies
SUP MONTANA  Rentals delivered
to location, lessons, guided tours.
Livingston and Paradise Valley,
Montana, (406) 451-4356
Paddle Board Outfitters
Handcrafted paddleboards, rentals,
lessons, guided tours.
Somers and Lakeside, Montana,
(406) 212-2300, paddleboardoutfitters.org
Rendezvous River Sports 
River and lake lessons, rentals.
Jackson Hole, Wyoming, (307) 733-2471, jacksonholekayak.com
Gradient Mountain Sports 
Lessons and rentals.
Cody, Wyoming, (307) 587-4659,
gradientmountainsports.net
Idaho River Sports  Lessons,
SUP fitness classes, rentals.
Boise, Idaho, (208) 336-4844,
idahoriversports.com