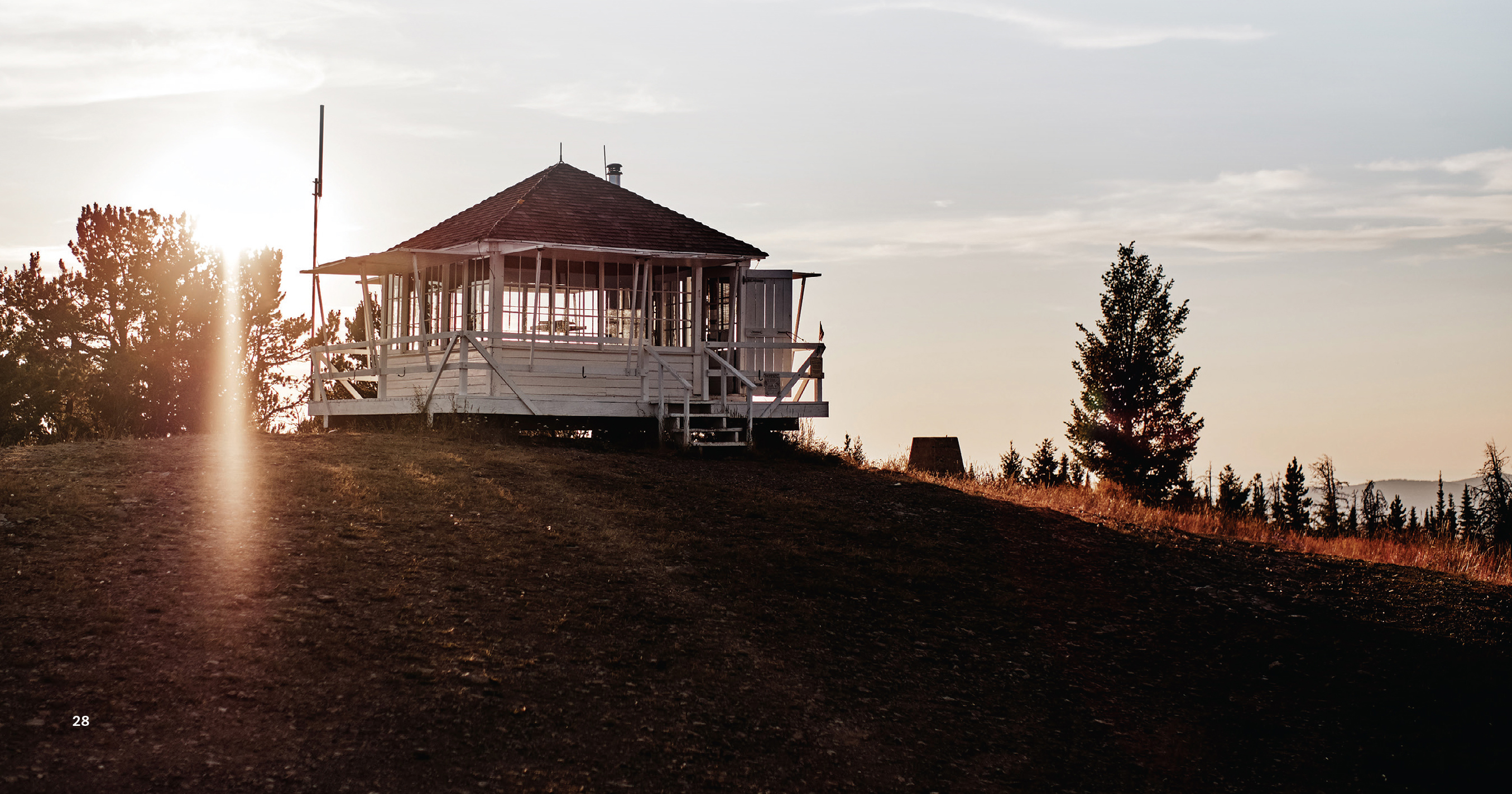 17 Oct

Round Up: News and events from around the Northern Rockies

in
The Revitalization of Montana's Monument
Peak Lookout Tower

THE SEATTLE-BASED OUTDOOR OUTFITTER and apparel company Filson worked alongside the U.S. Forest Service and National Forest Foundation to restore Montana's historic Monument Peak Lookout. Located southwest of Monarch in the Helena-Lewis and Clark National Forest and built by the Civilian Conservation Corps in 1936, the tower was constructed in response to wildfires that devastated millions of acres in Western Montana and Northern Idaho earlier in the century. Initially perched atop Monument Peak and used for decades to scan for smoke plumes across the Little Belt Mountains, it was lowered to the ground for safety in 1999. The Forest Service was joined by Passport in Time volunteers to renovate the structure. It opened for public use in 2005 and was listed on the National Historic Lookout Register.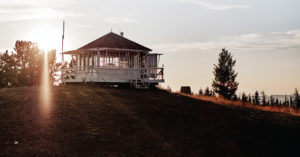 In 2019, after decades of enduring visitors and harsh wilderness conditions, the Monument Peak Lookout needed a drastic restoration in order for the public to continue enjoying the structure. Filson provided funding to replace the roof, preserving its historical significance, and a number of Filson employees volunteered their time with the National Forest Foundation's Northern Rockies program manager, Dani Southard, to perform trail maintenance, invasive species removal, touch up the paint, and replace shingles on the outhouse.
The Monument Peak Lookout restoration project marks Filson's second lookout revitalization, as the company partnered with the foundation to restore Washington's Heybrook Lookout Tower in 2017.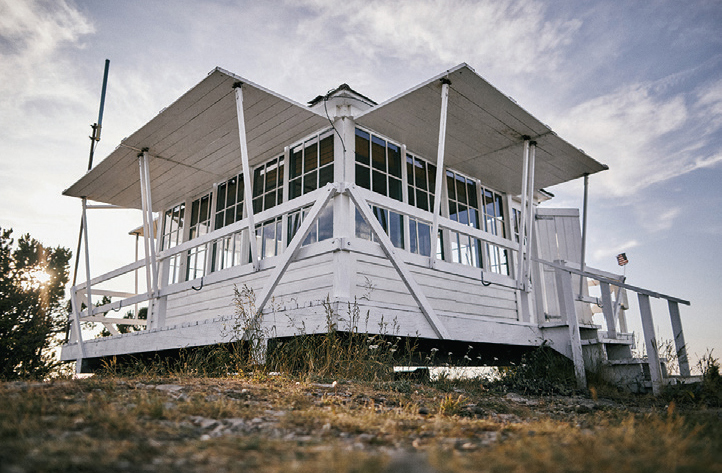 Monument Peak is operated by the Forest Service and is one of hundreds of lookout towers available for the public to rent at recreation.gov.
The National Forest Foundation
The National Forest Foundation (NFF) was founded in 1993 as the nonprofit partner of the U.S. Forest Service, working with the agency and thousands of Americans each year to promote the health and public enjoyment of the nation's 193-million-acre national forest system. Chartered by Congress, the foundation was created with the mission of bringing people together to restore and enhance America's national forests and grasslands. On the heels of Public Lands Month, Big Sky Journal chatted with the NFF's Northern Rockies program manager Dani Southard about the importance of public lands in this region.
BSJ: What role does NFF play in the area of public lands?
Dani Southard: We believe that communities should play a leading role in determining the future of our national forests and grasslands. We focus our efforts on connecting these communities, and the people who comprise them, to the tools, knowledge, and funding to become active and devoted stewards of this incredible public estate.
BSJ: Why, through the lens of the foundation and personally for you, are public lands important?
Southard: Our national forests are where I take my family to explore, hike, camp, raft, and generally experience the wilds. As a country, we are incredibly fortunate to have these lands, owned by all of us, to enjoy and conserve for the next generations to come.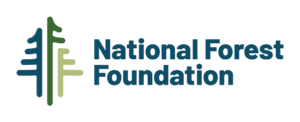 BSJ: Any upcoming events in the Northern Rockies? How can the public in the area get involved?
Southard: We have many projects happening in the Northern Rockies. The best way to learn about our work is to visit our website and join our mailing list at nationalforests.org. We'll keep you up to date on what is happening and provide information about volunteer opportunities. I also love to hear from Montanans and Idahoans, and if anyone would like to contact me directly about our work in either state they can do so at dsouthard@nationalforests.org.
Women in the West
A new exhibit at the Buffalo Bill Center of the West in Cody, Wyoming, Women in Wyoming, features portraits of and interviews with women who have made their mark on the state. The show opens October 25 and will run through August 2, 2020. The project creator Lindsay Linton Buk, a Powell, Wyoming, native, explains her mission for the multimedia exhibit.
BSJ: What inspired this project?
Lindsay Linton BUK: My inspiration to create Women in Wyoming evolved from my own personal journey as a Wyoming woman who came home. Growing up in Powell, a small farming community in the northwest part of the state and where my family goes back five generations, I never imagined I would have a future in Wyoming. I always thought I'd have to leave to be successful as a creative. When I moved back to Jackson Hole after living in New York City and Los Angeles, I chose to challenge my idea of Wyoming as limiting, opened my commercial photography studio, and shortly afterward, Women in Wyoming came to mind as a way to connect with my peers and learn about their lives, journeys, and how they got to where they are today. Seeing is believing — it's powerful to see your peers out in the world doing amazing things. So, in addition to my personal journey of coming home, it's important to me to illuminate what is possible in a state as vast and physically isolating as Wyoming — the least populated state in the lower 48 and the 10th largest in size — and to showcase the depth, capacity, and impact women and girls are making all across our state.
BSJ: How did the Center of the West get involved?
BUK: Debuting this work at the Buffalo Bill Center of the West was always my culminating vision for the project. The center is 20 miles from where I grew up, and the prestige and beauty of the space always made a strong impression on me over the years. Before I started production, I reached out to Karen McWhorter, a curator there — who is now one of my co-curators for the exhibit — and asked how to submit a proposal. When I launched the first five profiles in 2017, I shared the work with Karen and circled back on my request. The museum has since been an incredibly supportive partner, and the rest is history.

BSJ: What does the project entail?
BUK: Throughout Wyoming's history, its women have been brave, strong, and impactful. Wyoming was the first territory to recognize women's right to vote over 50 years before the 19th Amendment was ratified nationally. We also gave the country its first female governor, all-woman jury, and justice of the peace.
The mission of my project is to tell the inspiring stories of contemporary Wyoming women, celebrating their achievements, power, and learned wisdom. I capture my subject's stories through portrait photography and audio interviews, and publish the work on the project's website, social media channels, and a "Women in Wyoming" podcast on iTunes and Soundcloud. I produce five profiles at a time; these revolve around a certain theme and become a chapter. Five chapters total will be produced, and the work culminates in this large-scale, multimedia exhibit. A book is also in the works.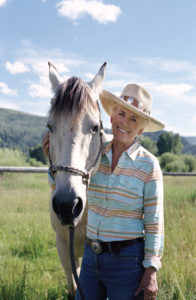 BSJ: What was your experience like in pulling this together?
BUK: Over the last few years, I've traversed over 15,000 miles, captured over 600 rolls of medium format film, recorded about 3,000 minutes of audio footage, and learned infinite wisdom and lessons. My subjects are artists and businesswomen, politicians and supreme court justices, community stewards, authors, and ranchers. They range in age from 11 to 89 years old, and hail from Wyoming's cultural hubs to the more rural areas and the Wind River Reservation. I've profiled my subjects on the trail at 9,200 feet, and flown in the back of a Blackhawk helicopter piloted by Wyoming's only female dustoff medevac pilot.
BSJ: Was there a theme that emerged?
BUK: While my subjects are diverse in age, geography, industry, and background, the common thread is that each woman has fought hard to cultivate a true sense of herself and has journeyed through life with self-awareness, presence, and an openness to changing course. As a result, they're living intentional lives and making an impact with their actions. I continually learn from them and their experiences, while getting to share their stories of courage and, ultimately, triumph with the world.
BSJ: What would you like people to take away from this project?
BUK: Energy, inspiration, and, ultimately, a call to action. The project and its various platforms are a way to expand your imagination of what can be possible, to spark curiosity and reflect on what you want to cultivate more of in your life, while learning about some of Wyoming's amazing women. During the exhibit, we are also incorporating some fun storytelling components, encouraging our audience to share the stories about the women who inspire them.
Cody Firearms Museum Makeover


This summer, the Cody Firearms Museum at the Buffalo Bill Center of the West, home to one of the largest collections of firearms in the world, reopened after an eight-month, $12 million full-scale renovation, including major investments in advanced technology and experiential learning. The new museum interprets more than 800 years of history with more than 10,000 artifacts in 40,000 square feet of space. The exhibits invite visitors to explore how people have used firearms throughout international history, in times of both war and peace. The new museum serves as a foundation for varied audiences to spark additional research and further discussion beyond the institution's walls. The use of simulation technology and interactive microscopes are designed to showcase the evolution of firearms and provide hands-on lessons in firearms safety. Other attractions include a state-of-the-art documentary on the military, civilian, financial, and global costs of war, as well as a place for veterans and active military personnel to share their stories and document their history; centerof thewest.org/explore/firearms.
Fall Book Release:
NATURAL ELEGANCE
In 2010, Rush Jenkins and Klaus Baer decided to relocate their interior and exhibition design business from New York City, where Jenkins founded it in 2003, to the mountain town of Jackson Hole, Wyoming, in the heart of the Tetons. It's there that WRJ Design was born, and its 2,000-square-foot showroom quickly became a fixture just off the Town Square, serving as a venue to showcase not only their design sensibilities, but also their favorite artists and brands from around the globe. It's WRJ's urban sensibility, clean lines, and sophisticated touches, mixed with a mountain town sentiment and New West style drawn from the natural beauty that surrounds them, that makes their design work unique. And this style has clearly resonated with a number of clients around the Rocky Mountain West and beyond.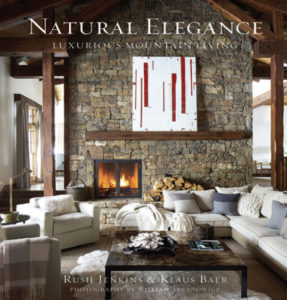 This fall, WRJ Design released Natural Elegance: Luxurious Mountain Living (Vendome Press, $60). The oversized coffee table book features 12 homes in more than 250 pages of photographs by William Abranowicz, with captions and passages written by Jenkins and Baer describing WRJ's mission, design style, and goals. The visually-pleasing book is a must for those inspired by the luxury that can be infused into mountain living.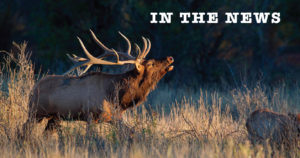 Public Access Secured
In August 2019, public access was secured on Montana's Rocky Mountain Front to a sprawling expanse of backcountry habitat that's home to a who's-who of wildlife species: elk, mule deer, black bear, and mountain lion, to name a few. The purchase of a relatively modest 442-acre parcel opened access to 26,000 additional acres of public lands to hunters, anglers, and outdoor recreationists of all stripes.
Funding for the keystone purchase came from a number of sources, including conservation-minded companies and groups such as the Rocky Mountain Elk Foundation. And crucial dollars from the federal Land and Water Conservation Fund helped seal the deal.
The fund, established in 1964 by Congress to improve outdoor recreation opportunities and increase access to public lands, has invested over $16 billion in federal, state, and local government programs to sustain important lands and waters, conserve fish and wildlife habitat, and enhance public access. It's a rare bipartisan success story, providing access to millions of acres of public lands, all without spending taxpayer funds.
On the Conservation Front
A momentous conservation victory took place early in 2019: the passage of the John D. Dingell Conservation, Management, and Recreation Act, which, among other measures, included permanent reauthorization for the Land and Water Conservation Fund. Yet, money for the fund, which is subject to the federal appropriations process, remains a question mark. The program is chronically underfunded, with Congress typically appropriating it at less than half of its authorized levels. Over its 50-plus-year history, more than $22 billion of the organization's funds have been redirected to other uses.
Now Congressional champions on both sides of the aisle have stepped up and introduced the bipartisan Land and Water Conservation Fund Permanent Funding Act. In response, public lands supporters are asking their legislators to prioritize this bill and set aside the $900 million needed for the organization's full funding.
If you'd like to make your voice heard on this matter, go to backcountryhunters.org/take_action.