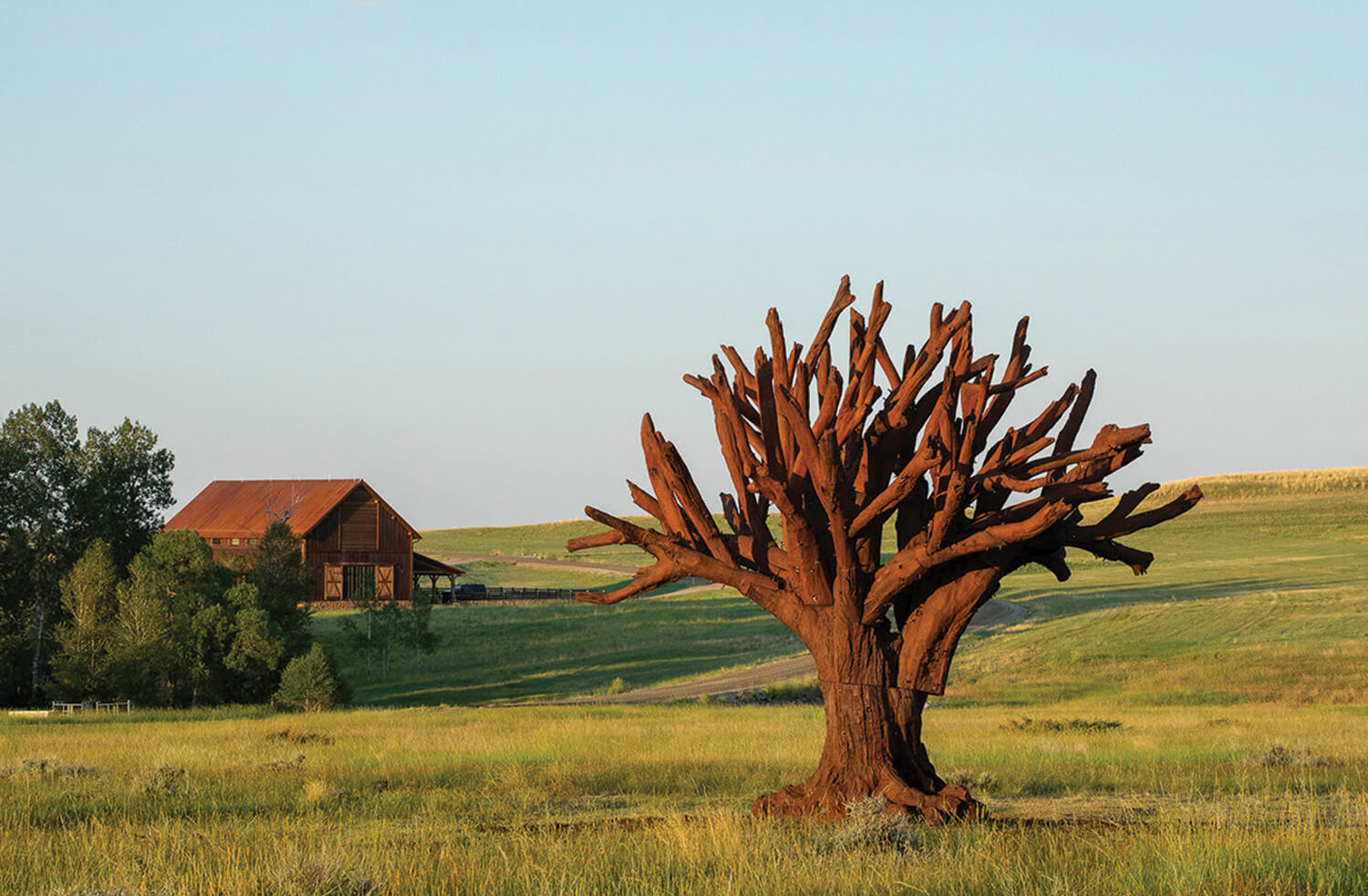 During the 2022 concert season, two works were installed at the Tippet Rise Art Center. Above is Ai Weiwei's Iron Tree, a 20- by 23-foot sculpture. Below is a large-scale textile work by Marie Watt titled Companion Species (Floating and Held). Courtesy Of Tippet Rise Art Center; Photo By James Florio
02 Feb

Round Up: Montana's Tippet Rise Art Center Announces 2023 Season

in
Center to install two sculptures and offer five-week concert season
Celebrating the union between music, art, and nature on a 12,500-acre working ranch, Tippet Rise Art Center will open on June 16, 2023 for hiking, biking, and sculpture van tours. The 2023 season will include the installation of two sculptures by late artists Louise Nevelson and Alexander Liberman, as well as Tippet Rise's eighth concert season, which will run for five weeks from August 18 through September 17, and present 15 performances, including the world premiere of new commissioned works by Douglas Cuomo and Valentyn Silvestrov.
The two new sculptures were made by Liberman and Nevelson, who were both born in Ukraine. Archway II, a newly acquired work by Liberman [1912 – 1999], is made of red-painted steel and stands 40 feet tall. Illustrative of Liberman's lifelong fascination with sacred spaces — and the arches and altars people pass through to enter them — the sculpture serves as a metaphorical gateway to the Beartooth Mountain range in the distance. 
Trilogy, by Nevelson [1899 – 1988], is a three-piece, large-scale abstract sculpture made of COR-TEN steel and aluminum that will be installed in a valley all its own, within a short walking distance of the Olivier Music Barn on Tippet Rise's main Cottonwood Campus. Towering more than 40 feet at its tallest point and extending 12 feet in diameter, the monumental work evokes a family unit or a trio of entities in varied stages of growth and development.
Tippet Rise will also celebrate the return of pianist, composer, and writer Sir Stephen Hough and the mesmerizing Sandbox Percussion during this summer's concert season. Additional performers include pianists Anna Geniushene, the 2022 Cliburn Silver Medalist, and Clayton Stephenson, the first Black finalist at the Van Cliburn International Piano Competition in 2022 and a 2022 Gilmore Young Artist; renowned guitarist JIJI, who will perform works by the late Spanish composer Antón García-Abril, father of the Ensamble Studio's principal architect of the same name, whose monumental works are integral to the Tippet Rise experience; celebrated wind quintet Imani Winds; energetic brass quartet The Westerlies; the 2021 Naumburg-winning Merz Trio; and the internationally acclaimed Brentano Quartet. Among the performance highlights for this season will be the world premiere of additional Tippet Rise-commissioned works from Ukrainian composer Valentyn Silvestrov's Five Cycles for Violin and Piano and Five Cycles for Piano.
Complete program details will be announced later this year. Registration for the art center's randomized drawing for concert tickets will open on the Tippet Rise website this spring. For more information about the Tippet Rise Art Center, or to purchase tickets, visit tippetrise.org.