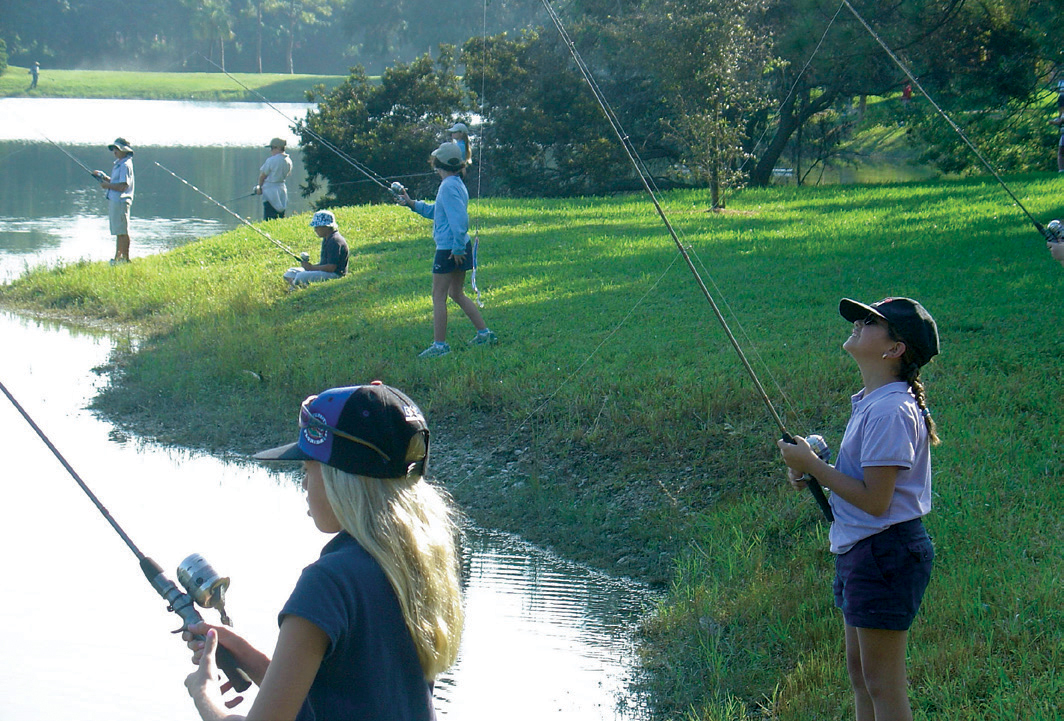 04 Feb

Round Up: Montana's Family Ponds

in

"Many men go fishing all of their lives without knowing that it is not fish they are after," wrote Henry David Thoreau. That well-worn quote was the furthest thing from my mind as my son Aidan and I drove down the country road that leads to Pine Grove Pond outside of Kalispell, Montana. Stuff it, Henry. We were after fish.

We passed a white tanker truck in the oncoming lane with a nylon net rising like a ship's pennant above the cab. It was in the rearview mirror before my mind clicked: That was a Montana Fish, Wildlife & Parks (FWP) hatchery truck! It had just been to the pond! I turned to Aidan in the passenger seat. "Buddy," I said, "we are in for some action."

Read the glossy magazines or watch the outdoor videos and you might think Montana is all drift boats and pack trains, royal bull elk and rod-bending rainbows. In reality, most Montana kids live in cities or towns, with more access to asphalt than trout streams. But throw in a family fishing pond, and you'll discover that, as retired FWP regional fisheries manager Jim Vashro says, "Everything is just better with a little water and some fish slime."

During his long career with FWP, Vashro helped build fishing ponds in and around Kalispell. He was an early advocate for FWP's statewide Community Pond Program, which funds and supports community efforts to create or improve easy-access ponds that have high catch rates.

There is no hard-and-fast definition of what makes a family-friendly fishing pond. The FWP website lists 64 — most of them ponds, but also a few lakes and small reservoirs. Regulations vary; some are only for kids 14 and under, and older visitors can help the youngsters. Others, like those near Kalispell, are open to adults and kids alike. Adults can fish with or without kids, but only young anglers can keep fish.

Kids usually don't hook big fish in these ponds — though there are exceptions — but they do catch fish, at least more often than they would fishing Montana's larger and more challenging rivers and reservoirs. And if you want a kid to learn to love fishing, outdoor educators say there needs to be steady action, especially on the first few outings.

Aidan was about 4 when he caught his first trout — a 6-inch hatchery cutthroat — at Buffalo Head Pond, a 2-acre basin in north Kalispell that appears to be filled mostly with street runoff. This pond is stocked periodically, but the trout don't survive long in its warm, murky water. Aidan and I fished there a few times before we hit the hot bite. He reeled his first fish right up to the shore, but at the last second, it threw the hook. Fatherly instinct kicked in, and I jumped into the waist-deep water to scoop the trout into the landing net. Aidan posed for the hero shot with a death grip around the fish's gills. I would teach him the finer points of catch-and-release later.

In subsequent years, Aidan developed severe epilepsy and devastating intellectual disabilities. For a long while, we spent far more time in hospitals than we did fishing. Once he grew heavier than 50 pounds, I knew I could no longer carry him out of the backcountry in case of a medical emergency, so the front-country became our new frontier.
My son will never join me in the mountains chasing elk or bighorn sheep, but these local ponds provide us with a slice of Montana's great outdoors and endless hours of quiet moments under the state's big skies. And often Aidan must be dragged off the water, sometimes insisting we stay until we catch the "biggest fish in the lake."

We actually did that once, hooking a feisty broodstock rainbow that probably topped 8 pounds. FWP periodically plants these hatchery monsters when they reach old age. I hooked it, watched the rod bend, then handed the rig to Aidan. The lunker trout almost pulled him into the water before we wrestled it ashore.

Then there was that day at Pine Grove Pond, when we arrived right after the hatchery truck left. It wasn't the fishing frenzy one might have imagined, but we steadily caught trout all afternoon. Thinking later about why I was drawn to that spot, it occurred to me that those places I've hunted and fished have always been places of solace. They are places that continue to make sense when the rest of the world makes none. If a father can pass that on to a son, it seems one of the more worthy lessons of fatherhood.

Maybe Thoreau was right. Maybe it's not just fish we're after, after all.
For a list of FWP Family Fishing Ponds, go to fwp.mt.gov.
Stream Access Laws
The Northern Rockies are known for an abundance of freshwater fisheries: lakes, rivers, and streams that offer anglers a wide selection of fly-fishing opportunities in both remote wilderness areas and more populated and developed ones. Throughout our region, stream access laws have been put in place to protect the environment and private landowners. Because these laws vary from state-to-state, it's important to understand the rules before tossing a line into a new body of water. Here's what anglers can expect in our area:
Montana: In 1984, the Montana Supreme Court granted river access to recreationists around the state, ruling that the public may use streams and rivers that cross private land to fish, hunt, swim, and float in non-motorized watercrafts, whether or not they are considered navigable. (There are additional regulations that detail laws for motorized watercrafts.) Montana anglers cannot cross private property for fishing access, but they can walk along the banks, staying below a river's high-water mark. The high-water mark is the highest part of the bank that each river rises to typically during the spring runoff. These can often be identified by a visible line on the bank, changes in the soil, and the presence of branches and sticks that have accumulated during flooding. This ruling gives recreationists full use of most of the state's rivers and streams.
Idaho: Similar to Montana, Idaho anglers can access rivers and streams by staying below high-water marks. While recreationists can access the rivers up to the shoreline, they cannot walk across private land to get to the river without obtaining permission from landowners.
Wyoming: Private landowners in the Cowboy State also own the streambeds, islands, and riverbanks that sit within their acreage, meaning that wading, fishing from riverbanks, and anchoring boats without permission is considered trespassing. However, recreationists are allowed to float navigable waterways that cross private land as long as they stay in their boats and don't anchor. Wyoming state law does allow boaters to leave their crafts for portages around non-navigable obstacles, and wading anglers may fish on rivers that are legally accessible, such as stretches along public roads or those that cross public lands.