02 Jun

Round Up: Montana Panoramic: Transparent in the Backlight

in

Landscape photographer Craig W. Hergert and award-winning poet and novelist Shann Ray have released Montana Panoramic: Transparent in the Backlight, a sweeping collection that marries Hergert's panoramic images with Ray's poetry and prose. The book's literary and visual vignettes — a 15-year retrospective of Hergert's work — depict the region's distinctive people and places through a lens intent on light: its beauty and slant across epic vistas, its properties in the human face, and its relationship to the powerful starlit skies of Montana at night.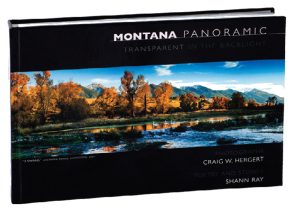 Hergert is a Montana-based freelance photographer whose work appears in galleries and businesses throughout the country and in private collections internationally. Born and raised in Montana, Ray is the winner of an American Book Award and a National Endowment for the Arts Fellowship, among other accolades, and is the author of a libretto and 15 books. His deeply engaging work examines humanity's relationship with violence, love, and forgiveness; montanapanoramic.com.