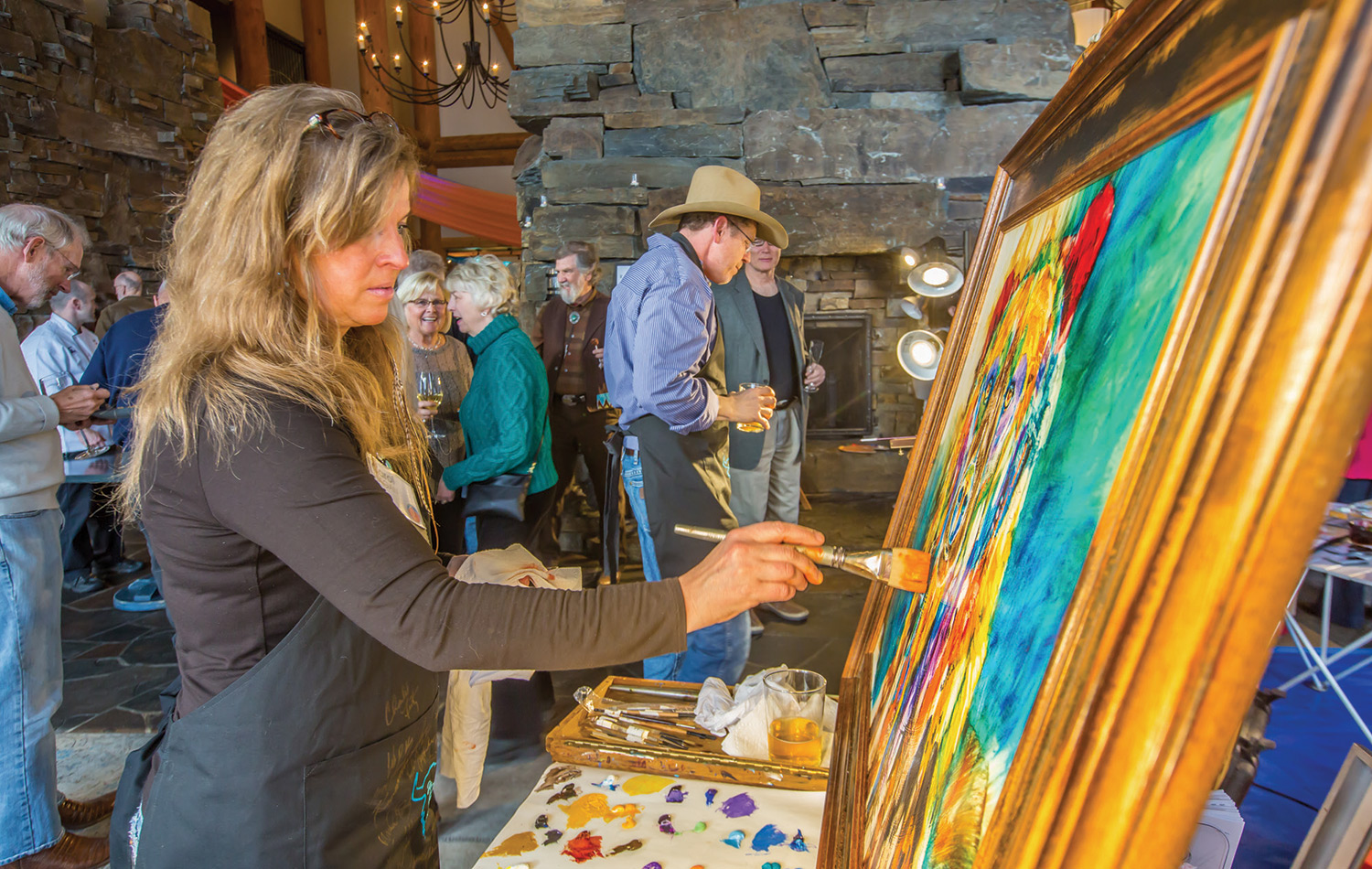 Billings artist Carol Hagan finishes a piece for the Arts Council of Big Sky's annual Auction for the Arts last March at the Moonlight Lodge. Photo by Dave Pecunies Media
08 Feb

Round Up: In the Arts

in
Auction for the Arts
The Arts Council of Big Sky hosts its sixth annual fundraising art auction Thursday, March 22 at Moonlight Lodge. The evening begins at 6 p.m. with a quick-finish session with well-known artists including Kevin Red Star, Carol Hagan, Gary Lynn Roberts, John Potter, Carol Spielman, Michael Blessing, Laurie Stevens, Susan Blackwood, Meagan Blessing, Julie Chapman, Todd Connor, Howard Friedland, Tom English, Shirle Wempner, Greg Woodard, Mike Barlow, and more. Attendees are encouraged to come early and watch as the pieces come to life before they are framed. The final pieces will be auctioned off, including a new piece from Tom Gilleon. The event will feature appetizers, a full bar, jazz from the Adam Greenberg Trio, a silent auction, and dessert.
"We're excited to bring in these amazing artists and showcase them to the Big Sky community," says the council's executive director, Brian Hurlbut. "This event has grown over the years, and this year we are featuring several new, highly collectible artists."
The event is sponsored by Big Sky Sotheby's International Realty. For more information and general and VIP tickets, visit bigskyarts.org.
Western Art Week
Western Art Week comes to Great Falls, Montana, March 15 to 18, and will include a variety of events celebrating the artists and art of the West in all of its forms. Some signature events include:
March In Montana Fine Art & Collectibles Auction
Presented by Manitou Galleries and The Coeur d'Alene Art Auction, and held in conjunction with other Great Falls events honoring Charles M. Russell's birthday, this 31st annual event draws art dealers and collectors from around the world to buy and sell hundreds of pieces of Western-inspired fine art, and historic cowboy and Native American antiques. Marchinmontana.com
The Russell Exhibition & Sale
This three-day Western art experience features a silent auction, quick-finish event, and educational seminars, culminating in a live auction, dinner, and gala, with proceeds benefiting the C.M. Russell Museum. cmrussell.org
The Great Western Living & Design Exhibition
This exhibition features a vast array of Western-inspired art, furniture, apparel, and jewelry. thegreatwesternshow.com
30 Wonders/30 Years: A History of the Museum in 30 Works
Jackson Hole, Wyoming
Discover the amazing stories behind 30 special wildlife-themed artworks collected by the the National Museum of Wildlife Art in Jackson Hole during its 30-year existence, including Carl Rungius' Sportsmen's Moose and a diverse range of other art and objects.
wildlifeart.org