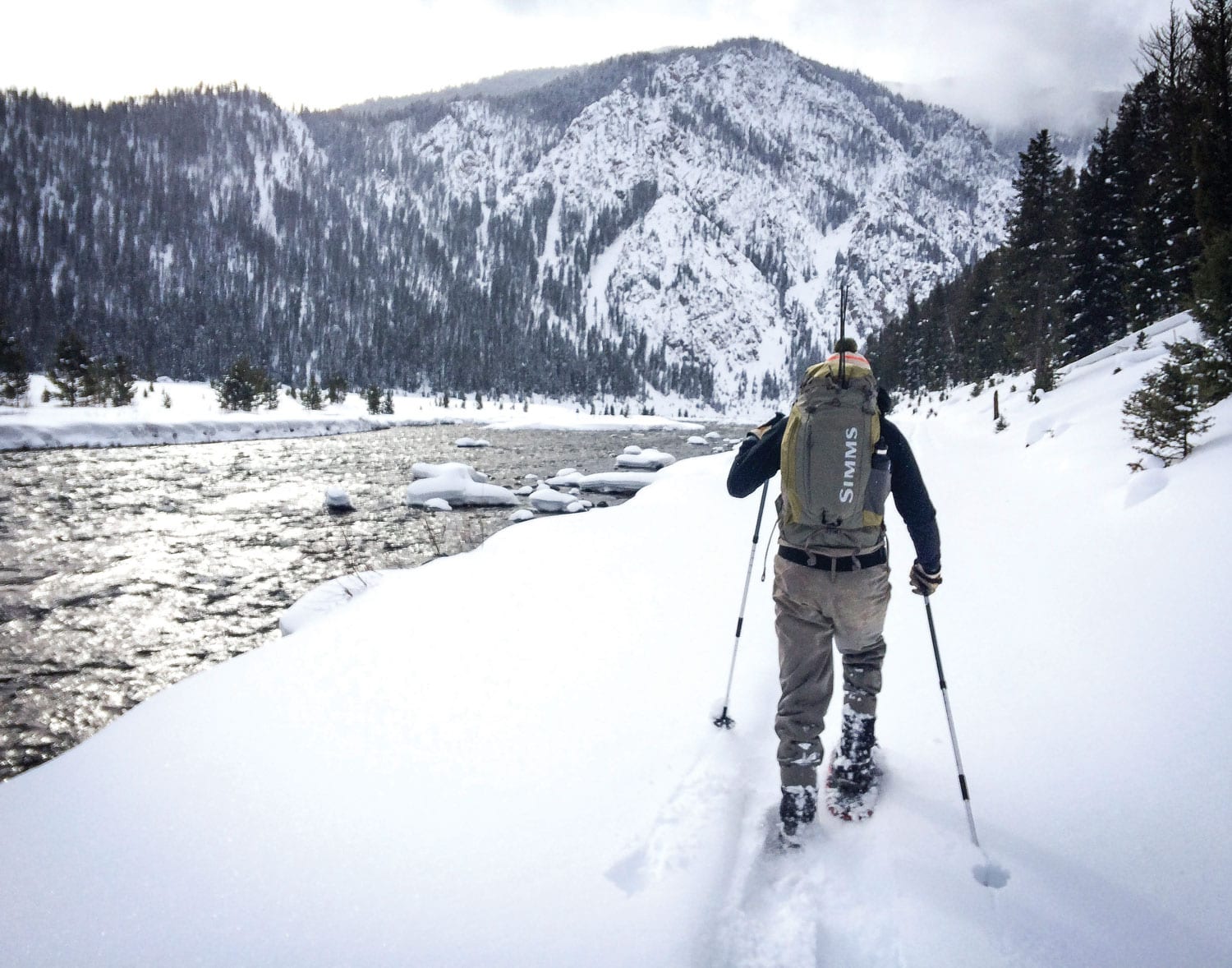 19 Feb

Round Up – Gear & Tips for Cold-Weather Fly Fishing

in

Die-hard fly anglers don't let the weather hold them back: They gear up and go, rain, sleet, or snow. But most have a well-worn, stay-warm routine. According to Wade Fellin, a fishing guide and manager of the Big Hole Lodge in Wise River, Montana, "It took lots of trial and error to come up with my current gear pile." But after many cold-weather trips, including steelhead fishing on the Salmon River in single digits, he discovered the essentials. Here are some tips from Fellin and other pros about what to wear and how to stay warm on the winter waters.

The hands 

Arguably the most important body part to keep warm, numb digits can make it pretty tough to tie on a fly, or handle a fish for that matter. "I can't fish without the Patagonia Homepool Gloves," says Kara Tripp, a fishing guide and owner of Damsel Fly Fishing. While these neoprene gloves are fingerless, Fellin goes for the full-fingered Patagonia R1s. "It's a glove you can put on in the morning and never take off," he says. "It's thin enough to tie on flies, waterproof to release fish and work with wet line, and thin enough to feel line movement." He recommends sticking a hand warmer in the cuff on really cold days. 

Joe Moore, a guide and co-owner of the West Yellowstone-based Big Sky Anglers, prefers to fish glove-free but brings heavy-duty down mittens with hand warmers inside. "When my hands get cold, I stop fishing and stuff them in there," he says.

Other good options include the full-fingered Simms Guide Windbloc Flex Glove or the Guide Windbloc Foldover mitt, which is a mitten that folds back for a fingerless option. "Both of these are designed to allow the angler to leave the glove/mitt on while fishing, and both feature a built in heat pack pocket," says John Frazier of Simms. The Simms Warming Hut Glove is a good fit for those, like Moore, who prefer glove-free fishing. "When your hands get too cold to function, slide on these gloves, lined with PrimaLoft Insulation, and they'll warm right back up," Frazier adds.

The core 

Like all outdoor winter sports, layering is key. "I wear a wool underlayer, a wool midweight shirt, and throw a light, packable puffy in my fishing pack," Fellin says. "A good windbreaker with waterproof cuffs and a comfortable hood is a must."

Skip Volpert, a guide on the Middle Fork of the Salmon River, starts with a Kokatat Onesie for a base layer. "I've tried many. … This is by far the most comfortable and versatile layer I have worn," he says. Then he covers up with a Patagonia Nano Puff vest and hoodie.

Moore is also a fan of the puffy coat, which packs down well. "I never go to the river without a puffy-style jacket," he says. "That coupled with my Gore-Tex hooded jacket, and I'm good to go all day.

For really cold days, Frazier breaks out the Simms Exstream Core Top as an underlayer with a built-in hood and neck gaiter, along with the matching Exstream Core bottom. In addition, "If you want to get out and fish on really cold days, you can't go wrong with the Simms Bulkley Jacket, built with a two-layer Gore-Tex outer shell. It's also insulated," Frazier says. "Another go-to piece for me is the Midstream Jacket, built with a water-resistant Pertex outer layer and insulation. Super warm, without the bulk."

The new Redington Women's Sonic Pro Waders are a good fit for female anglers any season, but have a tough edge for cold-weather excursions. With 4-layer waterproof, breathable, and durable fabric, they feature two-sided fleece-lined hand warmer pockets and a large interior drop-in stretch mesh pocket for quick access on cold days.
The feet 
Tripp goes for Simms Women's guide Thermal Socks to keep her toes warm. Along with warm socks, Fellin recommends old school boot-foot waders. "Like your grandpa used to wear," he says. "No one wants to mess with frozen laces the morning after a cold camp on the river bank. Toss some stick-on toe warmers in your wool socks when you crawl out of your sleeping bag, slip on some down sweats, hop in your boot-foots, and you're good to go for a full day in frigid temps."
Moore agrees, and some days he opts, instead, for 30-below, knee-high boots and Gore-Tex bibs. "So much of the fishing around here does not require waders in the wintertime; bank fishing is quite good," he adds.
Volpert relies on insulated boots for cold river time. "If I'm rowing on the river during the winter, I wear muck boots religiously," he says.
Keep-Warm Tips
Bring Extras 
"My best advice is to keep a big dry-bag full of warm, extra layers nearby — in the boat or in your car," Fellin says. "Head to a second-hand shop and load up on wool pants, sweaters, socks, hats, gloves, and fleece. Winter fishing presents numerous slippery situations, and if you or your fishing buddy goes in — and I seem to go in a lot — having warm, dry clothes readily available could be the difference between a nice night sharing stories by the fire and an evacuation situation."
Bring Fuel 
"When I'm guiding, I always have a thermos of coffee, thermos of hot water, and thermoses of soup," Moore says. "I use the hot water and sometimes mix it with Emergen-C style packets of powdered energy drink."
Gear up at home
"There's nothing worse than getting dressed in arctic temps and tying knots with frozen fingers," says Tripp. "Get your gear on and your rod strung up at home. It will help you stay warm and happy."
For the angler who has everything
There tends to be a hard-to-shop-for person in every family, and if that person also happens to be a die-hard angler, a custom Tom Morgan Fly Rod Package could be the last best gift (Father's Day or Mother's Day, perhaps?). A classic "River Runs Through It" style creel serves as the gift basket and holds an official certificate that's good for a custom Tom Morgan fly rod. Once cashed in, the angler can shop for the custom parts and pieces at the company's Bozeman, Montana-based headquarters or by phone, selecting each element, from the type of wood used for the reel seat, to the handle shape and grip size, to the calligraphy inscription. Also in the creel is a Tom Morgan baseball hat, a Royal Wulff fly (Morgan's favorite), and a story written by Morgan about using that fly while growing up around blue-ribbon trout waters in Ennis, Montana.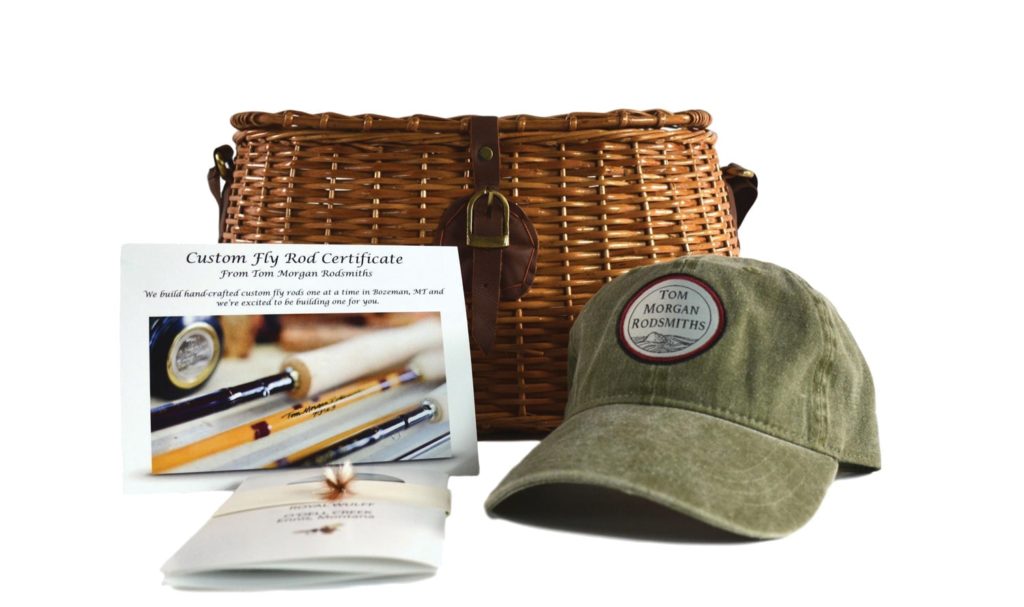 Morgan was a fly-fishing legend who purchased R.L. Winston fly rods in the early 1970s and grew the business immensely, moving it to its current headquarters in Twin Bridges, Montana. After selling the company, he partnered with his wife Gerri Carlson to create high-quality custom rods. Before Morgan's death in 2017, the couple taught their craft to Matt Barber and Joel Doub, the current owners, who continue to create custom bamboo, graphite, and fiberglass rods that are made in Montana.
Learn more about the rods at tommorganrodsmiths.com. Gift creels can be purchased at Dawn Josephine in downtown Bozeman or online at dawnjosephine.com, $1,495.