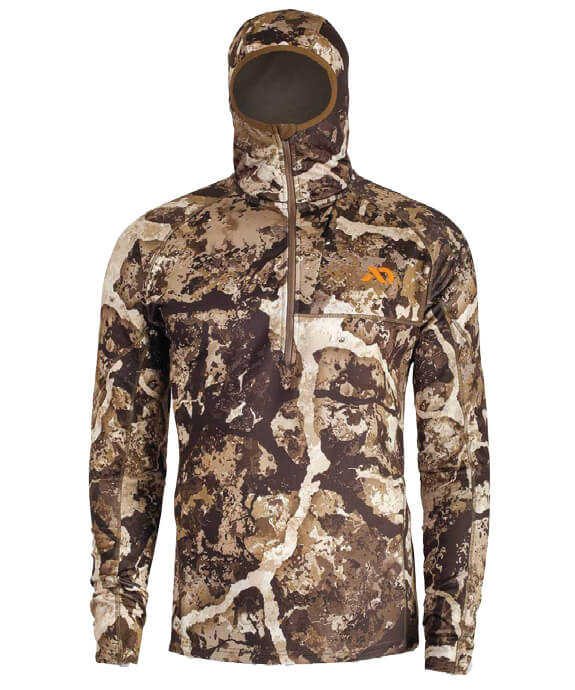 28 Sep

Round Up: Gear Spotlights

in

Whether it's a long, grueling hike to a secret hunting spot, the thrill of taking down your very first whitetail, or the last camping trip before the snow flies, fall adventures in the Northern Rockies are some of the best. As the skies clear of smoke and the temperatures hover right around perfect, the forests, trails, and rivers are calling. Here are some gear highlights — products designed to help make your fall excursions ones to remember.
Early Season Hunting Kits BY FIRST LITE
Based in Ketchum, Idaho — and acquired by the Bozeman, Montana-based Meateater brand in 2019 — First Lite has been a hunting industry staple since 2007, outfitting outdoor adventurers with durable layers designed for breathability, warmth, and protection from the ever-changing elements. Using the innovative synthetic fabric technology 37.5, developed by Cocona, First Lite founders Kenton Carruth and Scott Robinson originally produced complete outfitting systems for extreme conditions and discriminating sportsmen and women.
More recently, First Lite has introduced kits that are catered to specific types of hunting and seasons. The Archery Elk, Early Season Antelope, and Early Season Whitetail Kits have been specially curated to incorporate the brand's top styles, with complete layering systems that perform throughout the changing seasons. "All of our kits are built through field-testing," says First Lite general manager Bridget Noonan.
"These are the tried-and-true kits that First Lite employees wear right here in Idaho for archery antelope, across the West for early-season elk, and in the Midwest for late-season whitetail. We put in the hours in the woods and in tree stands across the country to test out First Lite merino and outerwear layering systems and build the ideal kits."
With three early-season kits now available, the Early Season Antelope includes a comprehensive lineup of favorites that easily integrate into other types of hunting as the season turns over; Early Season Whitetail offers fine merino wool base layers — which are paramount for late-season excursions — to thermo-regulate core temperatures and fight odor; And the Archery Elk offers a strong layering system that easily transforms into a mid- or late-season kit for the remaining Western big game pursuits.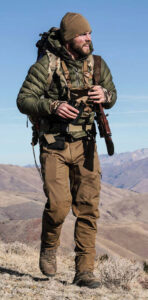 Early Season Antelope:
Starting at $952
Early Season Whitetail:
Starting at $607
Archery Elk:
Starting at $1,317
firstlite.com
burch barrel V2 by burch barrel
An innovative portable hearth, Burch Barrel is an all-in-one grill, smoker, and fire pit that's suspended over the ground and built to suit outdoor cooking needs in a conveniently customizable package. Features — such as Trackster Heat Control Rails and adjustable vents, lock collar lids, and grates — allow the cooking system to cater to the menu, whether it includes elk backstrap, deer sausage, or traditional burgers. And the Everlevel Tripod and double-walled construction ensure that it's stable and safe in rough Rocky Mountain terrain, while the comprehensive Rough & Tumble Warranty guarantees that it lasts.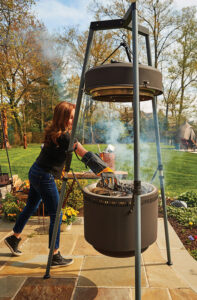 The Burch Barrel was inspired by founder Roby Burch's love for Montana ranching and the community it nurtures. His way of giving back is by creating a quality product that can be depended on for a lifetime of backyard barbecues and backcountry adventures.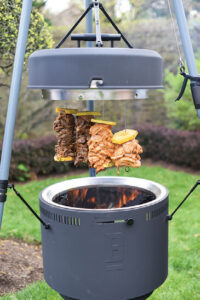 Burch Barrel V2: $985
burchbarrel.com
moonshade BY MOON FABRICATIONS
MoonShade was created to serve as a simple, portable, lightweight awning to provide protection from sun, snow, and sprinkles during outdoor adventures. Easily attachable to nearly any sturdy structure — car, tree, fence, you name it — the MoonShade provides 63 square feet of durable coverage. And since it's about the size of a rolled-up yoga mat, weighing only 8 pounds, it can join you on many different types of expeditions.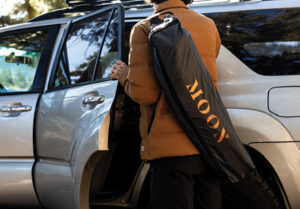 With the goal of making outdoor experiences more accessible and enjoyable, Matthew Pearson and Henry Proegler launched Moon Fabrications in 2018. The partners spend their time designing durable and versatile products to help simplify the amount of "stuff" that's required for backcountry adventuring, leaving more time for people to enjoy the outdoors.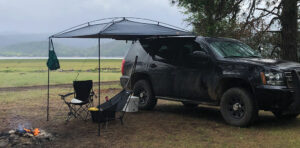 MoonShade: $325
moonfab.com