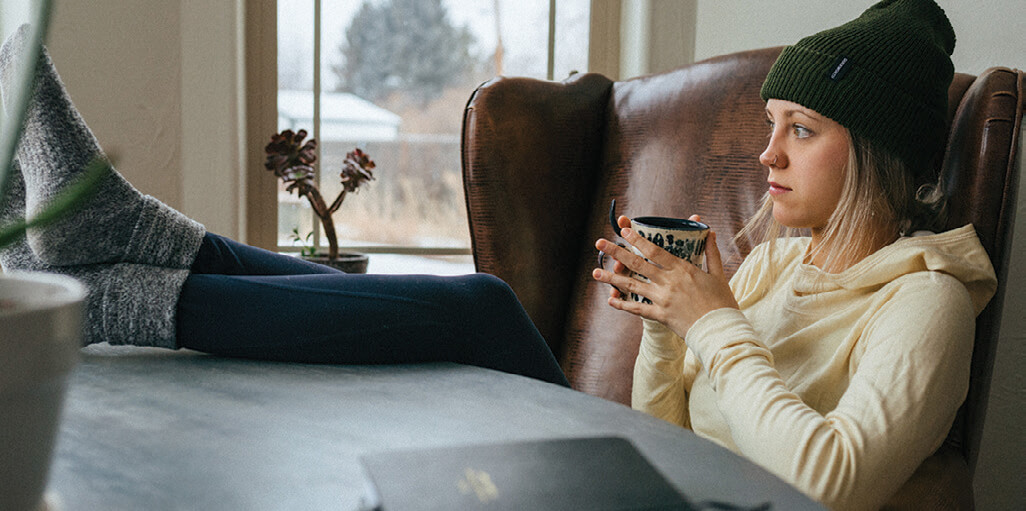 23 Nov

Round Up: Gear Guide Layered Up

in
Hot picks for active winter wear
There's a saying in the Northern Rockies: "If you don't like the weather, just wait five minutes," meaning it can go from sunny to snowy in no time. And for winter adventurers, this holds more than its weight in water — which happens to be the element that, if one is not dressed properly, can pose the biggest threat. Choosing appropriate fabrics and layering them intelligently is the best way to safeguard against everything from minor chills to frostbite and hypothermia. Companies at the forefront of the layering art are slinging solid options to keep outdoor lovers warm and dry, while also regulating temperature swings, mitigating bacterial growth (and odor), and cutting a fine figure for après-adventure relaxation. The following layers — designed by brands throughout the region — are some top picks for staying warm, dry, and stylish this winter.
BASE LAYER
Duckworth
Bozeman, Montana
duckworthco.com
Founded by fourth-generation Montana ranchers and avid skiers in Bozeman, Montana, Duckworth specializes in Merino wool layers. Made exclusively in the U.S., the company's "Sheep-to-Shelf" process starts at the Helle Rambouillet Ranch near Dillon, Montana, where co-founder and sheep rancher John Helle and his family raise open-range Merino sheep in temps ranging from sub-zero to Saharan. According to their website, "The unpredictable and rugged conditions of the Northern Rockies result in a rare Merino wool: an incredibly soft, yet durable, fiber with exceptional loft and breathability, thanks to an unparalleled degree of 'crimp' within the fleece." With a range of clothing choices, from jackets and pants to socks, Duckworth's base layers keep adventure -seekers toasty to the core.
Men's Comet Crew
The Men's Comet Crew, weighing in at 275 grams per square meter, features Duckworth's proprietary "bi-ply" construction, a natural-technical fiber combo that marries a 100-percent Montana Merino wool outer layer to a polyester inner layer to create a physical/chemical "sweat vacuum" reaction. The hydrophobic polyester wicks, while the hydrophilic wool gets warmer and drier when introduced to any remaining water vapor. Soft to the touch, the durable, anti-odor, and quick-drying Comet Crew also works well as a handsome single layer.
Women's Comet Tunnel Hood
Like the Men's Comet Crew, the Women's Comet Tunnel Hood employs Duckworth's "bi-ply" construction to keep wearers dry and warm through the nastiest Northern Rockies conditions. The cozy high-neck design and slim fit translate into a soft, stylish, versatile base layer.
MID LAYER
VOORMI
Bozeman, Montana
Voormi.com
In 2011, VOORMI set out on a years-long research and development mission to augment wool's natural characteristics with the strength and wicking of technologically engineered fibers to create "the most advanced natural-fiber based textiles on earth." Since then, the company has been challenging the performance clothing industry with innovative approaches to everything from development and construction to delivery. Wired magazine deemed VOORMI's Core Construction Technology "outerwear's biggest advancement in 40 years." While the company headquarters are based in Pagosa Springs, Colorado, VOORMI's flagship factory store in downtown Bozeman, Montana carries a wide selection of clothing and accessories for men and women. Their products are also sold at a number of other outdoor retail locations throughout the region.
Access NXT Pullover
Available in a wide range of colors, the lightweight and breathable Access NXT Pullover employs VOORMI's Surface Hardened Technology, four-way stretch woven wool, and a durable water repellent finish for a warm, dry, and comfortable mid-layer for a range of seasons and activities.
TOP LAYER
STIO
Jackson Hole, Wyoming
stio.com
Inspired by everyday life in the classic mountain town of Jackson Hole — and tested in the surrounding Teton Mountains — Stio's mission is to encourage a connection with the outdoors through functional, durable apparel, accessories, and gear for men, women, and children. Technical performance, quality, and versatility define Stio's lines, which are easily layered and seasonally curated to a broad range of outdoor activities, including skiing, climbing, and camping. As advocates for conservation, the company uses Bluesign-approved textiles (a sustainability certification that applies to chemicals, processes, materials, and products) wherever possible, audits supply chains for best practices, and is climate-neutral certified. The full range of Stio's products are available exclusively online.
Environ Jacket
Winner of Powder magazine's Skier's Choice Award for 2020, the Environ Jacket is Stio's signature waterproof and breathable shell. Fully seam-sealed with a fixed, adjustable powder skirt, pit zips, and a helmet-compatible hood, the jacket also features a generous cut to allow for freedom of movement. The Environ is constructed with PeakProof Dermizax — a three-layer polyester fabric that's waterproof and breathable — for a coat that's made for extreme outdoor environments.
Environ Pants
Named the "Best All-Around Ski Pants" by Outside magazine, these all-conditions ski pants are made with the same PeakProof Dermizax outer layer as the coat. They are seam-sealed and feature an adjustable waist with belt loops, internal boot gaiters, thigh vents, and articulated knees and action gussets for ease of movement.
Aprés Ski
Mountain Khakis
mountainkhakis.com
Since its inception in Jackson Hole, Wyoming in 2003, Mountain Khakis has evolved from outfitting gentlemen with the "perfect pair of khakis" to providing distinctive and durable product lines for men, women, and kids. With a carefully curated assortment of accessories and bags to complete the collection, Mountain Khakis' premium designs hold up to active lifestyles — après ski and otherwise —and can be found at select outdoor retailers throughout the Northern Rockies.
Women's Norris Tunic Hoody
Combining the softness of a blanket with the comfort of a casual hoody style, the Norris Tunic Hoody features breathable, quick-dry, easy-care Summit Fleece, a synthetic wool alternative that traps air between the fibers to keep natural body heat close. The three-panel hood and crisscross neck closure create solid coverage and stylish versatility. The Norris is also available in a women's vest style, as well as pullover and vest options for men.
Men's Sullivan Ranch Coat
This hip-length, heavyweight, wax-coated, cotton-canvas coat features a soft Sherpa lining and a classic corduroy collar. The Sullivan includes quick-dry polar fleece-lined pockets for warmth, bi-swing shoulders for mobility, and elbow patches for functional durability. The style is also available in jacket and vest options.