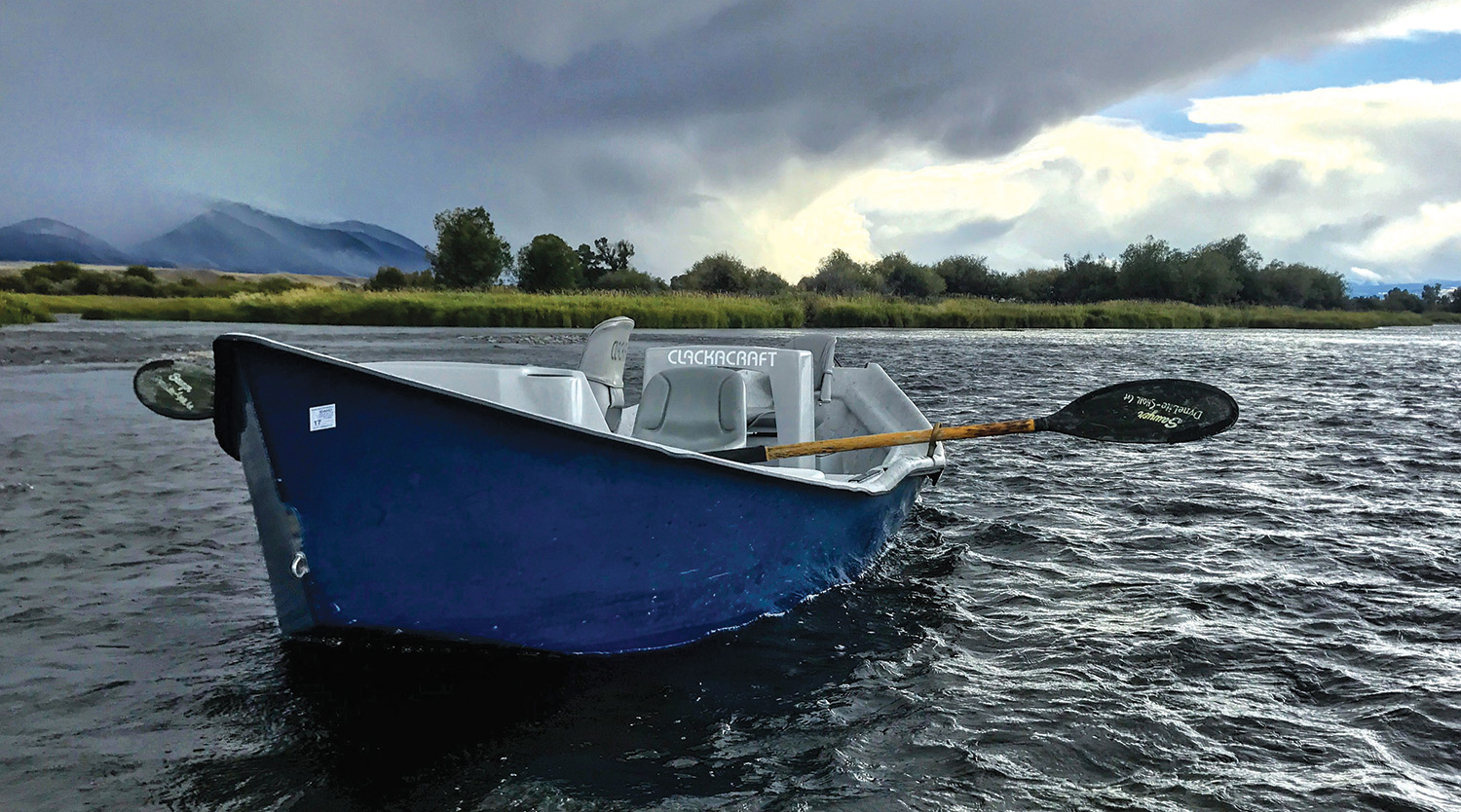 Clackacraft drift boats are a guide favorite.
08 Feb

Round Up: Fishing Guide Picks

in

What do you pack for a day of fly fishing? Aside from the essentials, there are the elements to deal with: You'll need layers to protect yourself from the blasting summer sun or the biting late-fall winds. And don't forget the camera, or to stock the cooler with an après-river beverage. We polled a selection of seasoned fly-fishing guides and shops to find out their top choices for dependable gear and nonessentials that will help make the most of a day on the river.
All-Around, Workhorse Rod

With the criteria being versatility, price-point, flex, and warranties, the top pick here was Orvis rods, with the Helios 3 model mentioned most. "It does it all, from chucking deep nymph rigs to reach casting long, light dry-fly leaders," says Garrett Munson, a guide on the Missouri River. Skip Volpert, a guide for Idaho River Journeys, calls on the Orvis Clearwater 5-Weight. "The rod loads smoothly for casting, has the perfect amount of flex for setting and mending the fly, and if the guest breaks the rod, I know I'm covered under the Orvis warranty." Sage rods were another favorite. "The Sage X will handle everything from a tiny dry fly to a triple nymph rig to a 4-inch articulated streamer with an 8 IPS tip," says Boots Allen, guide on the Snake River.
Leader and Tippet
Rio and Trouthunter fluorocarbon both came out on top in the leader and tippet categories. For tippet, John Way with The Tackle Shop in Ennis, Montana, says that Rio is "supple, strong, and the spools come in the guide size of 100 meters." Joe Moore of Big Sky Anglers in West Yellowstone adds that it's tough, while still being small in diameter. "The only drawback for me," he says, "is that it stays in the ecosystem forever, but that goes for all fluorocarbon." Gary Behrent with Montana Troutfitters in Bozeman, Montana, says that RIO Powerflex 7'6" 3x leader is the most versatile for most trout applications. "It allows me to run shorter for smaller streamers and large dry dropper setups," he says. "This leader can be added onto very easily for nymphing and smaller dry flies."
Waders

Bozeman-based Simms, particularly their G3 Guide Stockingfoot Waders for men and women, appears to be the guide's choice. "I've worn several different brands of waders and these are undoubtedly the best on the market," said Camille Egdorf, guide for Yellow Dog Flyfishing Adventures. "They're built to withstand harsh use, keep me warm during the cold months of the year, and are fitted to the female figure which is lacking in some other wader brands. They're spendy but worth every penny." Patagonia's Rio Gallegos were also favorites. Pat Straub, owner of Gallatin River Guides in Big Sky, Montana, uses these for the "durability and function without bulk or excess bells and whistles."
Top Flies
Guides have a wide variety of preferences, including some patterns they tie themselves. However, the go-to flies mentioned most include the Chernobyl Chubby and Purple Haze. "It's a hopper, stonefly, and just buggy looking; the perfect attractor that floats like a cork," Way says of the Chubby. "If there are any mayflies around they will eat the Purple Haze." Behrent is a fan of Pat's Rubber Leg: "You can never have enough of these in your fly box. There is never really a time of year when you can't catch fish on these." Wade Fellin, a guide with Big Hole River Outfitters, adds, "We're all overthinking this sport. If you have a Gray Adams in a few sizes, a Parachute Hopper, a Goddard Caddis, a little ant pattern, a Copper John, and a Woolly Bugger, and you still aren't catching 'em … you better change guides!"
Drift Boat
Clackacraft, made in Idaho, came in as a favorite for guides, with their 16-Foot Low Profile mentioned most, followed by their Headhunter Skiff. "I love wood boats, but my Clacka has been a workhorse for almost a decade," says Livingston, Montana-based guide Brant Oswald. "It rows well in most waves and wind, and has the stability and storage to make it a comfortable boat for clients." A close second was Adipose, made in Helena, Montana. "The internal layout of the boat is my favorite part," says Munson, "rod racks, walk-through floor design, removable leg braces, adjustable seats, great storage." And Ro, made in Bozeman, fared well too. "Robert and his family have been producing handmade boats for a very long time … and they are just good people," Moore says.
Shades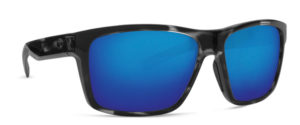 It's no surprise that sunglasses company Costa Del Mar took the win here, as their polarized models are made specifically for those who spend time on the water. "Nothing beats the polarization of Costa's glasses," says Egdorf. "It's like looking at a whole new world every time I put mine on." Volpert agrees saying, "On clear water, I can see 10 to 15 feet under the fly. It's quite the thrill watching a fish rise from the depths, hitting a dry fly." As far as picking out the right model? "Make sure you spend the money for the glass and match the color to the environment," Fellin recommends. "I have copper for Southwest Montana and blue for saltwater." Costa Del Mar shades, with or without Rx lenses, are available through Bozeman Optical (www.bozemanoptical.com). You can also try Missoula's Bob Ward's (www.bobwards.com).
Sun Cover-Ups
There wasn't a clear winner here for covering up from the relentless summer sun, but some trends were evident, including classic, lightweight button-ups and a Simms Buff to protect the face and neck. "I like Western style shirts for long-sleeved sun protection, snap buttons and all," says Moore. "And I'm always sporting a trucker hat." Kara Tripp, a guide with Gallatin River Guides, recommends the Snood, a triangular face and neck cover-up made in Bozeman by her company, Damselfly. Another trend is wide-brimmed hats. "Do yourself a favor and have Paula Kirkpatrick in Jackson, Montana, make you a custom felt hat in whatever shape suits you," Fellin says. "They stay cool and they'll last forever."
Nonessentials & Beverages
From a Yeti mug to Clic magnetic reading glasses, from music to binoculars, these guides have an assortment of nonessentials on hand. But the one mentioned most, by far, is a camera to snap shots of clients smiling with their fish. And when it comes to an après-angling drink, cold beer is the beverage of choice, preferably from a local brewery like Map (Midas Crush), Bitterroot, and Sawtooth. A refreshing Moscow Mule was the second choice: "The Wise River Club makes a mean one," Fellin says.
Favorite River
As fishing die-hards, most of these guides report being happy on just about any stretch of water in the Northern Rockies. But when pressed, the upper Madison, Big Hole, and Yellowstone rivers are the most often mentioned, along with the Gallatin, Missouri, and Henry's Fork. "I don't have a favorite river and stretch," says Moore. "Give me a fistful of dry flies or streamers, and I'll make that work just about anywhere in Eastern Idaho, Yellowstone National Park, Montana, or Patagonia on any given day of the season."