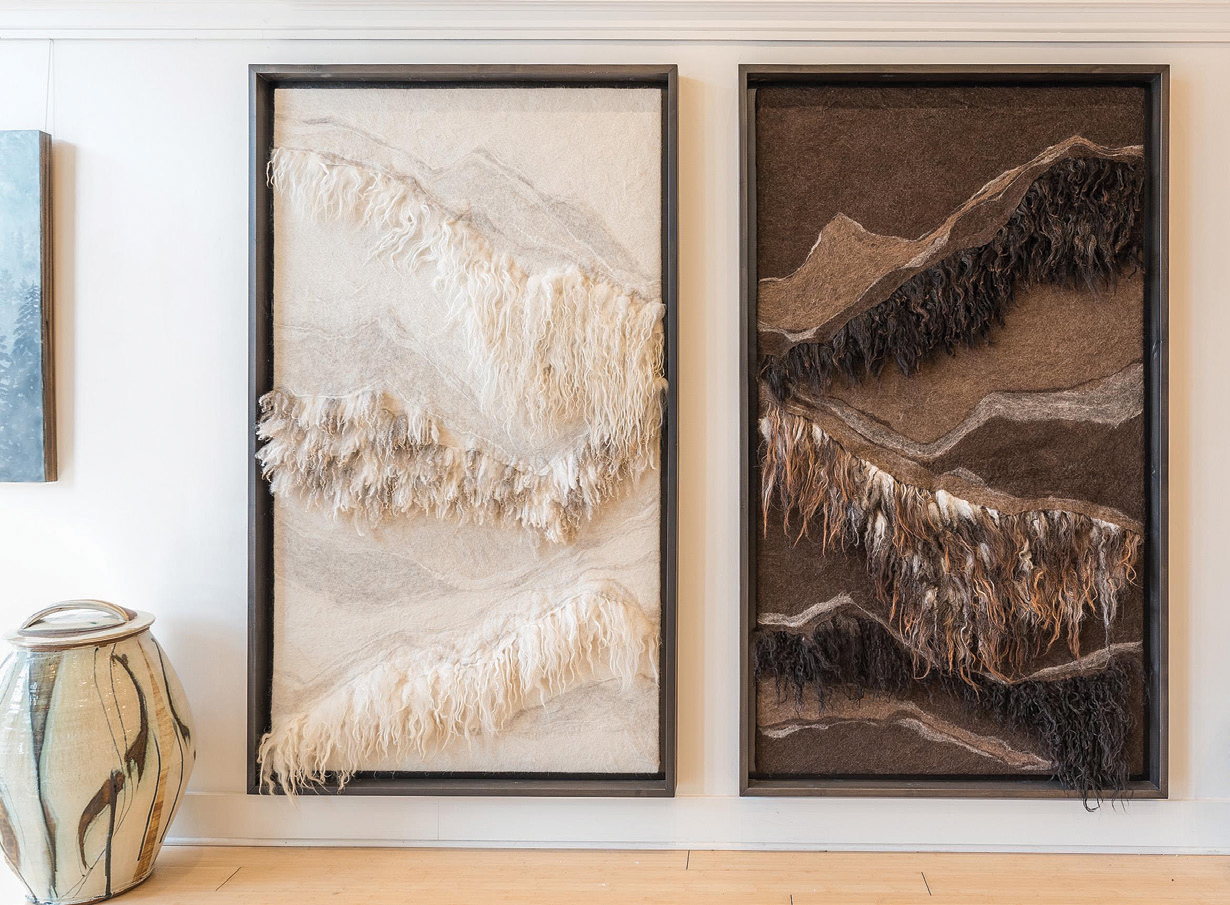 05 Aug

Round Up: Fiber Artist Meghan Purcell

in

Through her artwork, Meghan Purcell cultivates silence and serenity from her bright and airy studio near downtown Livingston, Montana. Working in what was once a classroom in the repurposed Lincoln School — a historic brick building that now serves as a community center occupied by a mix of nonprofits, artists, and other small businesses — she brushes and cleans locally sourced wool for the felted designs that come to life in her studio. "It's a solitary place I can rely on to completely get away and let my work happen," Purcell says.

As train cars rumble nearby and the old metal radiator in the corner clangs, Purcell works soap and water through the cleaned wool to bind the fibers together and create large, layered designs that mirror the mountainous landscape that rises above her adopted town. Each piece she creates is one-of-a-kind and can take anywhere from two to 15 hours to put together.

A classically trained artist, Purcell studied fine art at the Milwaukee Institute of Art and Design and earned a degree in art education from the University of Wisconsin–Milwaukee. After graduating in 2011, she and her husband packed their cars and headed west, ending up in Bozeman before the small artsy town of Livingston drew them over the pass. Since that time, they have set down roots there and are raising two young kids. "I don't see us ever leaving this area," Purcell says.

In their new town, it was a chance encounter at the local farmers' market that drew Purcell away from her classical artwork and toward her current medium. A local farmer was selling large bags of wool, and the texture and colors caught Purcell's eye. She knew in that first moment that she was going to learn to create something with that. Over the next few years, Purcell taught herself to felt — a process that mats and consolidates the natural fibers to create a more solid appearance and texture — while developing her signature style that prioritizes minimalism, organic lines, and natural forms.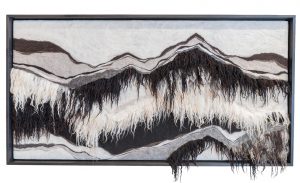 More recently, Purcell's work has gone through an evolution, as she's moved away from large, shaggy layers, and begun creating cleaner shapes instead. "I want to give the viewer a little less — a little more simplicity and more room for the eye," Purcell says.
She continues to source all of her wool from nearby Paradise Valley, and she has built long-term relationships with the ranchers behind the grass-fed lamb company Wolf Ridge Icelandics by visiting the ranch regularly, helping with shearings, and reliably buying from them in bulk. By emphasizing and utilizing sustainable, locally sourced materials, her work is also designed to reflect the deep gratitude and connection she feels toward her community and the environment.
Purcell's work is available to view and purchase at Old Main Gallery in Bozeman, Montana, and MiXX Atelier in Telluride, Colorado.