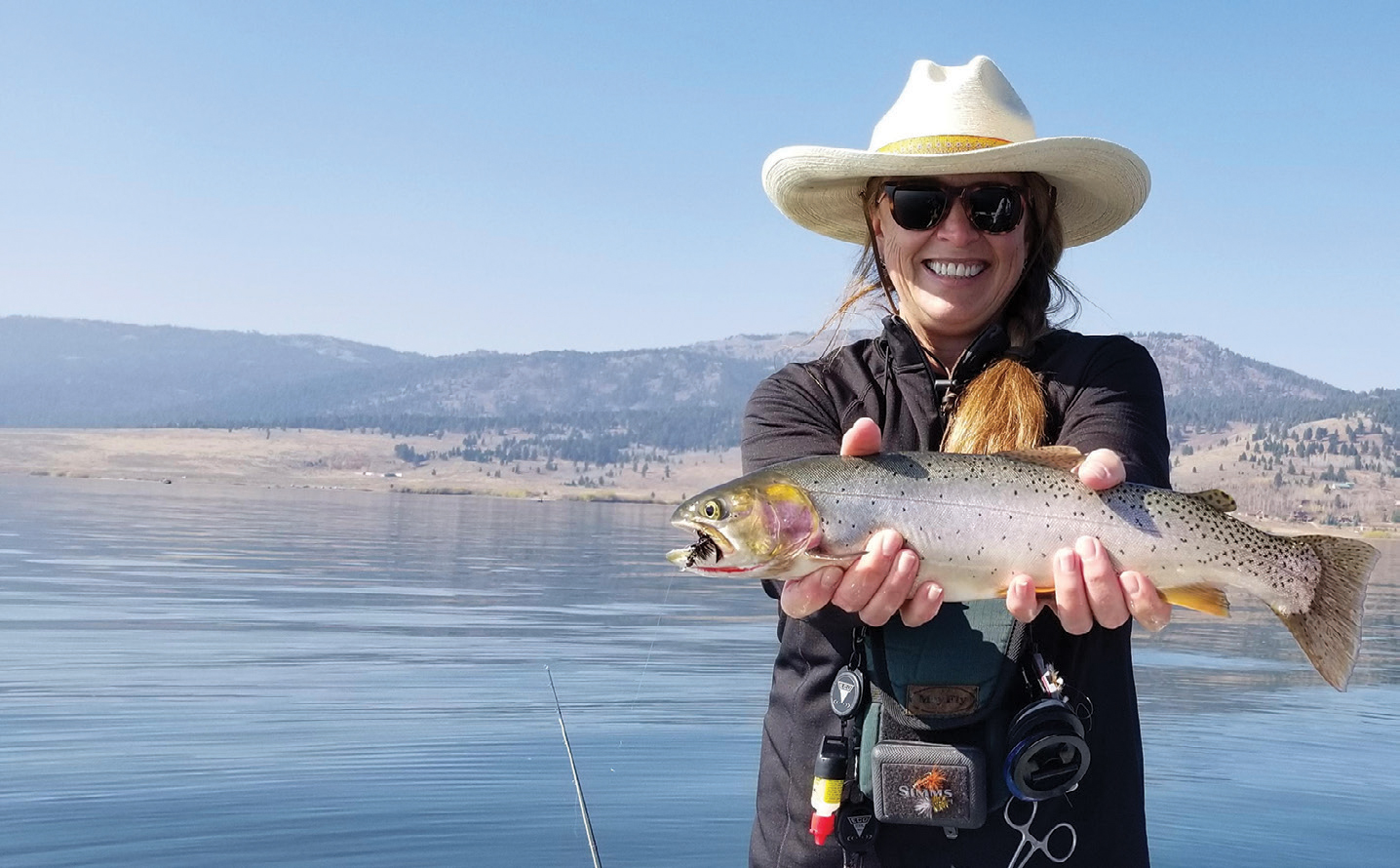 04 Feb

Round Up: Female Fly-fishing groups

in

"In a plurality of comrades is much countenance and consolation." — Herman Melville, Mardi: and a Voyage Thither

On a Tuesday evening in mid-January, Sandy Erickson sits in front of her computer, surrounded by fly-tying gear. She's setting up to host a drop-in Zoom fly-tying session for MT Fly Gals, an all-female fly-fishing group she started in 2018. She's not sure how many of the 900-plus members will join, but she is sure that along with free-form tying, there will be laughter and chatter about fishing and life in general.

Erickson first tried fly fishing while living in Colorado. After being diagnosed with rheumatoid arthritis in college, many of the sports she loved became inaccessible. But fishing was different. She hired a guide to learn the basics and was instantly hooked. "I was in search of an outdoor activity that I could still physically participate in," Erickson recalls. "So I gave fly fishing a try, and I instantly fell in love with it."

She enjoyed the camaraderie of a women's fly-fishing group that she'd joined in Colorado, and when she couldn't find one in Bozeman — which she decided to call her permanent home in 2016 — she started her own. With new members joining on a regular basis, Erickson has clearly filled a niche, bringing female fly anglers of all levels together to share their passion for the sport and help each other improve their skills. "We also have a ton of fun and laughter together," she adds. — Corinne Gaffner Garcia

BSJ: How did MT Fly Gals come to be?
Erickson: In 2017, I approached Sarah Clark who runs Chica de Mayo, an annual women's fly-fishing event in Bozeman, and asked her if I could attend and gauge interest in a local women's fly-fishing group. She was very supportive, and I left that event with a list of 80 interested women. I organized our first meeting in January 2018, and more than 70 women attended. I was floored; I wasn't expecting that large of a turnout. We've been rolling ever since, and now organize activities through our private Facebook group called "MT Fly Gals."

BSJ: What does being a member entail?
Erickson: Participation varies a lot, and we always see new and repeat faces at most events and activities that we host. We have women of all skill levels, ages, and backgrounds that participate and share a love for fly fishing. It's a very diverse group, and that's the beauty of it. We all started as beginners, and there's no such thing as being perfect in the sport, so we're all continuously learning. Many of our more experienced members love introducing other women and girls to the sport, and women are the fastest-growing segment in the fly-fishing industry right now.

BSJ: What kind of events does MT Fly Gals host?
Erickson: We do a variety, ranging from introductory skills training — such as casting, entomology, and reading the water — to meetups where we fish local waters, have overnighters in nearby towns to fish non-local rivers, host women's fly-fishing groups from other areas, meet for fly tying, arrange camping trips in new fly-fishing destinations, and have shared guide outings. We hosted a group of women from Maine for a week, and we all fished together. It was fun to learn about our respective fly-fishing environments, species, and rivers. Our Facebook group also serves as a hub for disseminating information and promoting local fly shops, women-owned fly-fishing businesses, fly-fishing guides, and organized trips that are happening in our region. We also have a lot of regional female guides and outfitters who are members.

BSJ: Why are fly-fishing groups like this important?
Erickson: Our members talk about how a group like this is not only helpful for making connections with people who share the same interests, but it's also a good place to get advice and ask questions in a safe, caring environment. One member said, 'The passion is contagious,' and it is. It's just a non-threatening way to make new friends who enjoy fly fishing and getting outdoors. We have fun, and we laugh a lot.
Regional Women's fly-fishing groups
Erickson shares this list of similar groups in the Northern Rockies and suggests searching online for their Facebook pages or websites for more information.
Montana
• Bozeman: MT Fly Gals
• Missoula: Missoula Fly Gals
• Helena: Last Chance Fly Gals
• Kalispell: Flathead Women on the Fly
Idaho
• Pocatello: Idaho Women on the Fly
• Ketchum: Sun Valley Fly Gals
• Boise: Women Fly Fishers of Idaho
• Moscow: Palouse Women on the Fly
Wyoming
• Alta/Driggs: Dancing Caddis
• Laramie: Fish N' Chicks
• Casper: Lady Anglers of 307
• Jackson/Star Valley: Lady Anglers of Wydaho