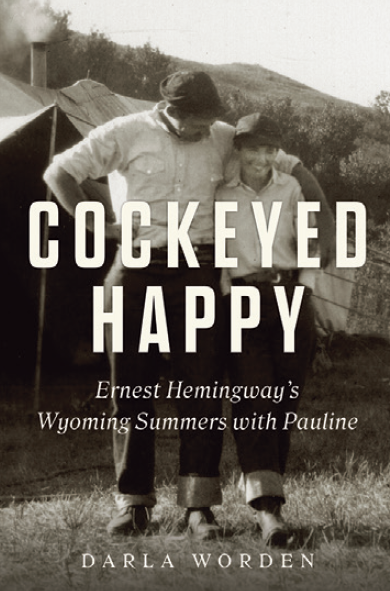 28 Sep

Round Up: Explorers Come West: Ernest Hemingway's introduction to Wyoming

in

He'd never been out West before, but he'd heard it had some of the best fly-fishing in the world. As Ernest steered the yellow Model A toward the Bighorn Mountains, they reminded him of the Sierra de Guadarrama in Spain — the same color and shape but bigger. He missed Spain already. Because of Patrick's birth, he'd had to skip the San Fermin Festival in Pamplona this summer, and he swore he'd return next year. But for now, he and Bill Horne had driven three days from Kansas City to reach a dude ranch in Wyoming, where Ernest hoped to go fishing and finish his book.

Ernest recorded mileage each day — 340, 380, 320. He liked to keep lists and record things, like how many fish he caught and game he shot. They had crossed a corner of Nebraska and come up the North Platte River into Wyoming — a changing landscape with hills like sand dunes, rocky outcroppings, buttes topped with scrubby ponderosa pine, and miles of sagebrush-speckled plains.

The entire country was baking in a heat wave, and forget about finding a cool drink to quench your thirst because of Prohibition — something that Ernest was having a hard time adjusting to after the Roaring Twenties in Paris, where liquor flowed freely. Finding liquor in America was like tracking game: you had to be stealthy. In Kansas City, though, he had connections, and he had brought four quarts of bootleg scotch for the trip.

Ernest had been planning to go out to Idaho, where you had to pack in on horseback, but Bill invited him to Folly Ranch and Ernest had accepted in spite of his feelings about dude ranches. If he could catch an enormous amount of trout without working too hard for them, he'd be happy. He also needed a respite from the awful heat and a quiet place to work.

It was July 30 when they turned onto a steep shale road that snaked up the mountainside, the coupe leaving a trail of red dust as it climbed. Ernest maneuvered the roadster around potholes, bumping over rocks and ruts, trying to stay away from the edge as Bill peered over the sheer drop-off where boulders the size of cars had tumbled thousands of feet to the valley floor.

"Look out, Ernie!" Bill yelled when Ernest came too near. The view was seductive — they could see the little towns of Sheridan and Big Horn in the valley below.

"Ernie, look out!" Bill shouted again.

"Do me a favor, Horney," Ernest said. "When you get out, just close the door." Bill didn't make a peep after that.

Excerpted from Cockeyed Happy: Ernest Hemingway's
Wyoming Summers with Pauline written by Darla Worden and released September 14, 2021, by Chicago Review Press.