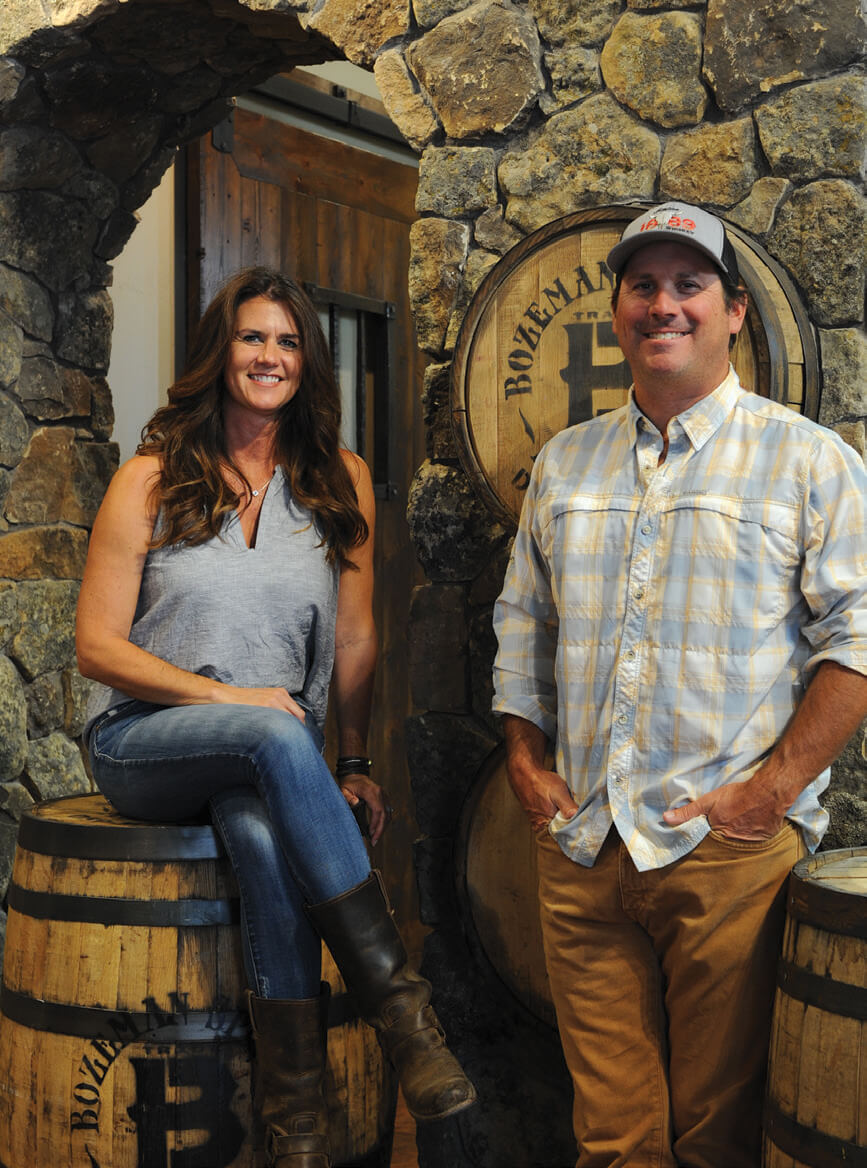 Since opening Bozeman Spirits Distillery in 2014, Jim and Mary Pat Harris have grown their operations, production, and offerings to become Montana's first estate distillery.
23 Nov

Round Up: Elevated Spirits

in
Local distilleries help to warm up the winter season
Since opening Bozeman Spirits Distillery in downtown Bozeman in 2014, husband and wife team Jim and Mary Pat Harris have built a manufacturing, retail, and wholesale business that's firmly entrenched in products that reflect the unique character of Montana. Here, Jim describes their road to success, along with the processes and considerations that are involved in crafting spectacular spirits.
BSJ: What was the inspiration for Bozeman Spirits Distillery and opening a brick-and-mortar location in downtown Bozeman?
Jim Harris: After graduating from Montana State University in 1994, I was involved in starting several successful companies in Bozeman… Friends call me a serial entrepreneur, but my wife Mary Pat was always an irreplaceable partner in those business ventures. We make a great team and eventually decided to build a business together. I traveled around different states and cities looking for something unique, and we ultimately stumbled onto distilling after exploring a brewery downtown. Federal distilling laws changed in 2008 to allow for tasting rooms, and Montana changed laws to allow them shortly thereafter.
BSJ: How did you develop your process for making fine spirits?
Harris: I was fortunate enough to meet several people in the industry who took me under their wings early on, teaching me and giving me a solid road map for success. And my old friend Thomas McGuane became integral to our business from the beginning, pulling 16- to 18-hour days with me for over a year, both in remodeling the Schnee's building that now houses Bozeman Spirits and making our initial batches of hooch. Making whiskey or any distilled spirit begins with a recipe — just like making apple pie — but the outcomes can vary greatly depending on the yeast, still, equipment used, and mash bill [grain ingredients]. That's where Thomas really added to our flavor profiles; we started with a base, but our creativity led us to what we have now, and we continue to improve with different varieties of whiskies, bourbon, and rye.
BSJ: What's your most popular offering?
Harris: Our Montana Cold Spring Huckleberry Vodka both sets us apart from other Montana distilleries and is uniquely Montana-made. It has grown to be the number one craft vodka in the state, and we're extremely proud of that. Our Montana 1889 Whiskey is our next most popular. We're limited in our whiskey production and, since whiskey and bourbon are aged in 53-gallon white American oak barrels, it takes time. As we expand, we will be able to make more. Our head distiller, Cortney Peres, and I are constantly working to keep our products consistent, which is one of the hardest pieces of the puzzle. Since we're a small craft distillery, our batches are 300 gallons or less at a time. Keeping the flavors, colors, and aromas the same for each batch takes an extremely focused individual.
BSJ: What part of the process do you find most interesting?
Harris: I really enjoy developing the products, figuring out how to make them and position them in the marketplace, from the juice that goes into the bottle to the laws that define the industry, to branding and marketing. The aging of whiskey and bourbon is another incredible part of the business: It's years before you know what the final product will be like. Sometimes you get that unicorn barrel that's over-the-top good. Those end up in our single barrel release program and are sold in 375-milliliter bottles, usually only a couple hundred, and then it's gone.
Lastly, the people. There are around 28 distilleries in the great state of Montana. I was fortunate enough to be the president of the Montana Distillers Guild for several years, and I spent considerable time with almost every distillery owner in the state. We all have great relationships and can call each other up whenever we need some help or motivation. This is a tough business, and we're all fortunate that the consensus is that a rising tide lifts all ships.
BSJ: What's in store for the future?
Harris: We are nearing completion on a 50-acre farm just south of Bozeman. It's been two years in the making, and it's Montana's first estate distillery, where everything is completed onsite. We grow our own grain, process, malt, mash, ferment, distill, bottle, and package all within the confines of the farm. We also have Scottish Highland cows to consume the spent grains.
Bozeman Spirits seasonal favorites
HUCKLEBERRY HOT CHOCOLATE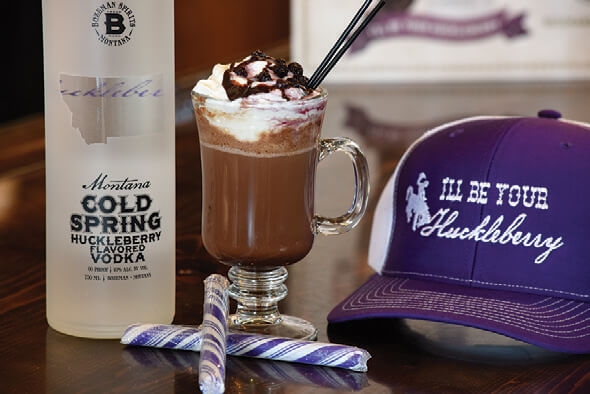 8 oz hot chocolate
1.5 oz Cold Spring Huckleberry Vodka Splash of vanilla cream
Whipped cream and chocolate drizzle
Make hot chocolate and stir in additional ingredients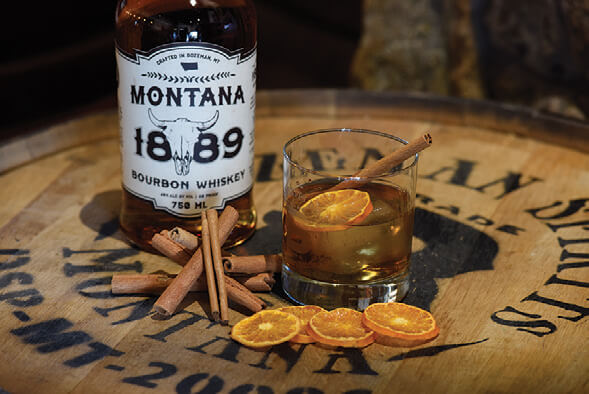 CAMPFIRE SLING
1.5 oz Montana 1889 Whiskey
1 oz maple simple syrup
Dash of chocolate bitters
Gently stir together in rocks glasses, add ice, orange peel, and cinnamon stick
THE STINGER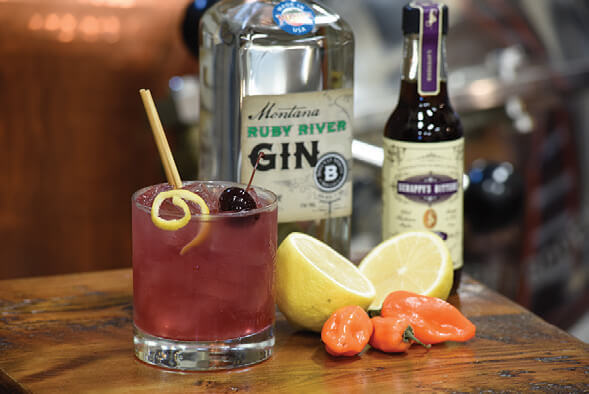 1.5 oz Ruby River Gin
1 oz fresh lemon juice
1 oz honey habanero simple syrup Dash of lavender bitters
Splash of cherry juice
Shake all ingredients in a shaker,pour over fresh ice, garnish with cherry and lemon peel
Regional craft distilleries
Here are other notable distilleries in the Northern Rockies that use local ingredients and sling seasonal cocktails to whet the most selective of whistles. Most of these have tasting rooms; see websites for hours.
Headframe Spirits
Butte, Montana
Whiskey, Gin, Vodka, Bourbon, Cream Liqueur
headframespirits.com
Willie's Distillery
Ennis, Montana
Moonshine, Vodka, Bourbon, Whiskey, Liqueurs, Limited Editions
williesdistillery.com
Montgomery Distillery
Missoula, Montana
Rye, Vodka, Gin, Scotch, Aquavit, Coffee Liqueur, Kirschwasser
montgomerydistillery.com
Grand Teton Distillery
Driggs, Idaho
Vodka, Whiskey, Bourbon
tetondistillery.com
Warfield Distillery & Brewery
Ketchum, Idaho
Whiskey, Gin, Vodka, Brandy
drinkwarfield.com
Jackson Hole Still Works
Jackson Hole, Wyoming
Gin, Vodka
jhstillworks.com
Koltiska Distillery
Sheridan, Wyoming
Vodka, Liqueurs
koltiska.com
Brush Creek Distillery
Saratoga, Wyoming
Bourbon, Rye, Gin, Vodka
brushcreekdistillery.com