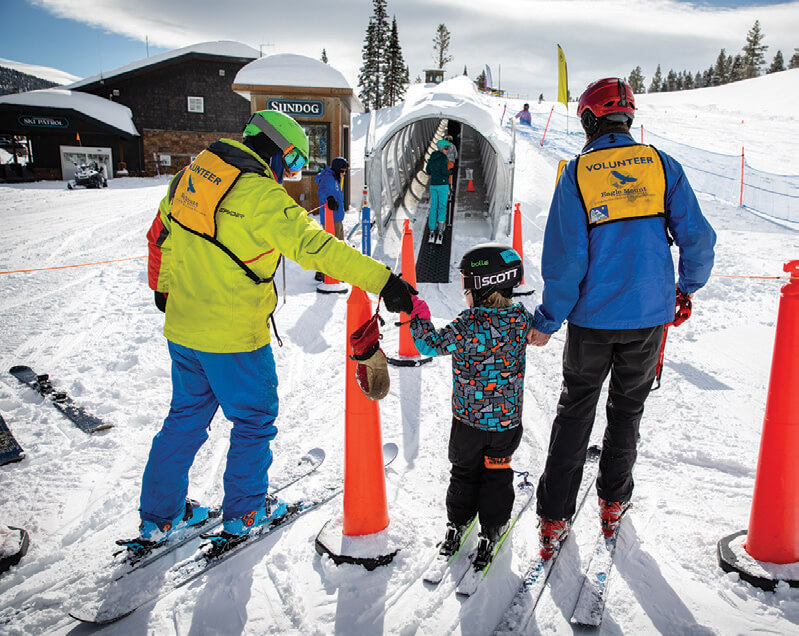 Photo courtesy of Eagle Mount Bozeman
25 Nov

Round Up: Eagle Mount Bozeman

in

Nearly 40 years ago, Robert and Greta Mathis realized their dream to help those with disabilities share in the exhilaration and wonder of outdoor adventuring in Montana by establishing Eagle Mount in Bozeman. At the time, Eagle Mount Bozeman offered a small ski program and horseback riding to individuals of all ages with disabilities.

Today, Eagle Mount's 19-acre south Bozeman campus supports a wide range of recreational programming, camps, and events to a service population that has grown to include families and those battling cancer. Recognized by The Today Show as one of five "small U.S. charities making a big difference," Eagle Mount counts a thousand annual participants who realize new strength, confidence, freedom, and joy in the two thousand experiences Eagle Mount offers each year thanks to the generosity of private donors and an army of committed volunteers.

Here, Executive Director Kevin Sylvester shares Eagle Mount's history and compelling vision for today, tomorrow, and their next 40 years of service in the Gallatin Valley.

Big Sky Journal: Tell me about Eagle Mount's mission and how the organization is realizing that ideology? What have been its most significant impacts to the Bozeman community and beyond?

Kevin Sylvester: Eagle Mount Bozeman provides quality adaptive recreation and sports opportunities for people with disabilities and young people impacted by cancer, while supporting participant families so that "they shall mount up with wings as eagles." Eagle Mount's ideology and founding doctrines are rooted in the values of inclusion and accessibility. We aren't only trying to get everyone involved — we encourage learning, having fun, and personal growth through all the recreation modalities we provide. The skills learned at Eagle Mount are translatable and transferrable. For example, adaptive skiing only starts at Eagle Mount   — we hope our skiing program kicks off a lifelong love of the mountain, so participants can continue skiing with their families and friends for years to come.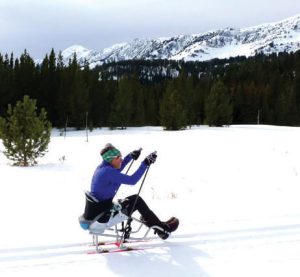 Our mission wouldn't be possible without the thousands of volunteers we've worked with over the last 40 years. We thoughtfully match each volunteer with a participant based on mutual interest in music, art, horseback riding, swimming, or whatever hobbies and programs unite them. We work to build lifelong connections with the people we engage; it's through those relationships that our community becomes a stronger, more inclusive place. I believe that Bozeman is what it is because of Eagle Mount, and vice versa: Eagle Mount has worked hard to ensure access to recreation for all, and the Bozeman community has embraced that mission by volunteering and supporting us in our efforts.
BSJ: What sort of programs do you currently offer? Do you have any new opportunities planned for the future?
Sylvester: Our long-standing winter recreation programs include skiing, both alpine and Nordic; ice skating; and snowshoeing. Our summer programming includes horticulture, rock climbing, adventure day camps, adaptive arts, and cycling. We also have family engagement programming: aquatics, adaptive horsemanship, Big Sky Kids, and an on-campus gym that will soon be offering Pilates alongside the usual weights activities.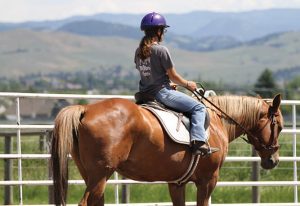 Eagle Mount strives to provide a variety of supportive opportunities for those who seek us out. We offer multi-
dimensional education, personal growth, and unique experiences for all, inviting each participant to choose their own adventure. We're very excited to be diversifying our family engagement program by offering dance and theater. We're also planning a winter young adult retreat in our Big Sky Kids program for the first time this year.
BSJ: Why is your work important? How does it impact participants?
Sylvester: When adventure and recreation are made available to all, communities are strengthened, challenges are overcome, and lives are transformed. Eagle Mount strives to change the culture around — and accessibility of — recreation, to be a welcoming force for people of all abilities by dismantling as many barriers as possible. When eighth graders in Bozeman go to Big Sky for their ski day, and kids that need adaptive support go to school the next day with the same stories as their peers, it's powerful. It's why we continue to do what we do. Similarly, our family engagement programs get entire families involved in forging new adventures together, in making lasting memories, and in sharing special experiences that might not be accessible otherwise.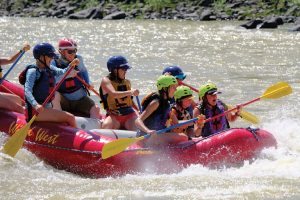 BSJ: You are currently closing out a year-long 40th anniversary celebration. How has Eagle Mount's vision shifted over the last several decades and how has that trajectory informed your goals moving forward?
Sylvester: Eagle Mount was founded by Bob and Greta Mathis, whose shared vision was to open Montana's outdoors to people with disabilities. The earliest activities included horseback riding at a friend's ranch — with the help of a group of willing volunteers — and skiing with homemade sit-skis and other adaptive equipment at Bridger Bowl (with that same group of dedicated friends and volunteers). Now, nearly 40 years later, volunteers offer expanded skills and expertise, while a committed staff directs activities rooted in best practices. But the intent and dedication remain the same.
At Eagle Mount, we have a can-do attitude. Though our vision has broadened, this is still at the core of everything we do. Embracing a growth trajectory to meet the needs of our ever-growing region, our Vision 2025 involves increasing opportunities, expanding program offerings, and reducing barriers to participation. Our immediate goals include the expansion of our adaptive horsemanship facility and the construction of a challenge course.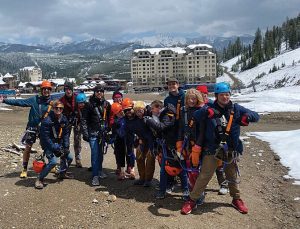 BSJ: What are your big asks of the community? How can people support and become involved with your mission?
Sylvester: Participate. Volunteer. Donate. The generosity of individuals, whether through volunteering or financial gifts, is the primary engine at Eagle Mount. Since we are sustained entirely by private donations, every gift matters, every gift aids in realizing Eagle Mount's mission, and every gift makes adventures possible. Likewise, volunteers provide an incredible 30,000 hours of support every year to make our programming happen. We have a variety of programs for volunteers to choose from and will teach volunteers everything they need to know.
Just as our community needs us, we need our community to create awareness around our programs to keep our doors open to all. Make sure your school knows about our offerings. Refer your neighbors. Talk about our mission. And, if you are interested in recreating with Eagle Mount, please check out our eligibility guidelines on our website. We would love to partner with you to help make an adventure possible.
For more information regarding Eagle Mount Bozeman's programming or how you can get involved, visit eaglemount.org or call (406) 586-1781.