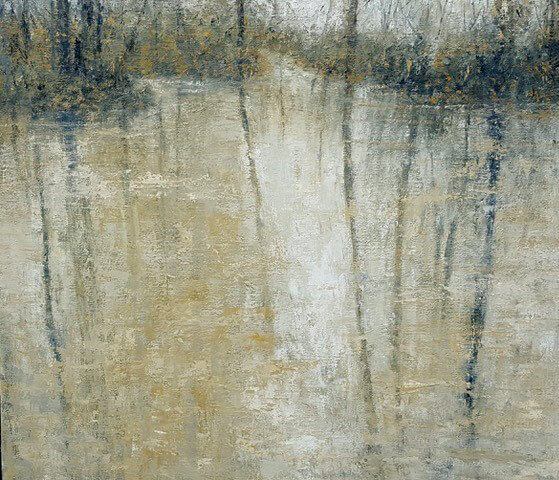 Some Places Still Keep the World | tabby ivy | 30 x 35 inches
02 Jun

Round Up: Life in Paintings and Prose

in

This summer, the Hockaday Museum of Art in Kalispell, Montana is hosting a unique exhibition of work by Damon Falke — an American writer, poet, and playwright living in Norway — and Montana artist Tabby Ivy. After connecting on Facebook in 2018, the duo developed the concept for a collaborative art installation, incorporating more than 30 paintings by Ivy with written, audio, and video components created by Falke. "Between Artists invites the viewer to experience what is close in life," Falke says. "To stop and not just look, but to see and find a quiet place within themselves for reflection."

The time difference and distance between the two, along with the challenge of living through a global pandemic, "allowed for a kind of intimacy in our collaboration," says Ivy. "The disconnect provided a safe place for creative exploration and personal reflection that would not have been possible if Damon and I lived in the same place."

Running from June 16 through August 20, this is the first international collaborative project to be hosted by the museum. "While the pandemic posed many challenges, it also opened new creative opportunities, including this unique visual conversation between two artists that began in a virtual space online, but is now shared with the public as a physical, immersive art installation — a refreshing departure in an increasingly digital planet," says the Hockaday's executive director Alyssa Cordova. For more information, visit hockadaymuseum.com.