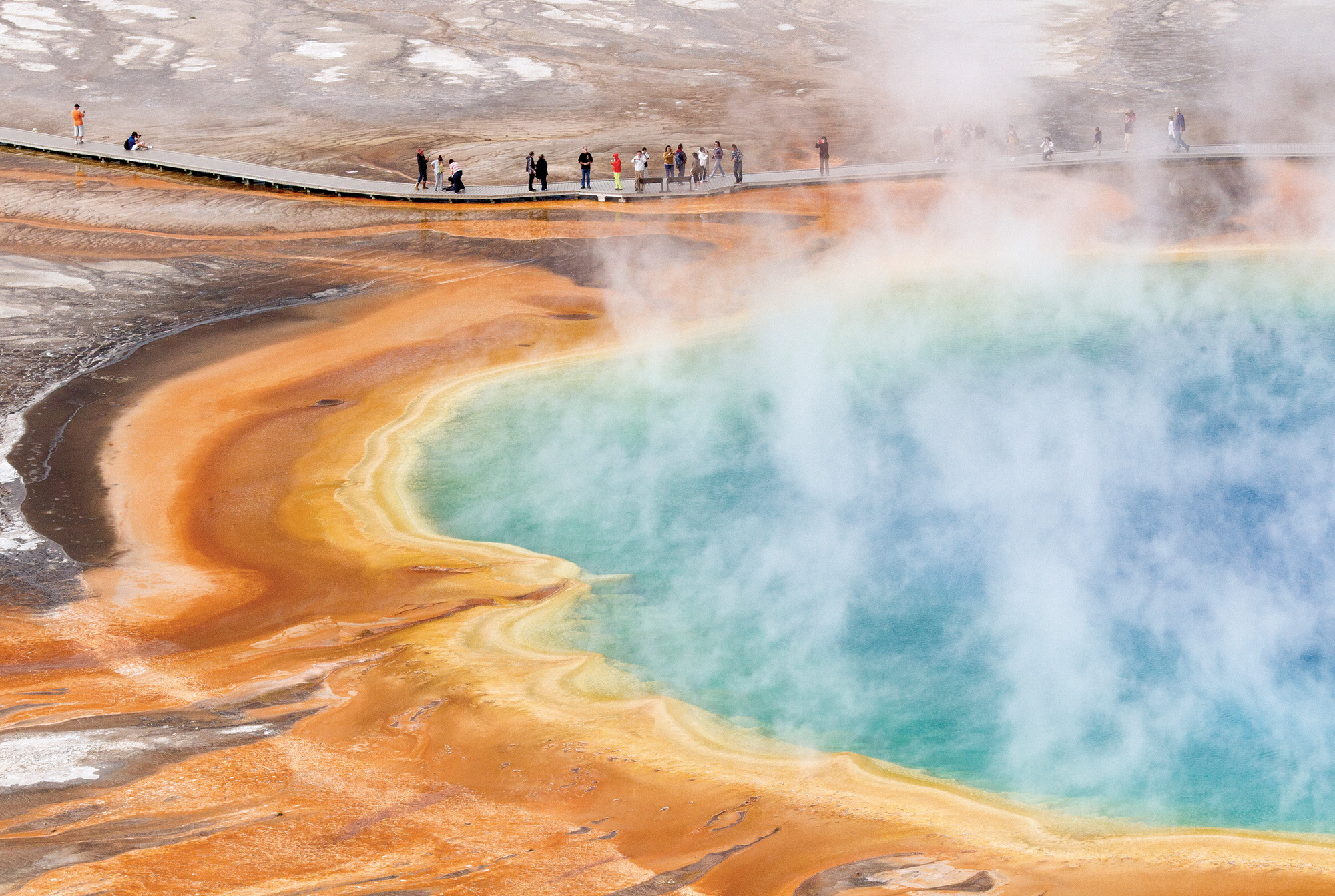 31 Jul

Round Up: Arts 2015

in
---
Yellowstone Forever Photo Contest
The Yellowstone Park Foundation and Nature's Best Photography magazine are teaming up to present the first global photography contest that celebrates the beauty of the country's first national park.
Open to all, the Yellowstone Forever Photo Contest is one of several activities planned to observe the National Park Service's centennial anniversary in 2016.
"We want to involve photographers at all levels of experience and background," says Steve Freligh, co-publisher of Nature's Best Photography and chair of the competition judging panel. "Whether you live in the United States or abroad, if you have ever traveled to Yellowstone National Park and have favorite images and adventures to share, we invite you to be part of this historic public collection of nature photography."
Entries for the contest will be accepted through Sept. 10, 2015, in four categories: wildlife, landscape, Yellowstone adventure and a mobile technology category for images created on phones and tablets.
Winners will receive cash and other prizes. Their photographs will appear in the spring 2016 Nature's Best Photography and be on display in an exhibition at the Old Faithful Haynes Photo Shop during the summer of 2016.
Information: ypf.org/contest or naturesbestphotography.com/yellowstone
---
The High Plains Book Fest
The High Plains Book Fest celebrates the lifestyle of the High Plains of North America by hosting a fleet of authors in Billings, Montana, for readings and other events Oct. 2 to 3. Since it was founded in 2002, the festival has showcased the diverse writing of authors and literary works that examine and reflect life on the High Plains, including the states of Montana, North Dakota, South Dakota, Wyoming, Nebraska, Colorado and Kansas, and the Canadian provinces of Alberta, Manitoba and Saskatchewan.
A signature program for the Billings Public Library for more than a decade, the High Plains Book Fest has served to define and reward the literary output of a vast and diverse region of the country, growing steadily each year in the number of books nominated and awards presented to regional authors.
The theme of this year's festival, "Border Crossing," highlights the region's international connections, "culturally exploring the differences in perspective" between Canada and the U.S., according to Corby Skinner, who coordinates the festival.
The Book Fest culminates with the annual High Plains Book Award, honoring work published in fiction, nonfiction, poetry, culinary arts and many other categories. From the 200 books that were initially nominated for the 2015 awards, 30 have been selected as finalists in 10 categories. Twenty-four different publishers from Canada and the U.S. are represented in this year's competition. Of the 34 finalists, 13 are from Montana (a record number), and six are from Canada. The awards banquet is a chance to dine with the authors and share in this growing literary tradition on Saturday, Oct. 3, at the Yellowstone Art Museum.
Information: (406) 697-0225, ci.billings.mt.us
---
Montana Fashion Week
The annual Montana Fashion Week features local and international designers who sew their dreams under the Big Sky, staging their work at the Crown Plaza in Billings, Montana, Aug. 28 to 29.
Designers showcasing their latest collections range include Luke Avery, of 4Letter Designs, who creates fabric and clothing from his large abstract paintings, to contemporary Native American clothing by MILDJ Fashion, to beachwear by Carolina Socias.
Attendees will watch runway shows, shop for fabulous finds and view modern designs from all over the world. Comedian Lukas Seely hosts this year's Fashion Week; Seely began his comedy career in Billings, and now regularly performs at The Hollywood Improv and The Comedy Store in Los Angeles.
A portion of proceeds will support Tough Enough To Wear Pink of Montana, a charity that funds breast cancer awareness, education and screening.
Information:  montanafashionweek.com
---
Fort Bridger Rendezvous
The Fort Bridger Rendezvous is a mountain man gathering that celebrates the Rocky Mountain Fur Trade Era of the mid-1800s. Taking place Sept. 4 to 7 in Fort Bridger, Wyoming, it is one of the largest mountain man gatherings in the nation. Admission is $4 (unless you choose to attend authentically dressed from head to toe in pre-1840 fur trade era mountain man garb, then admission is free).
Participants can attend Native American dances, flag ceremonies, tomahawk and knife throws, children's games, a lecture series, flintlock shootings, dutch oven cooking contests, a buckskinner's ball and plenty other mid-19th century festivities.
Information: fortbridgerrendezvous.net
---
Elk River Arts & Lectures hosts the 2015 Elk River Writer's Workshop
Elk River Arts & Lectures will host a writer's workshop Oct. 22 to 25 at Chico Hot Springs in Paradise Valley, Montana.
The workshop faculty features a full slate of eminent Western writers including novelists Rick Bass and William Kittredge, famed ghostwriter Maryanne Vollers, naturalist Doug Peacock, and poets Pamela Uschuk and William Pitt Root. Evening lecturers include award-winning adventure writer Tim Cahill, novelist Kevin Canty and author/screenwriter William "Gatz" Hjortsberg.
Students will have the opportunity to work in a small group environment with all faculty members during intensive writing seminars over the course of the four-day workshop. The weekend culminates with a gala faculty reading in Livingston.
Information: (406) 333-2330, elkriverwriters.org
---
Jackson Hole Fall Arts Festival
The annual Jackson Hole Fall Arts Festival draws thousands of patrons to the Teton Valley for a cultural event featuring acclaimed artists, along with an array of music, cuisine and wine.
The 31st annual festival will take place Sept. 10 to 20. Highlights include the Western Design Conference, the National Wildlife Museum's Wild 100 Art Show & Sale and the Jackson Hole Art Auction. It's a tour de force of Western art and culture, with festivities including a fashion show, an art walk with more than 30 participating galleries, tours of homes, artist studios and historic ranches, a quick draw, a wine tasting and culinary feats prepared by the valley's best chefs.
Each year, a single piece of artwork is selected to be featured during the festival. This year, the honor goes to artist Bill Schenck for his painting 13 Minutes from Eternity depicting a classic cowboy on horseback against the backdrop of the jagged Tetons Mountains.
Information: (307) 733-3316, jacksonholechamber.com
---
Idaho's Ernest Hemingway Festival
The Community Library in Sun Valley, Idaho, will host the 2015 Ernest Hemingway Festival Sept. 10 to 12. This year's festival highlights Hemingway's global heritage by celebrating the author's life with educational presentations, social mixers and a gala dinner. New to this year's festival are cultural programs focusing on the history and literary tradition of Sun Valley and Ketchum, which Hemingway chose as his final home.
Information: (208) 726-3493 ext. 123, visitsunvalley.com/events/ernest-hemingway-festival
---
Rendezvous Royale
The Rendezvous Royale festival highlights the best of the arts in Cody, Wyoming. During the fourth week of September, the Rendezvous consists of a nationally recognized art show, a spirited auction of the best contemporary Western art, a quick draw, an exhibition of works by distinguished Western furniture artisans and craftsmen, educational seminars, studio tours and a Patron's Ball as the grand finale. Proceeds benefit the Buffalo Bill Center of the West.
Information: rendezvousroyale.org
---
ART Idaho
The Art Museum of Eastern Idaho in Idaho Falls will host a juried exhibition of 50 works showcasing the work of Idaho artists from Aug. 22 to Nov. 7. The museum has championed the visual arts since 2002 with a focus on educational art programs. Located on the greenbelt walkway overlooking the Snake River, the museum is home to five galleries, a children's area, an interactive art learning area, an art classroom/workshop area and gift shop.
Information: (208) 524-7777, theartmuseum.org