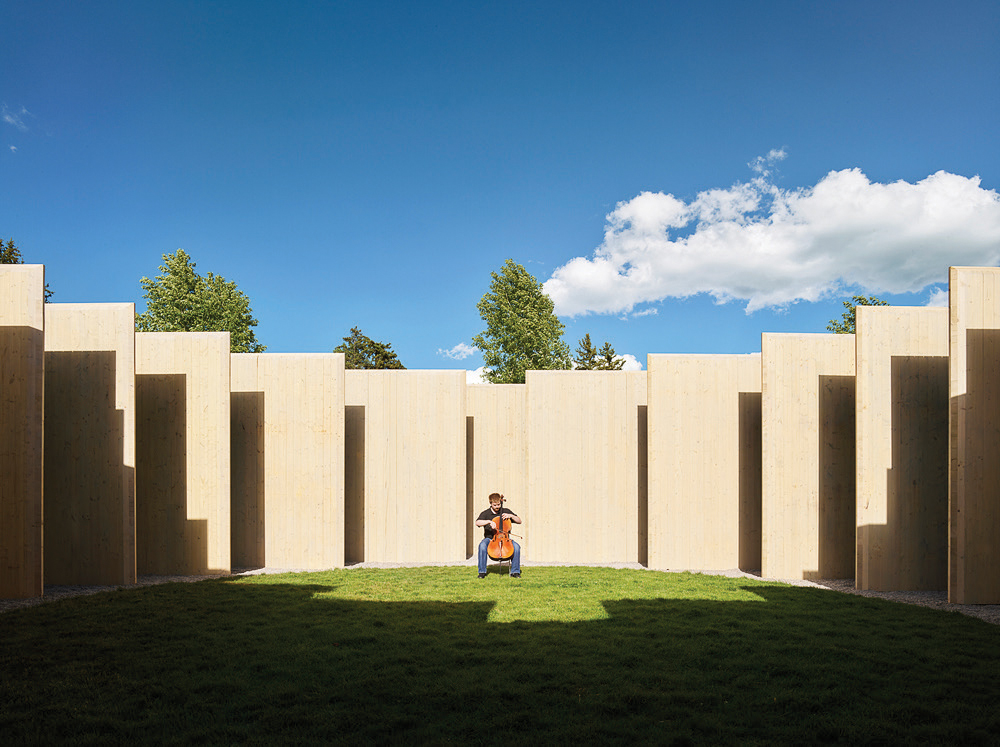 23 Nov

Round Up: A Monumental Move

in

The award-winning Town Enclosure Pavilion was erected in the park at the Center for the Arts in the heart of downtown Jackson Hole in 2018, as the result of a collaboration between the Jackson Hole Public Art organization and Jackson Hole's Center for the Arts, along with the support of local businesses and private donors. The goal of the project was to create community engagement and a venue for artistic expression in this mountain town, and it served as Jackson Hole Public Art's first large-scale, temporary installation. As an art space, it welcomed youth and professional dancers, hosted playwrights and rehearsals, and provided a stage for poets and spoken word performances. The community also practiced flower arranging, yoga, life-drawing, cloud-making, and stargazing within the structure's open walls.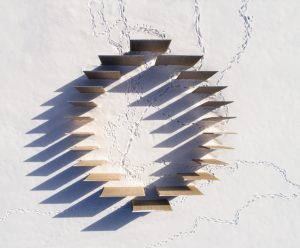 And now the pavilion is making its way to a new home at the Story Mill Community Park in Bozeman, Montana.
CLB, an architecture and design firm with offices in Jackson Hole and Bozeman, designed what they dubbed the "Town Enclosure" after theirs was selected from a pool of 10 proposals. The end result is an array of cross-laminated timber wall panels that form a circle. The spaces between each panel allows for exploration, and, according to CLB's website, "from a distance, the composition speaks to the surrounding mountains, engages passing drivers and pedestrians, and adds sculptural interest to the flat lawn of a park surrounded by downtown buildings. Its form is derived from symbols of placemaking in the Mountain West, such as fences and corrals, as well as iconic landmarks like the West Buttress of the Grand Teton." Since its completion, it has won national awards and received national press.
Crews led by On Site Management (OSM) — a construction company also with offices in Jackson Hole and Bozeman — removed the pavilion from the Center for the Arts lawn this past fall using a digger and a crane, and they're tasked with its reinstallation in Bozeman's Story Mill Community Park.
The 60-acre park, Bozeman's largest, was acquired through the city's 2012 Trails, Open Space, and Park bond fund developed in partnership with the Trust for Public Land. It was designed to provide both active and passive use areas, emphasizing the site's relationship to the East Gallatin River, Bozeman Creek, the Story Mill Historic District, and the surrounding Bridger Mountains. In addition, it features an 11,000-square-foot community center, an "adventure playground," picnic areas, a natural amphitheater and event lawn, and a teaching garden, among other things.
The pavilion's removal and installation is being funded by OSM and CLB in partnership with Gallatin Arts Crossing, an organization dedicated to placing public art with the goal of enhancing cultural experiences for Bozeman area residents and visitors. Upon the conclusion of its two- to three-year display in Bozeman, the materials will be shipped back to Jackson Hole and transformed into a kid's climbing wall at Camp Creek Inn, a resort located just outside of town in Hoback Canyon.