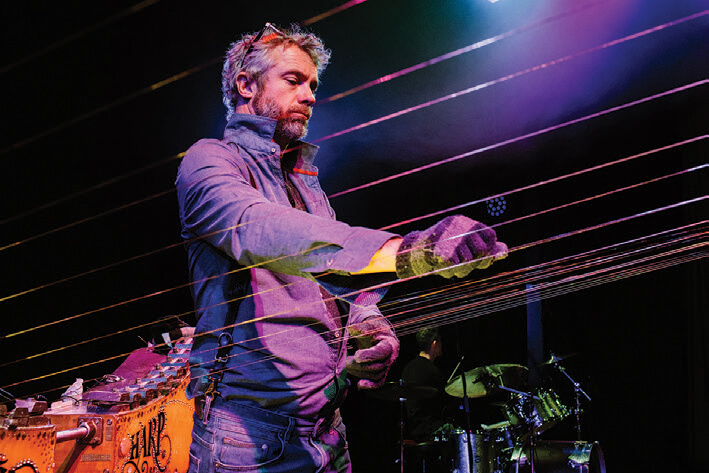 Photo courtesy of Tori Pintar
25 Nov

Round Up: A Decade of Creative Performances

in
Warren Miller Performing Arts Center announces 10th winter season
This winter ushers in more than just a season of snow: In Big Sky, Montana, it brings a selection of diverse performances to the Warren Miller Performing Arts Center (WMPAC). Acts will include a stand-up comedian, taiko drummers, and a live taping of an NPR podcast, among others. With nine shows scheduled between December and March, WMPAC will celebrate its 10th winter season by offering a limited number of discounted season passes, as well as the usual three-show or individual show packages.
Executive Director John Zirkle has spearheaded the organization since its founding winter season and says it's been a privilege to host well-known performers and a delight to witness audiences moved. During a particularly memorable outdoor piano concert in December 2020, organizers towed a grand piano into the middle of a cross-country ski course. Then, patrons bundled up with headphones and skied under the full moon while pianist Hunter Noack played an hour-long concert. "We know our audiences have come to expect and love innovative thinking and creativity at WMPAC, and our primary goal is to continue to provide a space where this kind of thinking is respected, nourished, and celebrated," Zirkle says. "We strive to be different because we believe that is how we can best help contribute to a thriving and vibrant arts ecosystem in southwest Montana."
For more information, or to purchase tickets, visit warrenmillerpac.org.
December 28, 2022
Sierra Hull
January 7, 2023
Chad Daniels
January 21, 2023
Brooklyn Rider and Magos Herrera
February 11, 2023
Planet Money Live!
February 25, 2023
Memphis Jookin'
March 5, 2023
The Three Musketeers
 March 11, 2023
James Sewell Ballet and the Ahn Trio
March 16, 2023
TAIKOPROJECT
March 25, 2023
Jitro Czech Girls Choir