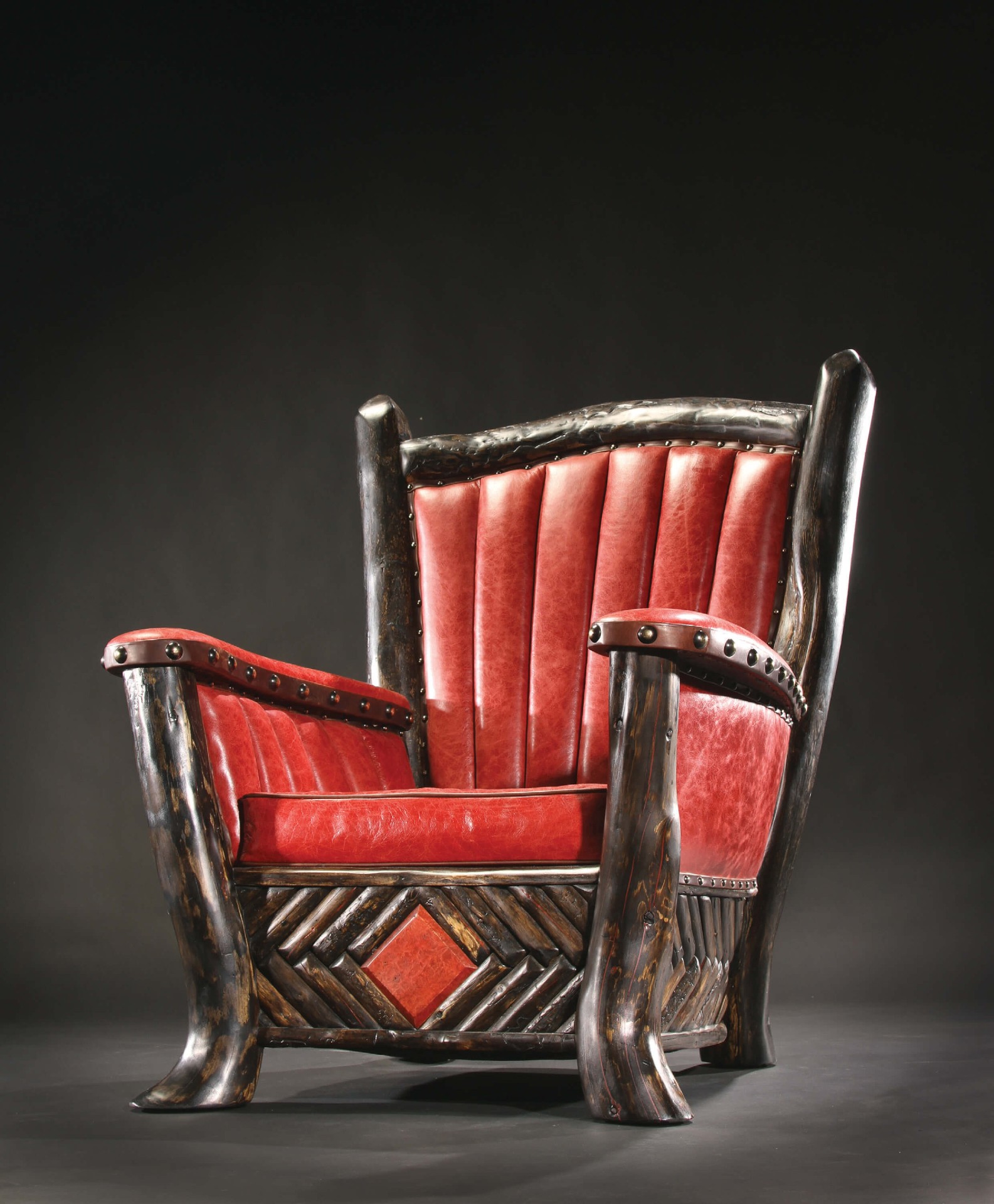 Johnny Walker Chair Snow-Bent Fir, Applied Pole, and Red Leather Upholstery 36 x 42 x 42 inches
08 Apr

Ron Shanor: Wildewood Furniture

in

When Ron Shanor creates the Western furniture that has garnered him admiration for the past three decades, he welcomes an assist from an unexpected collaborator: Mother Nature. The gracefully curved feet of his armchair legs benefit from trees that have grown on slopes or were bent naturally by snow accumulation. "If a tree was on a hillside, it'll come out of the ground curved and then go straight up," he says. "I don't bend any wood myself; it's all natural."

Likewise, his coffee tables and chests often stand on burls — the rounded, knotty, intricately patterned growths that occur when tree trunks or branches are injured in some way — and he also uses them to fashion handles, and even decorative medallions. "I probably build more burled work than most Western makers," he says, by way of distinguishing himself from fellow artisans who — as he does — respectfully acknowledge the inspiration of Thomas Molesworth, the great American designer who set the standards for Western-style furniture in the 1930s.

Born in 1959, Shanor spent most of his childhood in Powell, Wyoming, about 23 miles northeast of Cody, where the great Molesworth and his wife LaVerne established and ran the Shoshone Furniture Company from 1931 to 1951. Though Shanor took woodshop from 7th through 12th grades, he'd always dreamed of becoming a mechanical engineer, his job during the four years he served in the U.S. Army after high school. After leaving the service, he put his skills to work fixing pumping equipment and deepening wells during the oil boom in northern Wyoming and southern Montana. After the oil fields died out around 1986, he studied engineering at Powell Northwest College.

Then, in 1991, married and with two young sons, he and his wife Jean changed gears and launched Wildewood Furniture in Cody. "My early pieces," Shanor notes, "were quite similar to those I make now, but more rustic and less refined." The biggest hurdle, he admits with a laugh, was "learning how to make a square cut out of a crooked piece of wood. A lot of practice helps, and once you know what you're doing, you can create jigs," he says, referring to the sturdy templates for uniform cutting.

Uniformity is certainly one desirable goal in an endeavor that demands both sturdiness and stability in multiple matching pieces, such as a set of dining chairs. Style, however, evolves from other, less tangible qualities, like experience, inspiration, imagination, and talent, all of which Shanor brings to bear in his furniture. One of his proudest achievements came in 2006, when he submitted a loveseat and ottoman — made from snow-bent pine with fir legs and a herringbone pattern — to the Western Design Conference. One of the judges, the great furniture maker Sam Maloof, "was impressed enough to say it was a totally unique style," says Shanor, who won the Design Excellence Award for Best of Show.

Now, following surgery on both shoulders to repair damage caused by an old ski accident and "44 years of hard manual labor," Shanor has returned to the work he loves. "I'm getting started small, but I'll be back in action soon," he says.

From his base in Los Angeles, Norman Kolpas writes about art, architecture, design, travel, dining, and other lifestyle topics for magazines including Western Art & Architecture, Southwest Art, and Art Times Journal. He's also the author of more than 40 books and teaches nonfiction writing in The Writers' Program at UCLA Extension, which named him Outstanding Instructor in Creative Writing.