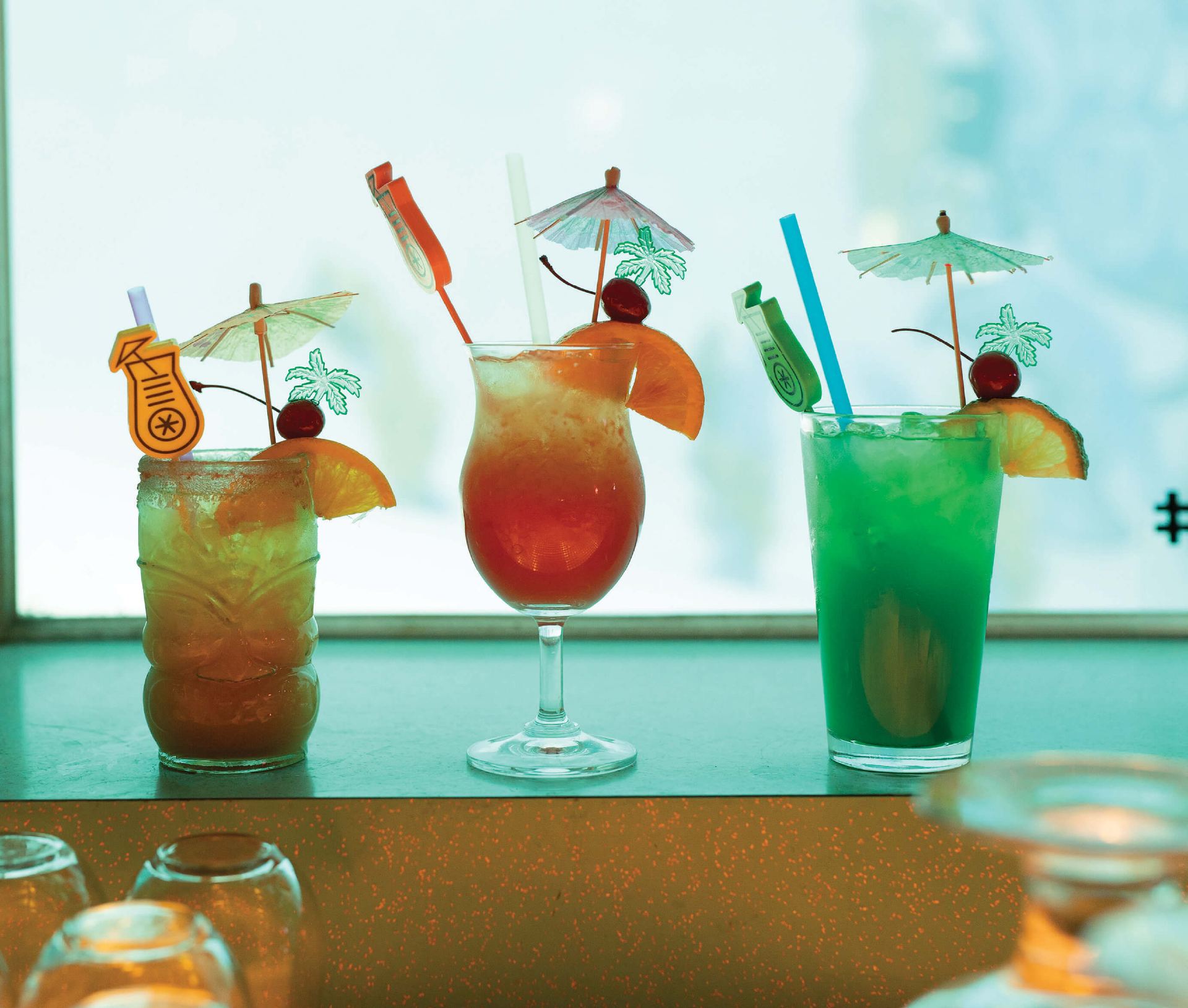 Make no mistake, the Sip 'n Dip is a bona fide tiki lounge, with the colorful drinks to prove it.
24 Nov

Retro Cool

in

On a downtown street outside the O'Haire Motor Inn in Great Falls, Montana, it smells like french fries. The sidewalks are empty except for one older gentleman polishing the chrome door handles of the motel. When he finishes with the handles, he wipes the glass clean. There's an auto-body shop across the street, a pawn shop kitty-corner, but not a single person about on the late Thursday afternoon. A couple of trucks pass by on their unhurried way somewhere. Great Falls, they say, is how Montana used to be.

The O'Haire was built in 1962 by brothers Edgar and Bill O'Haire, construction guys with big hearts and a flair for the elegant. They'd built their first hotel up the road in Shelby a few years earlier as a way to keep their crews working through the winter. Using what they had learned there — and what they liked in other places they'd visited, including Chicago's Playboy Club — they designed and built O'Haire Manor. The brothers wanted a place where guests could socialize without having to don a hat and coat, and they wanted it to be snazzy. To go with their 68 rooms, they built a covered, heated parking garage; an art deco lounge and restaurant; a beauty parlor; an indoor swimming pool; and even a helicopter pad on the roof that served local airmen and a few ranchers. Their whole philosophy, Edgar said to a magazine writer at the time, was to "make life as comfortable and convenient as possible" for guests. That, and they wanted to make it singular.

The brothers poured sand into the cores of every cement block in every wall to deaden noise between rooms. Their high-tech climate control system relied on hot and cold water, and they used oversized pipes to limit the sound of rushing water. They put two phones in each room, plus high-fi radios, televisions, and push-button controls for all of it alongside the beds. This was Jetsons-era stuff.

In 1966, when they got everything just so, the brothers sold the motel to Mel Mantzey, who had brought A&W restaurants to the Pacific Northwest and who owned a ranch in Clyde Park, 150 miles or so down U.S. Route 89. Mel lived up to the O'Haires' high standards and kept the place tip-top until 1979, when he and his wife, Janice, were badly injured in a car wreck near Ringling. A distant relative came in and took over for 15 years, until Sandi Johnson-Thares, Janice's daughter and Mel's stepdaughter, grew up enough to take over as manager. Mel came in to work with her most days until his death in 2018, and Janice still helps out.

While he was alive, Bill visited once a year to check in on the place and point out whatever he thought needed fixing. From the turquoise, yellow, and pink bathrooms and the hidden, wall-hung ironing boards in each room, to the lighted panel behind the front desk — which flickers four different colors for each room depending on occupancy and cleaning status and looks like an airplane cockpit — the O'Haire never lost a thing. It's like a time capsule. And unlike anything that's ever been franchised.

Still, you might not know of the O'Haire. You've probably never stayed there. But I bet you've heard of the Sip 'n Dip.

Up the narrow stairs from the front desk is the motel's cocktail lounge. A tiki bar in the truest sense since 1964, when the O'Haires had a naming contest for the lounge, the Sip 'n Dip is dark, with red uplighting and blue downlighting. The carpet looks black in this light, with multi-colored bubbles covering every inch. Across the ceiling hang heavily lacquered thatched grass mats, plastic floral chandeliers, and illuminated puffer fish (all of which needs to be taken down and cleaned with toothbrushes every five years, per fire code). There are spotlighted black velvet paintings on the walls and wooden tiki sculptures — some old, some not — on ledges and in corners. Red leather swivel chairs line the bar, and there are four swirly yellow booths. It's not a big place. The only daylight comes from the window behind the bar, which offers patrons an underwater view into the heated swimming pool.

Everyone has heard the stories, Sandi says, and most of them aren't true. But some of them are — like the Canadian couple in the early 1970s who consummated their nuptials in the pool without knowing they had an audience. "That's true," Sandi says. "When they walked into the bar an hour later, they got a standing ovation." They saw the window to the pool and promptly checked out. "It's probably the story we are most infamous for," she says. After that, Mel installed a bubbler machine and if anything was going on in the pool that wasn't fit for spectators, the bartender could just switch on the bubbles to obscure the view. Sandi says the machine rusted out in the '90s.

Thankfully, most of the patrons know about the pool now and, since 1996, about the mermaids who put on a nightly show. People come for the wonderful improbability of it all — mermaids … in Montana — the country's "northernmost and most inland mermaids," Sandi points out. Then, she laughs. "People come in and stop. They look at the window and ask, 'Are they real?'" Sandi wants to be clear that they are not real mermaids. Mostly, she says, they are young women from the area who tell her they grew up dreaming of being a mermaid. A few years ago, she added mermen to the lineup. There's just one now; he swims twice a month at the family-friendly Sunday brunch. "That way, little boys can dream of being a merman," she says.

In 2003, GQ Magazine named Sip 'n Dip the best bar in the world worth traveling for. Since then, people have come from far and wide to see the place, drink a Mai Tai or a Coors Light, and wait for the mermaids to start swimming. They came, too, for Pat Sponheim — "Piano Pat," as she was known — who entertained guests by playing the bar's sunken organ and singing covers of everything from Frank Sinatra to Journey. Piano Pat charmed patrons nightly from the time the bar opened in 1962 to her death at 86 in 2021. Sandi gets emotional when Pat's name comes up. People loved her, she says. And it's no wonder her obituary ran in papers across the U.S., in Canada, and as far away as New Zealand and Japan. "They want to be a part of [this place] and they take it home with them," Sandi says.

Between the mermaids and Piano Pat, the Sip 'n Dip has drawn a good number of celebrity clientele over the years. An entire wall of autographed photos and signed guitars in Sandi's office showcases the proof. From David Copperfield and Keith Urban to Barry Manilow, LeAnn Rimes, and Jimmy Buffet, the Sip 'n Dip's appeal is broad. Sandi tells the story of one visitor who didn't have identification to prove he was 21 and so Cheri, a Sip 'n Dip bartender since 1986, wouldn't serve him. He asked to see the manager. Sandi recognized him instantly as country singer Dierks Bentley, who was in town to play the state fair. She told Cheri he could have a drink. Afterward, Cheri asked Sandi, "Was he somebody?"

Another time, Sandi says Daryl Hannah, the mermaid from Splash, was in town shooting a movie. She came in late one night after filming. Sandi had already gone home for the evening and, even though there was a longstanding rule that no one could swim at night after the mermaids, you can imagine what happened. When Sandi came in the next morning, she found this note from the night auditor and the bartender: "We let Daryl Hannah swim in the pool. We gave her a tail. We hope we're not fired. Bill & Vern." Bill has been doing the O'Haire's books for more than 25 years, and even though Vern eventually left to take a job with the county, he poured drinks at the Sip 'n Dip for years. No one got fired.

In fact, the inn, the bar, and the restaurant — Clark & Lewie's, a family-friendly eatery that has been managed by Donald Johnson for 20 years — are as much family as a business can get. "I have the best staff ever," Sandi says. Most of the crew of 68 — from clerks and housekeepers to maintenance people and servers — have worked here for more than 15 years. Like the man out front cleaning the door handles, they honor what this place has always been and work hard to keep it so. "Everyone who works in this building has pride in who we are, what we do, and the people we meet," says Sandi.

In 2001, on September 11, the O'Haire took in the passengers and crew of the nine Delta planes that were grounded in Great Falls. Staff secured clothes and sundries for everyone. They served hundreds of meals. A framed photograph in the lobby is signed by dozens of airline employees and passengers whose messages brim with gratitude and familial affection.

But it hasn't been easy to be one-of-a-kind in a world thick with chains. COVID-19 was hard on the O'Haire and the Sip 'n Dip, as it was on so many businesses. Sandi remembers one week in December 2020 during which they rented out three rooms the whole week. The bar didn't fare much better. But they stayed the course, as they do whenever trouble comes; and it always comes. There was a fire five years ago, set by a vagrant in the heated garage. They had to close, but only briefly. And, just a few days before our interview, Sandi tells how the city's water main broke in the off position at 4 p.m. on Friday, leaving the O'Haire without water for the Great Falls high schools' collective 50th class reunion scheduled for that weekend. Sandi worked around the clock, found someone to fix it, then waited 16 hours for the city to find anyone qualified to inspect a 3-inch copper pipe. The reunion went off without a hitch. "That's just what we do," she says. "We survive every day."

Sandi waves off any suggestion of competition with the franchised motels that have moved into Great Falls over the years. The cost to renovate the motel to look like the ones out by the highway would be prohibitive. And that's not what they ever wanted to be. So instead, they're working on a "retrovation," taking the motel back to its glory days, re-establishing who they've always been. There will be new carpet throughout the building that looks just like the original. Awnings are coming down. Sandi and her mom are scouring garage sales as far away as Spokane, looking for (and finding) mid-century furnishings and tiki decor. They're replacing all the linens with custom-made chenille and 1960s prints. The whole staff is on board and everyone's pitching in. "We can't compete with newly built properties, so we're embracing our retro cool," Sandi says.

The ranchers don't land their helicopters on the motel anymore. And the old beauty shop down the hall from the Sip 'n Dip shuttered years ago. Nothing stays the same. But if it's possible to slow time, the secret might be somewhere on this quiet downtown street. When asked about the biggest challenge for the hotel in the next 60 years, and the O'Haire's greatest gift to the world, Sandi doesn't hesitate: "It's the same thing: We are a small, independent, full-service hotel in the middle of Montana." Hard enough, indeed. Things across Montana are growing and changing at a blistering pace. Some things vanish; others fade away. But a place with mermaids? A place that stays true to itself? A place where the people are the place? I'd bet on them.