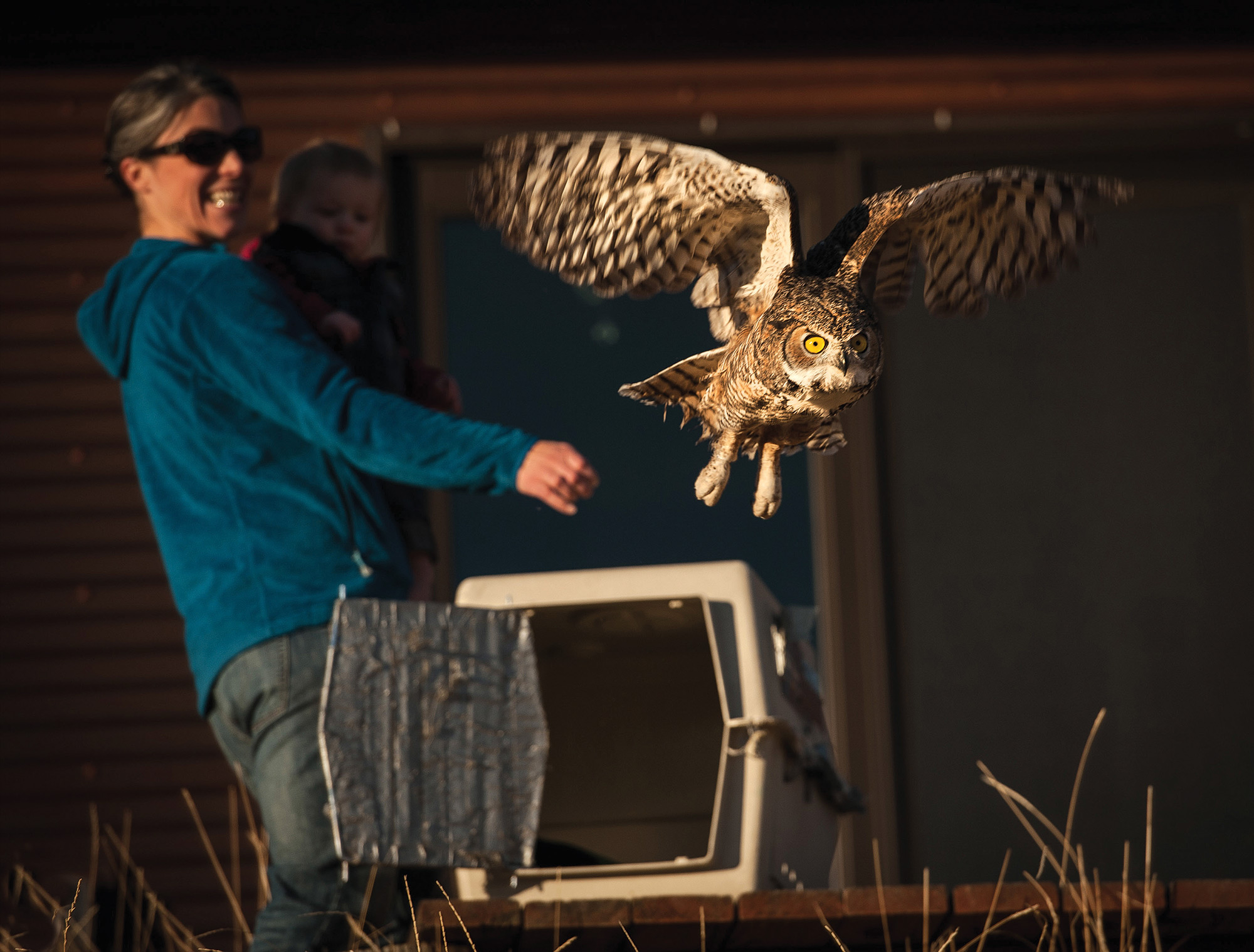 05 Jun

Raptors on the Rise

in

IT'S ONLY 9 A.M. BUT THE Montana Raptor Conservation Center, located just north of Bozeman, Montana, is squawking with activity. A late April storm has unleashed a foot of snow, adding a layer of complexity to Becky Kean's already busy day.

The center's director, Kean is on the phone with the U.S. Fish and Wildlife Service trying to figure out the best way to transport an injured burrowing owl from Glasgow, Montana. "He's got blood on his beak. We don't know what happened and don't want them to handle him too much, it stresses them out," Kean whispers over her shoulder, the phone still attached to her ear. "We want to make sure it's a worthwhile trip for everyone."

All told it will take five people, three cars and 12 hours of driving to get this precious cargo to the center's intensive care unit. It's all part of a human network the center has built over the years, with help from hundreds of volunteers and myriad organizations including the Audubon Society, Charles M. Russell National Wildlife Refuge, Fish and Wildlife, Montana Fish, Wildlife and Parks, and many others across the state.

This small owl is one of more than 3,000 birds, representing 31 species of raptors commonly observed in Montana, that the nonprofit organization will have rehabilitated and released since its inception in the late 1980s. All of this has been achieved through donations, grants, license plate sales and countless volunteer hours — including donated surgical care from Bozeman's All West Veterinary Hospital.

Raptors have sharply curved beaks, keen eyesight and a carnivorous nature — they obtain their food by grasping with large talons. Eagles, owls, hawks and falcons all are raptors. "About 60 percent of the injuries we see are from car collisions, another 5 percent fall prey to toxins, and we see a lot of orphans in the springtime," Kean says. Raptors also fall prey to animal attacks, and are vulnerable to things like wind turbines, and habitat loss associated with humans and their development.

One of the center's pioneers is biologist and eagle specialist, Al Harmata. He's been studying raptors for more than 40 years and is a research affiliate at Montana State University in Bozeman. "[The center] has grown from a volunteer organization of a few people with good intentions into a professional organization known for its conservation and management of raptors," Harmata says. He recalls the days when neither the state nor federal wildlife agencies had a place for injured raptors. "They often euthanized or ignored them, often due to a lack of funds. I don't think that was a wise use of resources," he says.

Both Kean and Harmata talk about the raptors' importance as indicator species. "They're part of keeping our environment in a healthy balance, and we need to keep them out there," Kean says.

Kean started volunteering at the center in 2003 while studying for her bachelor's degree in fish and wildlife management. She took one of only two staff positions ­— assistant director — in 2007, then became director a year later. "Becky has a difficult job but she has a great perspective and does well by the birds," Harmata says.

Assistant director Jordan Spyke is standing a few feet away from Kean, trying to defend the top of his head from a 4.5-ounce American kestrel named Watson. Like Kean, Spyke began here as a volunteer. Watson was found near Helena with an irreparable right wing fracture and an unfortunate case of imprinting that made him unreleasable. "Because he's imprinted on humans he thinks I'm his mate," Spyke says, donning a protective ball cap. "We give these birds a lot of freedom but they're not pets." Watson is one of 11 permanent raptor residents and part of the center's educational outreach.

"We use these guys in our educational programs. They help stimulate questions and tell our story about our raptor rehabilitation center," Spyke says. "Seeing these birds of prey up close provides our classes with a deeper appreciation for them."

The center has a permit for each educational raptor, which requires the raptor be used for educational purposes 12 times over the course of a year. "They first go through a training process," Kean says. "It took two and a half years to get our imprinted bald eagle approved as a … permanent education bird, and she's been in training for one and a half years." Once imprinted, these wild birds either don't learn how to hunt, or decide people are a much easier source of food. "It's sad," Kean says. "She can fly and she should be out in the wild."

With transport arranged for the injured burrowing owl, Kean is ready to manage daily medical care for various injured raptors waiting in the intensive and secondary care units in the next room: a turkey vulture that came in from Brackett Creek, just east of Bozeman, with a fractured femur, ruptured crop and road rash (diagnosis: car collision); a merlin just out of surgery to pin a broken humerus; a nestling great horned owl that fell out of its nest; a rough-legged hawk five weeks out of surgery; and one of the newest residents, a very sick bald eagle (potentially a poison victim).

The eagle came in three days earlier, thanks to Huntley Project resident Christine Jermunson who, with advice from Kean, gathered up the sick eagle, placed her in a kennel and arranged transport to the raptor center. "America, she's America," Jermunson says about the bird. "It's surreal to see them, but to be able to help one, there's no expression."

"Once through [the center's] doors, raptors have a physical examination. We check their weight, do subcutaneous fluids for hydration, get blood samples for toxicity, do x-rays, and when needed consult with our veterinarian," Kean says. Kean and Spyke monitor their patients through recovery, and even work on physical conditioning in the center's flight barn (at 120 feet long it's the largest in the state), before releasing them back into the wild.

Whenever possible, rehabilitated raptors are released in the same area where they were found. "I love being able to do my part," Kean says. "These guys are so majestic, they should be out there flying."

As the only full-time staff, Kean and Spyke rely on a multitude of volunteers to complete their daily mission. Ray Zimney has volunteered at the center for 11 years. "Ever since I was growing up I had a fascination with big birds," he says. "It's thrilling to see a bird come in here that would probably perish, and then see it return to the wild."

All in all, it's just another day in the life of the Montana Raptor Conservation Center.
---
Editor's Note: For more information on volunteering, donating or helping Montana's injured raptors, visit montanaraptor.org.