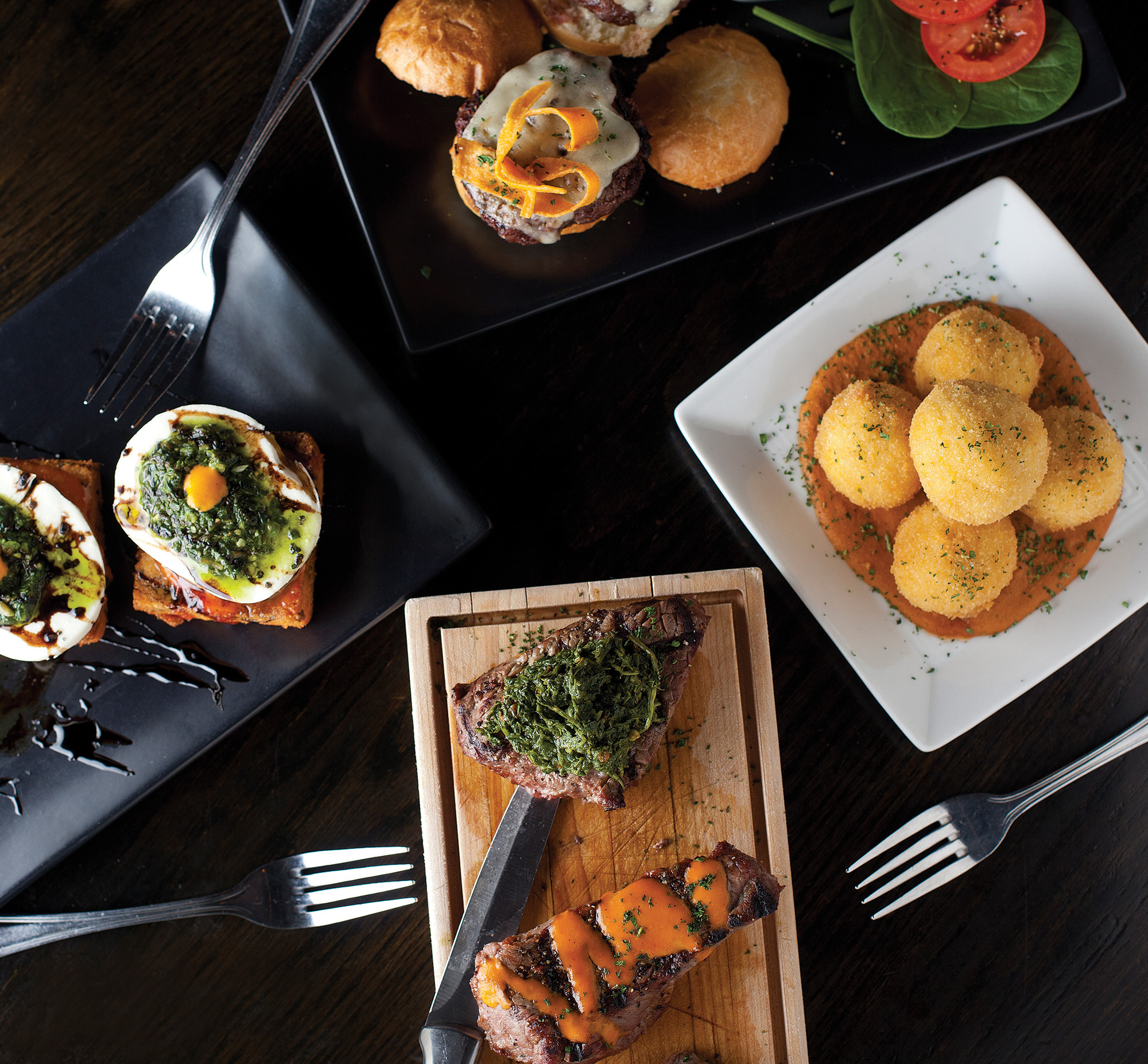 06 Jun

Dining Out: Ranch to Restaurant

in
---
It's late afternoon on a Wednesday in historic downtown Bozeman — well after the lunch crowd has gone back to the office — when my friend and I duck into Over The Tapas for a bite.
"Tapas," my friend says, raising her eyebrows in mock-shock. "Pretty diverse for Montana." I agree and brag that this little ol' Western town now supports not just the ubiquitous ethnic offerings of Italian, Mexican and Chinese restaurants, but two thriving sushi bars, an Indian restaurant that serves dishes with goat meat, two Korean places, a Cajun spot and some pretty good Thai food. Not bad for a city with close to no actual ethnic diversity. That said, a Spanish-inspired tapas and wine bar doesn't seem so out of place.
Stepping into the dim, cozy restaurant, we see that it's completely empty. For an instant we hesitate, wondering if the place is closed, or worse, that the lack of customers is a warning sign that the food's not so good. But shortly, a cheery waitress greets us and sweeps us over to a table by the window. She rattles off a list of daily specials that includes local braised beef, something with house-preserved tomato jam, a salad with local greens and Amaltheia goat cheese from Belgrade, and another small plate with wild local mushrooms. Local, sustainable and seasonal clearly are the key words at this place. She brings us water and sets a wine list before us; I give my friend a look, as if to say, Who drinks wine in the middle of the afternoon on a weekday? 
With a mere glance at the menu, my friend declares: "I'm having steak!"
She's visiting from Florida, so Montana beef is a must. She orders the steak salad. I opt for the empanada, a savory pastry filled with locally-made chorizo and manchego cheese, among other delectable ingredients, and the steak tacos to share. Just like a traditional tapas restaurant, most of the portions are small so diners can sample many different dishes, flavors and share them around the table.
This is a good place to choose the beef, since everything on the menu is sourced from MT Pockets Ranch just down the road in Bridger Canyon. Owned by Mark and Addie Thiesen, the ranch supports 45 head of Scottish Highland cows and a half-acre garden. They partnered with Over The Tapas in 2010 because, according to chef Mark Bohnneman, they have a passion for growing food sustainably. The ranch managers work with the restaurant to rotate garden crops in support of the restaurant's menu. The cattle are butchered in nearby Big Timber to Bohnneman's specifications.
"I took over the restaurant to implement this farm-to-table philosophy," Bohnneman says.
To emphasize the importance of the MT Pockets Ranch role in the restaurant, Over The Tapas' logo features the silhouette of the iconic long-horned, woolly cows. It's a perfect fit with the Spanish-themed artwork that adorns the walls of the dining room, a dramatic nod to bullfighters and flamenco dancers. While Bohnneman and the Thiesens uphold their ranch-to-restaurant philosophy, they don't take things too seriously. Ultimately the goal is to put delicious food on the plate.
As a result, the menu is ever-changing. True to his commitment to use what's fresh and available based on the time of year, Bohnneman finds a use for every cut of the cow, preserves vegetables from the abundant summer garden to be served in the depths of winter and, of course, lets the menu burst with freshly-harvested greens and tomatoes and vegetables that come right from the ranch to the Over the Tapas' tables. There is always a special offering of a meat trio on the menu, which at times may include osso bucco and skirt steak or choice cuts such as tenderloin when they are available. Bacon-wrapped dates are always on the menu, along with grilled asparagus salad, Spanish gambas (sizzling shrimp) and MT Pockets Ranch beef sliders.
"In the summer months close to 40 percent of the menu is sourced locally," Bohnneman says. "By late winter it's about 15 percent."
Bohnneman keeps a close eye on how to utilize most of the ranch's (and other local producers') best ingredients. It's not unusual for him to be at the garden, checking on what items will be available for harvest or at the butcher in Big Timber picking up meat, or certain times of year to find him helping the ranch crew to move cattle from summer to winter pasture. It's an artisanal approach that keeps him in the kitchen as much as in the field.
For traditionalists who may not like to share, there are items on the menu that easily fit the bill of a full meal: paella, lobster and haddock tacos, seared beef tenderloin with horseradish cream sauce and fried yam chips. Just because small plates are the draw here, doesn't mean a person will leave hungry.
"Our style of small plates allows us to pack layered flavors throughout each dish," Bohnneman explains. "There's something to satisfy every customer from start to finish."
While my friend and I enjoy our tapas, the restaurant starts to fill again. A group of women settles into a high table in the center, a young couple nestles into the corner of the banquette, four serious businessmen are seated next to us. The atmosphere shifts from dimly lit to lively. The women order wine and a long list of items from the menu.
Gradually the bar fills up and the 3 to 5 p.m. happy hour kicks in. The wine flows and the small plates fly. We watch people lean over, forks in hand, and scoop a portion from one plate to another, passing dishes across the table. We decide to order another round of tasty items from the menu  —  patatas bravas and warm olives. This time we add a glass of wine for each of us. Despite the tongue in cheek name, this is seriously good food served up with a playful style that makes even a late, weekday lunch feel like a fiesta.