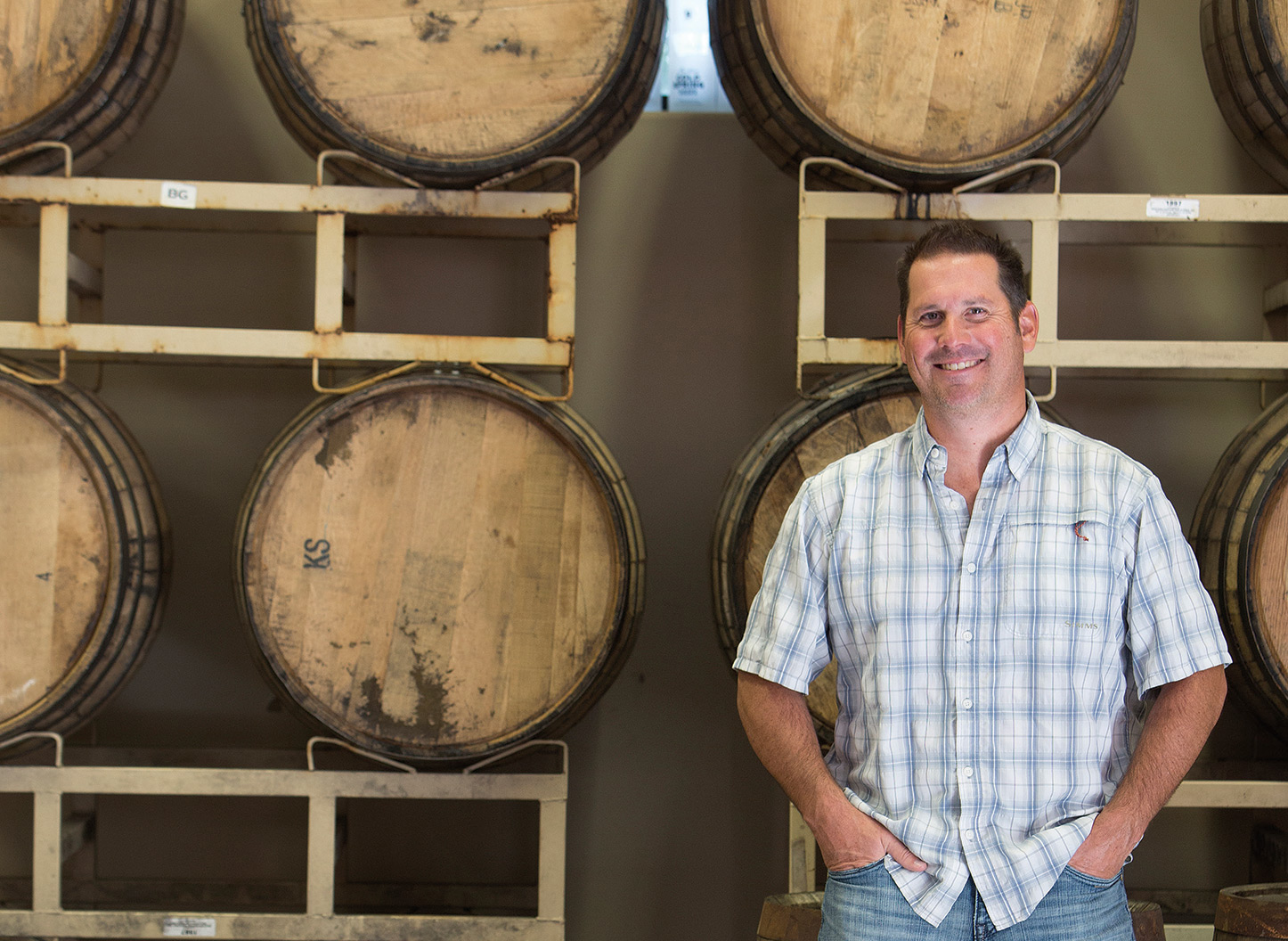 02 Oct

Raise a Glass

in

THE OLD WILD WEST EVOKES exaggerated images of romance and violence, as thousands of pioneers traveled westward in search of opportunity or to escape the law. At the epicenter of most of these stories is the local saloon, a landmark of lore from one wind-swept town to the next. Entering between swinging cafe doors, weary frontiersmen sought haven from hard saddles and their tales of conquest, survival and self-reliance.

The first saloons were much more utilitarian than imagination allows or Hollywood portrays. Made from tents or lean-tos quickly assembled where one trail crossed another, bartenders served spirits with names like Coffin Varnish, Chain Lightning and Tangleleg. Some products labeled as bourbon were actually distilled from a low-grade molasses and could include additives such as glycerin, prune juice and sulfuric acid, writes Reid Mitenbuler in his article, "Whiskey That Won the Wild West." The first watering hole to be called a "saloon" in the U.S. was Brown's Hole near the Wyoming-Colorado-Utah border. In 1822, it specialized in catering to fur trappers.

As an important part of community life, saloons evolved from crude tents and shanties into elegant establishments for entertainment, sometimes also serving as barbershops, post offices and courtrooms. Their advancement reflected the growth and maturity of their communities, writes Mitenbuler.

With the passing of Prohibition in 1919, many of the fabled saloons of the Wild West faded into history. But for others, Prohibition just meant new opportunities. Alcohol came from across the Canadian border and the road between Coutts, Canada, and Great Falls, Montana, became known as the Bootlegger Trail. Rumrunners drove touring cars that outpaced the police officers' Model Ts, often tearing across the open range to escape the law. Shotguns and automatic weapons were standard equipment, and some purveyors died violent deaths usually perpetrated by rival traders. A full carload of alcohol — about 14 barrels of beer and five cases of whiskey — brought a bounty earning $2,500, according to Missoula historian Don Spritzer in his book, Roadside History of Montana, who also notes that "the repeal of Prohibition in 1933 ended one of the Hi-Line's most lucrative industries."

While the West may be tamer today, Montana legislators didn't repeal Prohibition-era liquor laws until 2005, allowing micro-distilleries to begin producing small batches of alcohol for limited distribution. Additional legislation in 2007 permitted micro-distilleries to have tasting rooms and sell 1.75 liters of liquor per person per day. As a result, the first legal distillery in Montana, RoughStock Distillery near Bozeman, opened in 2009, more than 75 years after Prohibition's repeal.

Consequently, the old craft of distilling small batches of spirits is experiencing a renaissance in Montana, growing some 433 percent from 2010 to 2014. There are now 17 distilleries in Montana with two more scheduled to open this fall in Whitefish: Spotted Bear Spirits and Whitefish Handcrafted Spirits. This follows a nationwide trend, as in 2003 there were about 70 distilleries in the U.S. and today there are more than 600.

Craft breweries paved the way in Montana for the small batch movement, as consumers sought unique and locally-made products. The Treasure State was the top producer of barley in the country in 2014. Of the 940,000 acres planted here, nearly 67 percent was a malt varietal used for alcohol production, according to the U.S. Department of Agriculture. The nearly 50 breweries in Montana (which ranks fourth per capita for breweries, according to the Breweries Association) consumed 20 percent of all that malting barley, reports the Montana Department of Commerce.

Often family-owned and using as many local ingredients as possible, micro-distilleries offer a taste of regionalism, much as the old saloons of the Wild West did. For example, Missoula's Montana Distillery creates vodka from local sugar beets infused with flavors of huckleberry, local coffee and Flathead cherries, while Willie's Distillery in Ennis uses Montana honey in its moonshine and chokecherries in its liqueurs.

The newest distillery in the state, Bozeman Spirits, opened in the fall of 2014 with a drink menu that changes with each season. It produces some 200 gallons of spirits a week and distributes to liquor stores and bars from Miles City to Missoula. Owner Jim Harris, a Bozeman resident since 1992, explains that a distillery is essentially three businesses: the tasting room that supplies retail, manufacturing in the back, and then sales to liquor stores which distribute to bars and restaurants.

"[If we] got everybody who's involved on a daily, monthly, yearly basis and took a photo of all of them at once, there would be hundreds of people," Harris says. "From the grain we get, to the bottle, to everything that comes through here, there's a lot of Montana behind it."

Located in historic downtown Bozeman, even Harris' renovated building incorporates fragments of Montana. Rock found in its walls was sourced from Roundup, and the building's ceiling beams were reclaimed from power lines in Wilsall. There's also barn wood from the Ruby River Valley, and local architect Steve Locati designed the bar. The result is a setting reminiscent of the Old West as we imagine it — warm and inviting.

Other distilleries, like Montgomery Distillery in Missoula, harken back to the swanky saloons of the late 19th century, serving concoctions made with their Whyte Laydie Gin and Quicksilver Vodka in dainty, old-fashioned glasses. The building was erected in 1889 by a German immigrant and alcohol dealer named Edward Schilling who ran a liquor warehouse in the west half of the building and a saloon in the east half before turning his attention to gentlemen's attire and accessories in 1892.

A challenge of owning a micro-distillery is keeping up with the demand, notes Harris. Despite the recent opening, Bozeman Spirits already is actively looking to increase volume with plans to distribute in California soon. Similarly, one of Montana's leading craft distilleries, Headframe Spirits, announced an expansion of their Butte facility that would make them the largest distillery west of the Mississippi by 2016.

"A unique aspect of this business is it's a small community, and we can all reach out to each other for advice from legislative things to 'Hey, I am trying to increase bottle sales. What are you doing over there to increase bottle sales?'" Harris says. "We're not hypothetically, theoretically, in competition with each other. If you take all the craft distillers in the U.S., we make up less than 1 percent of all sales of liquor. At the end of the day, it's really the rising tide that lifts all ships."

The stories of today's micro-distilleries are still tales of legality, romance and ambition in pursuit of creating a flavor that's distinctly Montana. Harris and his contemporaries may not be tearing across open farm fields running from the law, but they certainly have a passion for their product, their communities and contributing to Western prosperity in the modern era.
---
 Editor's Note: Many of Montana's 17 microdistilleries will offer tastings at Chico Hot Springs in Pray, Montana, during the Wild West Spirit Fest, Nov. 13 and 14. For details, go to Chicohotsprings.com.