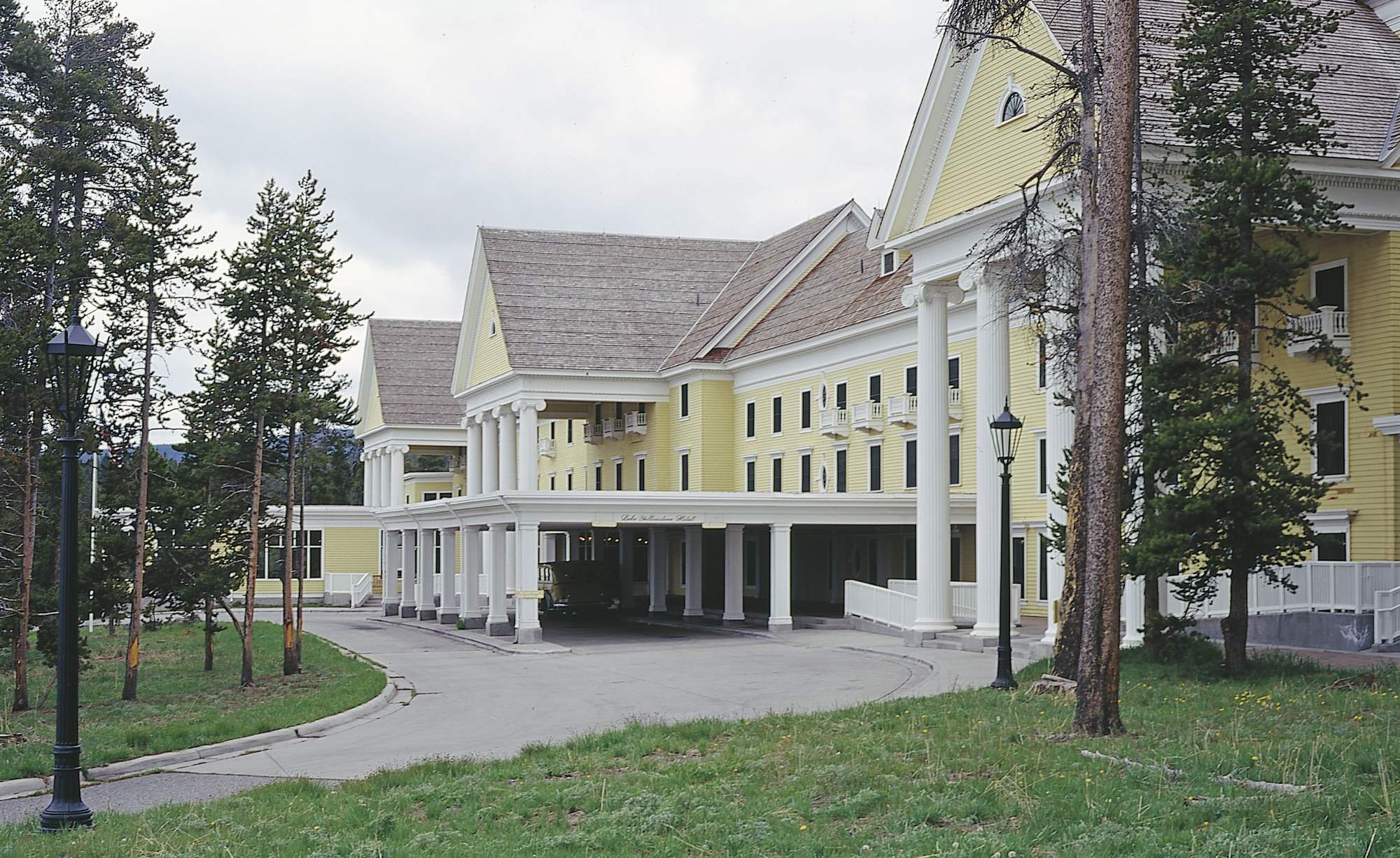 20 Aug

Preserving Yellowstone

in

AMONG THE CARDINAL TENETS of enduring landscape architecture: Form answers function and vision honors place.

But what happens when changing times alter the pattern of use in a historic public structure and forces of modernity drive an unexpected wedge between the creator's original intent and a building's potential for achieving greater contemporary relevance?

Last year, Paul Bertelli and John Brittingham, both forerunning thinkers in this new age of critical Western regionalism, began delving into such questions when they ventured into America's oldest national park — Yellowstone — and gazed upon one of its towering beloved icons.

The Lake Hotel, renovated in Palladian style by noted architect Robert Reamer in 1903, rests on the northern shore of Yellowstone Lake. Like the nearby Old Faithful Inn, perhaps Reamer's best-known original design, this classic guest lodge, surrounded by mountains, is considered a man-made treasure that stands as a complement to the natural panorama.

Lake Hotel's relationship to the Yellowstone tourist experience has undergone a process of devolution starting with the proliferation of autos a century ago.

Reamer's original vision was to deliver guests traveling by horse drawn carriage to a stately porte cochere on the lakeside. The circular approach was carefully engineered to offer spectacular glimpses of the picturesque tarn on one side and the monumental rise of the welcoming yellow lodge on the other.

This is not what visitors encounter today. As moto-tourists driving their own cars supplanted carriages, massive, industrial-strength parking lots were hastily constructed in the rear of the hotel. Instead, not only do park guests now enter Lake Hotel's back door, but they confront an edificial aspect that the architect hoped they would not encounter as their first enduring impression.

Bertelli says that Reamer would be left aghast at how the public's orientation to the hotel has flip-flopped across generations.

Both Bertelli, a senior partner at JLF & Associates in Bozeman, Mont., and known for its place-based portfolio, and Brittingham, a Harvard-educated director of graduate studies in the College of Architecture at Montana State University, are well versed in Yellowstone's contributions to American "parkitecture." Its influences proliferate, they say, in the revival of rustic home and commercial design found throughout the Intermountain West.

An avid student of natural history and fascinated by Yellowstone's geothermal phenomena, Bertelli is a frequent recreational visitor to the national park. In fact, his awareness of the daunting challenges threatening Yellowstone's architectural legacy was piqued during a research mission involving a friend who uses remote-controlled submarines to map geysers on the floor of Yellowstone Lake.

The scientific crew, Bertelli says, had set up base camp in a row of early 20th century hand-crafted log cabins perched along the lakeshore near Lake Hotel that were in various stages of decay with little being done to save them. Those structures had been built to serve Yellowstone's pioneering role in sport fishery conservation.

"I learned that upwards of 900 less conspicuous, but historically significant structures like these, scattered across the park, are being lost to the elements every year because the public either isn't paying attention or doesn't know they exist," Bertelli says. "I'm not talking about maintenance issues with just the large high-profile hotels, which some call the 'charismatic mega fauna' of Yellowstone's built environment. Yes, they get all the attention, but there are all these other structures that are equally important to the park's heritage in the world."

Worst of all, he notes, dedicated civil servants with the National Park Service have been unable, because of tight budgets and limited staffing, to intervene.

Angry and incredulous, Bertelli subsequently discovered that the maintenance backlog is a multi-billion dollar problem affecting the entire U.S. National Park System. In the 21st century, with park managers across the country severely hamstrung in their ability to caretake America's inventory of park landmarks, Bertelli and Brittingham proposed that Yellowstone Superintendent Suzanne Lewis consider the possibility of pursuing an innovative public-private partnership.

The aim is to restore the integrity of neglected park structures and, where possible, bestow them with fresh contemporary vitality that celebrates their inimitable character. "Recognizing the numerous obstacles that serve as impediments to architectural stewardship in Yellowstone, and which sometimes has prevented Park Service staff from having the necessary resources to do the job they want to do, we started a conversation with Suzanne Lewis that began with a question: 'What if?'" Bertelli explains.

What if the private architectural community in the West, which has benefited from the inspiration of Yellowstone's rustic vernacular, had the opportunity to give back and make their contribution an ongoing exercise in educational learning for the future architects of tomorrow?

"For John Brittingham and me," Bertelli says, "it is about trying to restore meaning to Yellowstone's living legacy in architecture that is as relevant to our time as it was to our predecessors in the past."

When such collaboration was first proposed, Superintendent Lewis said there was apprehension among her staff, and from members of the Denver Service Center (the Park Service's planning, design and construction procurement unit) about the perception that outside firms might try to circumvent rigid planning procedures or privatize park resources.

A catalyst for dispelling those concerns and moving the discussion forward was an unprecedented five-day long charrette, hosted by Yellowstone, that examined the disjointed footprint and hodge-podge of structures in the environs around Lake Hotel.

The Lake area, an island of development in the center of the park, is considered underutilized in terms of tourist volume, yet it also lies within sensitive habitat for a number of wildlife species, including grizzly bears, bison and bald eagles near the Yellowstone River, and has been identified as an important site for Native American archaeology.

At the behest of Bertelli and Brittingham, five prominent national and regional firms — Mithun of Seattle; Verdone Landscape Architecture of Jackson Hole; Carney Architects of Jackson Hole; Bohlin Cywinski Jackson of Seattle; and Mosaic Architecture of Helena, Mont. — converged upon the park at the start of the summer tourist season and offered their expertise gratis.

They were joined by Park Superintendent Lewis and a dozen key staff, including Tom Olliff, Yellowstone's chief scientist; Eleanor Clark, the park's senior landscape architect and planner; Steve Iobst, who oversees maintenance throughout the 2.2 million acre preserve and historian Lee Whittlesey. Also on hand were biologists, archaeologists and park rangers.

Lewis opened the charrette by comparing it to the first Hayden Expedition to Yellowstone in the early 1870s that delivered a report back to Congress and ultimately led to 2.2 million acres being set aside as the first national park in history.

"It was eye-opening and mind expanding," Lewis, whose academic background resides in cultural resource protection, said. "What the charrette did is allow all of us to take a step back and think out of the box, which is a luxury we in the park seldom have time to do. We looked at the Lake Hotel and other historic buildings not as architectural resources, or as a visitor resource or structures intruding upon wildlife habitat, but as part of an overlapping mosaic."

Too often, Lewis says, objects of human and natural history are treated as static relics — like museum pieces best left alone, untouched and untinkered with. Yellowstone's cabins, cottages, hotels, and administrative barracks, some dating to the days of the U.S. Army occupation on the 19th century frontier, were built for interaction, she reminds, and are visual elements every bit as inspiring and place-defining as the park's natural features.

The charrette demonstrated that by rethinking the ways human visitors are directed through the landscape, in and out of the Lake Hotel complex, it can paradoxically help to minimize the impacts on the natural resources Yellowstone was established to protect.

Most prominently, it put the conundrum of restoring Reamer's original sense of majesty with the hotel to the front and center. And it presented the reality that identifying relevant contemporary uses for the old structures appears to be the most effective way of saving them from ruin. Part of the charrette involved a friendly competition between the firms to re-stitch the disparate elements of the human environment together in a way that addressed the concerns for wildlife and reducing visual intrusion.

Members of the firms were required to understand the layers of bureaucratic red tape that park planners confront when contemplating retrofitting of national landmarks and they were taught to imagine the setting through the roaming eyes of a grizzly wary of encountering people. They subjected themselves to the constantly changing moods of the lake, ranging from the serene and quiet face it exhibits at sunrise and sunset to the ominous storms that blow across it and cause visitors to retreat back into the hotel in awe. And they retraced Reamer's footsteps in 1903.

Park staff, meanwhile, was reminded of the aesthetic power of place as interpreted by award-winning modern masters in the design-build world.

"I'm intrigued by the idea of interfacing 'old Yellowstone' with a 'new Yellowstone,'" Ray Calabro of Bohlin Cywinski Jackson observed during the charrette. "But how do you make a building that sits within a landscape dominated by structures from the 1930s or earlier, and without it being a mockery or cheap imitation but yet take advantage of modern technology?"

For all of the firms, it was a provocative exercise.

Indeed, not only did Reamer arguably improve upon the hotel with his touch of ionic columns and 15 false balconies placed in front of a former bland boxy edifice in 1903, but in the ensuing decades the external portico, dining room and sunroom were added by other architects — all hailed as crucial elements of the hotel's present mystique, says Yellowstone historian Whittlesey.

Foremost, the firms concluded that the hotel needed to become re-connected to the water since the natural inclination for visitors is to immediately seek out its effects. However, at present, there is no formal architectural element that guides tourists to the lake, and the lack of design choreography has resulted in foot trails haphazardly blazed into the steep slope toward the shore causing erosion and visual blight. Similarly, there is no walkway that links the hotel to the rustic cabins further down the lakefront that first caught Bertelli's attention. Giving them a new purpose, Bertelli says, means that they will no longer suffer from benign neglect.

In response, the firms, who each have left their marks with innovative projects across America, came forth with an array of novel suggestions. They included overhauling the back entrance to the hotel and making it a portal that echoes Reamer's vision of grandeur.

Other concepts included erecting a wooden promenade and modest boat ramp to serve as a gathering point on the water in front of the hotel; re-routing the hotel entrance road to steer people away from where bears fish for spawning trout yet provide motorists with more imposing glimpses of the hotel.

The schematics also emphasized Lake's breezy role as a potential touchstone for promoting a green ethic by blending compatible architecture with visible wind and solar powered electricity.

Brittingham and Bertelli believe that many restoration projects could be expedited by a special pool of funding created from companies being incentivized to donate a portion of their proceeds from government contracts awarded to do architectural work in the park. Ideally, they say, the pool would grow large enough to become self-perpetuating.

Short of Congress in these bleak fiscal times suddenly injecting more public funding into the maintenance backlog, which is unlikely, the alternative is that countless historic structures will be lost. Along with them, Lewis says, will disappear important components of the Yellowstone story. John Carney, principal and founder of his namesake firm in Jackson Hole, is optimistic that a public-private partnership is achievable and not unprecedented. His firm won awards for designing the new Laurance S. Rockefeller Visitor Center in Grand Teton National Park — the first LEED platinum facility in Wyoming. Not only does the 7,500-square-foot facility employ alternative energy, but it is praised as a model for its light-on-the-land blueprint that features rustic design compatible with the parkitecture motif and imbues an ambiance as if viewers are entering a religious sanctuary.

"Spiritual rejuvenation in public projects, in contrast to achieving utilitarian function, is one of the intrinsic things we as professionals don't always talk about. When you don't speak them aloud, sometimes you forget their importance," Carney says, reminding that Reamer, with his national park pieces, intended them to be venues for transcendental reflection.

"The possibilities flowing out of the charrette excite me a great deal because what we're entering is uncharted territory," Bertelli says. "There are no hidden agendas. All of us are drawn to the same thing, which is recognizing how important these architectural wonders are to the human experience and finding a better way to renew their legacy."

Along with the Bertelli and Lewis, Brittingham sees the collaboration as ongoing, and forming a three-legged stool shaped by the park's passionate support staff; the desire of reputable firms to avail their cachet and insights; and Montana State University, which because of its close proximity to Yellowstone, sees the park as a spectacular laboratory for teaching creativity and problem-solving to students in real-world conditions.

Seeing Yellowstone continuing to exert a symbolic bellwether presence in the West, the campus in Bozeman along with its sister institution, the Museum of the Rockies, has moved to formalize its link to the national park by branding itself as "The University of The Yellowstone."

Discussing the possibilities for Yellowstone's architectural influence and enduring legacy left the group energized to find solutions.

"We struggle every day in this park to solve problems. It was good to see we can still dream and that we have friends on the outside willing to help," Lewis says.

Now, the looming question is this: Where does the effort go from here?

Lewis says that with gentle pushing by advocates like Bertelli, Brittingham and their influential colleagues, similar charrettes may be staged at other high-profile Yellowstone locations, like Old Faithful, Mammoth, and Canyon Village that sits astride the Grand Canyon of the Yellowstone.

For its part, Bertelli's firm, JLF, intends to designate a member of its staff to assist Yellowstone and the Denver Service Center, if needed, in navigating projects from a design-build perspective.

"We haven't arrived at the answer for how we're going to save the lesser known pieces of Yellowstone, but we have taken an important step," Bertelli says. "As a place that has given me and my firm so much, the issue is not whether you give back, but how?"
---
Effects of Lake Charrette Continue To Ripple
According to Suzanne Lewis, superintendent of Yellowstone, several exciting next steps are already in motion. With assistance from the non-profit Yellowstone Park Foundation, plans are moving forward for Yellowstone to host a second major charrette involving the built environment surrounding famous Old Faithful Geyser in September 2009.
In addition, the information gleaned from the Lake Charrette is now being incorporated into a new comprehensive planning model for the Lake Area. "It will examine the limits of acceptable change both in the built and natural environments as they relate to our mandate of resource protection and enhancing the visitor experience," Lewis said, noting that it will result in a number of possible alternatives that invite participation and review from the interested American public.
"The robust discussions held at Lake Charrette have lead us to do a more intensive resource inventory on the structures around the Lake area," she added. "We had an inventory previously but nothing as comprehensive as the one we are preparing. It will help us define which structures are significant enough to warrant immediate attention."
Finally, the national park also is moving forward with an analysis to improve resource protection and the visitor experience in the area around the Tower Waterfall, a venue painted by Thomas Moran in the early 1870s that helped convince Congress to lay the groundwork for the National Park System.
"If anything, the Lake Charrette has put Yellowstone on the cutting-edge of planning," said Lewis, and, together with the private sector architecture community, "is making a difference on how we move forward with protection of cultural resources."