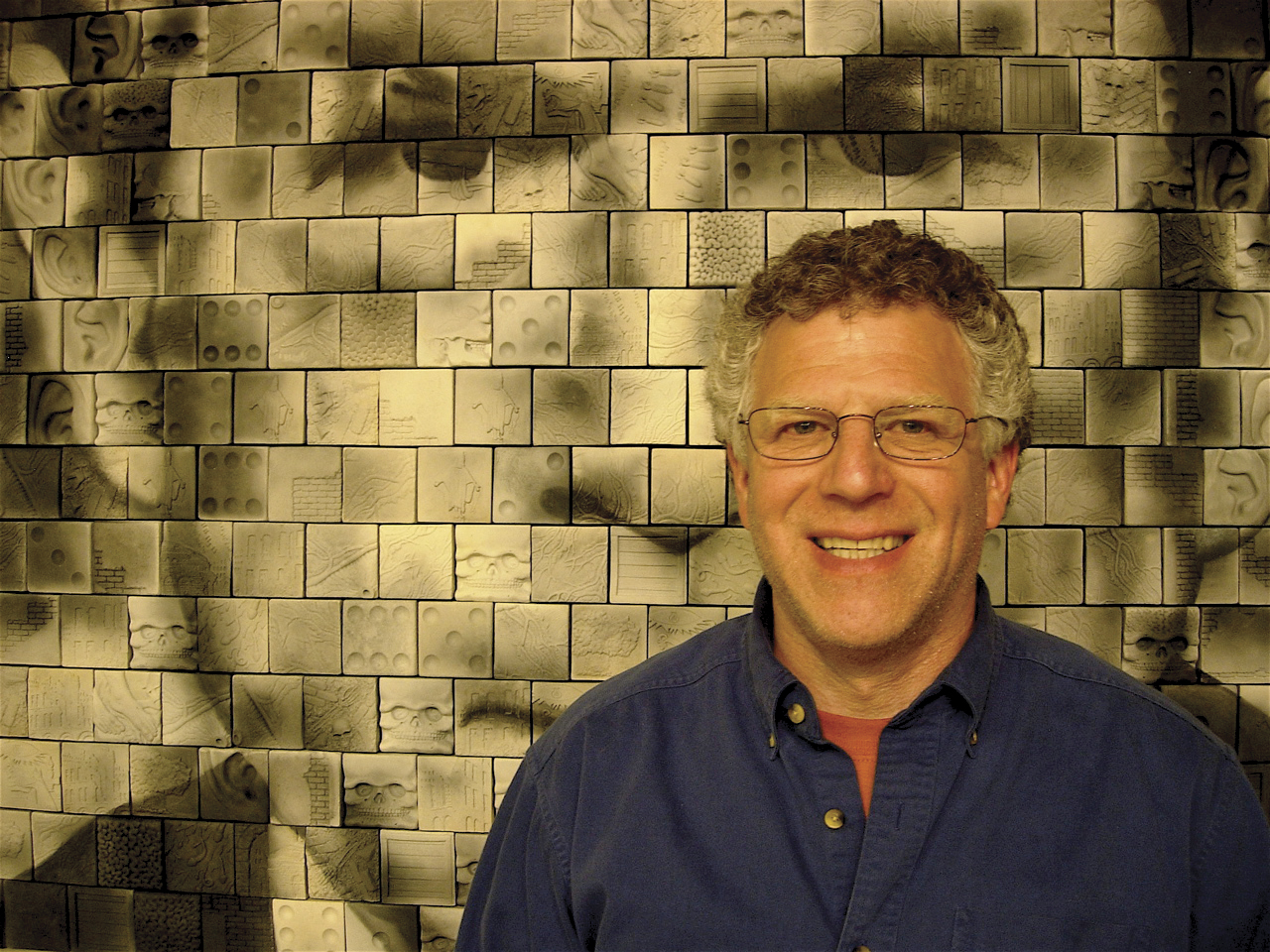 21 Aug

Artist of the West: Poetry and Prose in Clay

in
---
RICHARD NOTKIN'S CERAMIC TEAPOTS AND TILES LINGER LIKE shell on the shores of our consciousness, markers of where we've been and how far we have to go. Compelling, haunting, his images reach from beneath the surface and grab you by the throat.
Most of his work from the early 1980s to the mid-1990s embraced his interpretations of Chinese Yixing teapots. The teapot was literally invented in Yixing, China, in approximately 1500 A.D., and the "Yixing teapots" are noted for their fine unglazed stoneware surfaces and colors, their remarkable forms, imagery and inventiveness, and their generally small scale and descriptive references. Notkin uses the basic form and exacting details, but modernizes the vernacular with political implications. Instead of the pods and fruits depicted on a Yixing teapot, he uses imagery of nuclear explosions, thunderbolts and skulls.
"I consider myself a sculptor with a strong commitment to social commentary," Notkin says, working in his studio outside of Helena, Mont. Notkin's work, exhibited world over, is part of public collections from Japan to San Francisco, from Seattle to New York, from London to Kansas City. He has been included in a multitude of catalogs and books about ceramics, including Garth Clark's Ceramic Echoes: Historical References in Contemporary Ceramics.
"My chosen medium — the material I love to work with — is clay. The vessel is the primal 'canvas' for the ceramic artist, and my vessel of choice is the teapot, the most complex of vessels, allowing me the widest latitude in juxtaposing the images I Poetry and Prose in Clay Ceramic artist Richard Notkin imbues his pottery with social and political narrative artist of the west Michele Corriel use to set my narrative pieces."
Notkin first made a name for himself with his teapots. The "heart teapot" still percolates in his mind and he continues to create these with varying themes. It is an anatomically correct ceramic human heart modeled on the 19th Century Yixing citron teapot, which is also referred to as a "Buddha's hand citron teapot." Notkin's interpretation is an organic vessel, one which harbors our longings and desires, our secret wishes and our emotional lives. Love and hate both emanate from the heart. But he also sees the individual human heart as the place where seeds of conflict — between individuals as well as collective conflicts between nations, cultures, religions, etc. — are initially sown.
Taking a break from his work, Notkin takes off his shoes and goes upstairs to the living area he shares with his wife, artist Phoebe Toland. Opening a wooden display cabinet he carefully retrieves some of the precious Yixing teapots he's collected on his many trips to China, a type of pilgrimage, over the last 20 years. Some are very small and some are large. It is hard not to compare Notkin's pots to these. And that comparison is inspiringly sublime.
Returning to the studio, Notkin plugs in his electric kettle and empties out a very small but elegant Yixing tea pot.
"I spend about six months making all the parts of a piece," he says, spooning dried green tea leaves into the pot. "My work is very intensive. Each teapot is constructed from at least nine parts and as many as 200 separate parts and each of these parts has its own mold."
Notkin wears a jeweler's headband magnifier over his glasses and holds a palm-sized clay-carved tile in his hand. He smoothes the edge of a bas-relief finger with a dampened brush. His obvious attention to each line is clear in everything he does, but sitting there while he works, it becomes apparent that this studio is something akin to a cloister, a place where his thoughts mold his clay as much as his hands shape the images he'll later commit to the kiln.
"When I look at art I still want to be amazed," he says, absorbed in his work. "I want a 'wow' factor. I still believe in skill and I want art to speak to me. I look at the great artists in history and what makes them important is that they founda unique voice, a strong voice."
Some of these tiles will be sold individually. But others will be part of his larger wall murals, fired with sawdust and singed in tones of gray.
If his teapots are poems, then his wall murals are prose — exquisite, poignant and rife with commentary — with the same political undercurrent but packing a powerful, tidal impact.
Like Georges Seurat's dot images, Notkin's murals create an alternative space within the overall image; but they also compel us to see the picture as a finely structured surface made up of an infinite number of superposed units attached to the canvas. The large image, All Nations Have their Moment of Foolishness, is 4 feet high and 5 feet wide, consisting of 344 individual, unglazed earthenware tiles, each slightly smaller than 3 inches square. Ranging from pure white to jet black, when viewed from a distance it is the image of George W. Bush, made up from icons of warfare, including barbed wire, missile-like sperm cells, and warheads, framed with red-glazed clay tiles sculpted into a relief of multiple-sized ears.
To make these murals cohesive, Notkin finds an image he wants to use, in this case a photograph of Bush's face, and places a grid over the top of it. He breaks down the image into squares and then analyzes it into percentages of
black, white and gray.
"These pieces operate on two different but interconnected levels," Notkin explains. "From afar, the composite photographic image is a sum of its 344 separate parts, and from closer, more introspective viewpoint, in which the implication of the fragmented images on each tile are related back to the whole."
His intent is to provoke dialogue, to shout above the crashing.
"Art's greatest value is to touch people in profound ways, in ways that can even, on occasion, change lives," he says. "I work from the deepest source of inspiration for an artist — my passions. Anything else would be a waste of the finite moments that comprise my life."
Peter Held, Ceramics Curator at ASU Art Museum Ceramics Research Center, Arizona State University, has 15 of Notkin's pieces in his museum's collection.
"He's one of the few artists we've collected in depth because we believe he has a significant impact on the 20th and 21st century ceramic art movement," Held says. "Notkin has always been uncompromising in his beliefs and he's always been unflinching in expressing those beliefs. The imagery he uses is very powerful. And he's done a phenomenal job of incorporating the historical aspects of ceramics."
"It is No Use Shouting (after Goya)
Detail of small clay carved tiles that are combined to make up the mural.
Held also notes that historically, it has always been a challenge for ceramic artists in the art world.
"But Notkin caught people's attention right from the start," Held says. "He's always been able to show his work. For a number of years, he was represented solely by the Garth
Clark Gallery, in New York and Los Angeles. Clark is a very prestigious art historian and the most preeminent ceramic dealer, scholar and writer. He only represented 25 artists, both from Europe and the U.S., and Notkin was with him for a long time."
After 40 years of making ceramic art, Notkin has garnered numerous awards and accolades, including the National Endowment of the Arts Visual Arts Fellowship in 1979 and 1981, as well as the John Simon Guggenheim Memorial Foundation Fellowship in Sculpture in 1990, on up to 2008 when, in appreciation of his career as an innovator of ceramic art, Notkin was elected to the College of Fellows of the American Craft Council and given the USA Hoi Fellow, an award that comes with a substantial monetary recompense. Held holds Notkin in high esteem, not only for his work and recognition, but for his dedication to his ideals.
"He has an artistic strategy, to lure people in with these small-scale gorgeous objects, and then hit them with this horrific message," he says. "Notkin's work and life and beliefs are completely integrated. He's so committed to what he believes in — it's a rarity."
On a tall baker's rack, tiles from previous firings are sorted by color. A tray of bone-gray squares with the left sides blackened are lined out on a single metal tray. Another tray of completely black tiles about the same size are laid out neatly on the tray below. The entire rack from ceiling to floor is filled with tiles, carefully carved images of war and destruction: tiny bombs in mid-flight, rubbled bricks, skeletons and skulls, and the iconic screaming horse image from Picasso's painting, Guernica.
With one leg resting on a 5-gallon plastic bucket under his work table, Notkin continues to smooth the lines on his tile. Scattered in front of him are his tools: an Exacto knife, brushes, a pair of glasses, pencils and red clay dust that has settled from his intricate carvings. His table looks out the front window, with a view of pine-covered hills.
Behind him the walls are covered with art postcards and time-faded post-it notes.
He picks up a glass tile, a new material he's going to be working with, of a cube skull, as an artist in residence at the Pilchuck Glass School, north of Seattle, Wash. He's planning to cast some of his tile images in glass and investigate this medium's qualities of transparency.
He lays the glass down and resumes his work on the clay. Unlike many ceramic artists, Notkin rarely uses a potter's wheel to make his sculptures. Working mostly with
industrial ceramic processes, he designs prototype models of his work in clay, then fabricates plaster molds from these models. Both of his main bodies of artwork — the teapots and the large-scale murals — are constructed from numerousclay parts that are cast from these molds.
On another level, Notkin, feeling the spinning world, like a cyclone, out of control, wonders about the impact of his work.
"I believe strongly in the power of art to change people," he says. "Anything beautiful — just the fact that people can marvel at something — the creative power of our species is unbounded. I fight the dark side with my creative side."
Like the ceaseless yearning of the sea to be on shore, each Notkin piece, whether a teapot's tempest warning or a mural's introspective narrative, has that give and take of artist and viewer — an ebb and flow — using contemporary commentary as a backdrop to his timeless art.