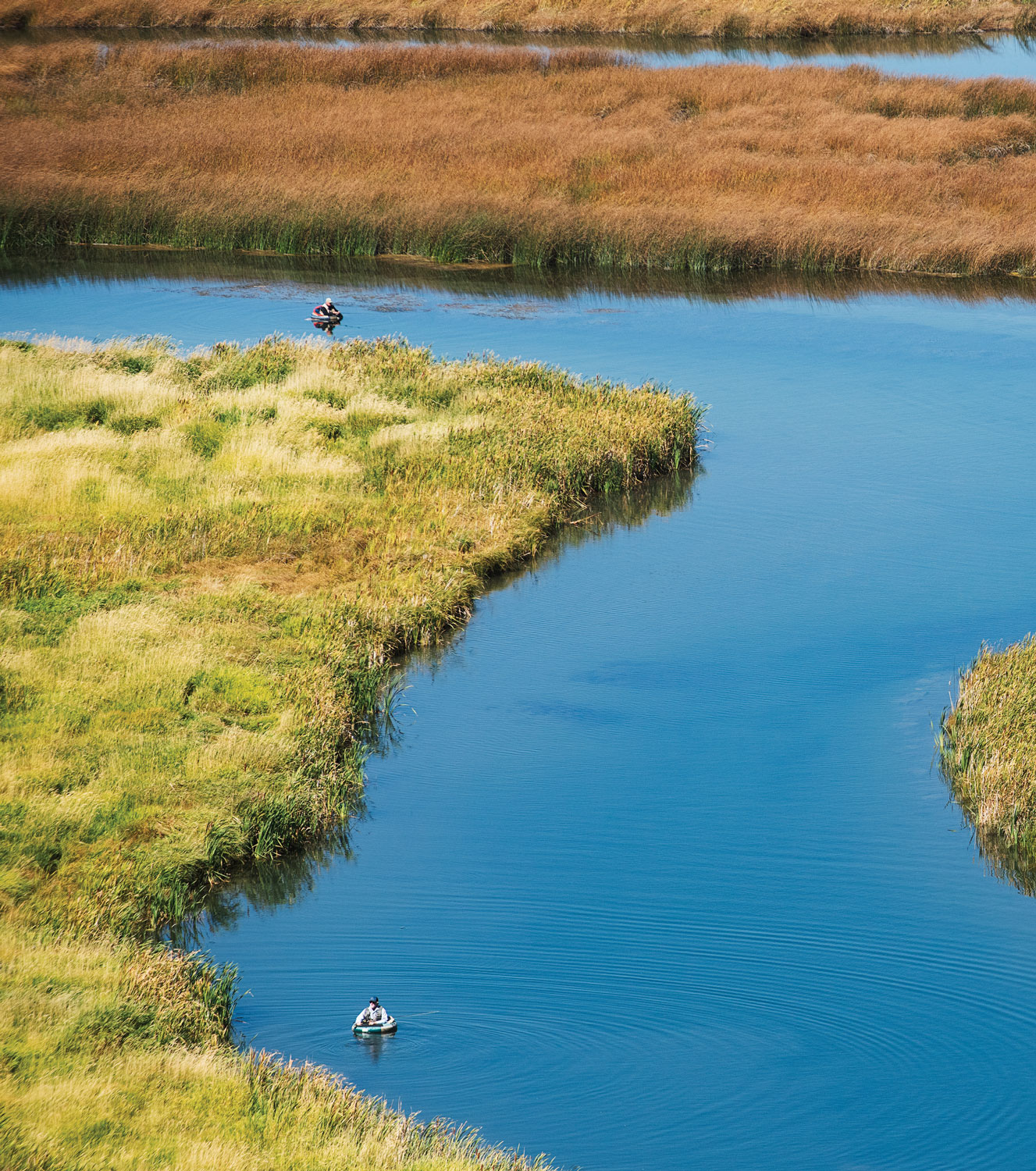 Anglers fish Kilpatrick Pond from float tubes. In 1883, a dam built on Silver Creek created this slow-moving section that's often referred to as "The Pond."
13 Feb

Peace, Love, and Fly Fishing

in
As angler numbers increase, is grace the answer?
It's early morning on Idaho's Silver Creek. The water is calm, the fly anglers are calm. There is a symphony taking place between insect and trout, between trout and angler, and between angler and angler. It's music played in close quarters with an unspoken agreement among this community. It is peace, love, and fly fishing, and here it's practiced and preached on one of the world's great spring creeks. In a grassroots movement of sorts, fly shops and guides in South-central Idaho are working together to achieve an understanding among the angling community. The understanding is that with rivers becoming more crowded than ever, we can all get along, have fun, and make room for one another.
Is it perfect bliss on Silver Creek all the time? No, it's a small stream with its own etiquette, as each river has, some nuanced and some obvious. But if we can find a state of grace on Silver Creek during the biggest hatches of the season, we can do it everywhere, right?
Fly fishing and fly anglers share a cottage industry and a community, and this community is growing. Dozens of articles have been written about social media and the effects it is having across the sport. Now, those passionate about the sport can see each other over the mountains and across the oceans in real time. Online, there are grassroots movements developing and spreading, such as "Keep 'em Wet," which helps encourage anglers to handle fish properly while trying to achieve those Instagram and Facebook grip-and-grin shots. These shots are now so commonplace that many have even changed the dialect, going from the mantra "Catch and Release" to "Keep 'em Wet," just to encourage the proper treatment and release of fish after a photo op.
Social media also has become a tool to berate fellow anglers or have a virtual yelling match with a guide or outfitter after a frustrating day on the river. Anglers can read blogs with firsthand accounts of boorish behavior among guides or the angling public. These often rant about anglers cutting off others, posting up in the same spots day after day, or mishandling a fish in trophy waters. These new forums are taking the shouting matches from the river and into homes and businesses. With all the beautiful grip-and-grin photos from around the physical world, the online world is still a place where the fishing ugly can find a platform.
Most importantly, when it comes to angler numbers and traffic on local waters, social media has opened the doors to special places and exposed them to more massive audiences. Look closely at a photo someone has posted, and you can learn quite a bit: What's in the background? Was there a boat involved, or was it walk and wade? Many professional guides have made it clear to photographers what they can and can't photograph. Sun Valley, Idaho-based photographer Hillary Maybery encounters this often. "I constantly work with anglers who ask me to keep a certain bridge or mountain or other landscape feature out of the photos," she says. "I understand it, as they are making a livelihood in these environments and need to walk a line between promotion and giving away trade secrets."
So, look left, and look right, and get used to seeing your fly-fishing brothers and sisters next to you. Maybe closer than they were last year, and certainly closer than a decade or two ago. Be ready to see a truck parked at your secret access spot in the willows. How will you react when there are bumper boats in some places and anglers tripping over each other in others? What are we going to do when the number of blue-ribbon fly waters and the number of anglers plying them is out of balance?
What the angling community on Silver Creek is trying to do as numbers increase is take a step toward grace. That is, the grace in the beauty of the sport and, more importantly, in the spirits of each other, all with a nod to the innocence of childhood and the act of playing in the outdoors. While we work toward finding new places to fish and new species to fish for, as we wait for regulations to reflect the impacts and economic drive fly fishing brings to certain communities, grace is a first obvious step toward how we regard and treat our fellow anglers. Silver Creek in general is not only a testing ground for a state of fly-fishing grace, anglers here have taken it to an even higher level during the biggest hatch of the season, with the emergence of the Brown Drake. This hatch event has become a model of kindness on the water, and grace has become the vibe each and every June.
What was once known as a "guide hatch" has become one of the biggest fly-fishing draws in Idaho. This has much to do with the timing of the season. While most Western rivers are experiencing high spring water with plenty of volume and turbidity, Silver Creek runs clear, and early season hatches attract plenty of fish and anglers. And because the Brown Drake hatches in the evening light, there's plenty of time for locals near Sun Valley to get off work, or get done guiding, and hit the river. It's a perfect storm of anglers from near and far fishing elbow-to-elbow. And yet miraculously, for a two-week period, anglers use the Drake hatch as a platform to weave a tight-knit community.
"For me, the Drake hatch is the very best of what fly fishing can be," says Andy Nelson, an avid fly angler from the Boise area. "People slow down and talk to each other. Help is offered and gladly accepted from anglers of all backgrounds. The main goal, for me at least, is being in happiness and harmony with all that surrounds us."
Again, is it perfect? No. Infrequently, there's someone whose lust for a chest thump pushes aside their manners. Yet, among the hundreds of other anglers who fish this hatch, boorish behavior is at a standstill and joy permeates the atmosphere. Inside the local fly shop Picabo Angler, where I'm an outfitter, and among the local guide community, people preach kindness, sharing flies, beers, space, and even fish. The sign out front reminds anglers that "Peace and Love and Drakes" all go hand in hand. This attitude continues and lasts as the season progresses, as does the camaraderie among the guides and the angling public. We see intimidation levels drop as we confidently tell visitors to Silver Creek that they don't have to worry about bad behavior. We tell them to treat others how they want to be treated.
Tim Mansell, owner and operator of Idaho Angler in Boise, makes a point of putting etiquette and the way people treat each other on the river on the list of daily housekeeping items. "We have regular staff meetings where we talk about educating the public on how we do things here on the Boise and Owyhee rivers." Mansell will go one step further and explain to his employees and guides that when anglers come from other areas, it is up to fly shops and guides to let people know that they need to communicate with each other on the river, and not from 100 yards away but face-to-face. "It has to be the new norm in the sport, and the industry has to help establish it," he says. Most recently, Mansell has started working with local clubs, like the Boise Valley Fly Fishers, to address these issues. He says groups like these are eager to participate in this level of kindness and communication.
Moving forward, when our boats collide at the end of a side channel, or when we walk out of the forest to find someone wading our favorite run, let's not argue. Instead, let's put our heads and efforts together to find strategies for change: to fight for minimum stream flows and quality water, for the economic benefits that fly fishing brings to a community. Let's ask our departments of fish and game if there are more areas that we can enhance, and others where we can place catch-and-release regulations. Let's remove four Snake River dams in our lifetime and watch the economy of the high desert blossom with the return of anadromous fish. Let's, as trout anglers, fight together for the Everglades and striped bass fisheries on the East Coast, while Florida and New England fly anglers join the fight for public lands and clean water in the West. We might as well support each other, as the fly angling community is facing the same dilemma coast to coast. Ask a Florida angler how many more boats are on the flats; ask a Montana angler how many more boats are floating the rivers. The answers will be the same.
Silver Creek is an example of an angling community that's moving in the right direction. We, as fly anglers, should all come from a place of grace as we deal with each other. We should remember why we fly fish, and why others fly fish. There are two outcomes: We can each move up and down the river mad and caught against the proverbial current, or we can move with the current and work together for solutions and mutual enjoyment.