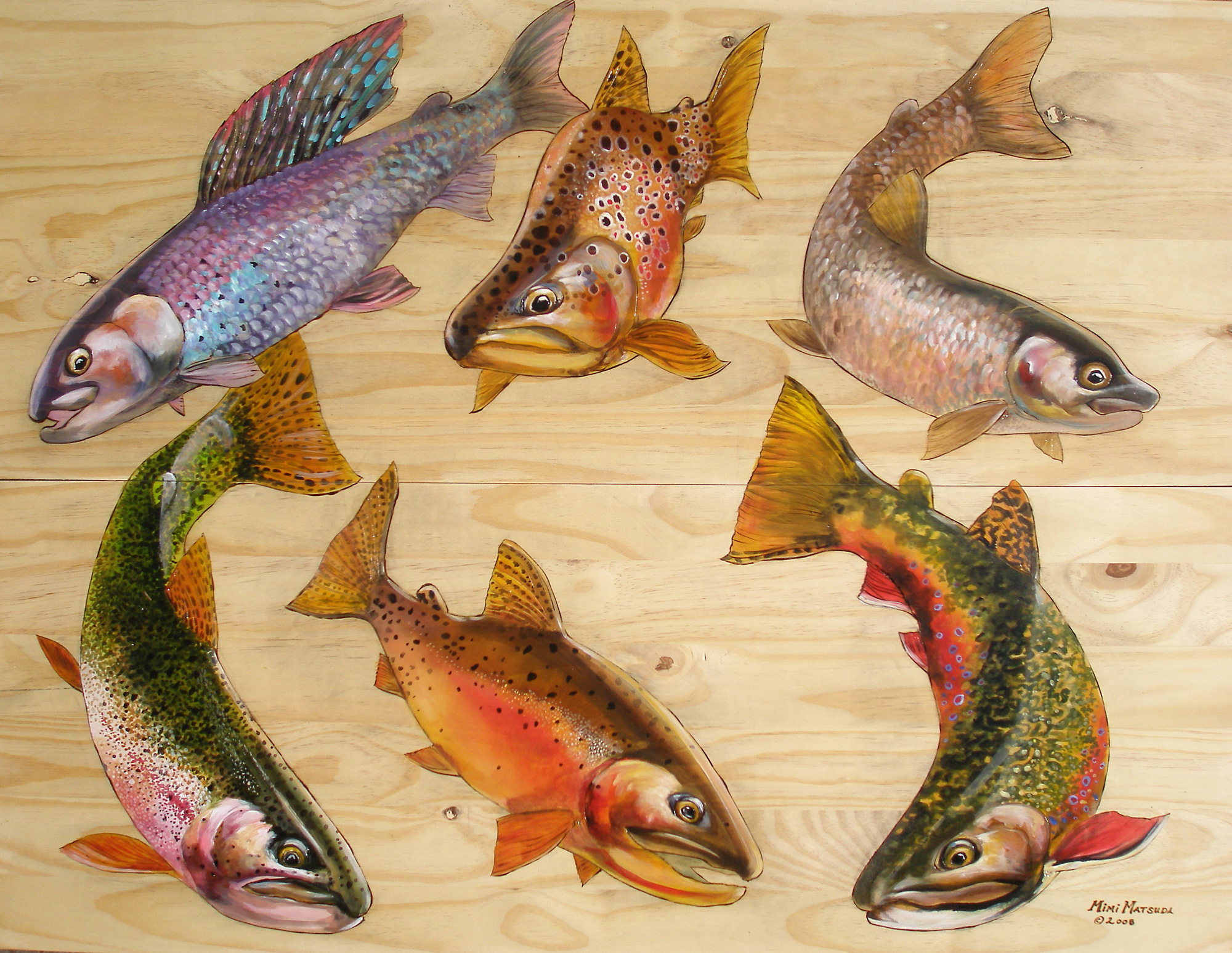 24 Jul

Artist of the West: Painting Wild

in
---
"As I grew I was fervently desirous of becoming acquainted with Nature."
— John James Audobon
---
LIKE REACHING INTO A QUICK MOVING STREAM, holding the cool body of a living and breathing elusive brown trout, Mimi Matsuda reaches into her heart and mind to retrieve the images she paints. Whether the Yellowstone cutthroat trout of her national park ranger days as a naturalist or the high mountain golden trout, every stroke of her brush brings to mind the fish and the waters they inhabit.
"I've spent so many years knee-deep in the water casting for these guys, looking closely at their face profile," Matsuda says, sitting in her small studio, with a large plank of wood in front of her for one of many of her commission pieces. "Fishing has been a love and a passion for me since I was a teenager. It's such a beautiful way to be intimate with the landscape."
Reminiscent of the naturalist and artist John James Audubon, Mimi Matsuda's inspiration comes from the world that she immerses herself in — that of the wild outdoors, the open skies, the astounding landscape — it is also a world she's studied in depth. A perfect culmination of her life, her work is a mixture of nature and art. Matsuda spent a decade as a Yellowstone National Park ranger naturalist. She also worked as a ranger naturalist in Grand Teton National Park, the National Elk Refuge in Jackson, Wyoming, and the Oregon State Parks. It is this kind of intimacy with her subjects that comes through in each of her pieces, whether in her oil paintings, pastels, colored pencils or acrylic on pine.
But she doesn't just depict the animal, she paints them. She expresses their inner life, their struggle and their beauty. By choosing just the right colors, not too exact but not too far from the mark, she can bring sunlight to the colors in a rainbow trout or the fight to the eye of a cutthroat.
"I love to spend time outside, just observing," she says, holding a photo of a sea-run brown trout from Argentina up to the wood surface she is about burn with a wood burnisher. "It's the most rewarding thing, so inspiring to notice the glint on the water or the true sound of a trout taking a fly. And I can only hope I never take those moments for granted."
Matusda started out by showing her work to a few fishing shops in the West Yellowstone area, while she was working as a park ranger. They loved them so much they hung them in the stores. Justin Spence, owner of West Yellowstone Fly Shop gave her the idea for her pine panel portraits and Arrick Swanson, from Arrick's Fly Shop, commissioned seven or eight large pine panels for himself.
"If anyone wants to buy one of the big pine panels I send them to Mimi," Swanson says, although he does sell her note cards in his shop. "The note cards do very well. People really like them, they're different. Maybe they'll find one of a fish they'd caught or they know people who like cutthroat and they'll send the note cards to them."
Swanson has known Mimi Matsuda for more than 10 years.
"She's kept her own style over time," he says. "If I saw something she did 10 years ago I'd still recognize it as her work and I like that. It makes me feel confident about her as an artist. That she knows who she is and what her work's about."
Being an expert fisherman, Arrick knows a thing or two about the local fish and he trusts Matsuda to bring in artwork that reflects local species.
"Because she was a naturalist in the park, she can draw from her experience," he says. "And it's another thing I like about having her work in the shop. The colors she uses are vibrant and really catch your eye. If they're not true to life, they're true emotionally, because the colors bring out something more than just a textbook illustration of a type of fish."
Matsuda is grateful for the encouragement she's gotten from the local fly shops.
"They've all been so supportive," she says. "It would've been hard to do as well as I have without them."
In fact, she gets many commission requests from people who have seen her work in the fly shops.
"I'll get an email from someone who was fly fishing in Montana or in Yellowstone National Park and they'll send me their favorite photograph of a fish they caught," she says. Depending on their budget she'll either do a pastel, watercolor, oil or acrylic on pine panel of the fish. "I'll work with them to see what kind of painting will fit their needs best and what best fits the portrait."
The 18- by 48-inch pine panel of the sea-run brown trout she's working on is Matsuda's latest trend. Starting out by drawing a basic likeness with charcoal on the pine, she then burns in the lines.
"Since I'm working with bare pine, I burn in the lines so the paint doesn't bleed," she says, tracing the dark line with a steady hand. "And I really like the irregularities of the wood. I think the natural wood and fish complement each other so well."
Smoke curls upward from the point of her wood burning tool as the room takes on the feel and odor of a summer campfire.
"The time I've spent exploring the backcountry and the land surrounding it is such a huge part of what I paint," she says, finishing up the circle of the trout's eye. She always starts with the eyes. "My biology background and time outdoors provided the training for the art I'm doing today. I want my paintings to speak to people about the importance of these wild animals and conservation of their habitat."
She works in the heavier spots and then begins to darken the lines of the fin rays, the fine components of the small fin, balancing the instrument in her hand as she steadies it against the smooth grain of the wood.
Each dot, each marking on the big fish, slowly and meticulously, is darkened or at least etched into the soft wood. Afterwards she'll wash the portrait in color.
"I rely on my sister to tell me when to stop," Matsuda says, referring to her sister Erika, her roommate and business manager. The small apartment they share is Matsuda's studio, printing room and business office. Erika stands in the kitchen baking cupcakes while watching her sister work. "It's so hard for me to tell when something is really finished."
Next to her drafting table, a hip-high set of drawers holds her pastels, colored pencils, inks and watercolors. When she's working she wears headphones, listening to a mix her sister, who is also a local radio DJ, creates for her.
"The music really helps me to focus," Matsuda says, holding the wood-burning instrument like a large pen. "Because I carry my own experiences with me into my work, all I really need to get started is to focus. I used to think I could paint outside, but for me it doesn't work that way. I get too distracted by the beauty."
Corinne Elliott at Jack Dennis' Wyoming Gallery, in Jackson, Wyoming, has been representing Matsuda's work for years and feels that Matsuda is a great addition to the artists they show.
"Her art work is such a fun and colorful addition to our gallery," Elliott says. "We started off showing only her trout-related pastels, because that's usually what we show, but have since moved on to her landscapes and wildlife in both oils and pastels."
As clients began to recognize Matsuda's work, Elliott began to show more of it.
"Her latest work is really big and bold and has been received well," she says. "Mimi Matsuda seems to be never afraid to try something new and as a result her work is always progressing and we enjoy that in an artist."
Matsuda's work in Jack Dennis' Wyoming Gallery ranges from small pastel pieces to enormous oil paintings of bear, fox and buffalo.
"I only carried her smaller pieces in the past because it fit our need at the time," Elliott says. "I thought they were fun. These new pieces are a big hit with our clients who come to the gallery to see local, Western artists."
Matsuda's next project will be to work on some posters with the Yellowstone Association Institute, an educational non-profit component of the park. She is also currently creating the second in a series of commemorative art posters for the Equinox Ski Challenge race in West Yellowstone, Mont., which takes place at the end of March every year.