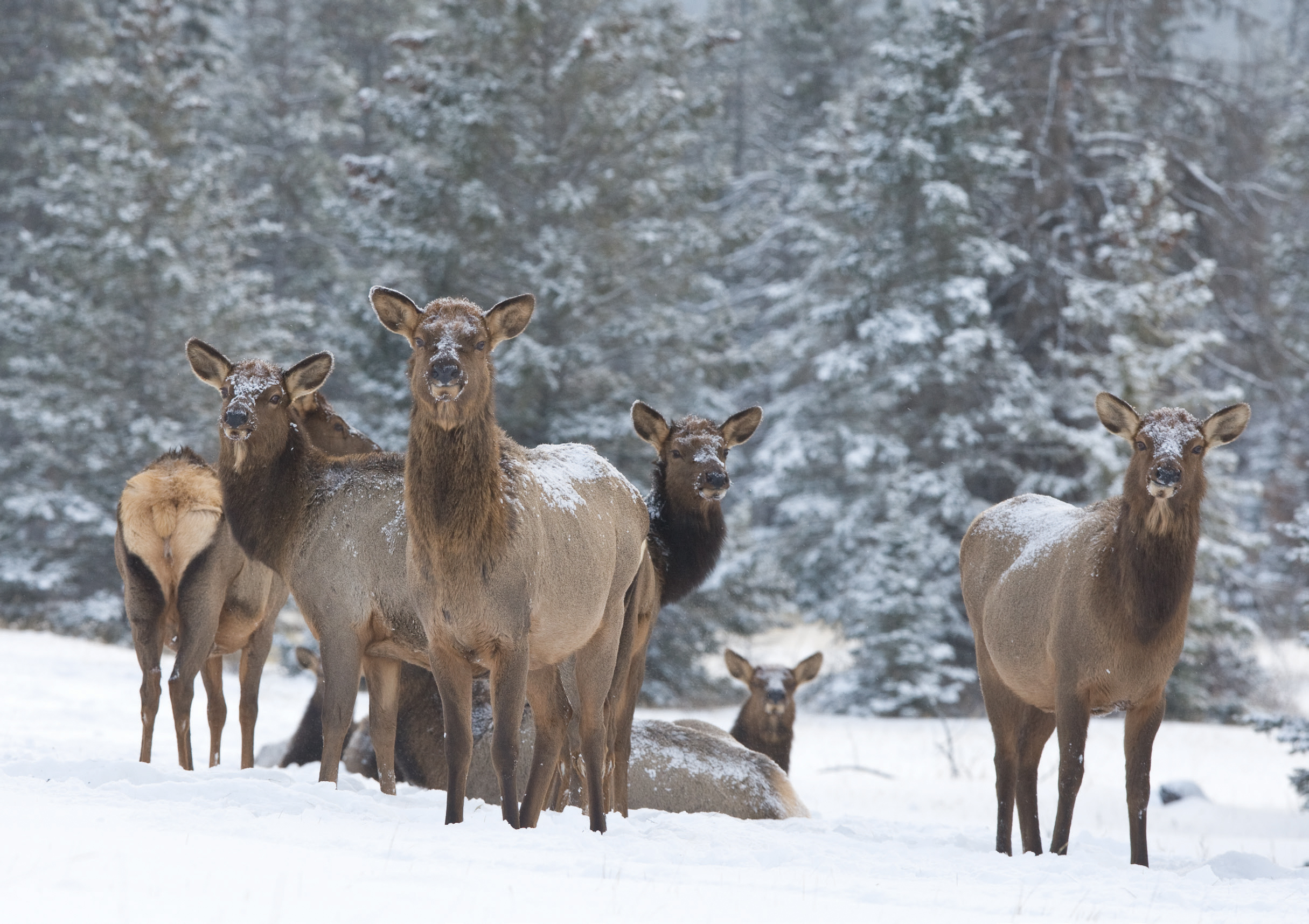 23 Nov

Outside: Winter Elk

in

The elk checked into my yard one snowy winter evening as if they were entitled to one-night accommodations with all the benefits. At dawn, I discovered three snow-blanketed cows under my ponderosas, their ears idly monitoring the early morning quiet. As light filtered beneath the trees, I noticed four yearlings scavenging for tall grass. I grabbed my sketchbook as another enormous cow elk ambled in and others soon emerged from the vast whiteout.

A herd of 20 elk gradually assembled in our neighborhood. They stayed almost three months that winter while we experienced record snowfalls, with large drifts forcing them to seek unconventional food sources and shelter.

This herd from the Gallatin Range to the south of Bozeman, Montana, had been displaced from its customary winter forage habitat by the spread of subdivisions. The cows must have been hungry, stressed, and disoriented, or they likely would not have come into such close proximity to homes, traffic, dogs, and people. Their situation and need for survival reminded me of migrants, displaced from their countries of origin, sometimes walking thousands of miles to safety.

As days went by, I watched these visiting elk trail each other in single file, their movements slow and purposeful to keep warm and conserve energy. They foraged the lilac bushes, Nanking cherries, apple trees, and stripped the ponderosas, which I had babied over the years. They bedded down during the day behind a windbreak to chew cuds of undigested shrubs and tree bark, dried leaves, and grass found beneath the poplars. Their massive bodies blended in with the white fields until only angular brown heads were visible, swiveling on alert for threats in this unfamiliar terrain. My family members and I left them alone, as did our border collie; although they appeared to accept our presence anyway, thereby relinquishing some of their wildness for this temporary domesticity.

My observation of this elk herd over a period of time revealed interesting relationships and strategies. One starving old cow, ribs outlined beneath a bony spine, exerted her privilege as an elder. She slowly heaved to her feet, approached the hindquarters of a younger cow, and struck it with a front hoof. The younger one rose, but apparently not fast enough, as the old cow threatened her, head down. The bluff was enough to drive the younger cow from her warm spot, which the old-timer promptly occupied.

By then, I was hooked on studying our elk visitors.

Elk, Cervus canadensis, are majestic ruminant animals of North America. They are also known as wapiti and are sacred to Native Americans. Once numbering in the millions, they are down to only a fraction of that today. Bull elk typically weigh up to 700 pounds and stand 5 feet tall at the shoulder, while cows typically weigh up to 500 pounds and grow to 4 feet tall. Their lifespan ranges from 10 to 13 years, but given hunting, displacement, and predators, it's hard to say how long they make it in these parts.

The Montana Department of Fish, Wildlife and Parks states that our area is not a high-priority winter range for wildlife, although herds have migrated here from the high country for countless years. We were told that feeding elk is illegal, and that they cannot digest hay. Horse owners usually throw up fences around their haystacks to protect them from deer and elk, and farmers usually provide sheds for their bales. These barriers are meant to discourage wildlife from wintering here at all, and it seems that the general public considers this to be people habitat now, not wildlife habitat. That requires retraining a herds' instinctive practices, ones that were acquired long before generations of county residents thought of living here in Southwest Montana.

Along with witnessing the elk at close range, my perceptions were influenced by the novel Walk with the Wind by Thomas W. Savage, a writer who has lived in the wilds and knows the ways of the Rocky Mountain elk. The richly spiritual story relates the generational knowing, memory, and herd instincts of the elk, and also explains their survival strategies and relationships.

Much of the wilds in the Rocky Mountain West have been lost as subdivisions have spread in all directions, including here, where cottonwood-lined streams once crisscrossed the land that was known by the Native Americans as The Valley of Flowers. Born and raised in Montana, I've seen the deteriorating value of wildlife and their habitat as representative of loss, not only that of open land but also of quality of life.

Over the duration of their stay in our residential area, the elk became gaunt, shaggy, and desperate. The old cow turned into skin and bones, her neck scrawny as a picked chicken. She belly-flopped over a high fence when the herd was spooked, and she dragged herself through deep snow in an irrigation ditch, faltering in an attempt to join them. Two cows stood vigil until after dark, but she likely did not survive the winter.

I willingly allowed the elk to reside in my yard, conscious of their need for safety and of their suffering. The elk visits have enlivened the many cold and dark days of late winter, but as much as I enjoyed them — running from window to window to observe and sketch them — I realized that despite their beauty and strength, I was also witnessing their stress and will to survive. I found my inability to lessen their plight or alleviate their suffering to be frustrating and sad, yet this is a new reality. Many people live here for the abundance of nature and wildlife, yet displacement of the elk herd diminishes the dignity and splendor of the animals, as well as those of us who occupy former foraging land. We find ourselves caught right in the middle.

The author, Jan Elpel, created this painting, Elk in Red Willows, in honor of the elk that wintered in her yard.