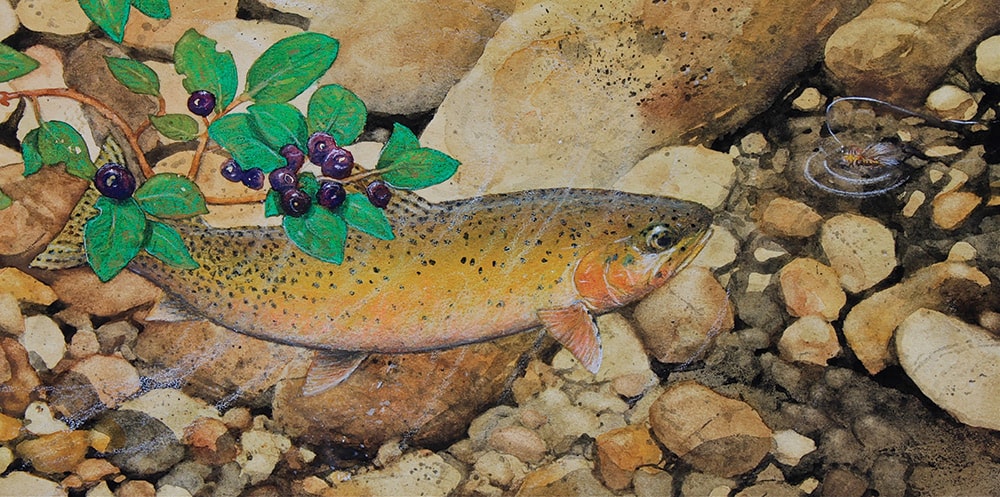 Illustration by Fred Thomas
20 Jun

Outside: Cutts and Hucks

in

I'm not one to tease about physical limitations, or take advantage of someone because of them, but last year I found the perfect moment to capitalize on a friend's frustrations.

We were fishing a river in Idaho, just over the Bitterroot Mountains from Missoula, Montana, and had decided to bushwhack up a tributary stream to see if we could find some bull trout. We didn't find those bulls, but we did luck into a deep corner pool that was loaded with hungry westslope cutthroat trout, all measuring between 10 and 16 inches. I offered the pool to my friend Randy, but he deferred saying, "Go ahead, I've got to swap out my flies."

I expected him to make a quick change, but by the time I'd landed and released three trout on three casts he was still fiddling with his tippet and flies and calling me a fish hog. That comment may have been meant to deter me from making another cast, but I took it another way: Now I wanted to catch every trout in the pool. I mean, if you are going to be called fish hog, you might as well act the part.

I'm not sure how many fish I landed from that corner — maybe eight or 10, with strikes on nearly every cast — before Randy was rigged up and ready to fish. By that time I'd made four straight casts without a strike so I smiled and said, "It's all yours." Randy made a few casts, but the truth was evident: I'd caught every willing fish in that pool and there wasn't another one to be had.

Randy's a good sport who dishes out more than he ever takes, so pretty soon he stopped scowling and was, instead, laughing about the incident. His tone became serious only when he added, "I couldn't see my flies well enough to tie them on."

Ah, makes sense now. The close range dilemma. The scourge of 40-some-year-olds. The demise of the dry-fly aficionado. I saw this happen to my father in his late 40s on Rock Creek, and I went through the same frustration — while trying to tie on a tiny Trico mayfly imitation — when fishing the Bitterroot River two years ago. In my case, I finally gave up and decided to fish a size 4 streamer in the middle of a mayfly hatch because the eye on that fly looked like a basketball hoop compared to the opening on that Trico.

This may have already happened to you. If not, it's in your future. You'll be tying on flies just fine one day, and the next you'll be missing the hook eye like you were Shaquille O'Neal at the free throw line. And that's when your body might shudder a little, that moment when you say to yourself, "Oh my god, middle age is here."

So be it. It's one of those givens and there's nothing any of us can do about it. When the hook eye went blurry on me I just thought, OK, time is a factor now. What do you really want to do?

The easy answer is to fish more, the sooner the better. For me, that means more trips into Idaho's forested panhandle region, which includes the St. Joe, Clearwater, Nez Perce, and Bitterroot national forests. These forests, which roll off the west slope of the Bitterroot Mountains between Missoula and Coeur d' Alene, Idaho, offer amazing public fishing and camping access. Some great spots are located beside roads. Many others are off the beaten path and accessible only to those who trek in. This is also one of the last bastions of the West's native fishes, including the westslope cutthroat and the bull trout.

These fish often are found in the same pools, the bulls skulking deep while the smaller cutthroats keep a wary eye on them. Someone fishing these waters (which include the Clearwater, St. Joe, Coeur d'Alene, Selway, and Lochsa river drainages), with a cutthroat splashing on the end of a line, occasionally draws a big bull trout to the surface. When this happens, an angler gets a ringside seat to a life and death struggle. Sometimes this serves an angler well. Last year, while fishing a remote stream, Randy told me a bull trout was trying to kill a cutthroat on the end of his line. I quickly cast a streamer near that cutthroat and the bull trout struck. I landed and released the bull, then turned to Randy and said, "Thanks for the assist." And, as Randy released that little cutthroat, I pretended to hear it say, "Thanks for the help, too."

All of these Idaho streams follow a steep gradient off the Bitterroot Mountains. They are susceptible to runoff, and in big snow years they roll down steep, mountainous valleys at an alarming rate. If you are going to fish these streams, a rule of thumb is to show up no earlier than July 4. After that date the flows quickly diminish and anglers can safely move up and down the rocky banks.

That timeframe coincides with the green drake hatch. When conditions are favorable and that bug comes off, the cutthroats throw caution aside and eat as many drakes as possible. They have to; during spring and early summer, the fish spend most of their lives just trying to find a safe place to rest in high flows; during winter, they move far downstream to broader and calmer water where they manage to find just enough food to survive. So during summer and fall, these fish feed voraciously, making up for the challenging conditions they've just been through. Detractors call these westslope cutthroats stupid. I like to think of them as survivors, each one a yellowish-olive jewel.

Westslope cutthroats are amazingly colorful fish, with olive backs punctuated by dozens of inky-black dots. Their sides are a vibrant golden-yellow, and at times many have flush pink bellies. Their eyes are bright yellow with oversized black pupils. Holding one in the hand is like examining the perfect pastel.

I, too, like to fish these Idaho rivers as runoff subsides in July, but my favorite time is August when the woods are laden with huckleberries. Some years these berries may take you away from your fishing. They taste great, and are great for you. When ripe and at peak flavor, it's almost impossible not to spend a portion of the day plucking them off the limbs and palming them into your mouth. Sometimes you might find a cutthroat resting just under a limb laden with huckleberries, and draw it into the open with a perfect cast. As you might imagine, this scenario — with hungry cutthroats in the rivers, millions of huckleberries waiting to be picked in the cedar and pine forests, and beautiful campsites in spades — is perfect for kids. Think about it: trout fishing and huck picking by day, campfires, s'mores, and an array of dazzling stars overhead at night. Isn't that the description of a lifetime memory?

Summer isn't the only time to fish Idaho. During the fall, these rivers get great blue-wing olive and October caddis hatches. October caddis are nearly as large as Montana's heralded salmonfly and they bring fish to the top in droves. The olives, which come off in the afternoon hours, also bring scads of fish to the surface. Once, while fishing Kelly Creek — Idaho's first designated catch-and-release-only stream — a friend coaxed trout to rise to his olive imitation on 20-some straight casts … but was never able to hook one. Small flies. Wary, late-season trout. And maybe some vision issues on the horizon.

Idaho's westslope cutthroats are fun to catch, and in fly fishing there may be no greater thrill than taking a fish on a dry fly. But I'm just as inclined to fish these rivers for bull trout, which is legal to do in Idaho. In Montana, there are only a couple places to legally fish bulls, even though many anglers specifically target them on restricted waters. That's not for me. I like fishing with a clean conscience, and in Idaho I can do that for bulls.

You'll find bulls in these rivers from spring through fall, but they seem to be most abundant in August and September. You don't need to search all the water for them — these fish stack up in the deepest pools. To catch them you'll need to get a fly in front of them. Because bull trout feed almost entirely on other fish, you'll want to use a weighted streamer that mimics a baitfish and gets deep. There are exceptions: I once caught a 5-pound bull trout while fishing a cicada pattern for Idaho's cutthroats.

With all that Idaho offers, I wonder why more Montanans don't hit these streams when the fishing can be as entertaining as what we find within our own borders. Many of us can easily fish one or more of these cutthroat streams within a two hour drive. To fish Montana's Big Hole, Beaverhead, Madison, Bighorn, and Missouri rivers — which many of us do without hesitation each year — often requires longer travel. Do some people shy away from these streams due to the additional out-of-state license cost? If so, the next time you hold off on Idaho because it might cost you 60-some dollars for the annual out-of-state fee, consider what you might pay for a single round of golf and what you (and your kids) might be missing, just over the Bitterroot divide.