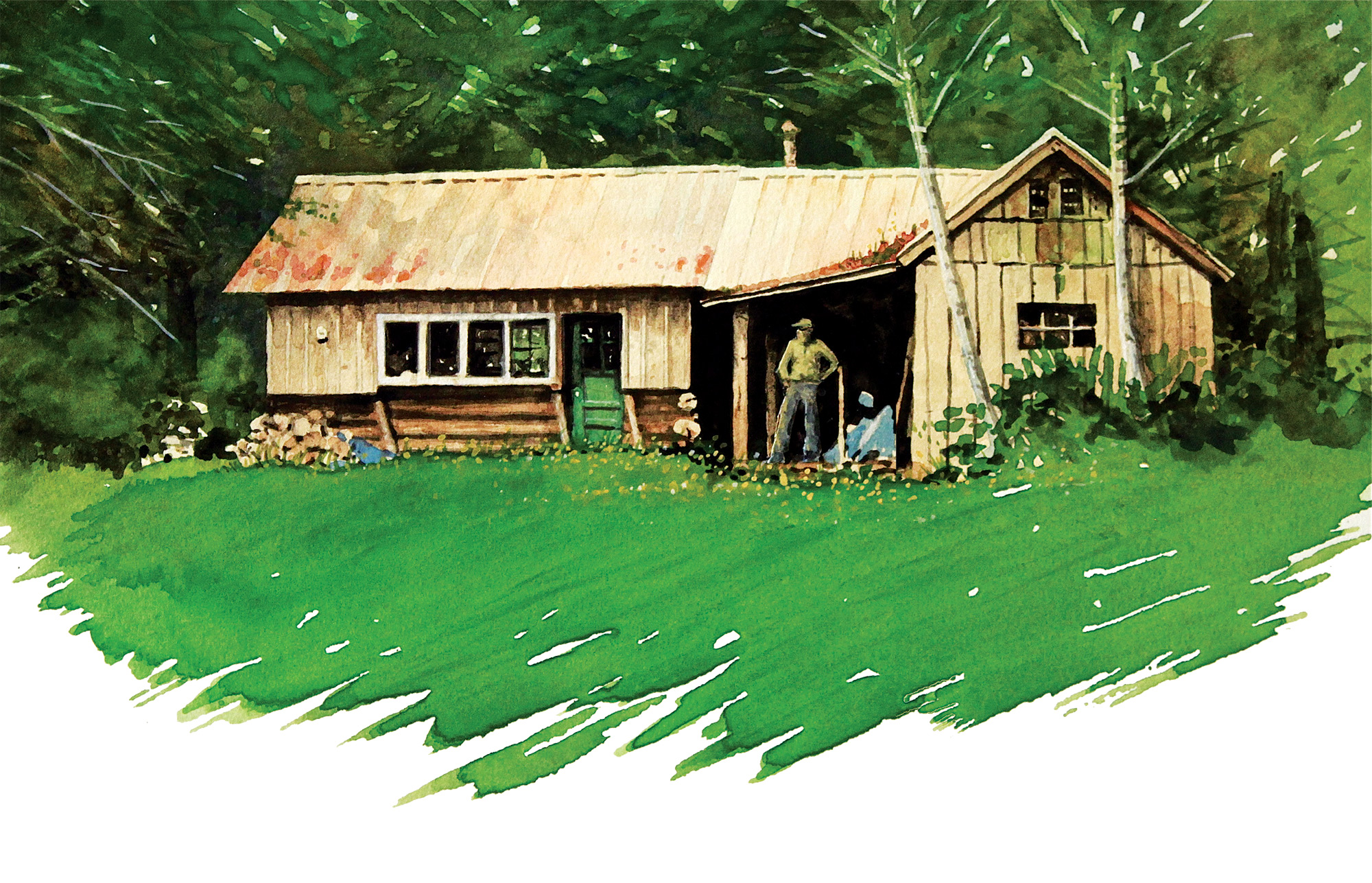 29 Jul

Outside: Cabin Living

in
---
For a good part of my life I thought everyone's vision of a cabin meshed with mine: a small, single room, post-and-beam or log structure set in the woods, heated by fire, with an outhouse tactfully placed several yards away, probably behind the biggest tree on the property and preferably downwind of the prevailing breeze.
This cabin might sleep three or four and would smell damp, with a hint of mildew, when you first open it for the season. Some years you chase bats out of the place, always you have to do a full sweep for wood spiders. But once you get the doors and windows open, a fire cranking in the stove, you fill the place with the smell of pancakes and bacon and fried eggs, and then mow the overgrown meadow in front, you might step back and think, this is a pretty nice place to be, even though it only offers cold running water and you have to boil it to wash your hands and face.
This, in fact, describes my family's cabin on Washington's Kitsap Peninsula, 17 acres of turf that we've held for nearly 100 years. The cabin served mostly as a place to sleep because we were always active during the days, picking berries, cutting firewood, digging clams and gathering oysters, raking Dungeness crabs out of the eel grass, or trolling lures for sea-run cutthroat and salmon. Occasionally we'd find lingcod in the small bay that our cabin fronts, fish that range to 20 pounds. One year an uncle decided that spearing one might be easier than getting a ling to bite a lure, but we went back to the conventional method after he accidentally shot a spear through the bottom of the boat.
Once every couple years most of the family would gather at the cabin in July or August. The matriarch and patriarch (meaning my grandmother and grandfather) staked claim to the cabin while everyone else slept — or tried to sleep — in bags under the stars or in tents or in the back of a pickup truck.
This, I understand, does not describe the modern cabin. I started getting that sense once my writing career became established and people began inviting me on hosted trips to beautiful places. One of the first spots I visited on such a trip was Jackson, Wyoming, where we dined on grass-fed bison and elk at the Amangani, and then returned to the lodge and "cabin" that featured fancy rugs, original Western art, meticulously washed windows, tiled showers with hot water, lodgepole-hewn beds and, get this, toilets. I liked the cleanliness of the place and the opportunity to get warm after I got cold fishing, and there was talk of an occasional moose or deer wandering through the grounds, but I didn't get a sense of being far from home.
Now that I'm in middle life and have kids, naturally, many of my friends and their kids retreat to these so-called cabins for summer weekends and on special occasions throughout the year. Some of these places really are cabins, perhaps nestled on the banks of a lake with mosquito screens surrounding the decks, cobweb shrouded antlers hanging on one or more walls, well-used sofas in the main rooms and three generation bunk beds in the bedrooms. There may be satellite TV wired into the place, but overall, these cabins serve as retreats, not as second homes.
Then there are the palaces, "cabins" that are equal to or an improvement on the owners' main home, souped up monster log structures with cable TV, surround sound, Stressless sofas and bazillion dollar views, all taken in through triple-paned windows with remote control shades. Some of these places, I have to believe, are status symbols, built to show off wealth in the same way these people probably do at home when parking their twin E-Class Mercedes in the driveway. I'm not so fond of places that have traded that temporary mildew smell for fresh paint and Glade, but that may be more out of jealousy than a thoughtful complaint. Some of these cabins, I have to admit, are reasonable places to invest money, and in the long run they're probably a safer bet than the stock market, as land and dwellings are tangible and stocks exist in very thin air.
I have a friend who owns one of these places (actually two if you include the three-bedroom log bunkhouse). It's located up a dirt road from a great big lake where she also owns a small cabin, this one for convenience when her boys need to dry off from a swim, or she needs to cook dinner without having to hike or drive a half-mile up the dusty road to the main buildings. You could say this is excessive, but it all makes sense; she and the boys need a retreat from their busy Seattle-based lives, a place where they can ditch the traffic and all the practice commitments and even school if necessary, to do all the Montana things they can't do at home, i.e., riding quads, fishing and charging around through the woods.
One fall I stayed in exactly the opposite style of cabin, while fishing Alaska's Nushagak River with my father and a friend. We'd been dropped off by plane on the river and then taxied to the cabin in an 18-foot jetboat. Once we picked our bunks and offloaded our gear we tried to warm the place up with the wood stove, but the thing only burned twigs and I soon regarded it as the most inefficient piece of metal I'd ever encountered. You could hang a wet sock over it for three hours and it would have still stuck to the unpainted sheetrock wall if you'd have chucked the thing at it. When my father asked the outfitter if there was a towel to wash and dry his face, the guy pointed at something hanging off a peg near the metal sink that looked like a cross between a drowned squirrel and a toilet bowl mop. If I recall correctly, the three of us went six days without washing our faces.
But there were grayling to be caught a few steps from the shack, and big rainbows a little further downstream, and when it rained during the day and frosted at night and we were 150 miles away from the nearest motel, there may have been no better place to be.
Over the years I've stayed in the entire spectrum of cabins and enjoyed each for its unique offerings. I've decided that any cabin is a good cabin, whether it's a dream home or just a modest little one-roomer lacking hot water and a toilet. These are places that draw family and friends together and remove us from our normal routines. These locales draw out some of our greatest ideas and our most vivid memories, which are often humorous, sometimes painful, but never dull. Family histories are so often defined here and nobody should have to make an excuse for creating a place to do just that.