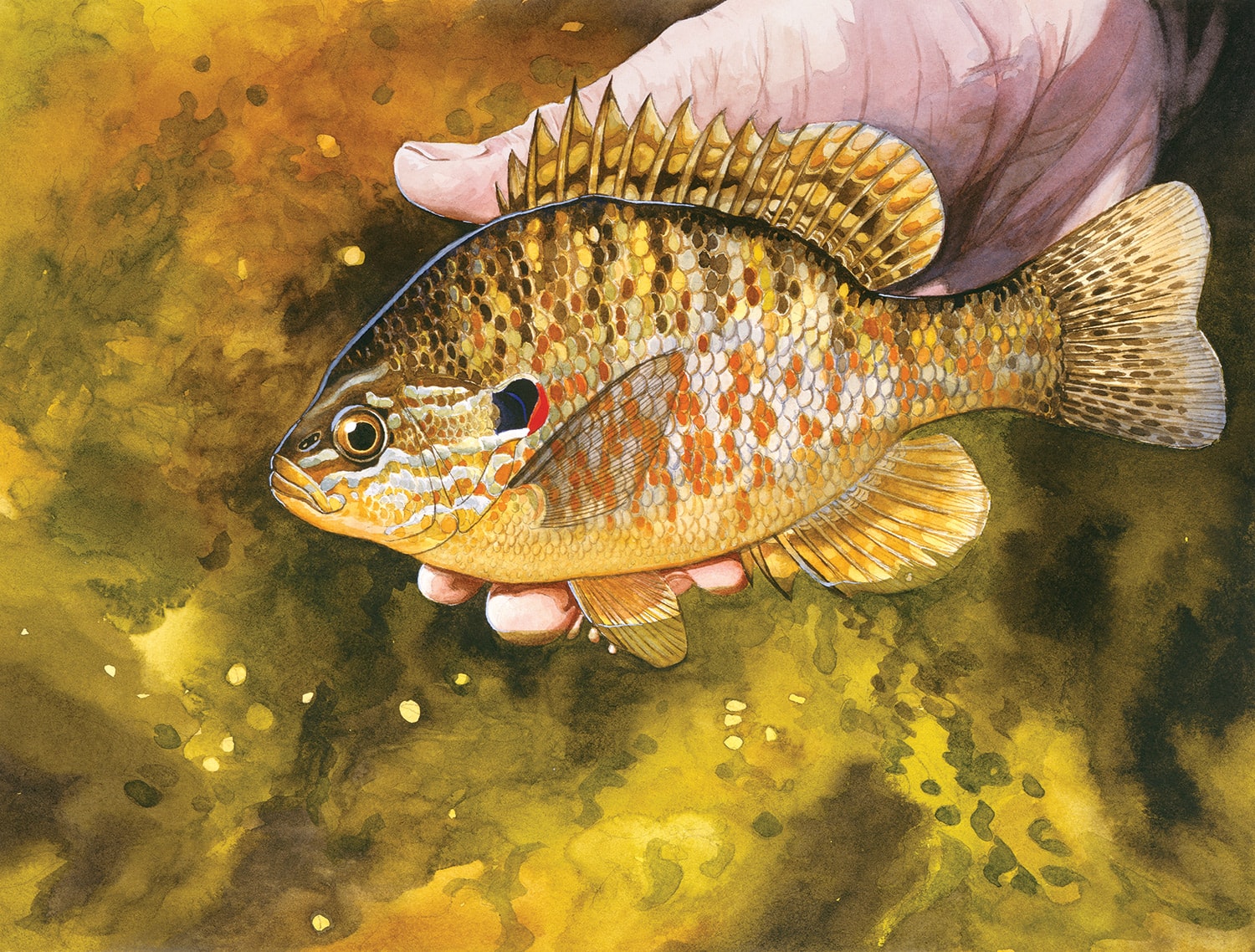 Illustration by Bob White
07 Jun

Outside: Beyond Trout

in

As we took what our map told us was the final turn, the gravel road became rutted dirt that would turn to impassable gumbo if the clouds gathering in the western sky produced any rain. We hadn't seen a ranch house for miles. I reminded myself that if this were easy, everyone would be doing it. Everyone wasn't.

The isolation came with the territory. Petroleum County, Montana, is one of the least densely populated areas in the continental U.S. Cresting one last rise, we were provided with unobstructed views of sagebrush extending to the horizon in all directions, uninterrupted by human habitation — great country for cows, pronghorns, and rattlesnakes, but we didn't see any of them. We didn't see any water either, and this was supposed to be a fishing trip.

I followed switchbacks downhill to the bottom of the coulee, fighting to keep the rig on the road and out of the ditch. Then the reservoir appeared at last — 15 acres of weeds and water that bore no resemblance to Montana's famous Blue Ribbon trout streams. This wasn't just another world; it was another planet.

Thirty minutes later, my wife Lori, our friend Dick LeBlond, and I had rigged up and spread out around the shoreline. The water visibility was good — a pleasant surprise since fly-rod anglers like clear water, but disappointing since I didn't see any fish. Demonstrating my own brand of undaunted courage, I sent a woolly bugger whistling into the deepest part of the pond and began to twitch it back toward shore. The strike that followed felt like a miracle. The 2-pound bass even jumped, as if to confirm its existence to any skeptics on shore. I lost track of how many bass and crappie we landed and released over the next hour. We even kept a few fish for dinner, a sacrilegious decision among most fly-rod trout anglers.

Fortunately for our good names, we were far from the nearest trout.

The differences between warm-water anglers (who pursue bass, panfish, and the like) and cold-water enthusiasts (trout, trout, trout) reflect the cultural differences of our times. The former are largely a Red State phenomenon: bait, Bud Lite, NASCAR, Make America Great Again. Trout anglers are a different breed: barbless hooks, microbrews, soccer, Save the Planet. While this analysis suffers from the same flaws as all stereotypes, there is at least some truth to it. It also leaves a lot of fly fishermen missing out on a lot of fun. Consider the difference in ambience between the bucolic prairie described above and a Yellowstone River boat ramp during the salmon fly hatch.

I've always enjoyed busting those stereotypes while maintaining my commitment to my fly rod. Largely ignored in fly-fishing literature, Montana abounds in warm-water, fly-rod opportunity: bass (largemouth and small), northern pike, walleyes, sauger, crappie (white and black), bluegills, perch, channel cats, carp, goldeye. Part of our bias against these fish may reflect their "alien, invasive" status (exceptions: sauger, catfish, goldeye, and northerns in some places). We should remember that the same is true of cold-water stalwarts like brown trout. If country of origin is an issue, we're all hypocrites.

While bass and pike are widely recognized as game fish, others on the Montana warm-water list require explanation. First described by Meriwether Lewis near the junction of the Missouri and the Marias rivers on June 11, 1805, goldeyes reminded both Lewis and me of the East Coast shad. While these silvery little fish rarely weigh more than a pound, they jump vigorously when hooked and strike dry flies readily. Head into the Lower Missouri drainage armed with a 3-weight and some panfish poppers and prepare for a pleasant surprise.

Although staple food fish, most of the country's catfish species are scent feeders taken almost exclusively on bait. However, channel cats strike weighted streamers readily and fight hard.

The ultimate invader, common carp, arrived from Europe (where they remain a prestigious game fish) in the late 1880s. Most Americans wish they had stayed there, but within the last decade, carp have acquired a reputation among fly-rod anglers based on their size and a growing awareness of how to catch them.

One summer day, a friend and I set off around the shore of Deadman's Reservoir east of Harlowton, Montana. The surface was dotted with boats manned by anglers trolling for stocked trout, but we had another quarry in mind. In addition to my fly rod, I carried my recurve bow in case the carp proved reluctant to bite.

The bow proved unnecessary. The carp were up in the shallows with their dorsal fins out of the water, making them readily visible. They were spooky, but carefully presented San Juan Worms drew strikes. Soon I was landing 10-pound fish. The experience reminded me of stalking tailing redfish along the Texas Gulf Coast, except that I was an hour's drive away from home.

The larger the lake, the greater the variety. Northeastern Montana's Fort Peck Reservoir has acquired a robust reputation for its walleyes, northerns, and smallmouths, although you won't see many fly rods there. I've always found this huge lake intimidating, and after bouncing my boat trailer across more cattle guards than I wanted to count just to reach its shore, I largely gave up on it.

Southeast of Billings, the Tongue River Reservoir offers a pleasant alternative. All the major warm-water species are there in a scenic setting with a nice campground. There were plenty of boats on the water during my last visit, although it never felt crowded. Most of the anglers were fishing for walleye and pike, but as usual I was marching to my own drumbeat.

Years ago, a local rancher friend invited me to bring my kids out and fish two adjoining ponds on his place, one stocked with bluegill and the other with crappie. With unobstructed banks providing easy casting, it was a great place for Nick and Gen to catch their first fish on flies. (It was a great place for me to catch fish on flies, too.) There, I discovered that most panfish can't resist small bonefish patterns, like Crazy Charlies, twitching slowly above the bottom.

That day on the Tongue, I eased the skiff up into the weeds on the southern shore and handed Lori a box of bonefish flies. I hadn't cleaned them up after my last trip to the flats, and with corroded eyes and tattered white feathers they didn't look like much. The crappies didn't care. Our technique was pure Fly Fishing for Dummies: Cast three rod-lengths of line, let the fly sink, and "walk-the-dog" back to the boat. We soon had an ice chest full of dinner. Dipped in beaten egg and cornmeal, and fried in a cast iron skillet over the campfire, they made me forget about the last trout I'd eaten.

Later that spring, Lori and I decided to investigate rumors of a nearby pond full of bass and bluegills. In contrast to the prairie setting described earlier, this one was nestled in a timbered draw near the North Moccasin Mountains. However, lovely settings do not guarantee abundant fish.

As soon as we approached the water, I could see bluegills holding at the edge of the drop-off leading to the deep part of the pond. Since I would rather catch one fish on a dry fly than 10 on anything else, I tied on a deer hair hopper while Lori did the same. When the fly dropped onto the water's mirrored surface, a bluegill slid slowly beneath it and studied it like a Treasury agent examining a phony $100 bill. Then it rose and sipped the fly into its mouth.

Panfish veterans know that a big bluegill on light tackle can offer a surprisingly vigorous fight. This was not a big bluegill, but I was fishing with my 3-weight. By the time I had the fish in my hand, Lori was playing one of her own. Half an hour and a dozen bluegills later, we decided to explore deeper water for bass.

They were largemouths, and there were plenty of them. After climbing up the bank for better visibility, I could see schools of bass cruising like bonefish on a tropical flat. I gave Lori some vectors, and she dropped her woolly bugger on the money. That 3-pound fish was just the first of many.

We could have been fishing for trout that day. The road downhill from our rural home crosses one of the best trout streams in the state. I'd seen fish rising to blue-winged olives as we drove across the bridge, but had kept on going… beyond trout, with no regrets.