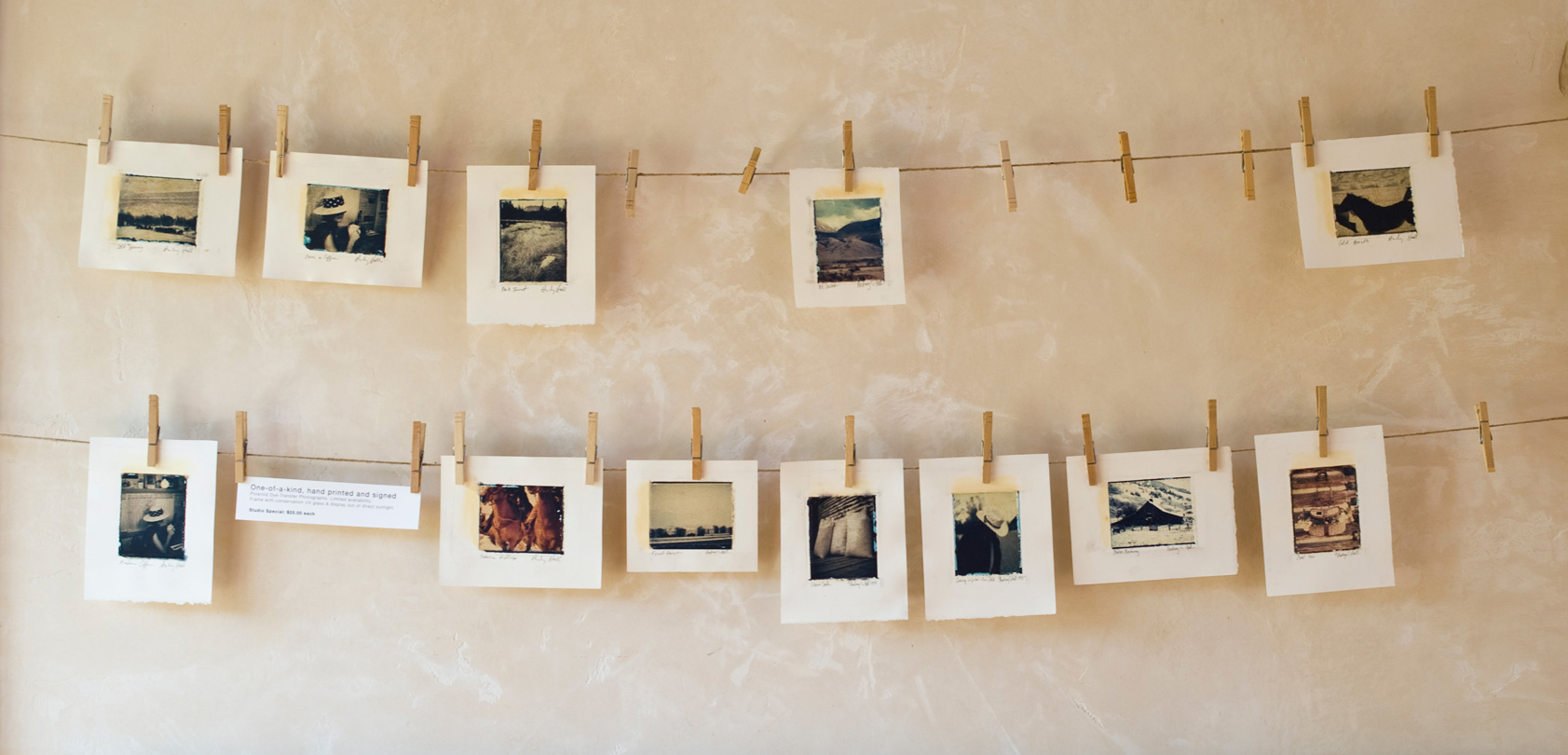 24 Jul

Open Space

in

A GOLDEN GLOW SUFFUSES THE FIELDS AND CLOUDS piled like whipped cream that slip across brilliant azure skies. Breezes ripple water as it wanders down the Yellowstone River. It is late summer in Montana, a season with light so bright and details so sharp, it seems time has stopped and the world has painted itself onto canvas.

Artists inspired by such scenes, and more, capture these iconic moments and ideas in every medium imaginable throughout the region, but the Livingston area has cultivated its own enclave of artists. Their efforts may be viewed in galleries, but rarely does the public get to hear directly from the artist what stimulated their creativity or how a piece was produced.

Fortunately, in an area renowned for its active arts community, the annual Park County Studio Tour brings together artists and admirers in spaces where the works are created. It presents a perfect opportunity to pack a picnic and adventure along backroads to artists' studios, directly experiencing the inspirational scenery and enjoying conversations with those who interpret the views.

"What is so wonderful about the tour is that I always have artists pegged by one or two pieces I know, and then I find out they have so much more breadth," said Dawn Basini of Livingston at a stop on the 2010 tour. "When I see where they do what they do, I can appreciate them more as an artist."

Livingston, the county seat, long has advertised its cultural attractions with the phrase "14 Galleries, 3 Stoplights." In fact, there are less than a half-dozen traffic lights in the entire county, but within its 2,800 square miles are scores of artists' studios. This year 30 artists will open their studios to the public for a weekend of art appreciation, community connection and visitors.

"Participants have the opportunity to view and purchase original works of art and the unique opportunity to visit with artists about their craft in the intimate and private setting of their personal work space," said Audrey Hall, previous tour artist and one of the coordinators for 2011.

Upon purchasing a pass, participants are given a map and goodie bag to set out on the self-guided tour of studios spread along 80 miles of U.S. Highway 89. The artists will be on hand to discuss their efforts, ranging from works on paper to gemstone and precious metal jewelry, ceramic sculptures to silver palladium photography, boatbuilding to blacksmithing, fiber arts to furniture of fine wood fused with forged iron.

"The studio tour has so much potential to educate the community about so many elements of art, and how it is entwined in our culture," added Traci Isaly, an artist and coordinator of last year's event. "Art is a pervasive part of our community."

In fact, community members can contribute directly to the artistic efforts. Remarking that he used to complete his "representational abstracts" in oil and farm-implement paint in one sitting, Edd Enders was working on three different canvases during last year's tour, and asking visitors for suggestions on what to do with a large empty space in a river scene.

"I like it when people critique my work," he said. Enders often adds figures or vehicles as compositional elements to replicate shapes, making the eye bounce around the canvas. Sometimes he will turn a canvas upside down to get a better sense of the painting's movement. Similarly, he added, "I think all the arts can be helpful in letting people see things from a different vantage."

Parts of the community can become works of art as well, as in mixed media pieces by Brad Bunkers, who includes bits salvaged from around town in his some of his work. A recent series, dubbed Industrial Tourists depicts the vast spaces of the old train shops juxtaposed by small human figures, while his Short Stories combine images with interpretive text.

Bunkers said he enjoys the "more intimate and personal" encounters with visitors during the studio tour, as opposed to more formal interactions at a gallery. Those visitors in turn could see why Bunkers calls his approach to painting "messy and aggressive" — the wall on which he tacks his Masonite painting surfaces is a work of art itself, with brush strokes in every color careening off at all angles.

Karen Arrasmith, on the other hand, has a meticulously organized studio in her home north of town, a necessity for the literally thousands of glass, shell, bone and ivory beads, vintage buttons and gemstones she uses to create her jewelry. During the 2010 tour, she introduced her newest line of PMC (precious metal clay) beads, made from pure silver reclaimed from photographic processing.

"I love showing people what inspires me, the process and how it comes out," said Arrasmith. "When you see where it's made, it's more meaningful."

Heading north to the Shields Valley, the drive offers an opportunity for lunch by the Shields River and glimpses of far-off antelope bounding through the vast expanse. Reaching Wilsall, Gary Kerby may be sitting at his dining table, molding a similar antelope out of clay that will later be cast in bronze, or in the basement "dungeon" at his easel painting wildlife scenes in oil.

Up the road, furniture craftsman Ed Grunseth welcomes visitors to the huge workshop at Kristian Brunsdale Studio and then up to his home, showcasing tables with his trademark "slingshot" leg design and a most striking piece dubbed the Cowboy Chop Suey Computer Corral. Made of Chinese camphor wood lined in burl, the oversized cabinet displays Grunseth's penchant for combining contemporary and traditional elements and foreign styles, like Western horseshoes and railroad spikes alongside Oriental sunbursts and butterfly hinges.

As the sun drifts across the sky, it's time to head south to the numerous studios in the Paradise Valley and Gardiner. Painter Suzanne Hoefler loves the light from the huge windows in her living room studio with a magnificent view of the Absaroka Mountains, but the scene doesn't appear in her art.

"Most people expect to see wildlife and landscapes," said Hoefler. "I don't do either." Her still life and "window scape" oil paintings reflect the bold, sun-drenched colors of her native California, and she was eager to present another facet of Western art during the tour. "It's a real education to see all the different kinds of art people are creating here," she added.

Bev Axelson of Livingston, poking around the Artemis Institute's displays of nature-inspired architecture and installations on the Yellowstone River, was in awe of the variety of talent in the community. Seeing where her neighbors create art reveals so much about the artist and enhances understanding of their work, she said. As the late afternoon light deepened, Axelson had only one lament — not getting to as many studios as planned, since she found herself lingering in conversation with each artist she met.

Fortunately, the studio tour is being held for two days this year so visitors can meet more artists in their environments. Add

itionally, the Danforth Gallery will present a "sneak preview" exhibit of works by the 2011 tour artists, August 23 through the August 26 Art Walk. Sponsored by the Park County Friends of the Arts, the tour is scheduled for August 27 and 28, 10 a.m. – 5 p.m.
---
Editor's Note: Tickets can be purchased online, with pick-up sites in Bozeman and Gardiner and at the Danforth. For $20 participants get a pass, a gift bag and a map with detailed directions; they can be purchased on studio tour days at the gallery beginning at 9 a.m., August 27 and 28, 2011. For more information, call the Danforth at 406.222.6510.
IN THE STUDIO AND ON THE ROAD
---
MONTANA
---
Local Color Studio Tour — Kalispell
Twenty artists, from sculptors to painters, and artisans open their workspaces to the public in support of the Hockaday Museum. Participating artists are selected by a jury from the museum to ensure quality work and diversity among the participants. A map of participating studios will be available for the Local Color Studio Tour on September 24 – 25, 2011. For details go to www.hockadaymuseum.org or call 406.755.5268.
Artists Along the Bitterroot — Stevensville
Every spring AAB members open their studios to the public for a two-day tour. AAB is a Bitterroot Valley organization of artists representing a wide variety of mediums; this year's tour included 24 studios and two galleries. The 2012 AAB studio tour will be in June, starting with an artists' reception at River's Mist Gallery in Stevensville. For details go to www.artistsalongthebitterroot.com or call 406.381.7898.
---
WYOMING
---
Fall Arts Festival — Jackson
Launching with an exhibit at the Jackson Center for the Arts on August 5, this year's Artists' Open Studio runs through September 30. The show includes work by many area artists. Jackson artists will also host studio tours by appointment during the annual Fall Arts Festival, held on September 8 – 18, 2011. More info here.
Rendezous Royale — Cody
From rustic furniture makers to high fashion fiber art, the Buffalo Bill Art Show and Cody High Style Artist's Studio tours are open Thursday, September 22, 9 a.m. – 3 p.m. More info here.
---
IDAHO
---
Artists' Studio Tour of North Idaho — Sandpoint
In conjunction with The Festival at Sandpoint, three dozen working artists extend the celebration of the arts for the 9th annual studio tour, August 12 – 14 and 19 – 21. The self-guided driving tour takes visitors through North Idaho's lake country along the rolling hills to the easels, potter wheels and metalsmith shops of the area's visual artists. Look for more information at www.arttourdrive.org.