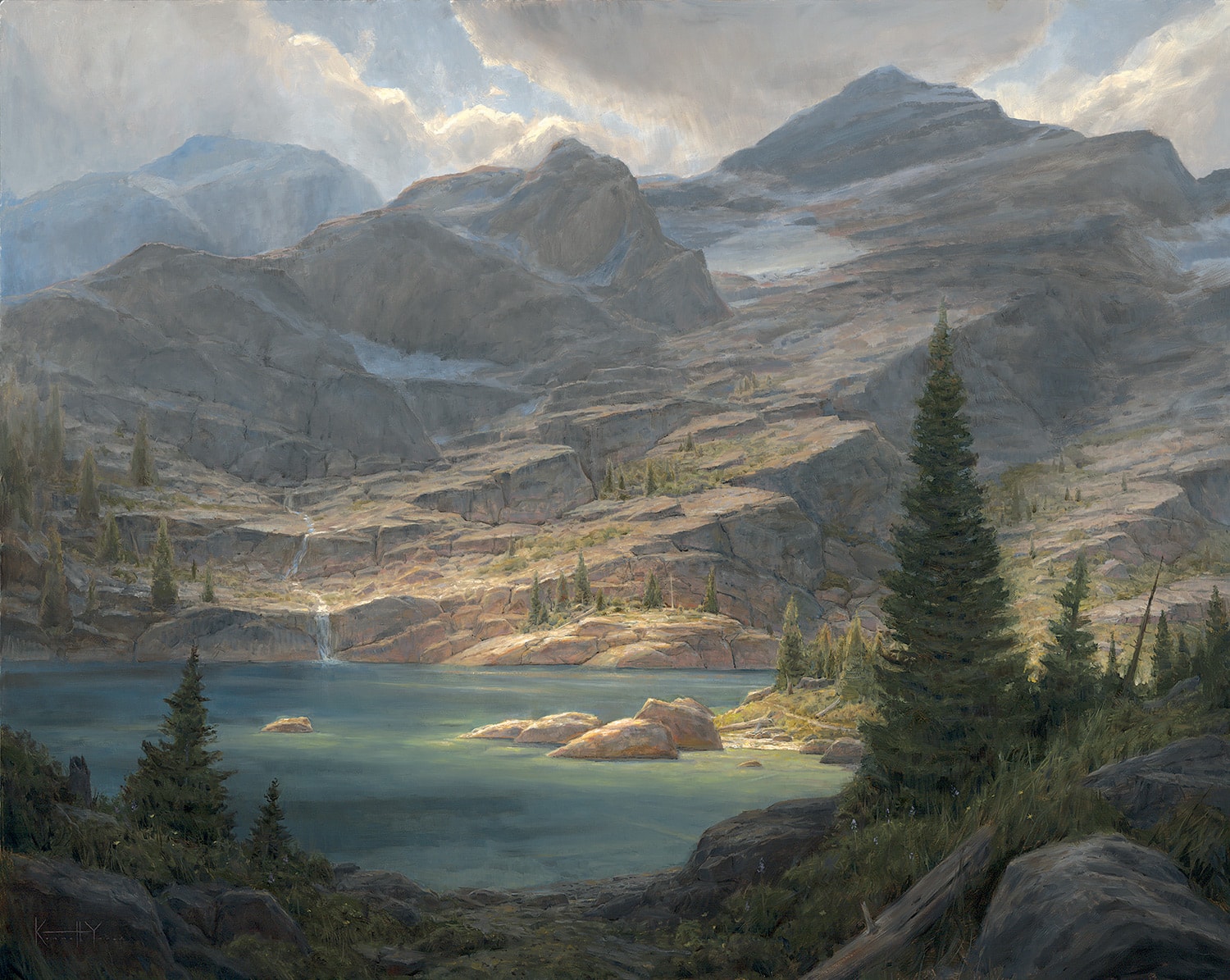 "What was Left Behind" | Oil | 48 x 60 inches
09 Aug

Ones to Watch

in

THEY VARY IN THEIR STYLES, from narrative realism to impressionistic impasto, yet the artists featured here are united in their efforts to paint what they know, especially as inspired by life in Montana. For Kenneth Yarus, often that involves trekking into the hinterlands for his quarry of epic mountainscapes, while Morgan Irons balances the quiet drama of the figure against the vastness of place. And Caleb Meyer's exuberance for the small towns and big sky of his adopted state pulse from his canvas in vibrant waves of color. Here are a few young artists that are turning heads in the Western art world.
Kenneth Yarus
Art can move mountains — just ask followers of the Hudson River School of painters, a group of mid-19th century artists who transported the feel of the American West's epic mountains, sweeping vistas, and symphonic skyscapes to audiences worldwide. In doing so, they enabled Americans to see natural areas as valuable and worth preserving. The establishment of Yellowstone National Park, for example, is credited to Hudson River painter Thomas Moran, whose approach to landscape painting in the 1870s still resonates with newer artists like 28-year-old Kenneth Yarus.
"I believe to reach higher levels in art, it only makes sense to stand on the shoulders of the masters that came before," says Yarus, who is partial to painting Montana landscapes. "Having been raised in a valley with 7 million acres of wilderness around it, the mountains attract me most. I love to look up into them and imagine being on the rocky cliffs and ridges."
Yarus also frequents Southwestern deserts, and has completed a 10-day trek into Montana's Bob Marshall Wilderness through the Hockaday Museum of Art's Artist-Wilderness-Connection with fellow painter Richie Carter. Carter and Yarus are two of the Billings-based Montana Gallery's "young guns" of contemporary Western painting, united by their affinity for plein air painting and their contemplative approach to art.
According to Tyler Murphy, owner of the Montana Gallery, Yarus is the real deal. "I'm inspired by [Yarus'] living commitment to beauty," says Murphy. "This commitment is not solely found in his paintings, but is also observed in the way he treats his friends, his family, outsiders, and the earth. His joy and reverence for life shape the high peaks and sun-filled valleys one finds in his paintings."
Murphy uses words like "reverence," "consistency," and "authenticity" when describing Yarus' work, adding that the artist is driven less by the market or winning awards than by a passion for promoting conservation and doing his best possible work. "He's given himself to some sort of a calling that's higher than himself," Murphy says.
His journey has not been without its challenges, says Yarus, who apprenticed with Russian master Semyon Bilmes at the former Ashland Academy of Art (now the Atelier Maui in Hawaii), and also at the Grand Central Atelier in New York, where he worked with artists Jacob Collins, Joshua LaRock, Edward Minoff, and Scott Waddell. "It is always a struggle to take something you love and apply a money system to it," says Yarus. "Still, with some great mentors, I am starting to feel more comfortable."
"The Headwaters" | Oil on Panel | 9 x 12 inches
Over the past few years, Yarus has increased his exposure — in addition to Montana Gallery, his work is represented by Frame of Reference Fine Art in Whitefish, Montana; Sundog Fine Art in Bozeman, Montana; and Meyer Gallery in Park City, Utah — and he continues to refine his technique. These days, he says, he relies less on his photographs and more on his drawing skills. He also has reduced his color palette to create warm harmonies and embraced his tendency toward detail. He continues to push the scale of his paintings and always strives to paint better pine trees — a staple of the Western landscape. "I think it is important to always keep learning and growing," he says. •
Morgan Irons
Morgan Irons describs herself as a figurative painter, yet her reverence for nature, particularly in Montana, greatly informs her approach to image making. "The open spaces, the terrain, and the work make the individual more apparent," explains 26-year-old Irons. "There is less crowding, everything is stripped down to its essentials. Everything that truly matters becomes really damn clear."
"Bone Man" | Oil on Canvas | 36 x 48 inches
Akin to Andrew Wyeth's tender yet brutally honest style of narrative realism, Irons creates a tension in her work through a subdued palette, compositional juxtapositions, and judicious detail. Bone Man, for example, which was a finalist in the 13th annual International Art Renewal Center Salon Competition, pulls the eye upward with strong vertical elements — a preacher-like figure, an upright tool (likely a shovel), the foliage — all viewed from below the figure, reminding us that we are of the earth. "There is beauty and there is hardship, but in everything I paint there is a deep, deep love," says Irons, who also recently showed in the 2018 Heart of the West Art Show and Auction in Whitefish, Montana.
Lindsey McCann Jastram, gallery director at Bozeman's Old Main Gallery, first read about Irons in a magazine that described her work as compelling, almost haunting. "There's a spirit and a story," says Jastram, who represents Irons and will be exhibiting her work in a December 2018 show. "It resonates with almost anyone who comes into the gallery."
For all of Irons' experiences with isolation in nature — she lived and worked in a remote Alaskan fishing village before moving to an equally remote cabin in the Bridger Mountains and dedicating herself to painting — she is committed to connecting with the viewer. "When I am planning, I think a lot about how someone will experience the painting visually, mentally, and emotionally," says Irons, who studied psychology in college. For her, painting and psychology share a similar goal: getting to the essence of things, to what's important. What's important to her, she explains, is the work itself: "Knowing what to paint, finding a consistent path, avoiding trends," and creating quality work over the long term, even if it means not showing everything she makes.
A self-taught artist, Irons is continually improving her technique through trial and error and intensive study, including workshops with the likes of Joshua LaRock and Jeremy Lipking. "I tend to look at what materials the best painters I know are using and try and do the same," she says. "I've become a lot more conscientious about archival-quality materials, especially supports." Irons uses either bare or linen-mounted aluminum panel and wood, which are more rigid than stretched canvases.
She's also focusing on the bigger picture, literally and figuratively, from her new studio in historic Dillon, Montana, where added space has allowed her to work on larger projects simultaneously. "My approach will always be to paint what I know best, and that is what is around me," says Irons. "There is magic in Montana, I feel so connected here to the source of my art. I'm a figurative painter, but the people I paint are characters in a narrative. It helps to connect to the viewer." •
Caleb Meyer
There is a shimmery energy to Caleb Meyer's oil paintings, a captured moment, but one not wholly contained on the canvas, which pulses with exuberant color and thick paint. "I've always done impasto and the bright color, that's been a staple of my work," says the 35-year-old artist, who taught art in public schools in Southern Idaho and painted part time until relocating to Missoula, Montana, seven years ago to paint full time.
"Shine in the Blue" | Oil | 36 x 72 inches
His works Rising Morning and Bending Light, for example, both capture the moment clouds unfurl from the horizon and spark against impossibly blue skies. Stored in the Valley shows an iconic grain elevator reflecting the blue-green-gold dance of shadow and light on a windy day, while similar subject matter in Carry On devolves into dusk.
In addition to the Big Sky and rural country, Meyer is enamored of small-town settings, especially in rainy conditions like Blue Skies and Streetlights and Evening in Red, in which color, shape, and line begin to dissolve. This new series happened serendipitously during a family outing, when he was struck by the artificial lighting at a nearby service station. "The way it was reflecting on the wet pavement created beautiful symmetry and tons of interesting light and shapes," Meyer says, noting that the scene offered a conceptual break from his other genres. "I am really happy about that moment of inspiration because it has led to some really fun paintings, and led me out into the rain a time or two," he adds.
Meyer also has experimented with abstraction, ranging from images that refer to building or horizon, such as Withstand and Narrow, to Flash, Light #1 and Flash, Light #2, in which content gives way to pure color. "He has such a variety of work," says Dudley Dana, owner of the Missoula-based Dana Gallery. "I think it speaks to Caleb's ethic that he is unwilling to paint from anyone else's photograph." Dana met Meyer 11 years ago when he was picking up paintings from artist Robert Moore at his Declo, Idaho home. "I set a few of mine out for him to take a look at," Meyer says, "and he took four or five back with him to Missoula; the rest is history."
After graduating from Boise State University in 2006, Meyer apprenticed for two years under Moore, who is known for his impressionistic brush style and use of impasto. Meyer's time in Moore's studio, he says, helped him build a strong foundation. "The painting process is like building a house," he explains. "A painter must understand the principles of design to create a foundation for a strong painting."
Regardless of what he's painting — grain elevators, vast grasslands, glowing street scenes — Meyer is most inspired by relationships with family, friends, and fellow artists. He also keeps studies he's done in the past to remind him of where he's been and encourage him to keep pursuing his dream.
In addition to the Dana Gallery, Meyer is represented by Horizon Fine Art in Jackson Hole, Wyoming; Terzian Galleries in Park City, Utah; Kneeland Gallery in Ketchum, Idaho; and A. Banks Gallery in Bozeman, Montana.