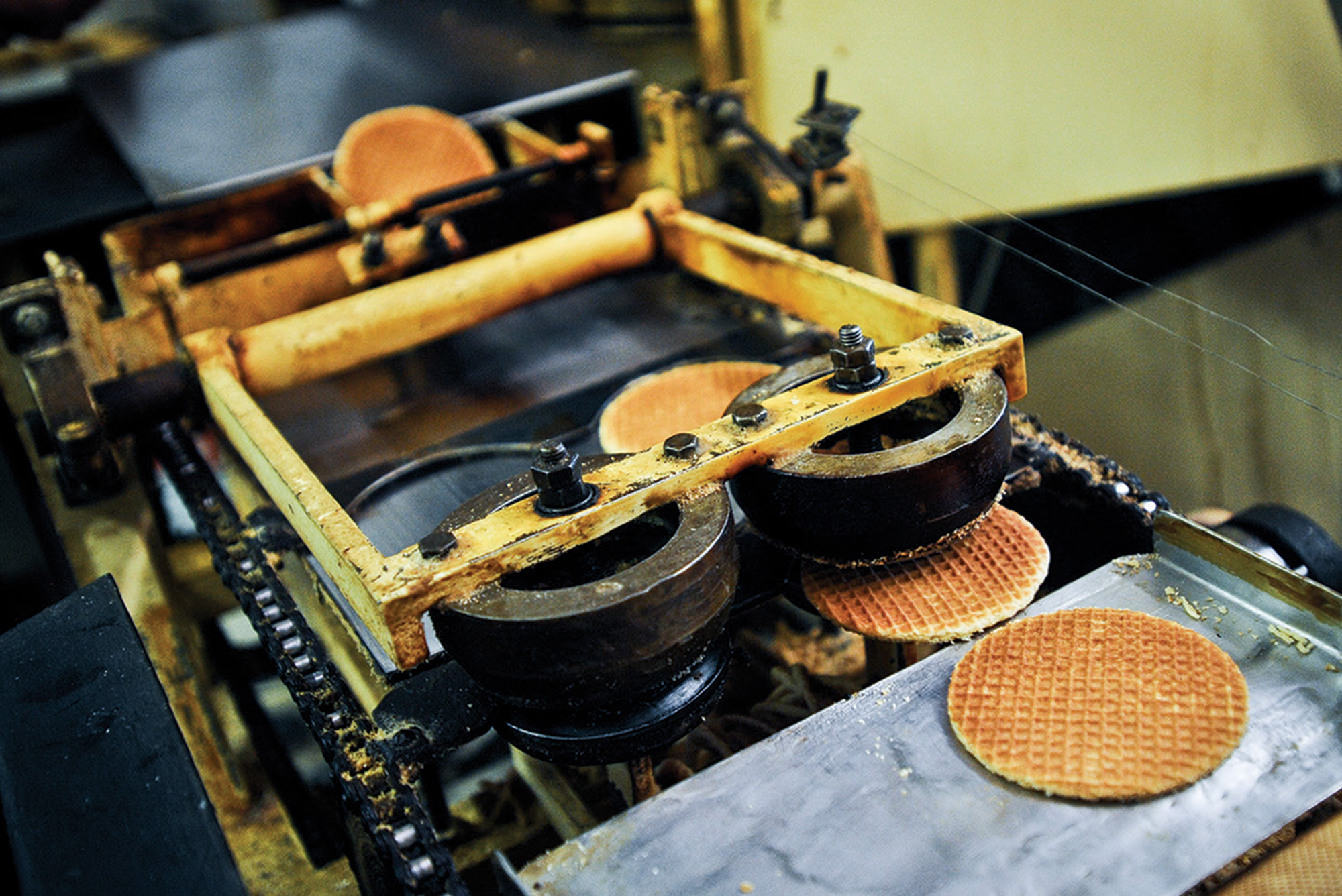 24 Nov

Dining Out: One Fine Cookie

in
---
Tucked between two main thoroughfares on 17th Street in Billings is a small family-run bakery, Caramel Cookie Waffles. For 23 years, the Boogmans — Dutch-born Jan and his Montana-native wife Judy, have pressed, baked and filled countless cookies. Two thin waffle-indented golden brown wafers, the diameter of a fist, sandwich a layer of caramel. From first bite to last, the cookie delicately crumbles only to be immediately enveloped with thick, rich sauce. Then it melts in the mouth and the memory with gentle flavors of cinnamon, cloves and vanilla.
In the beginning, the Boogmans traveled in the summers throughout Montana selling the Dutch "Stroopwafel" out of a concession trailer. The current name, Caramel Cookie Waffle, originated when a young customer adoringly identified the cookie in these English words. When the space that once was a laundromat, bike shop and pizza shop became available, the Boogmans took residence and stayed.
The making of the Caramel Cookie Waffle begins the night before. Sugar, butter and corn syrup boil in a 16-gallon pot. The next morning at 5 a.m., butter and eggs are swished around in an industrial mixer. After the addition of flour, sugar and spices, Jan mixes the dough "just enough."
The work at the bakery "runs like a Swiss clock," according to Han, Jan's brother, who also worked in the bakery for many years. By 6 a.m., pots for soup cover every stovetop burner. Chickens boil for broth and meat for the two daily offerings. On a corner burner, onions caramelize in a cast iron skillet in preparation for the regular crowd that gathers daily for savory lunches, followed by a selection of delectable sweet treats.
While Judy's signature Quiche Lorraine bakes, she starts assembling her cream cheese turnovers, checks on her rising sunflower bread and prepares almond horns. A boom box on top of the refrigerator interweaves news and music into the 400-square-foot work area.
Equipment is pushed in and out of place to accommodate every task. The mixer is cleaned and moved to make room for the dough extruder, a machine much like a pasta maker. A repeating rhythmic clack, whack, grind and squeak resounds in the room from the extruder. Jan feeds dough mounds the size of his head into the machine producing what Judy calls "dough pillows," flat, round dough pieces that drop out, onto metal trays.
As Jan flicks on a small conveyor belt located next to the cookie oven, he calls out "One minute and we will be going!" Michelle and Jonathan ready themselves by pots of warm caramel. Jan stands in front of the oven with an opening at his chest level, and as wide as his outstretched arms. Inside are eight iron griddles on a round track perched over fingers of blue flames. Jan places four "dough pillows" on an iron that automatically moves clockwise, and as it does, the iron closes, cooks, flips over and cooks some more to open up with golden browned wafers that he lifts off with a spatula. The cookies go on the conveyor belt, and as they travel down, are trimmed with a round mold and sliced through the middle by a thin wire. Michelle, Jonathan and Han pick up the cookie, split it open, spread caramel on one side and sandwich the cookie back together. Distributing the caramel perfectly is an art form all its own.
Afterward, 4,000 cookies later and at 9:00 a.m., the Caramel-Cookie -Waffle-making is complete. During the holiday season, the cookie-making process repeats up to five times a week. The cookies are available in retail outlets from gas stations to gift shops around the state, directly from the bakery or via the website, caramelcookiewaffles.com.
"Working hard is relative," Jan says. The Boogmans put in 90-hour weeks over just six days. But their main goal is customer satisfaction: "You are as good as the last meal you serve," Jan says. And good meals they are, for lines at lunchtime go out the door. Customers have become family, as the bakery is a gathering place for many. All this began with a single Caramel Cookie Waffle and years of hard work.