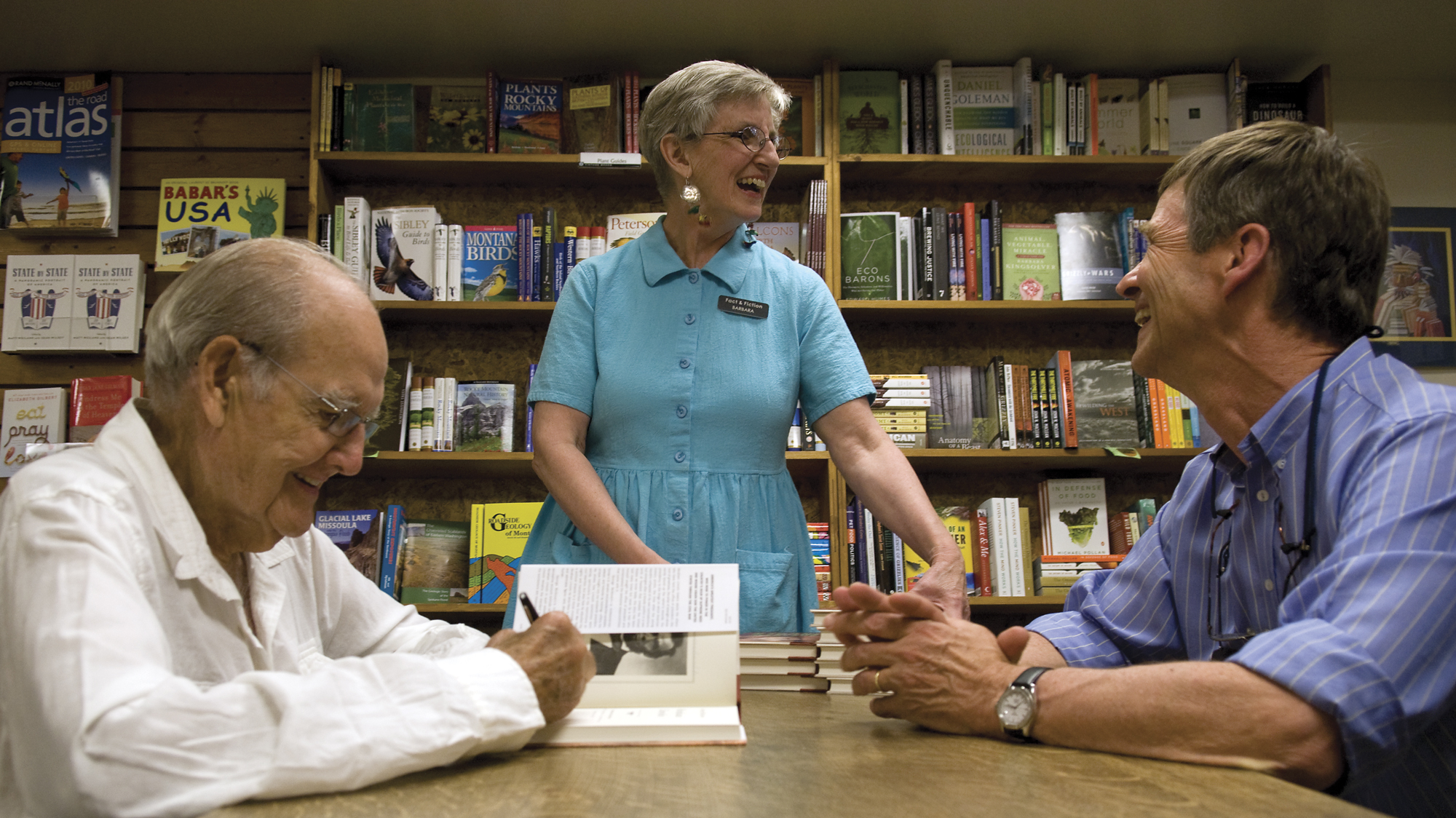 23 Jul

Local Knowledge: One Book at a Time

in
---
When you enter Missoula's Fact and Fiction Bookstore pictures of dozens of Montana writers greet you. You'll recognize many of them as the giants of Montana literature — Ivan Doig, William Kittredge, and Jim Welch — but look for up-and-comers too like Wendy Parciak and Jamie Ford.
Fact & Fiction is a Mecca for writers. Every time established writers publish they return here for signings, not just to find a friendly audience and sell some books, but also to pay back the help they got when they were launching their careers. And, of course, new writers come to launch careers of their own. With more than 100 book signings a year — as many as six in a single week — Fact & Fiction is one of the liveliest bookstores in America.
Although it emphasizes regional authors, Fact & Fiction has no Montana section. Instead, it shelves books by local authors in their appropriate section — fiction, history, photography, travel, ecology, children's and young adult books, etcetera. Colored slips of paper on the bookshelves call attention to special categories from staff favorites to award winners. Chartreuse slips indicate books about Montana or by Montana authors. The green tint that pervades the store provides dramatic evidence of the remarkable productivity of Montana authors. And that's the point.
Storeowner Barbara Theroux says, "Sometimes you don't know what's going on in your own back yard. I don't think Montanans realize how many Montana authors there are." She uses terms like "enormous" to describe the number of Montana authors and cites the number of awards they win as evidence of their quality. For example, Theroux says, "Montana authors win far more than their share of awards from the Pacific Northwest Booksellers Association." As a former member of the PNBA awards committee, Theroux would know. She is also active in the National Booksellers Association and has served on its board of directors.
Authors appreciate Theroux's dedication to books. Linda Peavy, winner of the 2008 Montana Book Award, recalled how impressed she was with Barbara's enthusiasm at a book signing at Fact & Fiction when she and her co-author Ursula Smith presented their award winner, Full-Court Quest. Peavy said Theroux "had apparently just finished reading Full-Court Quest. Her enthusiastic comments on several of the girls from Fort Shaw showed that she'd come to know them as individuals, not just as members of a legendary team."
Theroux's attention extends to more than established authors like Peavy and Smith. Wendy Parciak, whose first novel Requiem for Locusts, a 2008 Montana Honor Book, recalled her first signing at Fact & Fiction.
"She made me feel right at home and started off the reading with a wonderful, insightful introduction of my book," Parciak said.
"She struck me right away as someone who not only knows books, but knows her readers — not only what they know they want to read, but what they don't know and ought to try."
David Allan Cates, whose novel Freeman Walker was also named a 2008 Honor Book, observed, "you can't see your book unless stores stock it." Cates said Theroux has a reputation for finding and stocking books from bright new authors.
Theroux trained as a school librarian and started her bookselling career at Washington State University and then at the University of Montana Bookstore. She started Fact & Fiction in 1986, intent on celebrating books and the authors.
Originally on Missoula's Main Street, Fact & Fiction moved to the Blue Bird Building on North Higgins Avenue in 1998. The architectural firm that owns the elaborately painted 1875 building shares a conference room with the store that uses it for dozens of book signings and other events.
In 2008 Theroux sold Fact & Fiction to The Bookstore, a not-for-profit corporation that is owned by University of Montana faculty and students. Bryan Thornton, manager of The Bookstore, said the downtown location will stay "just as it is," but the Fact & Fiction name will appear in two new locations, one inside the corporation's campus store and another in a shopping mall. Theroux will stay on as general manager and a consultant for two years.
Theroux is thrilled with the new arrangement. "Nobody could have written this kind of ending — a new beginning really — and if they did, no one would have believed it because it's too good to be true."
The bookstore isn't Theroux's only effort to promote the literary arts in Montana. She was instrumental in helping launch Humanities Montana's Festival of the Book in 1999. The Festival, which meets annually in Missoula, brings together book lovers of all types to discuss everything from cookbooks to murder mysteries.
When she was president of the Friends of Missoula Public Library in 2001, she helped launch the Montana Book Award. In 2001 the Friends of Missoula Public Library decided that Montana needed an award in order to recognize literary and artistic excellence.
Bette Ammon, who was director of the Missoula Library then, recalls conversations she had with Theroux about the need for a Montana Book Award and credits her with being the driving force in its establishment
"She backed (including financially) this whole process with her bookstore and her contacts. We knew we wanted representation from the entire state and worked hard to achieve that. We knew that good books would rise to the top in our process — and that happened."
Although it has taken seven years, Theroux is pleased with the recognition the award has attained. The 2008 award winners reflect diverse subjects. In addition to the history by Peavy and Smith and novels by Cates and Parciak, the honor books include photographer Gordon Sullivan's Saving Homewaters, about efforts to preserve and restore Montana rivers, and Montana: Stories of the Land, a junior high textbook edited by Krys Holmes for the Montana Historical Society.
Diane Smith, who won the first Montana Book Award in 2002 for her novel Pictures from an Expedition, explained the importance of the books and writers to the state when she accepted the honor:
"Writing is a profession in which, unlike the industries of the past, the rewards of the worker's labor stay in the state, and the product these workers produce enriches us all. Anything we can do as a community to encourage, support and recognize our writers — and give them voice — is greatly needed. When the Missoula Friends of the Library and others in the state publicly recognize our work, and announce that our work has 'value,' it helps all of us broaden and deepen our audience, and ultimately gives us a platform to affect the kinds of change we would like to see."
---
Keeping the Pages Turning
In a time when independent booksellers struggle to keep their doors open and diverse titles on the shelves, the Northern Rockies still boasts a stalwart number of business owners who keep the literary love affair alive for all of us. Here are a few of the classic book stores in our region:
---
MONTANA
---
BOZEMAN:
• Country Bookshelf – 28 W. Main St.
• MSU Bookstore – 185 Strand Student Union
• Vargo's Jazz City and Books – 6 W. Main St.
LIVINGSTON:
• Sax & Fryer Co. – 109 W Callender St.
• Conley's Books & Music, Etc. – 106 S Main St.
MISSOULA
• The Book Exchange – 2335 Brooks St.
• Fact & Fiction – 220 N. Higgins Ave.
• U of Montana Bookstore – 5 Campus Dr.
ELSEWHERE ACROSS THE STATE:
• Thomas Books – 209 N. 29th St., Billings
• Browsing Bison Books – 515 Main St., Deer Lodge
• The Bookstore – 26 N. Idaho St., Dillon
• Chapter One Bookstore – 252 Main St., Hamilton
• Montana Book Company – 331 North Last Chance Gulch, Helena
• Books West – 101 Main St., Kalispell
• Red Lodge Books – 16 N. Broadway, Red Lodge
• The Book Peddler – 106 Canyon St., West Yellowstone
• The Bookworks – 244 Spokane Ave., Whitefish
---
IDAHO
---
BOISE:
• A Novel Adventure – 906 W Main St.
• Rediscovered Bookshop – 7079 Overland Rd.
• Vista Book Gallery – 1116 S Vista Ave.
KETCHUM:
• Chapter One Bookstore – 160 N. Main St.
• Iconoclast Books – 211 N. Main St.
MOSCOW:
• BookPeople of Moscow – 521 S. Main
• Commons Bookstore – University of Idaho, Commons Bldg
• University of Idaho Bookstore – 710 Deakin St.
ELSEWHERE ACROSS THE STATE:
• Berning Books – 301 E. Fourth Ave., Clark Fork
• Book & Bean – 3115 N. Government Way, Coeur d'Alene
• Read All About It Bookstore – 312 S. Main, Hailey
• Blue Grouse Book Shop – 1001 N. 2nd St., McCall
• Footnotes Book Store – 220 American Legion Blvd., Mountain Home
• University Bookstore – Idaho State University, Pocatello
• Vanderfords – 201 Cedar St., Sandpoint
---
WYOMING
---
CASPER:
• Blue Heron Books & Espresso – 201 E. 2nd St.
• Ralph's Books & Cards – 215 S. Montana Ave.
• Wind City Books – 152 S. Center St.
CHEYENNE:
• The Book Rack – 3583 E. Lincolnway
• City News – 1722 Carey Ave.
JACKSON:
• Jackson Hole Book Traders – 970 W. Broadway, Ste. F
• Valley Bookstore – 125 N. Cache
LANDER:
• Cabin Fever Books – 605 Main St.
• Main Street Books – 381 W. Main St.
LARAMIE:
• Chickering Bookstore – 203 S. 2nd St.
• Grand Newstand – 214 Grand Ave.
• The Second Story – 105 Ivinson Ave.
• Univ of Wyoming Bookstore – 1000 E. University Ave.
SHERIDAN:
• The Book Shop – 117 N. Main St.
• Sheridan Stationary Books & Gallery – 206 N. Main St.
ELSEWHERE ACROSS THE STATE:
• Cody Newsstand – 1121 13th St., Cody
• Two Ocean Books – 128 E. Ramshorn, Dubois
• Books & Briar – 313 E. Main St., Riverton